In the era of rapidly changing the digital world, you really don't have to be skilled in designing graphics with Photoshop just to produce a good-looking picture. If you need powerful but quick and easy software that helps you DIY stunning graphics for social media posts, then you should consider FotoJet, which is an all-in-one graphics application online, with support for photo editing, photo collage, and DIY e-cards. For those who hate installing software, you can just use the online app. On the flip side, for users in favor of Windows installer or Mac, you will find the installers available. The choices are yours!
How to Remove Watermark from Image online and offline
FotoJet online, an easy graphics app, gets all features that you can take advantage of to upgrade an image. With FotoJet, you can do almost anything you want to edit a photo: Enhance a photo, beautify an image, resize, flip or add an overlay. FotoJet also offers a wide range of designing tools assisting you to create a banner for your website or produce a YouTube thumbnail that audiences adore.
Design Posters, Banners, and Invitations
It is time-consuming and not easy to design a good poster. Its online graphic designer allows you to get designing inspirations from its off-the-peg templates. It's easy to make YouTube channel arts, Facebook cover arts, Twitter headers, cards, flyers, posters for Instagram, etc. In the interface, you can select one item to enter the category and it will show more options. These templates are well designed, including the texts, shapes and color schemes.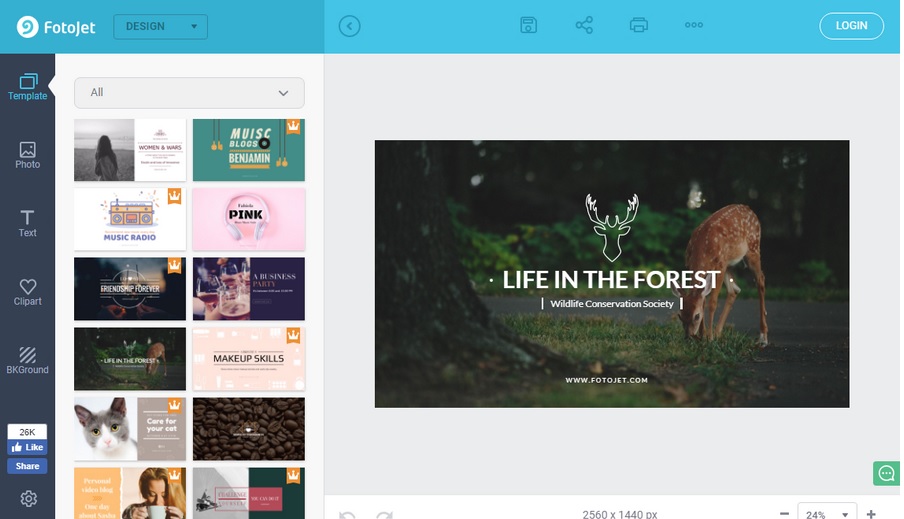 DIY Creative Photo Collection
The feature of online collage maker gives you multiple ways to make a photo collection. You can design from scratch, setting the roundness of the corner, the photo number, and the background. Or, those pre-made collage templates are your alternative options. You will find it a lot easier when choosing a template, where you just need to insert photos. Likewise, you can still fine-tune the template design.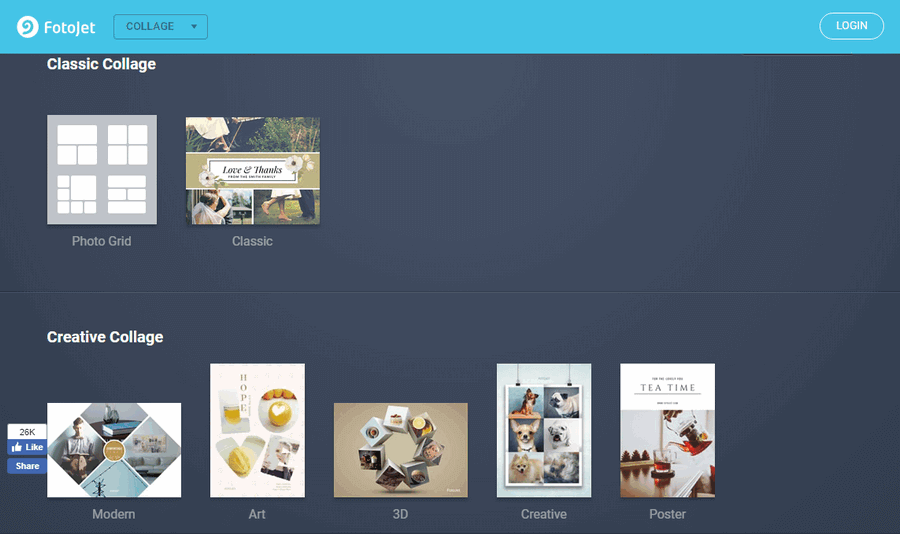 Edit Photo Online
The basic functions for photo editing are necessary, but too many editing tools are too complex to handle well. Therefore, with that in mind, FotoJet keeps the basic edit features and ditches complex and uncommon features. Exclusively, it gives us one key to enhance the photo. And if you want to add icons, you can go [Clipart] > [Icon] straightly without the necessity of turning to some icon makers.
In All
FotoJet is a simple software online and for the desktop. You may find it incomparable when navigating it and getting an amazing result shortly. It's FotoJet and that's exactly how it helps us! Unlike other apps requiring you to get a subscription account to Save and Download any image, this app is honest and requires no account when Save and Download those free templates.
Related Post