Do you use outlook but only sending text signature in emails. making a Logo signature impress the clients faster than only text so insert your company logo with a text signature. see here how to set signature with the image in outlook
How to set signature with Image in outlook and Win live Mail
Making a graphical and interesting signature makes your email special to the receiver. Adding text in email signature easy and common thing but adding an image in signature makes interacting mail whenever anyone read your mail. Every email client such as MS Outlook, Win Live Mail, and MS office outlook inbuilt feature for adding the signature in the mail. Adding signature mail saves your time to write your name address and company details with logo every time when you send and reply mail to anyone. In this post try to describe step to step insert image in email signature with pictures.
In another way, if you think to add an image in the signature in the mail also a medium of promoting your product and business. Creating a signature is a good idea to insert your company logo and product to promote with every mail.
Insert Image with Text Signature in New Emails!
Step 1: Open your outlook or win live mail and the open window for new email messages as given picture.
Go Menu –>File –> New –> Email Messages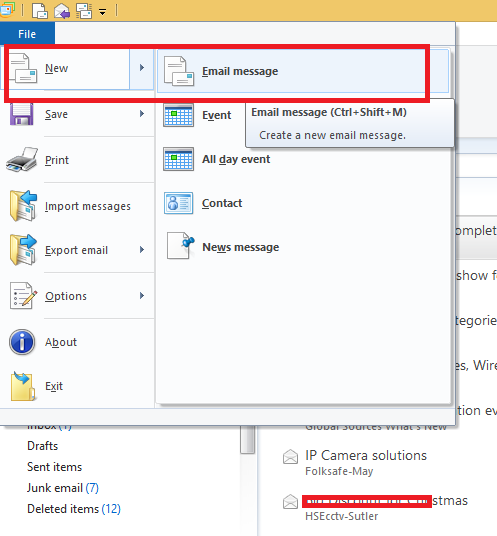 Step 2: how to set signature with image in outlook and Win Live Mail
Click on Insert tab and select image for adding in the signature and set the position of an image you want to add. Use Mouse to drag and drop image position as per your choice.
You can add a test in signature after inserting an image.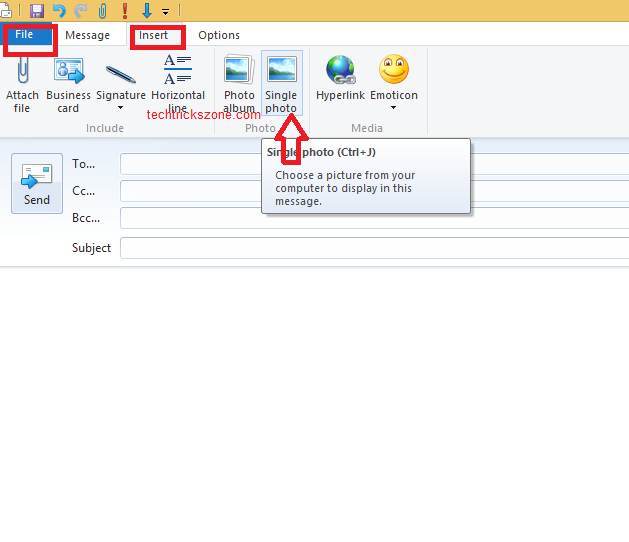 You can also add text in signatures such as your name, company name, address and contact details.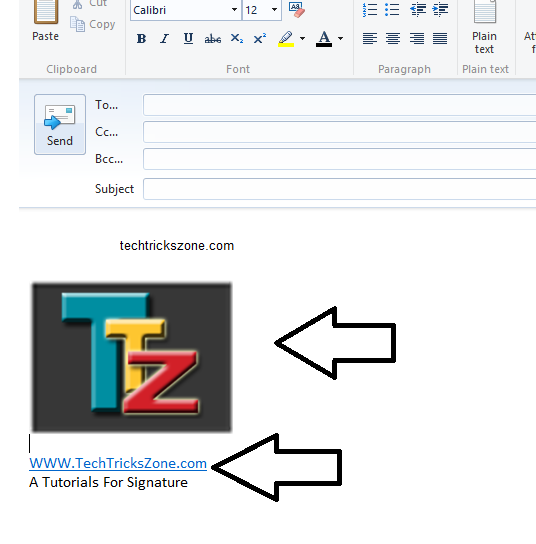 Read More:
Step 3: Now save the signature in HTML format. Go to the file and save it as the file.
Click on the file and Save as in HTML format.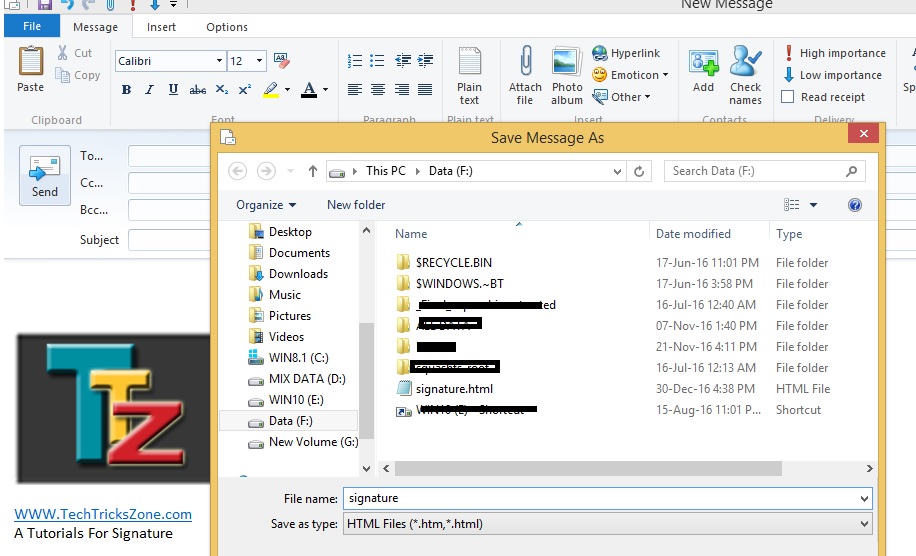 Click "Browse.." and Choose Folder you want to save file location
Edit File and Change location
Go to the file location you have saved the HTML file and open it with notepad or any HTML editor.
As shown below image replace the location of your file saved in the computer.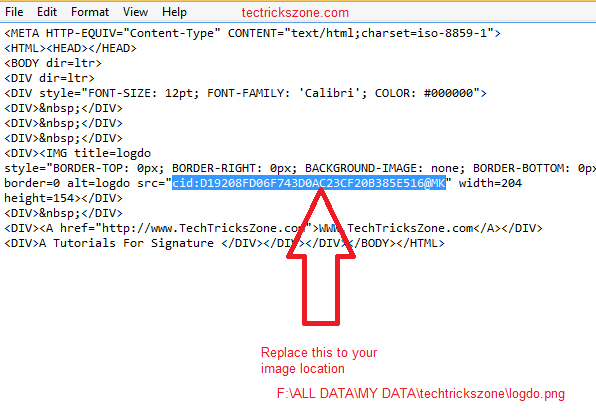 Change File Location src="cid:01E26DBA01944FE7BDABA13B58ABCA1B to your file location src="F:\ALL DATA\MY DATA\techtrickszone\logdo.png"
Now add a signature file in the signature location follow the steps given below.
Go to File –> New –> Option –> Mail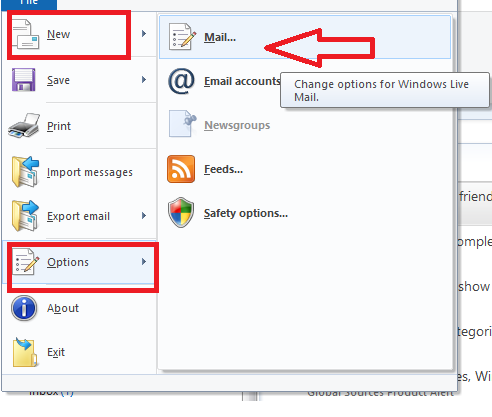 Go to Signature Tab and add New Signature
Click on Browse and upload your signature file you recently saved to drive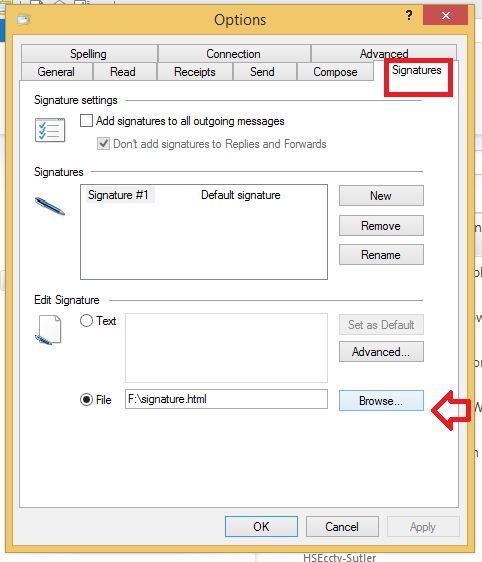 Text: in this box, you add text signature only if you want to add without image just type signature here and click OK. For adding an Image click on File choose file location and click ok.
Now go to compose mail and open the new window for composing mail confirm signature should be added in last of mail.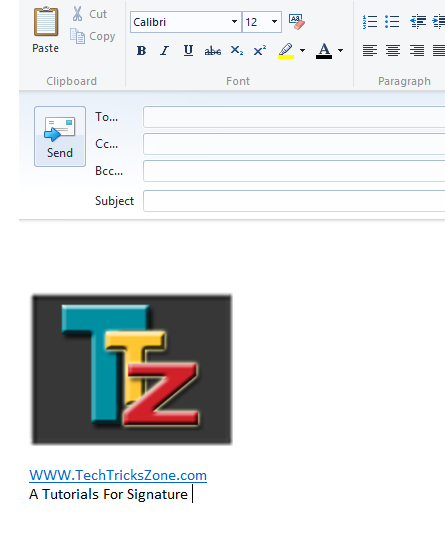 Tips: Always keep in mind whenever you format your PC then your outlook data will erase from the computer so you have to again add signature file location in the signature tab. To keep a faster signature add every time you format your computer and laptop keep the copy of the signature file to any other storage device or in the email. A saved copy of the signature will give you faster signature creation always without repeating all steps every time.
You can add the image in any email client and mail accounts such as Gmail and other leader mail companies. Win Live mail 2012 and win live mail 2021 are the same method of inserting the signature in emails.
Download Outlook Mail software Here
Related Post: