Enable user blocking mode in the basic wifi router using simple steps to protect unknown connection requests. follow the steps to block User in TP Link WiFi Router
How to block User in TP Link WiFi Router
Blocking mode is an additional security feature in routers. To prevent unknown unauthorized access to wifi internet.  You can block wifi user and LAN users to any basic router.  Blocking internet users bit simple and DIY procedure. You will find plenty of users who try to access wifi running near can be prevented to disturb your internet using Blocking mode.  Users can be allowed and dis-allow from WiFi as well as LAN connection. In this post, you will get steps to steps user block in TP-Link router. Here I am using a TP-Link WiFi router but the steps will be similar for all the router blocking users to access the internet. also read how to login arris router from the computer.
Login Your WiFi Router to Block WiFi User
To block mobile or computer internet users in router need to access the web page. You can connect the WiFi router either from wifi or from LAN cable physical wired connection. You can blacklist users either wifi users or wired users using Mac addresses to restrict internet access.
Login WiFi Router with Default IP Address
TP-Link 192.168.0.1  or 192.168.2.1 for TP-link legacy models.
Username: admin
Password: admin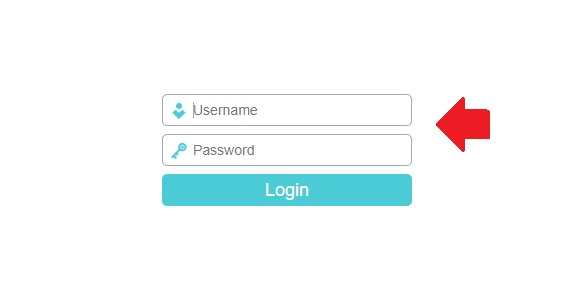 You can find your WiFi router default Password here
Enable Mac Filtering in WiFi Router
Users can block either mac-based or IP Based. In this guide, We will block the user with a Mac address.
Go to Wireless – Wireless MAC Filter
Wireless Mac Filtering- Enable (Press Enable button)
Filtering Rules: Deny the stations specified by any enabled entries in the list to access.
To block mobile users from accessing the internet need to add in the deny list.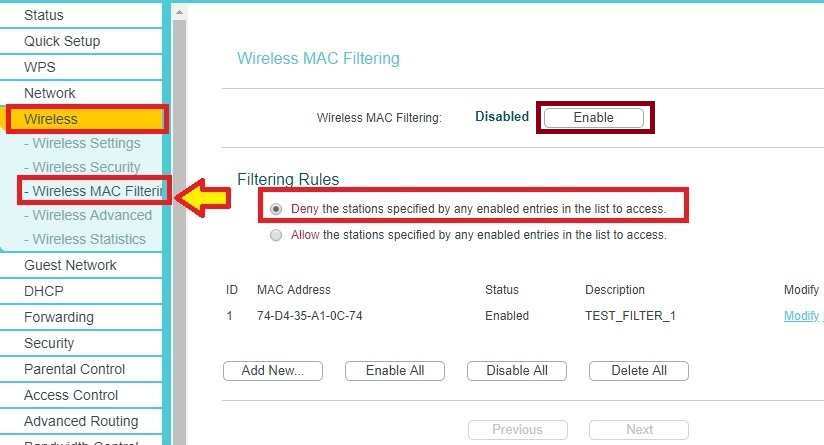 Click Add New button

Now add the Mac Address you want to block from internet access.
Mac Address: type mobile/PC/Laptop Mac address in this box.
Description: give the name of the user to identified blocked user.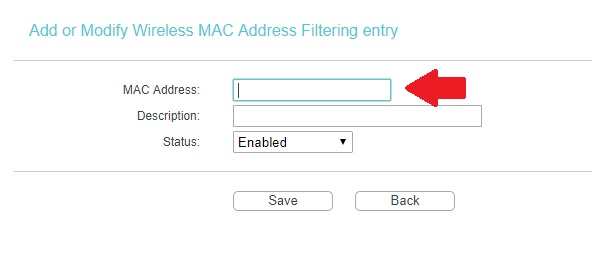 How to find Mobile, Laptop or Computer Mac Address to block
If you want to block user connected to your WiFi router then you can find the user mac address details in the router settings.
Go to DHCP –DHCP Client List ( this is the list of the total user connected your internet). Just simply find the mobile or any device not belongs to your home or office and block the Mac Address.

Find Mac Address from Mobile
If you want to block your family member or kid's internet schedule access than you can also find Mac address from mobile settings.
Go to Phone settings- About Phone
Click on the Status option.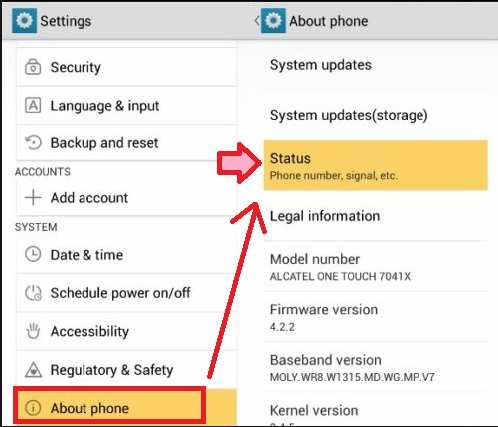 Inside status, you will find Mac address, and other phone information such as mobile signal, IP address,
Right down the Mac address and add for the block list.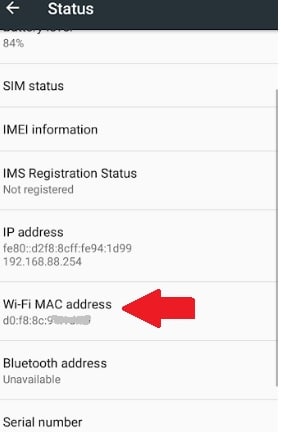 Check Mac Address in PC/Laptop
To get a Desktop or Computer Mac address you can use the command prompt as well as from Network connection.
Open Run using Windows + R key
Type CMD and hit the enter key.
In the command line type "ipconfig  /all"  press enter key to execute.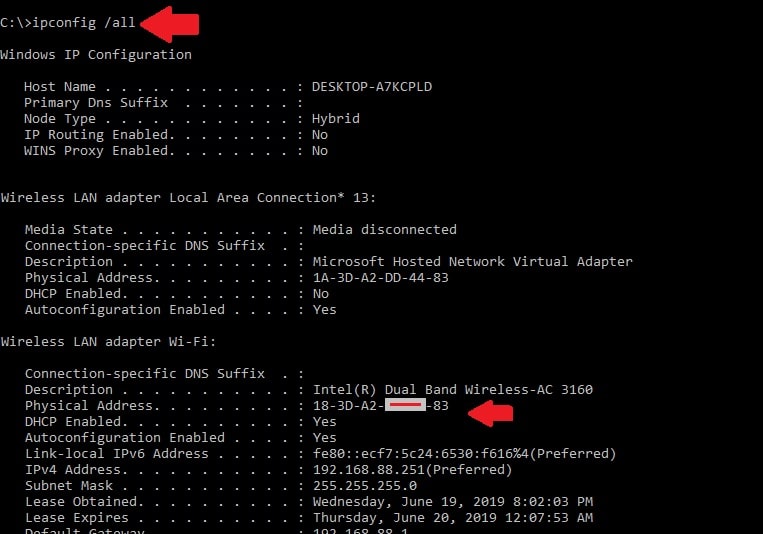 You can find all the Ethernet and WLAN Mac address details.
For Laptop block WiFi mac and for Desktop Block LAN mac Address to dis-allow from internet access.
Once you have got all the Mac address just add one by one in WiFi router and that user will force disconnection after making save changes.
Although to block User in TP-Link WiFi Router I used TP Link router but you can also follow the same steps for any other brand Wifi router.
Related Post
 User Block in TP Link Router

Download  TP-Link Router Firmware