Tenda Router Login 192.168.0.1/192.168.1.1
Tenda telecom provides a cost-effective wifi router and modem used in home and office for internet last-mile connectivity. Tenda router login required to setup the first time for broadband connection and WiFi configurations. Tenda DSL modem and WiFI router compatible with leading internet service providers worldwide. If you own a Tenda modem router and want to access the router settings page then read the full article to login Tenda modem.
This user manual helps you log in to the Tenda router's web interface to configure tendawifi.
Step to Login Tenda  Modem/ Router
The first step to login Tenda Router is a connection with router either wifi or wired connection.
Connect Laptop/computer with Tenda Ethernet port for wired connection and Mobile/Laptop wifi from mobile or tablet device.
Power On modem/Router and follow further steps.
The second step of Tenda wifi login is getting default login IP and Password
Tenda Login Default settings
Tenda Login IP Address: 192.168.o.1 for WiFi Router and 192.168.1.1 for Tenda ADSL/DSL modem.
Default username: admin
Tenda default password: admin
Note: for latest Trenda 11ac dual band wifi router No username and password required for first time setup. You can create a login password during the first time setup.
Default login settings also printed to the router sticker backside. You can find Router Mac address, login
Login Tenda web interface to a web browser
Open a web browser and access http://192.168.0.1 for Router and http://192.168.l.l for DSL modems. Additionally, you can use URL tendawifi. net to access Tenda homepage.
Use login credentials to authenticate and login to router settings.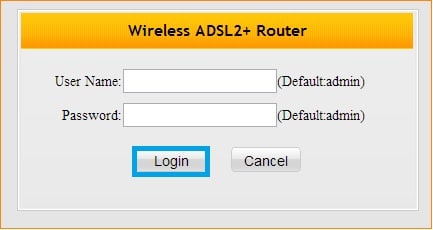 Change WiFi SSID Network Name and Password
Once you are logged into a router control panel where you can access all configuration and option to set up the router. This manual uses Tenda W300D Wireless N ADSL2 Router settings print shot.
Go to the Wireless tab from the top menu.
Wireless-Basic settings
Network Mode: 11b/g/n mixed mode.
Main SSID: Tenda W300D (change default SSID name as per your choice WiFi name)
Channel– select Wireless channel from 1,6,11 to avoid overlapping issues if another wifi running nearby.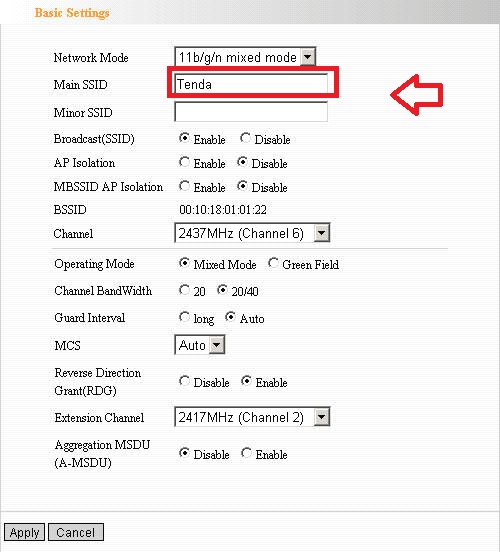 Press the Appy button to save settings
Setup Tenda W300D WiFi security Key
Wireless security settings are an important part to protect the wireless network from unauthorized access.
Go to Wireless- Security
Security type- WPA/WPA2-PSK
Password- set a mixed key combination wireless password.
Tenda WiFi Router Login Password change
Change login password also to secure access for your modem login page.
Go to Tools option for Tenda Modem
Change Login username and password.
Go to Administration option for Tenda WiFi router
Login password-
New Password:
Confirm Password:
Apply and OK button to save settings.
Fix Tenda Router Login issue
You might be facing login issues while accessing login IP address to a web browser and getting error then follow the troubleshooting step to fix the issue.
Login IP Address not working
IP address not working a common and basic problem while access web interface. There are many reasons behind login IP address not working and fix them step by step.
Step to Fix Tenda Login issue
Make sure the default login IP address you are using printed to router sticker and already not changed to any other IP address.
Type IP address incorrect way http://192.168.0.1  instead of typing 192.168.0.01.
Make sure Laptop/computer LAN settings to DHCP mode so router/modem can assign IP address.
Check the LAN IP address by command prompt.
Open Run command from the start menu or press Window Key+ R button together.
Type "cmd" and press the OK button.
Type "ipconfig" and press enter key.
See the default gateway IP address: 192.168.1.1. Is the router LAN IP address and use the same for the access web interface.
Forget Tenda Login Password
Not to worry in case you changed the login password before and forget it. Try default login password first and if it's not working for you then you can factory reset Tenda modem/router to restore into default settings.
Note: The factory reset option is a failsafe way to gain router access again in case login settings forget. Router reset process erases all configuration made to run the internet so only use reset option if you have configuration settings detail to make settings again.
How to Factory Reset Tenda Modem/ WiFi router?
A simple and quick way to factory reset DSL modem and routers using the reset button.
Locate reset button option beside Ethernet ports
Press and hold the reset button for 10-15 seconds and release button when led blinking and router rebooting start.
After the restart, access 192.168.l0.1 login to router again and 192.168.l.1 for modems.
How to Change Tenda Router LAN IP Address?
When using multiple Access points in the network then default LAN IP address must be changed to avoid IP conflict issue.
Go to Network – LAN
IP Address: 192.168.0.1
Subnet Mask: 255.255.255.0
Change 192.168.01 default IP address to new IP address series or use the free IP address from the same series.
Related Post