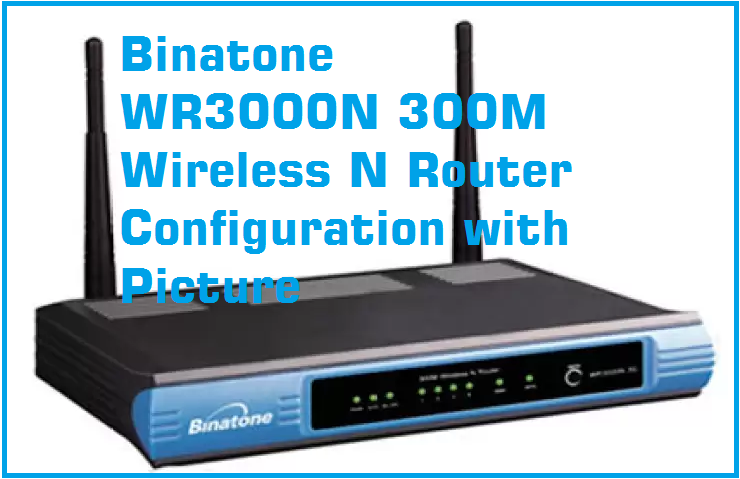 (Last Updated On: July 13, 2018)
Binatone WR3000N 300M Wireless N Router Configuration
Although this tutorials title is Binatone WR3000N 300M Wireless N Router Configuration but this will also belongs to TP-LINK TL-WR841N 300Mbps Wireless N Router, TL-WR743ND,TL-WR701,Iball All Wireless Router and Binatone WR-1505N3 ,WR1500N,WR3005 router configuration. These all router manufacturer same so all brand router firmware is same only deference is design and color of interface. After complete this tutorials you can easily configure Binatone ,TP-Link and I-Ball all wireless N router configuration without any problem.
Binatone WR3000N-300Mbps Router connection Diagram
Connect WR3000  Router Lan port to PC/Laptop and Wan Port to Internet Cable coming from ISP (internet Service provider)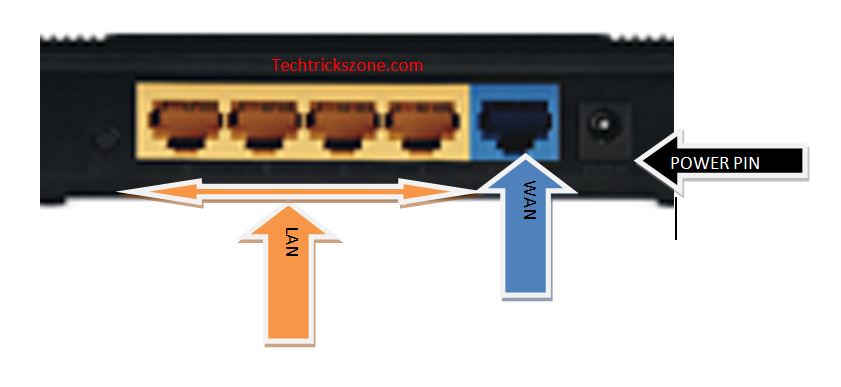 Binatone WR3000N – 300M Wireless  N Router Configuration  Step to step.
Binatone WR3000N 300M Wireless Router
Default IP Address is – 192.168.0.1
Default username  – admin
Default Password –  admin
Login Binatone Router:
Before open router in web broswser make sure your router LAN Port (yellow port) should connected to PC/Lapotp Lan port and IP Configuration should be DHCP mode. see  how to configure PC/Laptop IP 
Now open Internet Browser and open Binatone Default IP 192.168.0.1 and use default username and password to login router.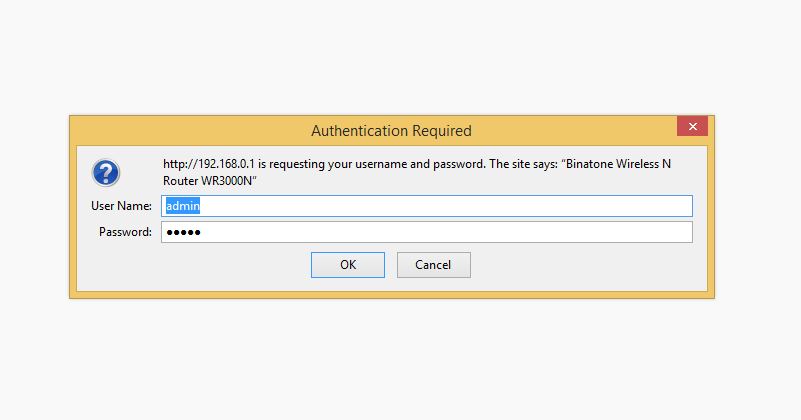 Binatone WR3000N 300M Wireless N Router Configuration WAN.
Any router must be configured in WAN port if we want to use in router mode. In router mode we can use many services like firewall ,Bandwidth control, Parent control, content filtering ,internet working schedule configuration to limit the internet use from students.
Proceed to WAN configuration Follow Below Steps.
Wan settings-
Go to Network –> Wan
Choose your WAN type from List,
Dynamic – for auto IP assign
Static- Get IP Address from your ISP or use f you know your internet IP
PPPoE- ask your ISP to your Dial-up username password or use if you have already.
Here I am using Static ip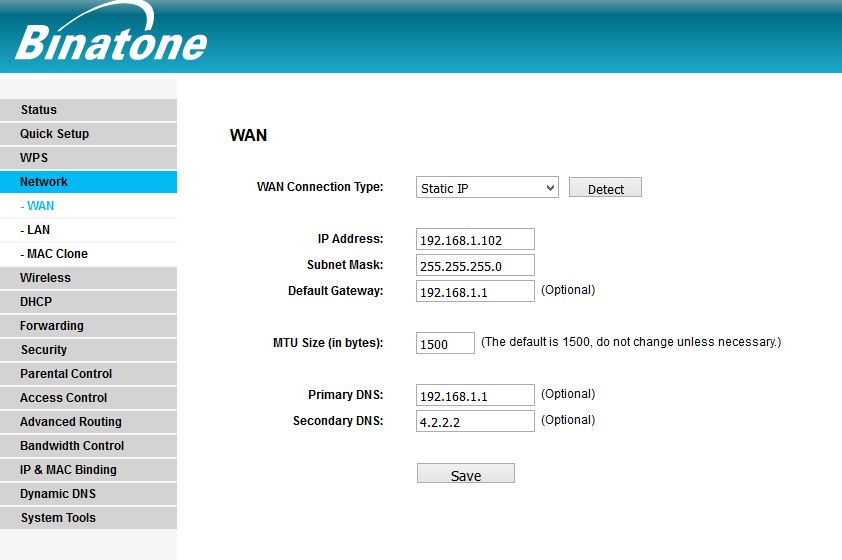 LAN Settings :
Lan settings not necessary to change LAN IP Address if you are using router in home  or your ISP given IP Address not same of Router Default IP address. But This is Tutorials so we will teach LAN IP change also .Follow Given Steps.
 Network–> LAN
Note: After Change LAN IP address you must use new IP Address to open your router again.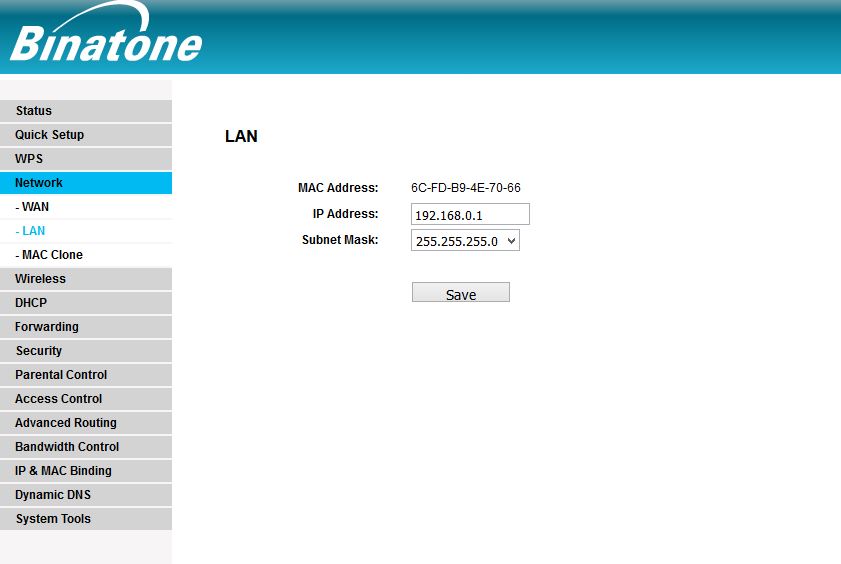 Binatone WR3000 300M Wireless Settings:
Go to Wireless—Wireless Setting-
SSid (Wireless Network Name)- choose your WiFi name here
Country : choose your country to ensure legal use of router
Channel – Select from 1 ~11 no.
Mode : use MIX to compatible with all N and BG series Wireless devices
Tx rate : you can select from list as per your speed requirement.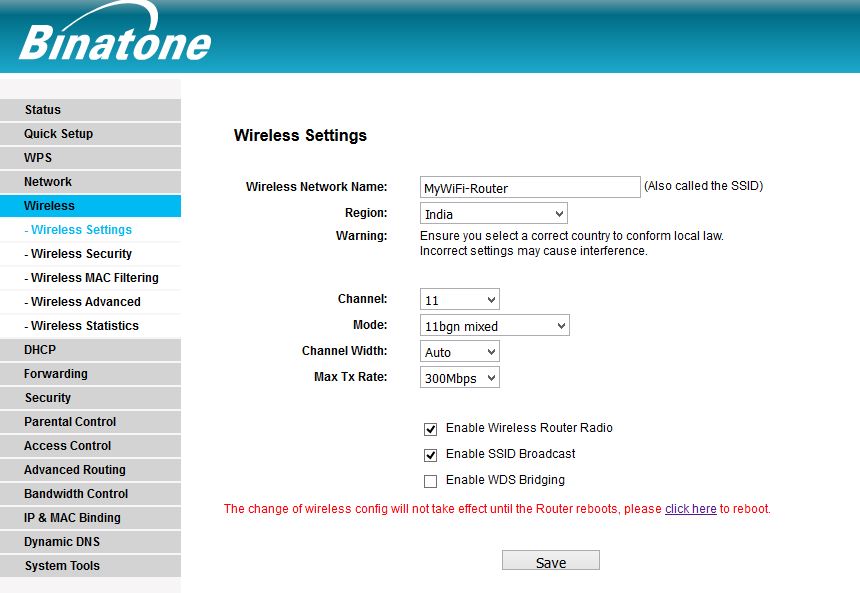 Click save: router will notification you to reboot router to take change affect .
Before rebooting set wireless security setting to save your time.
---
Binatone WR3000N 300M Wireless N Router Wi-Fi Security Settings
 

Wireless –> Wireless Security
WEP –use Minimum 10 Digit numeric to use this key
WPA/WPA2 – Enterprise : if you are using Radius Server then you can configure this Enterprise security type.
WPA/WPA2 –  Personal(Recommended) : for personal use we highly recommended this key to make strong wireless security . you can use Alfa numeric combination password.
After set password click save and reboot.
 Binatone WR3000 300M Wireless N Router DHCP configuration.
After Configuration of Wireless Router if your Mobile and LAptop not getting connected with Wi-Fi then reason can be DHCP disabled in router. If DHCP will disabled then Router will not assign auto IP Address to Client device and in mobile devie it will show saved network name.follow step to Enable DHCP in binatone Routers.
Click DHCP from left side menu.
DHCP Server:

Disable

Enable

Start IP Address:
End IP Address:
Address Lease Time:

 minutes (1~2880 minutes, the default value is 120)

Default Gateway:

(optional)

Default Domain:

(optional)

Primary DNS:

(optional)

Secondary DNS: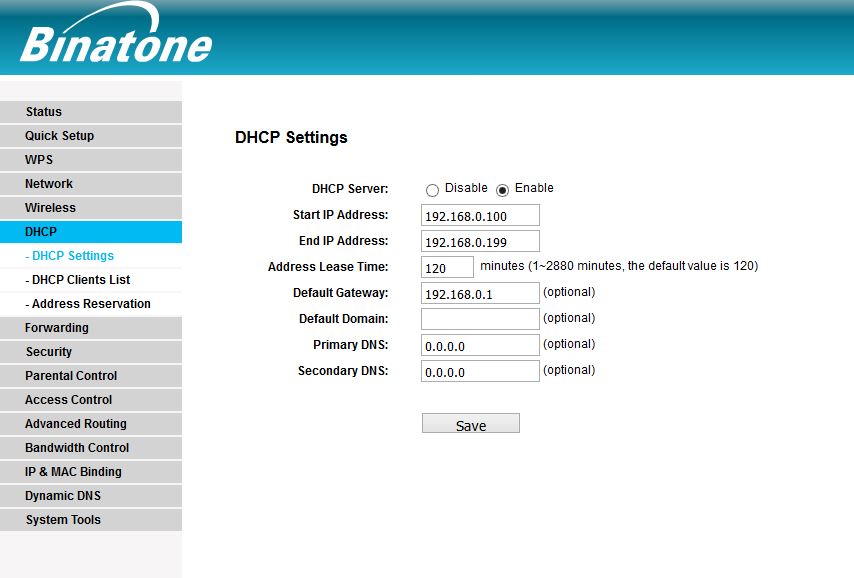 Related Post
Firmware Download Binatone WR3005 N3
See Video Tutorials for Binatone WR3000N 300M Wireless N Router Configuration