Do you buy a new laptop or PC with Windows 7, Windows 8 or Windows 10 preloaded operating system? only 1 partition comes with new Laptop windows you looking to make more partition without format Laptop. see here how to partition a hard drive windows 7 and later  without formating create more partition of C drive without losing any data.
How to Create New Partition from C Drive after installation in Windows 7,8 and 10
Most of the people don't know you can create  your C drive partition without re-installing your windows. Although C drive is system partitions which contain operating system files and data so losing any file inside c drive can be damage your operating system. Initially when older windows didn't support live re-partition of C drive without formatting your operating system. But after release windows Vista and all new windows such as Windows 7, Windows 8 and windows 10 all are advanced operating system. You can create your C drive partition without losing your data and formatting operating system with simple steps. here you will get a safer way to know How to Create New Partition from C Drive after installation of windows 7 ,8.1 and windows 10 operating system.
Every branded Laptop and Pc comes with single windows partition but for proper data management, we required more partition of the hard disk drive. Most people do not know windows 7,8,10 is providing the feature for running hard disk partition tools. This post shows you how to create and shrink windows 7 windows 8 and windows 10 multiple partitions without formatting and losing any data with simple steps. This post very uses full for windows beginners to learn Without Format Create C drive Partition with pictures. there is an inbuilt and 100% safe way to partition hard drive windows 8.1 and windows 10 without formatting whole Hard Drive.
Step -1
 To create windows partition go to windows disk management windows 7 and Win 1o where all hardware details and hard disk information available.
Go to My Computer –> Right Click and click Manage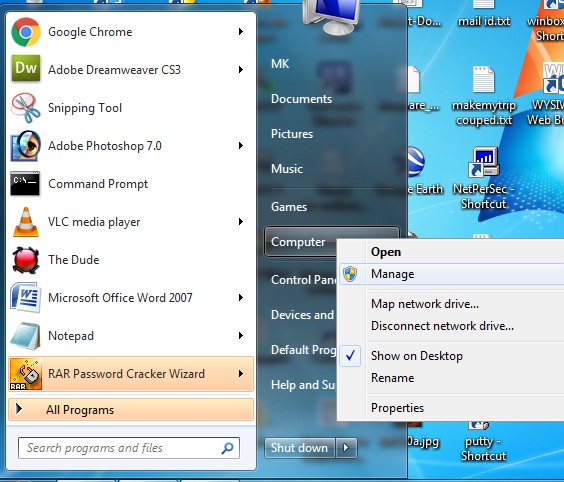 Step 2 :
In this step go to Hard disk Management option where you get details of total hard disk partition with total space and partition status.
Click Disk Management.
Select the partition you want to split with more part from all of the partition. Make sure you have selected correct partition so confirm drive letter from my computer to avoid changing the wrong partition.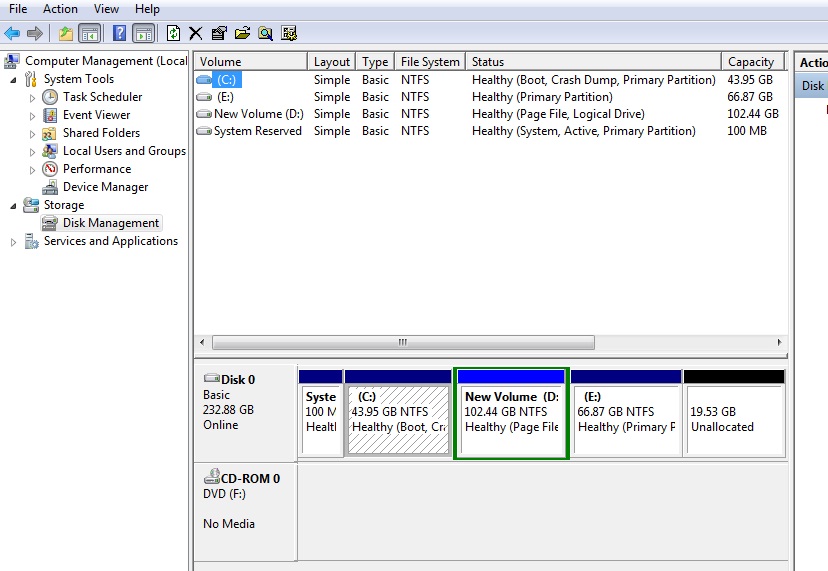 Step 3 :
Now right click mouse to get more settings menu and find the option Shrink Volume which will highlighted if available for changing partition.
Select Drive which you want to create partition and Right Click –> click Shrink Volume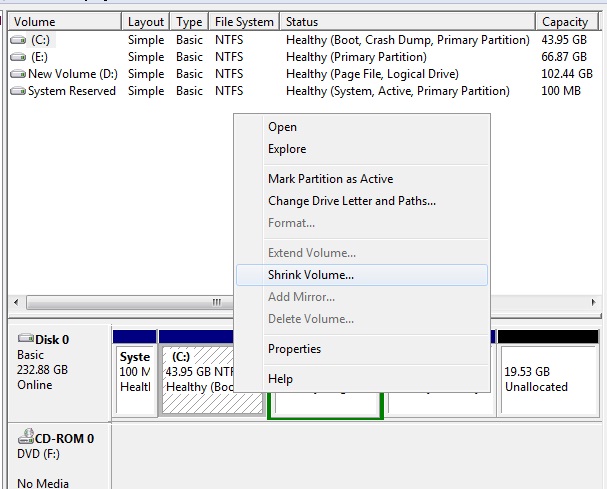 Step 3 :
Here you will all details of partition you want to spilt with more part.
Total size Before shrink in MB – this option will show total partition size you choose for shrink
Size of Available shrink space in MB – This will show available space after choose shrink volume to create another partition.
Enter The Amount of Space to shrink in MB– in this box you have to enter size you want o create for new partition.
Type the Space How Much you Want to create New Drive on Box
"Enter the Amount of Space to Shrink in MB"
After Put Drive Size Click Shrink — It will Take few Second to create your New Partition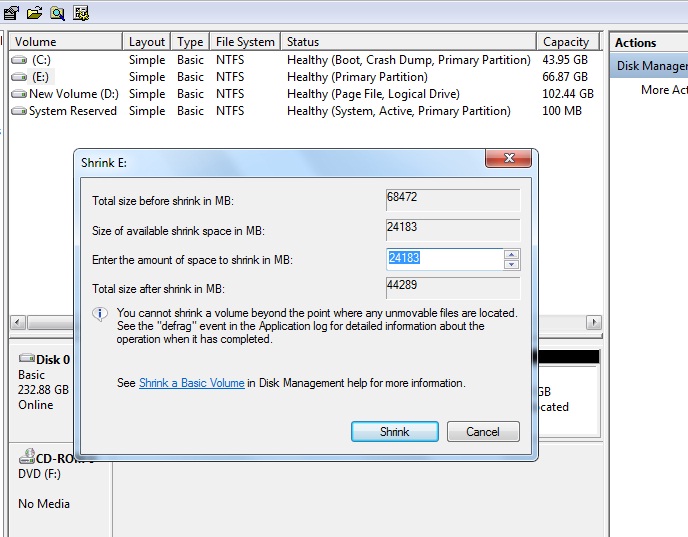 Once you have confirmed size of new partition press Shrink button to start new partition creation process. After completing this process you will get a new partition with size you enter during shrink option in my computer and Disk management also. ITs a purely safe and quick method to create more drive from C drive after windows installation.
How to Change Drive Letter and Path in Windows 10
After creating drive partition windows provide a sequence drive letter name for all partition. Drive letter can be changed as per choice. To changing drive letter not very difficult and risk job once you have create all partition properly. Hard disk drive partition letter and default name "New Volume" can be change to any name to make managed drive space. You can change drive letter from disk management option from where you shrink the partition.
To change partition Drive letter go to disk management and follow the steps to change the drive letter.
Right Click on  drive you want change drive letter
Click "Change Drive Letter and Paths.." from menu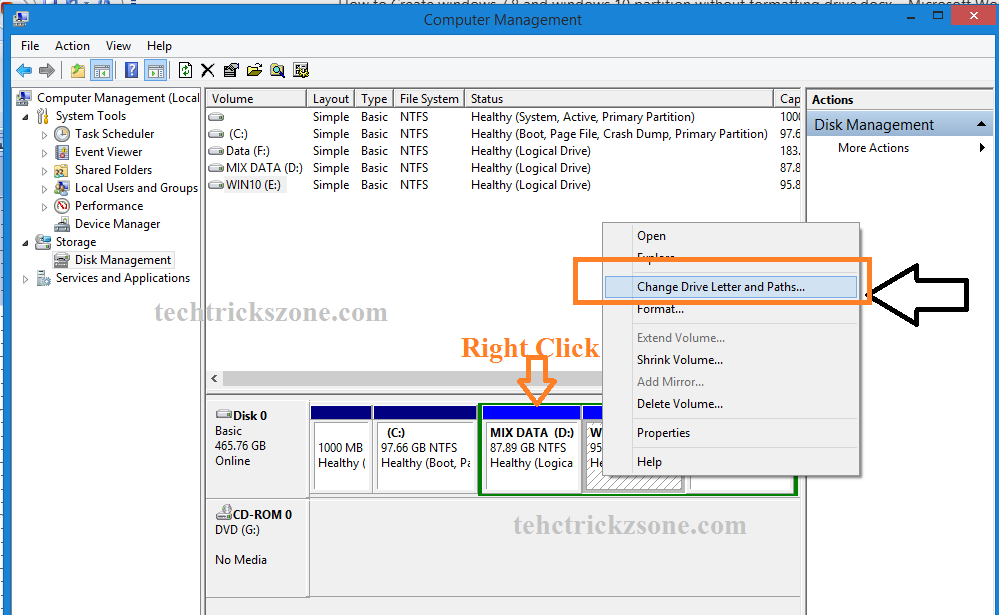 In next option you have to choose change option as shown below image.
Click change button to get drive letter availability list.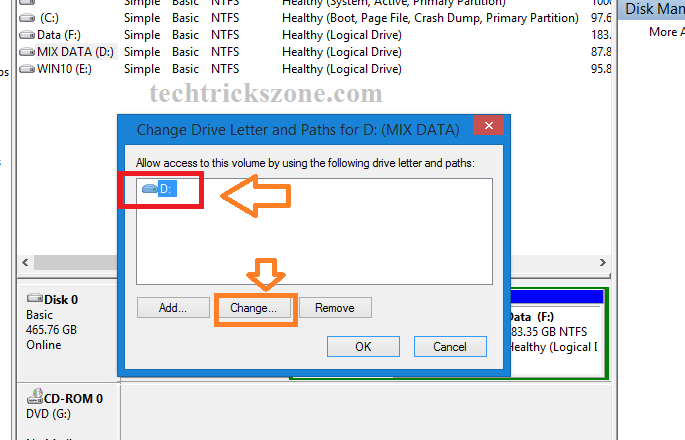 This steps you will get  drive letter option to choose the drive letter for change.
1:- "Assign the following drive letter"  select this option
2:-Click on drive letter you will get all available drive letter in list choose your choice letter to apply changes.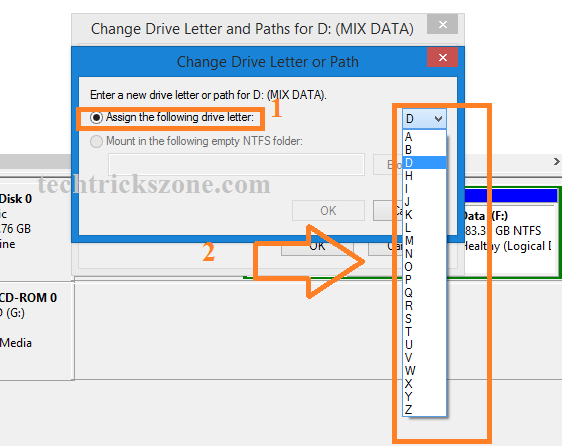 Once you choose drive letter for change and press ok button you will get pop-up notification "some programs that rely on drive letters might not run correctly. Do you want to continue?
Press yes button to apply changes effected.
After 5-10 second you drive letter will successfully changed.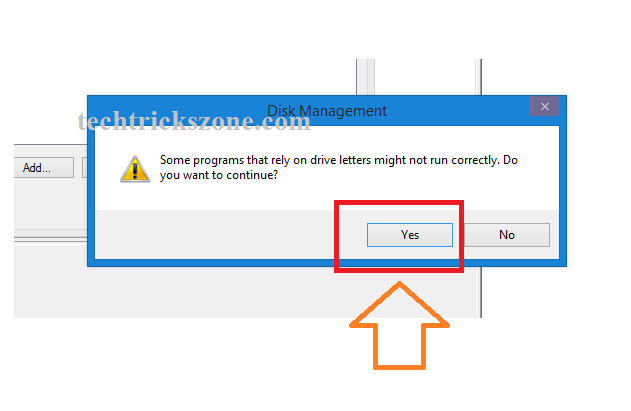 To rename drive from New Volume to any other names go to This PC.
Right click on This PC and choose rename option from menu.
Type new name for drive and enjoy the windows guide how to change drive name from new volume.
Download Windows Partition User manual in PDF
Related Post
Top 10 Best Download Manager for Android,Windows,Mac,Linux and I Phones
10 Common Windows Problem with Solution.
Top 10 Best Download Manager for Android,Windows,Mac,Linux and I Phones
10 Best free and Paid Antivirus for Windows, Mac OS and Androids Phone