10 Common Windows Problem with Solution.
 I regularly post a different kind of problem and solution to speed up your PC. If we talk about Windows operating systems issue than several windows installation error already posted on the blog with the solution. I have sort listed some basic and common problem in windows computer which faced by everyone. Sometimes minor issue becomes bigger when we don't aware about basic troubleshooting's. You can save money and time if you know basic steps to troubleshoot common windows problem. When your computer gets any issue you have to go to the repair shop and they may charge money every time. In this post, you will get 10 common windows and software and hardware issue which can fix yourself without any expertise in Computer hardware.
Popular Post: 
10 Common Windows Problem with Solutions
Sometimes lack of information we feel the computer giving the problem. To identify the genuine windows problem you must know how to identify windows problem and fix it at your home. See below list to know common windows computer problem and fixing it.
1- PC auto restart after some time (common windows problem)
2- No boot disk found press any key to restart
3- Windows screen rotated to the down
4- Disable unwanted application startup
5- Blue Screen fatal error on windows
6-WiFi connection not show
7-Windows Time changed every time after shutdown
8- Cant Access Network Printer
9- WIFI, LAN, Bluetooth nothing work on Windows 10
10- How to show Hide folder
1:- PC auto restart after some time.
Pc auto restart and shut down after 5-10 minute is a common issue faced by most of the people. To solve desktop and laptop restarting issue you have to understand the problem first. Why computer restart or reboot without warning after some time?  Why my computer shutdown automatically after some time?  This is two question but problem and solution are the same for both.
Answer of this question is- in computer motherboard bios there is a setting for the maximum heating temp to prevent the computer from burning due to overheating. So whenever your computer or laptop cross the heating temperature limit it will shut down or frequent restart.
Solutions- This problem may come in laptop and desktop due to heating device breakdown or not properly working. To solve the heating issue in windows follows given steps.
Check the SMPS fan working or it may fill with dust and cant proper cooling.
Check your CPU fan connected to motherboard power pin .or CPU fan may not be working. The fan may be blocked with dusting and not the proper cooling processor.
If both above steps are working than check the RAM may be getting the issue or SMPS can be the reason of restarting PC replace with any other RAM or SMPS one by one and check the issue solve or not.
2:- No Boot Device Found, Press any key to reboot the machine
Windows not starting much time due to no boot device found the error. No boot Device found is common windows problem faced most of the people. This issue caused of if windows not found on the hard drive, the Hard disk may not be connected or hard disk damage or not working. Look also this solution for Windows 10 error "Your PC ran into a problem and needs to restart"
Solution- No boot Device Found
To solve this issue follow the steps below.
Check the hard disk data cable and power cable connected properly to the motherboard
Check the bios setting hard disk to detect or not.
IF hard disk showing in bio but not booting windows. Than windows corrupted repair or reinstall windows.
IF hard disk not detected in hardware details than try to replace Data cable, SATA power cable or last option is Hard disk.
3:- Windows screen rotated to down or side
If your windows task bard rotate to the upside or in the side than do not panic. This is not any problem with the computer. It just an option to rotate your screen. Follow the basic step to know how rotate windows screen on all direction. Many people who don't know this is a display setting to rotate your screen they start searching on the internet how to solve screen rotate sideways in my computer.
Solutions
TO windows desktop screen rotation press keyboard shortcut key.
Alt+Ctr + arrow keys (choose the arrow key to move your screen on right direction)
4:- Disable unwanted application startup
This is also a common issue related to this option is "computer take too long time to boot. Or my computer take more than 5 minute to load all icon proper. In windows, we can set any program to auto startup when windows boot. Means any program that automatically run with windows login. When many program auto startup enable than its make computer slow. The reason is when we set any software or application auto startup with windows login than windows increase the time to load all the startup programs and its sow down booting speed.
To make your computer speedup avoid make program auto startup.
Solutions- Disable the unwanted program auto startup and increase the windows booting speed upto 80%.
How to disable software startup in windows 8 and 10.
Open Task manager – right click on task bar and click task manager.
Or use the ALT+CTR+DELETE button together and choose the Taskbar option.
After taskbar go to Startup tab and disable the application not useful for your.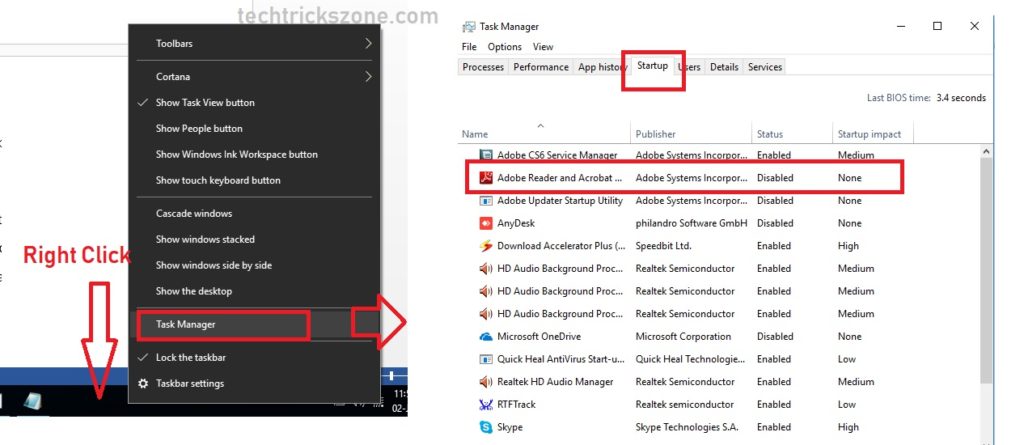 Read More:
5:- Blue Screen fatal error on windows
If you are facing fatal error during windows installation than it can be RAM issue. If facing Fatal error problem in windows 8, window 10 during installation than try to replace your installation disk.
Solution- if using more than 1 ram than try to remove one by one and check if problem solve.  Try replacing installation disk and try again.
6:- WiFi connection not show
WiFi network name showing in mobile but now showing in my computer. If you are facing this issue in Laptop than it can be due to wireless hardware disable physically.
Solution – found the button in the keyboard with WiFi signal or the physical button on side of laptop depend on the model number. Try enable button and check the wifi signal.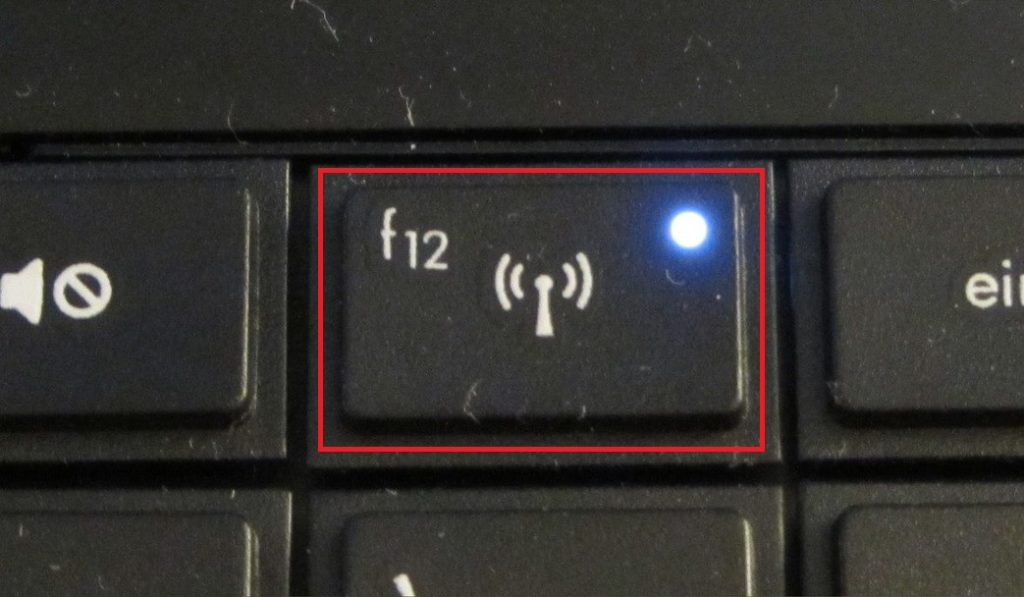 7:- Windows Time changed every time after shutdown
Your computer time wrong every time restart your windows PC than your motherboard bio battery or laptop battery weak or breakdown. If you set time every time when use windows and when you shut down and open again than  computer clock wrong in windows 7.  If you also get the error "How to disable press F1 to continue when booting" this is also due to CMOS battery weak or not working.
Solution – change your mother board CMOS battery and set the time again from BIOS setup or from Windows Clock. Doesn't matter your computer time change automatically on Windows XP, Windows7, Windows 8.1 or windows 10 than CMOS batter replacement will solve this issue.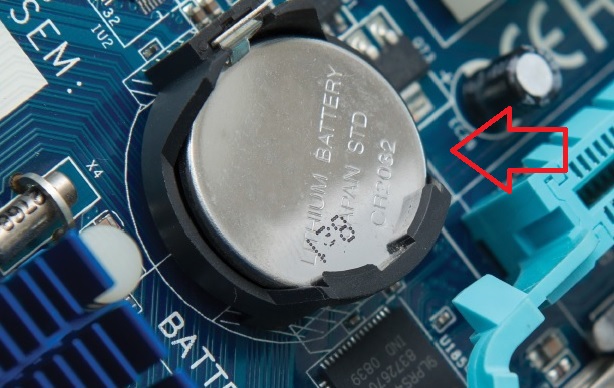 8:- Cant Access Network Printer in Windows Computer.
If you are using the single printer for multiple computer in office or home. You may get many time this error "can't connect to network printer windows 7". This error can get on Windows 7, Winodws8.1 and Windows 10 due to "computer is not accessible". This error comes when there are some restriction on security policy on windows.
Solution – There are many way to solve this error on network
See  here for "computer can't find wireless printer"
Solutions here Printer not showing on network when searching from another Computer (Solved)
9:- WIFI, LAN, Bluetooth nothing work on Windows 10
You Laptop or computer in windows 10 LAN, Wireless Bluetooth nothing working. This can be due to flight mode activated on your windows 8.1 and window 10.
Solution– Check the side setting panel on your Windows 10 and disable the flight mode to enable all network and wireless. See now below image for "airplane mode windows 10"
Click on Start Menu and choose settings.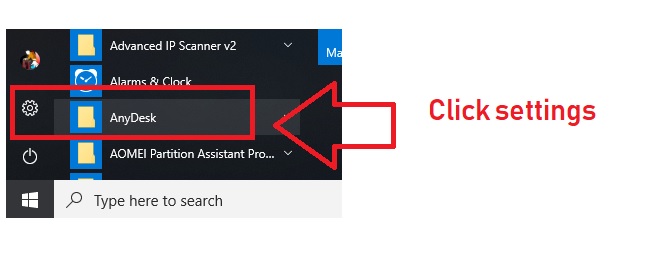 Click on Network & internet (disable and Enable Wi-Fi, airplane mode, Bluetooth and VPN setting)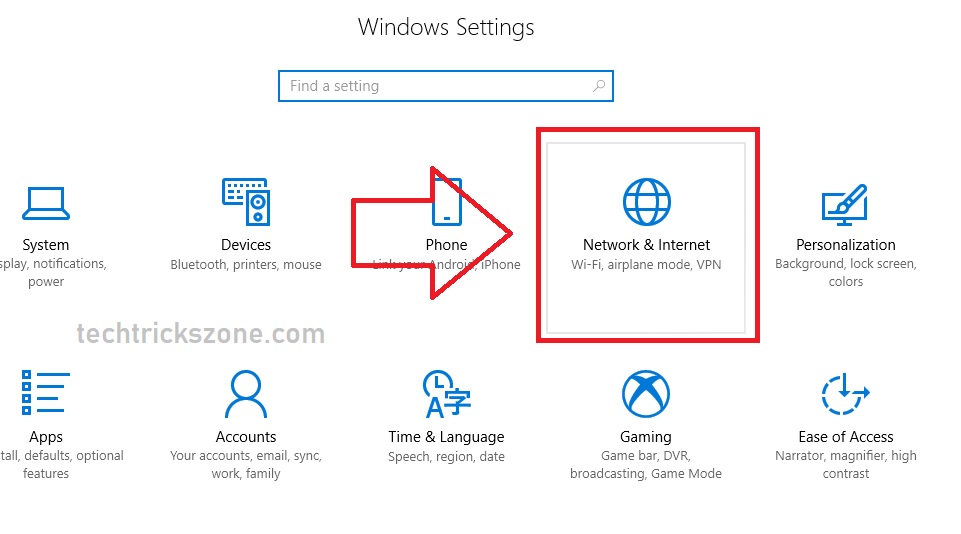 Choose Airplane mode from the left side menu
Click Off for disable and On for enable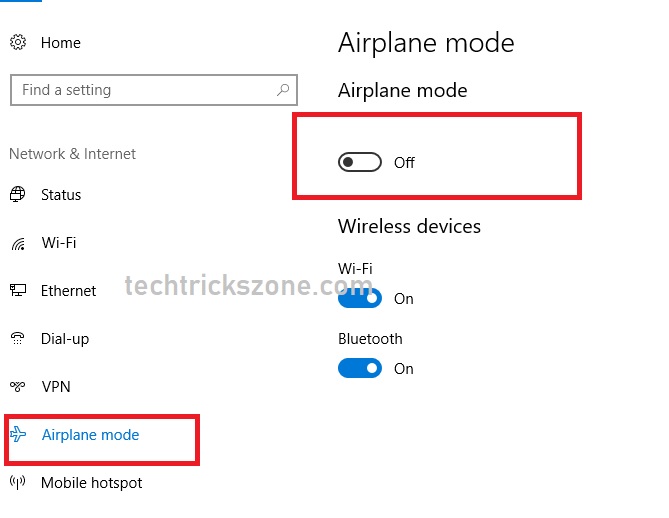 From this settings, you can enable and Disable Airplane mode on Windows, Enable Mobile Hotspot on Windows 10 and WiFi connection.
10:- How to show Hide folder in Windows.
Hide and show in windows operating system is not a problem. It's a setting to keep your privacy from others. If you use hide folder option in your windows computer or windows laptop and looking for settings "windows 7 show hidden folders" than follow steps.
Solutions-
To show hidden folder in windows computer step by step.
Open Control Panel from start menu or desktop icon.
Click File Explorer Option (for Windows 8.1 and Windows 10)
For Show Hide folder in Windows 7 Open Folder option from Control panel.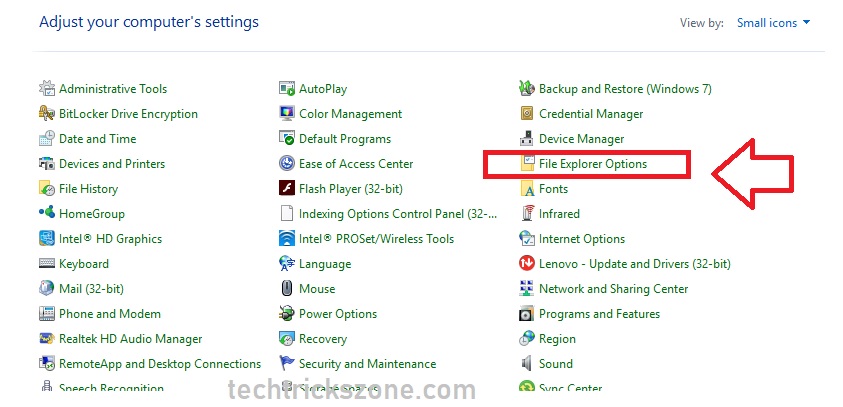 Click View tab next to the general tab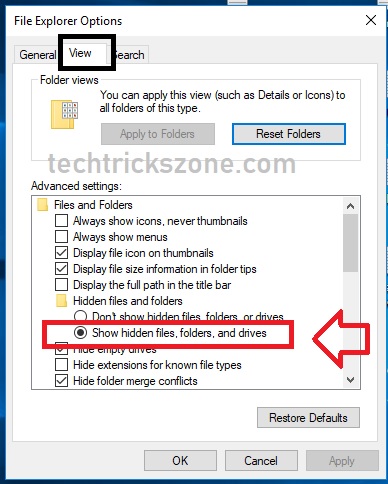 Select Show Hidden files, older, and drives.
Click Apply OK to save the setting and check your hidden folder, file and drives showing.
 Related Post