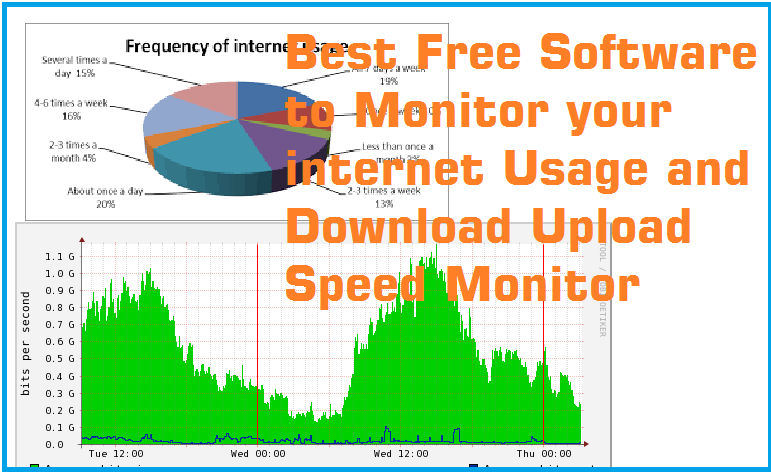 (Last Updated On: June 4, 2018)
Top 5 Free Software to monitor internet Usage from Desktop
Today internet is a backbone of every business and need of every one. Internet are two type plan one is postpaid and second is prepaid. Postpaid is stand for pay after use. Means bill will be generated as per your plan or usages basis end of the month. Prepaid is stand for first pay and then use. Prepaid usages are depending of your data balance you buy for prepaid plan. This post for useful of manage and save internet data, because in this post I will share with you best free software for monitor internet usage. After  installation of  internet usage monitor software  in your PC you can easily watch how is the balance internet data and what is current speed and total analysis of month wise internet speed as well as getting speed as per your plan or not. read full to know more about best free internet usage monitor tools for your Mobile Computer and Tablet.
1. BitMeter II : Internet Usage Monitor Web Based Tools
BitMeter 2 is a 100% freeware network utility to let you monitor your internet usages. BitMeter provide you feature to monitor your current internet speed , real time data consumption  and upload download speed. you can track your monthly usage of internet and total speed. you can configure BitMeter for auto backup of data recorded by software. And you can change data up and down color code as per your choice. task bar icon available for live monitoring of speed and internet usage. You can just check the speed on hover of mouse cursor . you can download it from official website completely free and get how to install BitMeter 2 Manual.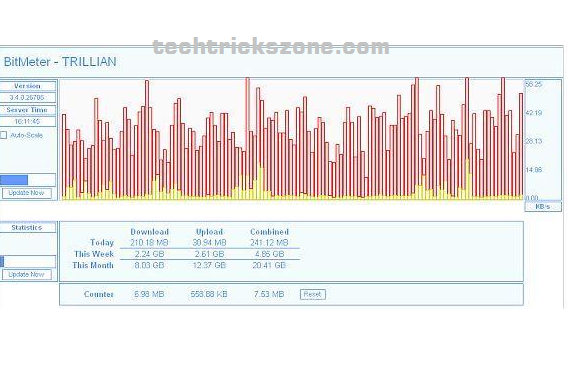 2 NetWorx: a Graphical Network tools for internet monitor
After BitMeter NetWorx is a Best alternate for track your internet usage as real time basis. Its also 100% free network utility. NetworX is a light weight network tool for monitoring all type internet connection, NetWorx can monitor dial-up, ISDN, cable modems, ADSL, Ethernet cards, and more. NetWorx is a clear graphic and numeric display which can easily track your internet usage. NetWorx help you to generate your monthly report of internet usage, its help to detect and any time network issue and speed consumption limit cross to avoid  charges of internet . Download NetWorx from official website free of cost. Networx support Windows,Linux,and macOs platform. You can get premium version of Networx to get extra feature for your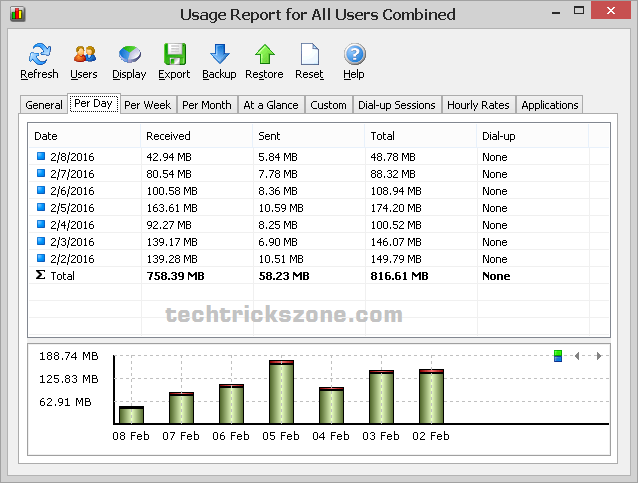 NetStat Live : Fest Free Internet Usage Monitor Tools
Netstat Live is anther good network utility to monitor your internet usage as well as track your monthly reports.NetStat Live show total usage of incoming  and outgoing total data stat.currntly NetstatLive  available for windows all version, you can download it directly from official website free of cost.Netstat Live tool is a one of the best free internet usage monitor tools for your internet  data plan.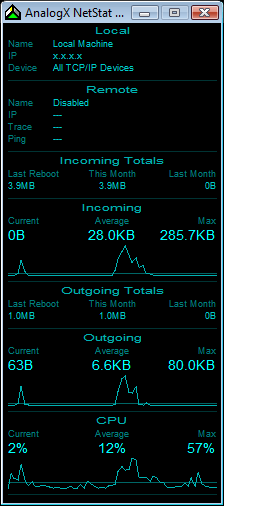 Download NetStat Live  Free NowBroadband Usage Meter:
4.Broadband Usage Meter
Broadband Usage Meter  is a light weight windows network utility to monitor your broadband internet usage. its monitor landline as well as mobile broadband internet connection. Its doest not consume any data to self usage. you can change color and size as per your choice. Broadband Usage Meter very user friendly to configure and easy to monitor. download from official website and get complete user manual with configuration steps.
Download Free Broadband Usage Meter Now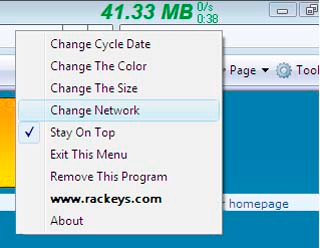 5.  NetSpeedMonitor
NetSpeed Monitor as the name sound Net Speed Monitor so its  a task bard utitily to show your internet  upload and download stats as per your usage. you just need to right click on netspeedmonitor icon and you will get option to configure it according to you. You can choose Ethernet from option to moniter, by default its monitor all Ethernet installed in pc.its completely freeware to download. You can download it from various site. Wel for now you can download it from below link free of cost.fully supported for windows 7 windows 8.1 and windows 10.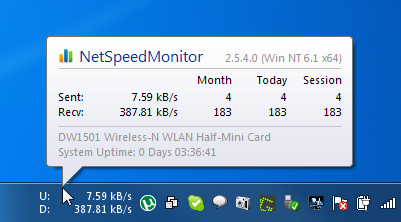 best free internet usage monitor tools