With people sharing pictures on social media all the time, the number of photo editing apps has gone through the roof. However, it's hard to know which app is actually worth using as all apps claim to be the best. This article going to guide you to download AirBrush for PC and touch up pictures while working too.
AirBrush is a photo-editing app that promises perfection, so is it really up to mark? Well, we'll find out.
What is AirBrush?
AirBrush is a photo-editor for mobile, available on Android and iOS both. It comes from a Singapore-based company Pixocial Technology. The app focuses on removing any imperfections or faults from the photos, as well as adding filters.
The overall interface is surprisingly easy to use, as you just have to upload the picture from your gallery and start editing. You can choose from a variety of features within the app to edit the picture for a very specific purpose.
Key Features
So here's what you can actually do with the pictures:
Add Filters
As is common with many such apps, you can throw on different filters to change the colors and overall aesthetics of the picture. It's much easier to use a filter than to change colors manually.
Remove Blemishes or Pimples
Pimples and blemishes are a part of our lives. However, if you don't want the pimple or blemish to show in your picture, you can use this feature as it brilliantly removes them with just a tap. You can also add some blush to add some glow.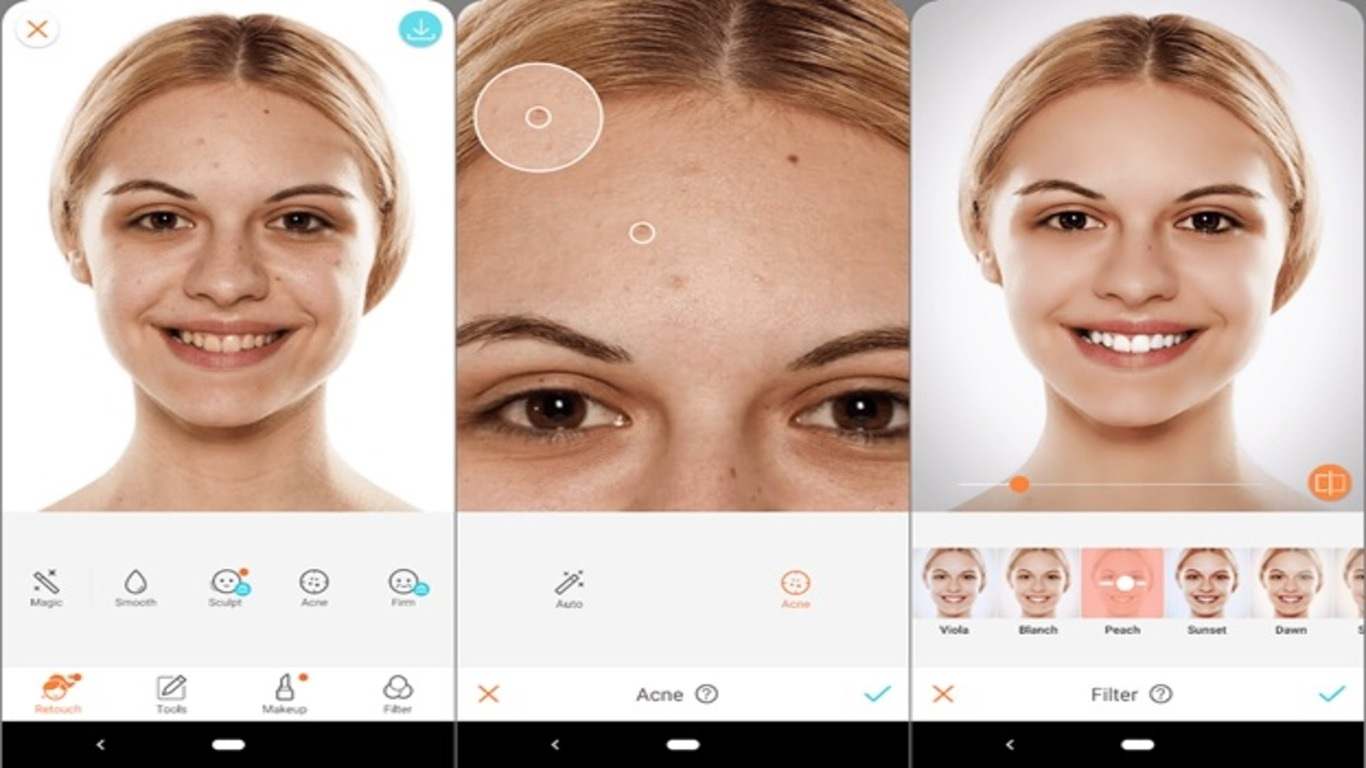 Tanning
So what if you couldn't get the tan at the beach this summer? You can add some tan and radiant glow with the help of this app.
Reshape
You can also reshape any part of the picture to balance proportions or crop out something you don't want to be included in the photo.
Artistic Touch
You can also add an artistic touch to your photos by blurring, stretching, and fine-tuning a picture. It will literally make it look like it has been captured by a professional photographer.
Relight
Not happy with the lighting of the picture? You can add or subtract light to get the result you want. It also allows you to add more light to specific parts of the picture, which can help balance the lighting better.
Teeth Whitening
Let's be honest, even if you have good dental hygiene, your teeth may not always appear very white. This app has a special teeth whitening effect that whitens your teeth in pictures instantaneously. So if you shy away from smiling or laughing in pictures because of yellowing teeth, you can use this effect.
Editing Hacks
A lot of the apps are increasingly overwhelming to use, but AirBrush makes it easy to learn it with Editing Hacks, which comprises blogs explaining how different features work. Neat right?
Can You Share Pictures Directly?
Yes, you can directly share pictures on the social media of your choice after editing the picture. You can also save it back to your device.
Can You Use it on PC?
AirBrush doesn't have a desktop app or even a web app, as it's solely a mobile application. However, if you want to use it to edit pictures on your PC or Mac, you can do it with the help of Nox Player.
Now, Nox Player is an Android emulator for PC that lets you download and use Android apps within Windows, kind of like a virtual system. You can download the app from the Google Play Store just like you would on a mobile device. Also, you can download the AirBrush app for PC, which is the APK file for the emulator. with helping of an emulator you can enjoy AirBrush for PC same as an android device.
To move the file from the PC to the emulator, you can just drag and drop the file from the PC desktop to the emulator home screen. Then you can start using the app and edit pictures saved on your computer. It works just how it does on mobile, except you can use a mouse or touchpad.
Bottomline
The airBrush for pc app is truly remarkable as it can help make your pictures perfect. Although there's nothing wrong in embracing yourself even with the blemishes or not-so-white teeth, sometimes you just want to look perfect, and this app can help with that.
The best part is that it's completely free and appropriate for people of all ages!
Related Post