After the research lot finally, I have found the solution for configuring Binatone DT850 ADSL WiFi Router as a repeater mode configuration to boost Wi-Fi range on home and office. See the method to utilize your laying ADSL modem+ Wi-Fi router as the range extender.
Binatone DT850 ADSL WiFi Router as repeater mode configuration
I got many questions about "how to configure Binatone ADSL router as repeater mode" on my YouTube Channel. Actually Binatone DT850 and DT865 ADSL modem+WiFi router used by Airtel, MTNL, and BSNL to provide a DSL internet connection with Landline connection. The consumption of ADSL modem wifi router huge as it's used by the telecom leader company Airtel and BSNL. So once you disconnect the internet connection than your ADSL wifi router laying waste until you cannot utilize it as a Wifi range extender.
So everyone tries to use the Binatone ADSL router in repeater mode but they failed because it is true there is no repeater mode available in ADSL router DT850 and DT865. But I tried to connect reverse WDS bridge mode to enable Repeater mode in Binatone DT850W 4 Port ADSL+ Router with Wi-Fi. Before knowing how to configure ADSL router as repeater mode how to use without repeater mode use as the range extender in ADSL wifi Router.
How to use Repeater Mode in Binatone DT850 ADSL WiFi Router
As I already confirmed now repeater mode exists in Airtel ADSL Wi-Fi Router than how to use as the repeater.
To use Airtel ADSL modem as repeater your Main internet Router should support WDS bridge mode. I tested the Binatone DT850 4Port ADSL2 modem as repeater mode with TP-Link TL-WR741 ND. To understand see the diagram on how to connect ADSL modem as the range extender.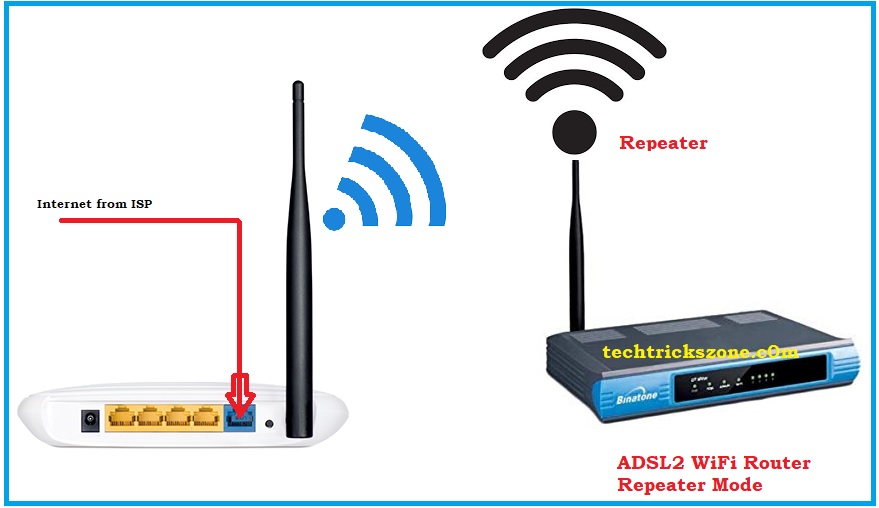 Steps to Use ADSL2+WiFi router as Range Extender
You may try to find repeater mode in your Airtel and BSNL ADSL modem. Only Wireless Access point configuration is available for DT850W ADSL modem wifi router.  so to configure Binatone BSNL ADSL2 WiFi router As repeater mode with tricks possible. To understand the process to use your laying ADSL modem to boost wifi signal in your home.
I have tested Repeater mode with TP-Link TL-WR741 WiFi router as internet main router. Wireless connect ADSL router from TP-Link WR741 with using WDS mode.
See the complete configuration guide to turn your ADSL Modem+WiFi router as the Repeater mode with a TP-link WiFi router.
Read More:
Part-1 ADSL Router Configuration 
Step1:  Configure Binatone DT850/DT865 as Access Point.
Connect your ADSL modem to Laptop through Lan cable and open the IP Address.
Use http://192.168.1.1 if in the default setting and admin/password for username and password.
After Login Go to Interface Setup—Wireless
Choose your country and keep the channel in Auto mode.
SSID- type your Repeater SSID (this Wi-Fi name will use to connect from Mobile and laptop as well as main Wi-Fi router to get internet wirelessly)
Authentication Type: use the WPA2PSK (recommended)
WEP- type Password in Key#1 box.
Click the Save button to apply settings.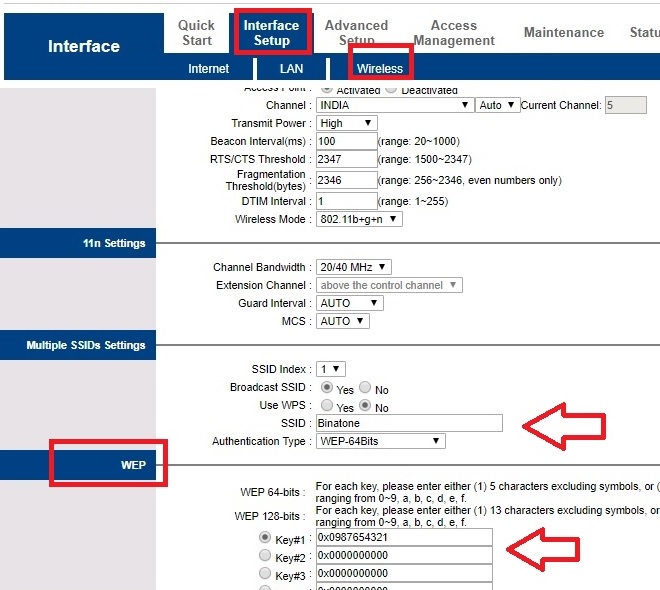 Step2:  Disable DHCP Server on Binatone DT850 ADSL Modem + Router.
As we are going to configure DSL broadband router as range extender so mobile and laptop will get the IP address from the main router. If ADSL modem DHCP server will enable than all the mobile and Laptop connected to repeater SSID will get the IP address from itself and the internet will not work.
So Disabled the DHCP server from the ADSL broadband WiFi router.
Go to Interface Setup- LAN
DHCP- Select the Disable bullet and click the save button to apply settings.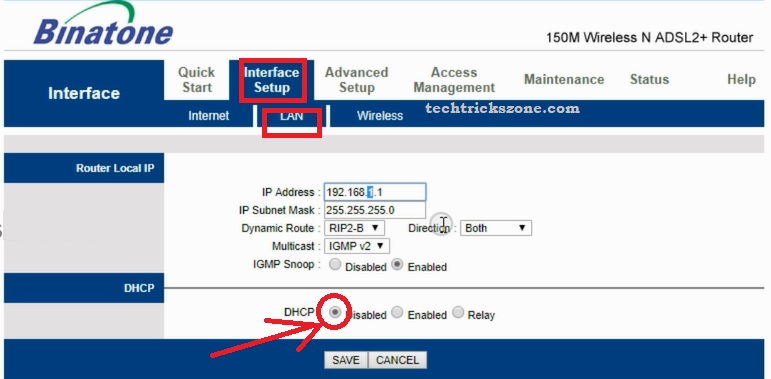 Now ADSL configuration finish.
 How to Change Comcast Xfinity Router WiFi password
Part: 2 Host internet WiFi Router configuration
 Step1: Connect your PC/Laptop to the main internet router.
In this step, we will enable the WDS bridge mode to connect the ADSL router wirelessly to use for the Wi-Fi signal boost.
Connect Main Host WiFi router and open page.
After Login TP-Link router Go to the Wireless—Wireless Settings
Enable WDS bridging option as shown below image.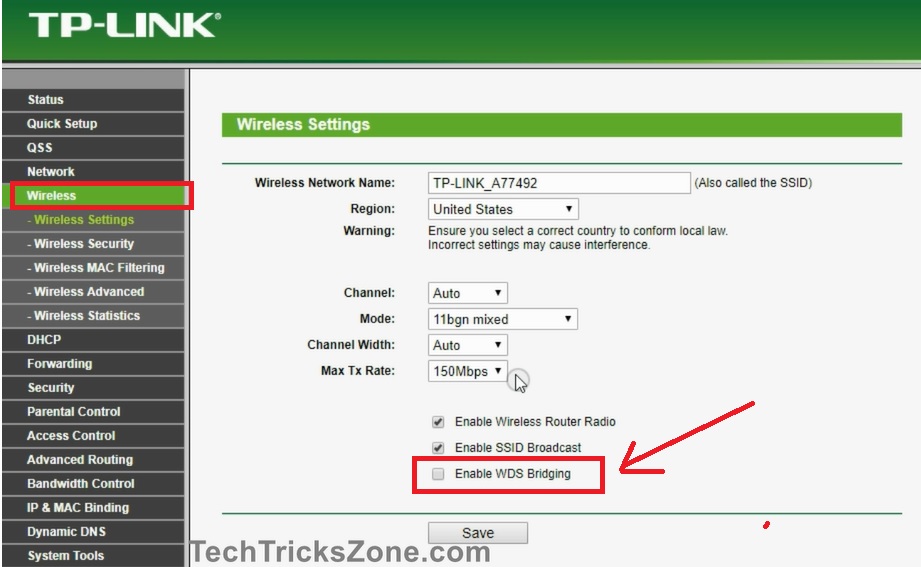 After Enabling WDS mode in TPLink Wi-Fi router now need to scan and connect to DSL modem.
Press Survey button to scan Wireless network running.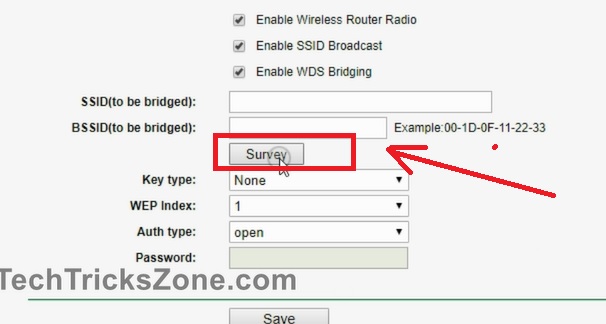 After press the Survey button within 3-5 seconds, you will get the complete list of scanned WiFi names running on your area.
Choose your Broadband ADSL Modem Wi-Fi name from the list and press connect button to join.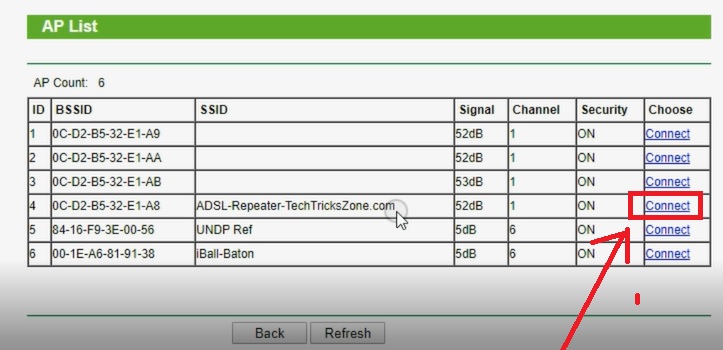 After selecting your ADSL2 SSID now fill the password to connect it.
SSID (To be bridged) = selected automatically
BSSID = Mac Address of ADSL router.
Auth Type: Open
Password: Type the password of ADSL modem.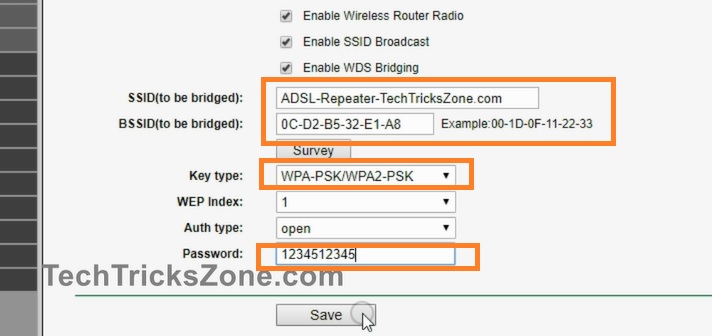 Press the Save button after all information filled. The device will ask to reboot to take settings effect.
Reboot the device and wait until it's not connected to the Binatone ADSL router wirelessly.
After a successful connection with the Main host router now you can place your ADSL modem router to the nearest place from where the signal can boost as well as the signal connection from the main host router.
Tested Router Models:
This method test with Binatone WR1500N, WR3000N, TP-Link TL-WR743, WR741ND, and other popular modes. I Ball 150Mbps and 300Mbps Wireless router, To another brand router, try to find the WDS mode. If you facing any issue to connect with another brand router please comments with the Router model. I will try to find the best solution for the same router as soon as possible.
Conclusion:
The conclusion is connectivity through wireless important for one WiFi router to another wifi router doesn't matter its connection as repeater or WDS mode. IF we can make the wireless connection then we can use it as repeater or range extender whatever call. Repeater mode also calls AP+ client so we can say the method to connecting Router +WDS bridge as the Main host wifi router configured with the internet as well as connected bridge mode to ADSL router.
Related Post:
Binatone ADSL Modem Router Repeater Mode Configuration Video