Belkin Router Login to Change WiFi name and password
Belkin wireless router login to setup the first time for your home internet. You might want to change the WiFi SSID name and password for your Belkin WiFi router and ADSL router that need access router settings. Login to Belking router using default settings can be possible with a computer and mobile device. The simple way to login Belkin wireless router is to connect LAN cable to the router LAN port and directly plug to desktop or laptop to access router settings.
This manual will help you to login to the Belkin 54Mbps WiFi router to the latest Belkin N600 F9J1102zb Wireless Dual Band routers. After login Belkin wireless router you can change wireless settings, login password, port forwarding, enable the firewall to block website as well as update firmware to run the network problem-free.
Steps to Login Belkin WiFi Router
You need to connect the router via a wired or wireless connection to access the router settings page.
Belkin router having LAN port for local network connection and WAN port for internet cable connection.
Connect Cat5 LAN cable to LAN port and plugged into a computer LAN port.
Internet cable should be connected to the WAN port.
Power on the router with DC power adapter comes with a router and proceeds to access the router web interface.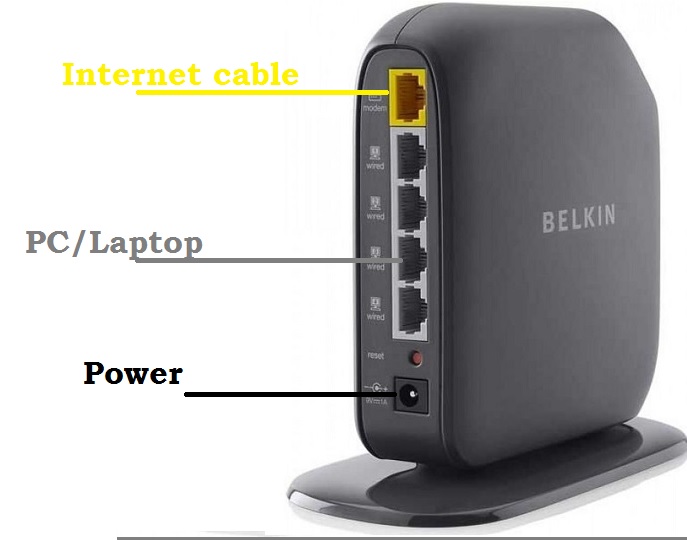 Default login settings required to access any wifi router that is usually printed over router sticker or user manual comes with a box.
Belkin router Default login IP address: 192.168.2.l
Default username: admin or NA
Default Belkin router login password: password or Leave blank
In some Belkin router models only login passwords required that are blank (no password) for the first-time login.
Make sure your Computer/ Laptop LAN network configuration in DCHP mode to get an auto IP address from the router.
Open Router settings to the Web browser
After the initial setup now open a web browser and access Belkin LAN IP https://192.168.2.1 and press enter key.
After a few seconds, the router settings page will load where you can find a login option in the top left menu.
Press the login option and provide a username and password.
After successful login into the router now you can change wifi settings.
Change Belkin WiFi SSID network name
Belkin router setup first time must update the default wifi name and password to secure wifi internet. It does not matter you using the Belkin N300 WiFi router or the Latest Belkin 11ac wifi router, it is highly recommended to keep update wifi password time to time.
Go to Wireless- Channel and SSID  option as shown below image.
If your Belkin router supports dual-band then under wireless settings you will get 2.4Ghz And 5.8 GHz Wireless Settings separately.  You have to change the WiFi name for both bands and set the password as well.
SSID:  Belkin WiFi name ( set the WiFi name for your Belkin router)
Wireless Mode: Mixed (keep it)
Channel: Auto ( if using only one wifi router in the same location keep it auto and if using multiple wifi router use channel 1,6,11 to avoid frequency interference.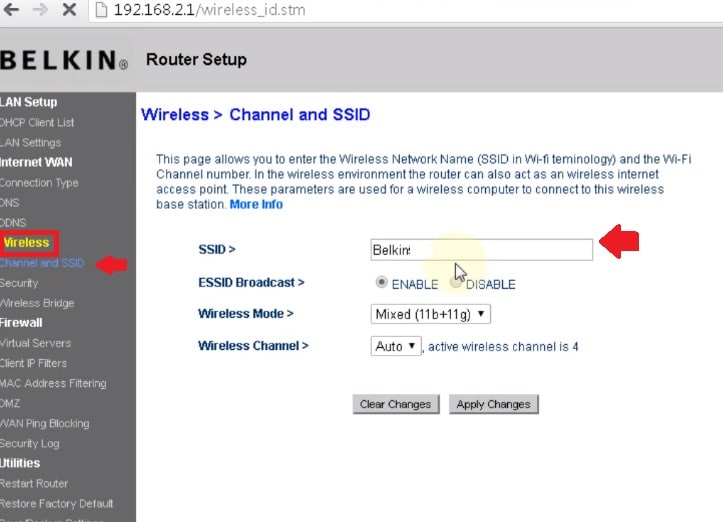 Press the Apply change button to save settings.
 Next is to change the default wifi password to protect the network.
 Change WiFi Security Key
Go to Wireless- Security
Allowed Client Type– WPA/WPA2
Encryption Technique– TKIP/AES
Pre-shared Key– Belkin wifi Key (set a stronger wireless password for your network)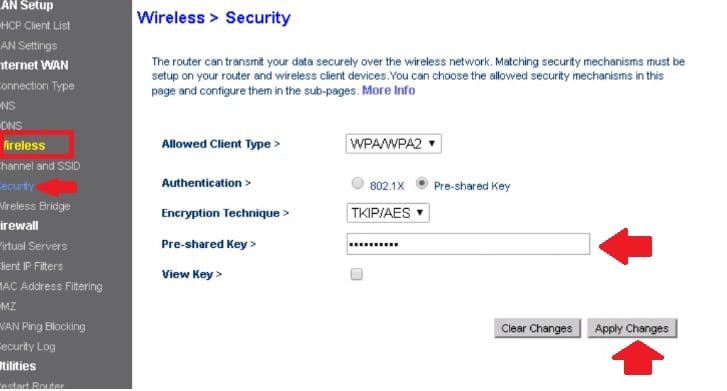 Press Apply changes button to confirm settings.
Once the wi-fi name and password change all mobile, laptop and any other wi-fi devices will get disconnected from the network. Use a new name and password to connect again.
Set and Change Login Password for Belkin Router
Belkin modem and wireless router default login password blank in most of the models so before using in-network always set a password.
Go to Utilities option from the left side menu.
Utilities- System Settings
Type in Current Password- If no password use for login leave it blank. If you set a password use the same password in the current password.
Type New Password: Set Belkin login password
Confirm new password: type new password again to avoid spelling mistakes.
Login Timeout- 10 Seconds (if no activity on router settings then the router will auto logout from settings)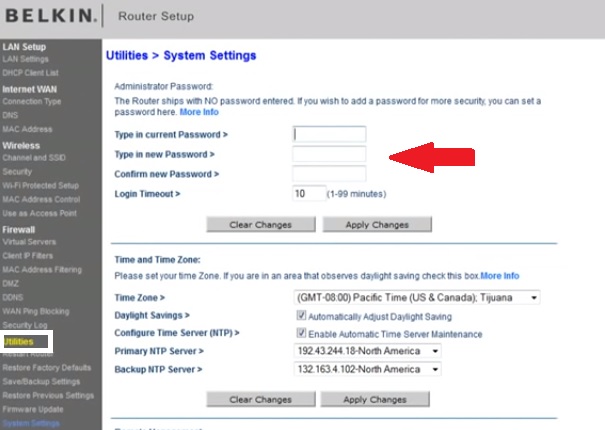 Apply changes to save settings.
Time and Time Zone: set your time zone to run the router as per your country's time settings.
Settings time zone will help you while enabling internet schedule and parental control for internet restriction as per time limit and schedule.
Belkin Wireless Router Troubleshooting
If you are facing any type of error while accessing the Belkin login IP address to a browser that seems to network misconfiguration and other network issues.
If you can t login to the Belkin router settings page or the default login IP address not responding or taking a too long time to respond follow the steps by steps to fix the issue.
Belkin Login IP Address Not working
Make sure your Belkin default login IP address correct as printed to router sticker or default IP address not changed already with the new IP address series.
Make sure your computer/Laptop LAN IP Address settings in DHCP mode.
Open Command prompt and type command "ipconfig" and press enter. See the default IP address showing is your Belkin router default gateway to login router.
If you still facing an issue you can make the router factory default to setup again with new configurations.
Note: Before Making a factory reset to make sure you have your internet settings detail to configure the router again to working back.
How to Factory Reset Belkin Router?
What are the steps to make the router reset to default settings mode? You need to physically access the router device to proceed hard reset process.
See the small reset button beside Ethernet ports .use any needle and small things to press the reset button.
Power on Router and Press and hold the reset button for 15 seconds until router rebooting.
Wait until the router reboot and restore to factory settings.
Related Post