The best way to use your WiFi Router as WLAN Adapter to connect Non-wifi devices such as Xbox gaming console, NVR, DVR and Desktop computer without laying physical wired from main WiFi router.
How to use WiFi Router as WLAN Adapter for Xbox and NVR
Have you dumped an old Wi-Fi router after upgrading with the latest MiMO wireless router to increase the WiFi speed? You may be laying extra old Wi-fi router around you and you are not aware to re-use of the older router as WLAN adapter. Yes! Using an old Wi-Fi router as a client (USB adapter) is the smart way to connect the internet in your non-Wi-Fi devices such as desktop, Xbox game, NVR, Smart TV and many more.
Every WiFi router support multi-mode such as AP, Client, WISP, and bridge to working as per requirement in networks. If you have to lay any old router with you such as Linksys, TP-Link, Tenda, D-Link, Netgear and any other popular brands that you can recycle your router to work as WLAN adapter. Most of the brand support multi-mode, unfortunately, if your router doesn't have client mode than you may switch firmware with DD-WRT or OpenWrt firmware to enable client mode in it.
However, you can use your old router for DVR, NVR, Xbox gaming console, Smart TV, IP Camera, Network Printer and any other device which only supports wired internet connection. Turn an Old Router Into a Wireless Bridge (client mode) required to connect wirelessly to the main Wi-Fi router. You can also use the WiFi router in client mode to avoid physical internet cable laying from primary router to your NVR, DVR, Smart TV or any network device. There are many network device which does not support USB WLAN adapter to connect WiFi internet. So you can use such type device to connect with the internet using old wifi router in client mode without laying cable.
Turn Wireless Router into WLAN adapter
Using a wireless router as client mode required a physical connection from PC/Laptop to access the web interface. Here are I am using TP-Link WR743ND WiFi router to turn into WLAN adapter to create this tutorial
Connect your WiFi router to the Laptop/PC laptop
If you are using any other brand Wi-Fi router then see here default IP Address and login details.
After login, your Wireless router follows the steps below to make your wifi router as a WLAN adapter.
Change the WiFi Router mode to Client Mode
To change WiFi mode go to an operation mode or wireless mode settings in your wifi router.
Working Mode
Choose the Client and press save button to apply settings.
Wait until router reboot and open again.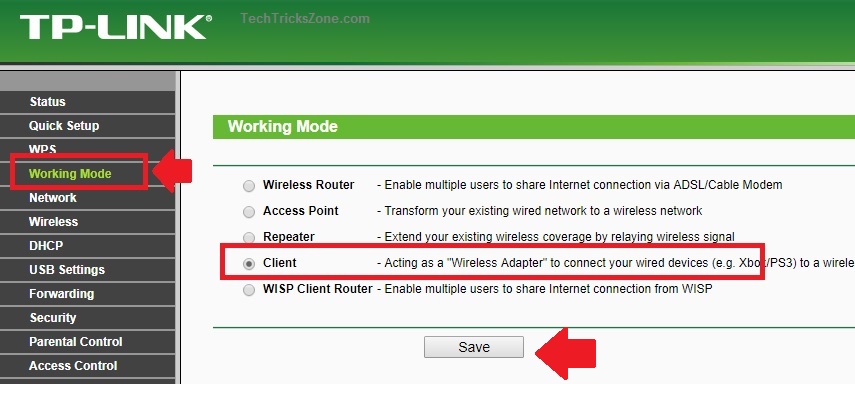 Connect WiFi Router to Primary Wireless router in client mode
The second steps are to connect your WiFi router wirelessly to your main internet wifi router.
1: Go to Wireless- Wireless Settings
Click the survey button to scan your primary WiFi Name (SSID)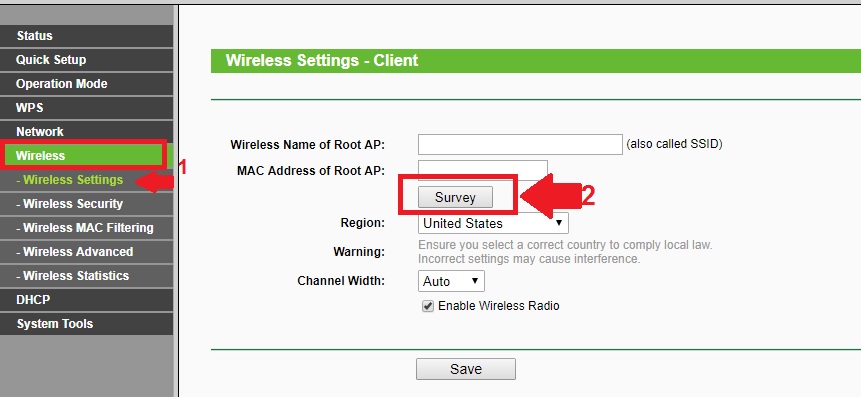 Choose your Primary Wireless name from the list and press connect button to join the same network from client mode.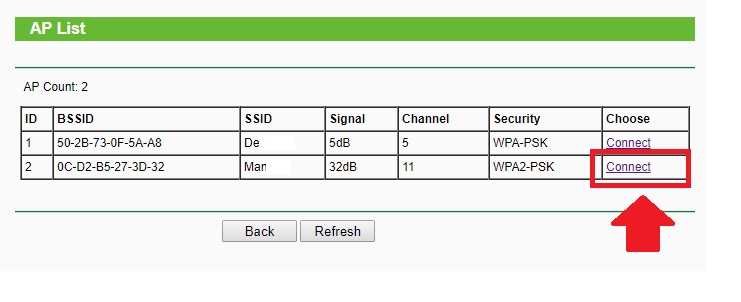 Wireless name of Root AP: This box will show your primary SSID.
Mac Address of Root AP: here Mac address of primary WiFi router.
Channel Width- Auto.
Click the Save button to apply settings.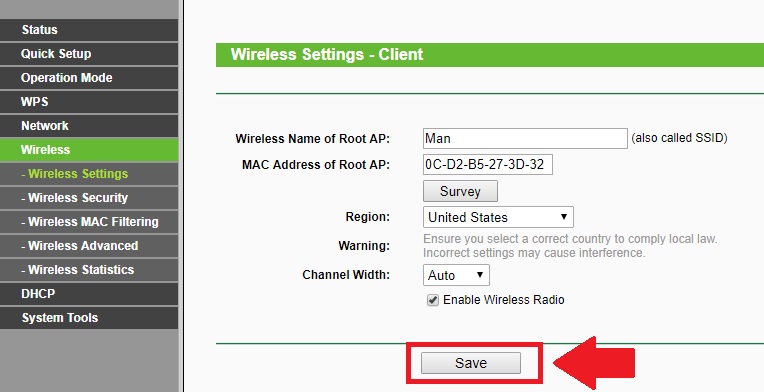 Security settings
Your Main WiFi network is protected with security so need to provide security settings in client router to authenticate.
Go to Wireless- Wireless Security
Choose the security type of primary WiFi router using.
WPA/WPA2- Personal –
Password: type the password of your primary WiFi name.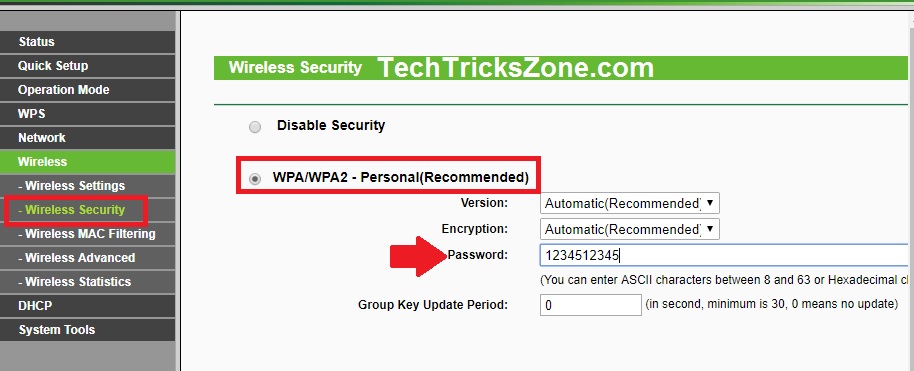 Press the Save button to apply settings.
WiFi router will take a few seconds to connect the primary wireless router.
After connected status, you can use your WiFi router as WLAN adapter to connect the cable from LAN port to device you can want to connect on the internet.
 Connect Xbox, NVR or Smart TV from Client Mode WiFi router
If you successfully configure your old Wi-Fi router as client mode than you are ready to connect any network device using a physical LAN cable. If your client mode Wi-Fi router having multiple LAN ports than you can connect multiple network devices to connect into the internet without laying physical cable. Follow the network diagram to connect your WiFi router in client mode.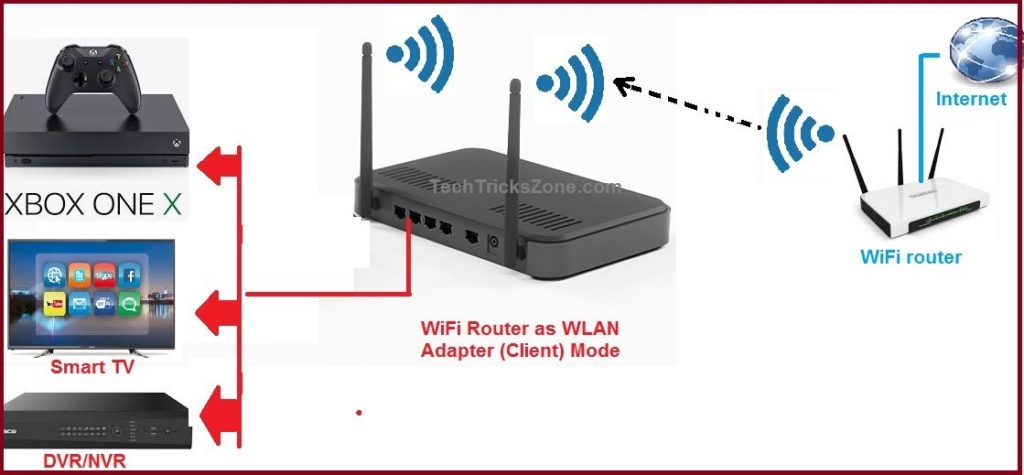 Related Post