How to Login Linksys Router to change password
Login Linksys E series router and access web interface to setup router first time. Linksys E1200 300Mbps wireless router setup first time for your home and office while new internet connection installed. You need to configure WAN settings as well as Wifi settings to ensure replace default factory settings. This tutorial helps you to Login Linksys router IP 192.168.1.1 for the older version and myrouter.local for Linksys E1200 v2 versions. To Access Linksys Router Login Page from computer needs t physical connection or wireless connection. If you have any Linksys E-series WiFi router, this tutorial will help you to set up for the internet.
Linksys Wireless Router Connection
Connect Linksys router to internet cable and power adapter comes with box.
WAN port connects to internet cable comes from DSL modem or internet providers side.
LAN port connect to Computer / Laptop for configuration.
Power On with adapter comes with Linksys box.
Linksys Router Default Setting
To access router first time required factory settings available in the router sticker as well as manual comes with products.
Linksys WiFi rotuer default login URL and IP Address details.
Default IP Address: 192.168.l.1 or URL- myrouter.local
Default username: admin
Password: admin
Windows LAN IP configuration
To access the router settings page you need to configure your Windows PC or Mac Pc into DHCP mode to auto obtain an IP address from Linksys router.
Press Windows  key + R key together
Type ncpa.cpl and press OK button
Network connection windows will open.
Right-click on Ethernet and go to properties.
Go to TCP/IPv4 properties and choose "obtain an IP address automatically" and save LAN settings.
Login to Linksys Router
Now open the web browser, Mozilla, internet explorer, or Google chrome and type Linksys router login IP http://192.168.l.l or myrouter.local and press enter key.
Now on Router Access Windows type the Linksys default password and username "admin" for both.
Press the Login button to enter the settings page.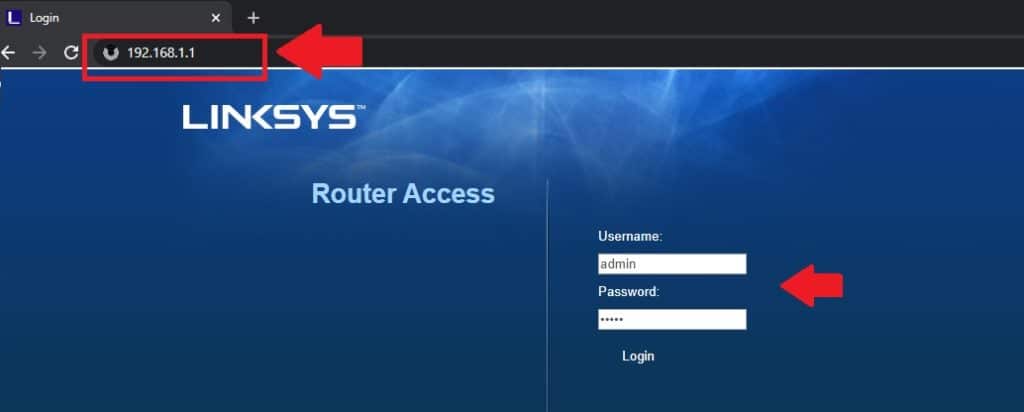 WAN internet Configuration
To work with the internet now the first step is WAN configuration using PPPoE or static internet type.
To configure the internet you need PPPoE username name and password or Static IP Address and gateway details. You can get detail from internet service providers.
Go to Setup- Basic Setup
Language: choose your language you want to set for your cisco Linksys router.
1: Internet Setup
Internet Connection Type: select the internet type PPPoE/ Static/ Dynamic..
Provide the details as per the internet type.
If PPPoE provides username and password.
Choose to Keep Alive: Redial Period- 30-second default you can increase or decrease it.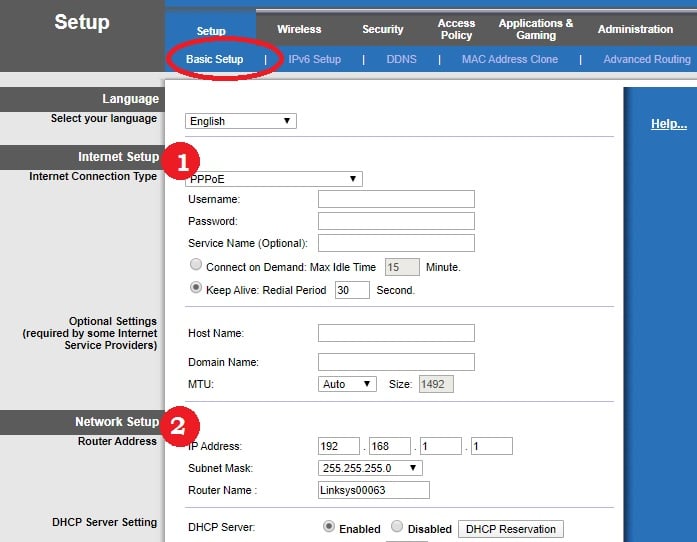 2: Network Setup
Router Address: IP address: 192.168.1.1 (if using more than one router in the same network must change the Linksys login IP to avoid conflict.
DHCP Server: Enable (keep DHCP server enable)
Save settings.
Linksys wireless setup
Now set up wireless in Linksys router to secure WiFi name and password.
Go to the Wireless tab from the top menu to set up the Linksys router.
1: Basic Wireless Settings:
2.4GHZ Wireless Settings: Network mode: Mixed
Network Name SSID: set WiFi name here
Channel: 1 (use 1,6,11 if more than one wifi router using)
Keep other settings and press save settings button.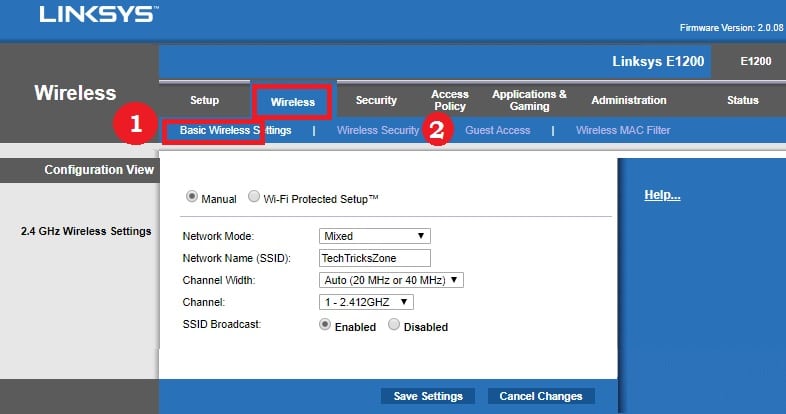 2: Wireless Security
Go to Wireless security and select WPA2/PSK  and set the Linksys WiFi password to protect Network.
Press the Save settings button to apply configurations.
After the WiFi setup now does not forget to change the Linksys Login password.
How to change the Linksys router password?
To protect the router also highly recommended to change the Login password during first time setup.
To change Linksys router login password follow steps.
Go to Administration tab
1: Management: Router password: type new password here
Confirm password: repeater password again to confirm.
Press Save settings and log in again with the new password.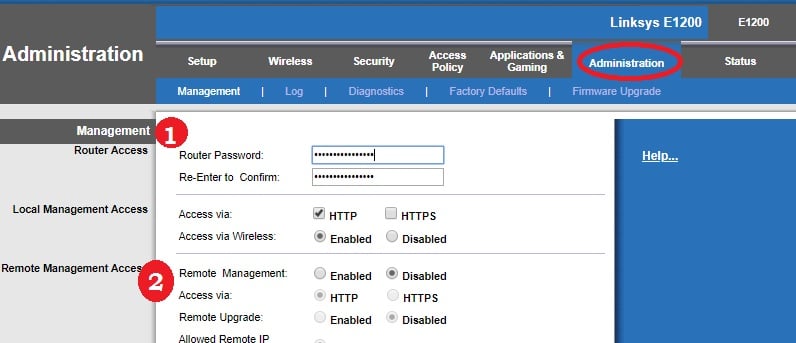 Enable Remote Access in Linksys Router
Remote access feature will let you access Linksys router outside your network from a remote location. If remote management access enables you can manage Linksys remote router login from a different location.
Go to Remote Management Access
Remote management: Enable
Access Via: HTTP or HTTPS
Remote upgrade:  (if you want to upgrade Linksys firmware from remote access enable this also)
Allowed Remote IP: set the remote IP you wish to access Linksys router remotely.
Remote Port: set Port for remote management access. 8080 defualt port.
Save all settings and reboot the router. After reboot router check the internet should work from LAN as well as WiFi connections.
Final Word
Linksys router setup and login first time necessary to protect the internet and make new internet connection working with the router. Configure Linksys router to allow remote desktop connection and other required settings must be done before connected to live networks. This simple user guide to configure Linksys E1200 router helps you to set up all Linksys wifi router.
Related Post