How to install CCTV camera in Lift using Wireless Device
CCTV (Closed-circuit television) one of the important security product today. CCTV surveillance technology divide into DVR (Digital video recorder) and NVR (Network Video recorder). DVR and NVR both are CCTV security systems used in home, office, street, factory and any place for monitoring activities.
While we talking about DVR there is also some limitation of using DVR due to cable limitation. Where NVR is better and can increase distance by using technology because it supports TCP/IP protocol. However the main challenge of installing CCTV camera in Elevators where an object is moveable and using fixed-wired not durable. Using Wireless device for Lift CCTV camera installation makes it long-lasting and maintenance-free.
Instead of laying physical wired in the lift, CCTV installation using the Wireless device is a permanent solution. Install camera with the wired need to change wire in a few months due to frequent movement of the lift. In this post, you will get step by step Elevators CCTV camera installation without wired, no matter how long is building heights. Read the full article to know how to install CCTV cameras in Lift using Wireless devices.
Method to Install CCTV Camera in Elevators/Lift
The Installation of the camera using wired is a time-consuming and complicated task because the elevator is moving objects. Wireless technology makes CCTV installation easy and quick task which also useful for installing a security camera in Lift.
There are two methods of using camera installation inside a list using a wireless device. Where wireless device works as a transmitter and receiver.
1: Install Wireless Receiver in Elevator Machine Room
2: Install Wireless Receiver in Basement of Lift Shaft
The selection of the method depends on the physical site survey and feasibility of device placement easy in the machine room or basement.
Method 1: Lift Camera Installation from Machine Room without Cable
This method can use if the feasibility of NVR and network switch easy reachable from the wireless transmitter device. Using wireless Access Point and Wireless CPE device turn your wired camera into wireless which can possible to fix in an elevator without wiring challenge.
How to Install Camera and integrate with Wireless Device
In both, the method wireless device configuration will same. The first wireless device work as a transmitter (CPE) and the second device will work as the receiver (AP).
Configure both devices in the table for wireless point to point mode or wireless AP client mode in bridge mode.
You can use any wireless device which supports Bridge mode or WDS mode.
1: Configure wireless device before mounting as a wireless point to point mode using wireless AP client mode in the bridge.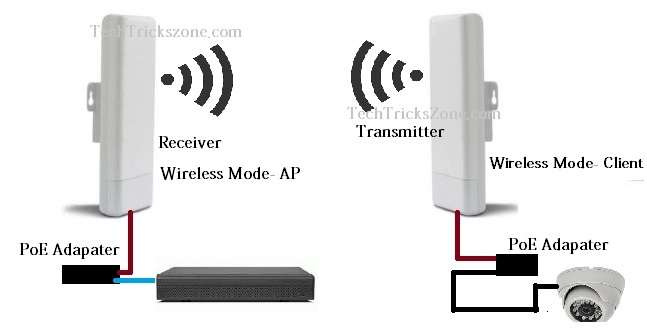 2: Install Wireless Receiver (AP) device to lift the machine room facing toward the downside.
3: Install Wireless Transmitter (client) top of the Lift face toward upside direction toward the Receiver device.
4: Mount elevator camera to a corner of the elevator and connect Cat6 cable from LAN port and connect to Wireless transmitter LAN ports.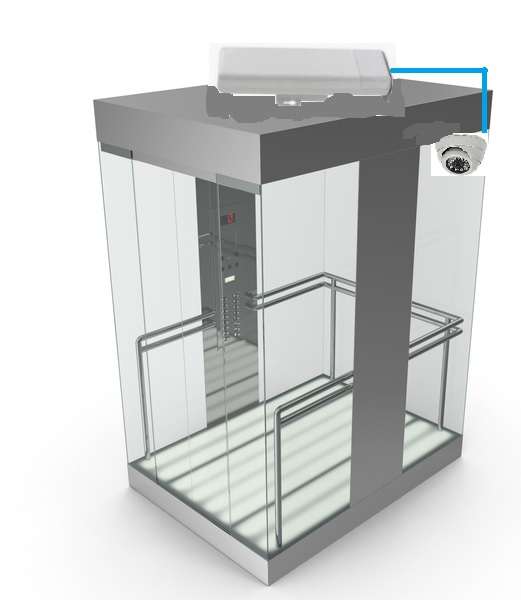 5: Power ON Camera and a wireless device using the DC adapter or PoE as supported by device and CCTV camera.
6: Connect Cat6 cable from Wireless Receiver Lan to Network switch nearby or NVR.
7: Both devices will be configured as bridge mode and camera feed will start showing in NVR.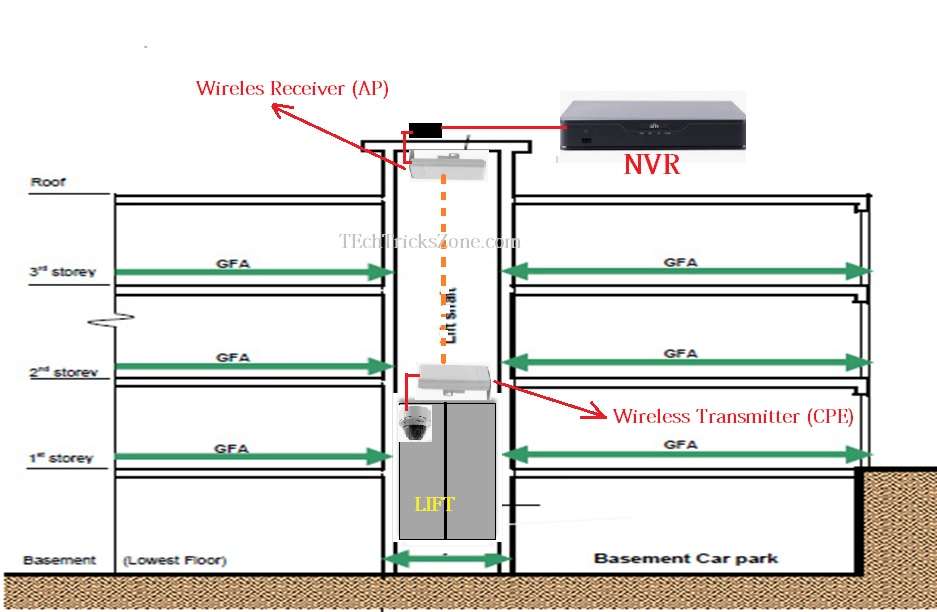 Method 2: Install Wireless Receiver in Basement of Lift Shaft
The second way to mount the wireless device at the bottom of an elevator shaft.  If you're NVR and Display installed in the basement or the nearest path is from the basement then use this method. Follow the below image to understand how to install the CCTV camera diagram which will give you clear ways to install IP camera in elevators.
1: Mount receiver device (Wireless AP) inside the basement inside the lift shaft facing toward Lift bottom side.
2: Connect LAN cable from NVR to receiver LAN port.
3: Fix Transmitter device (Wireless Client) below Lift (Elevator) facing toward basement (receiver) device.
4: Connect CCTV camera to Transmitter LAN port.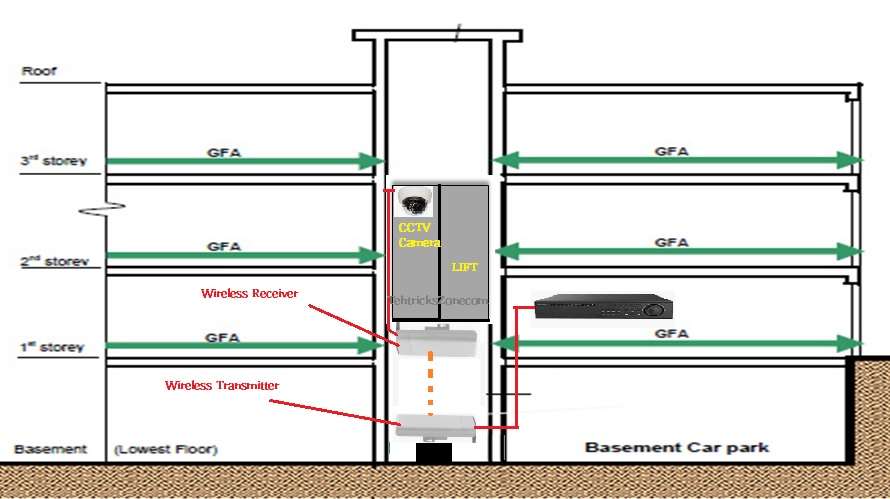 Selecting method for LIFt security camera installation subject to site survey and feasibility report of physical sites.
Final Word
CCTV installation using wired is a complex and costly task. Using Wireless technology for CCTV installation cost-effective and the easiest installation process without any complicated task. Camera over wireless also easy for maintenance and stable network where wired need to change in every few months because of the frequent moving of elevators.
Read More about CCTV (Closed-circuit television)
Related Post