Driver Talent Pro Review: A One-click Solution for Your Driver Issues
Windows drivers, to put it simply, are programs that allow the computer to communicate with its peripheral devices such as keyboards, mice, printers, scanners and so on. So, if Windows drivers are corrupted/damaged/missing/problematic, they may cause issues such as no audio/sound, no internet connection, Bluetooth not working, and so on. Although we can always use the built-in Device Manager to solve these issues, the process can be tiring and futile. Sometimes, a third-party driver updater such as Driver Talent is a more efficient solution. Here is the Driver Talent review:
Summary
As stated above, Driver Talent is a Windows driver updater designed to scan and fix problematic drivers on your computer. With core features such as auto-scan, one-click update, and driver/system backup, it is a simple solution for driver-related issues.
Key Features
User-friendly Interface
After a quick installation, you can open Driver Talent. Intuitive was my first impression of the program. With the black background and the outstanding blue button at the center, it doesn't take a genius to know what to do next. Just click the Scan button and the driver updater will perform and the auto scan of the computer. When the scan is completed, you will see the report screen with all the problematic drivers listed. Click the conspicuous Start button and the tool will install or repair related drivers automatically. If you need, you can click the triangle button beside the driver version information to choose from different versions. The layout is quite clear that if you need further help such as FAQ or customer support, you will know where to start.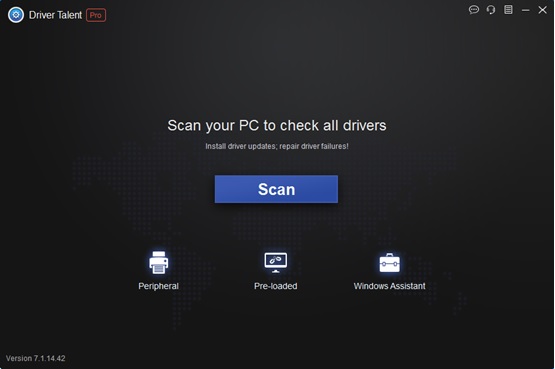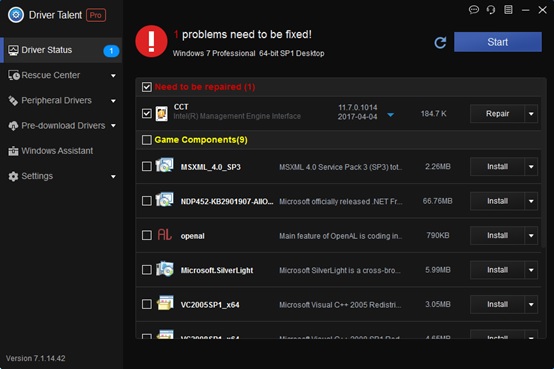 Rescue Center
Sometimes errors may occur after new drivers are installed. But you don't need to worry about that since Driver Talent will back up drivers and create the system restore points before installing/uninstalling drivers. So, if something wrong happened, you can roll back to the previous system version.
Peripheral Drivers
With this feature, you can search and connect to a peripheral printer easily. Also, you can see your other connected peripheral devices and check if the drivers are working normally.
Pre-download Drivers
If you just brought a newly-built PC which hasn't installed the drivers it needs, or another PC which cannot connect to the Internet, you may want to use this feature to download the drivers on your own computer, and then transfer them to another PC.
Cons
One the whole, Driver Talent works pretty fine. But many users have reported one common issue: some security programs such as BitDefender Total Security may block Driver Talent so it cannot work. In this case, users may need to whitelist Driver Talent or turn off their security program temporarily. This is a bit troublesome and confusing, and I do hope the developers should work on it.
Price & License
Compared to similar products, the price of Driver Talent is rather attractive. Its lifetime license only cost $19.95 for 1 PC, $26.95 for 3PCs, and $34.95 for 5 PCs. Basically, Driver Talent totally worth it.
Related Post