The best way to keep your larger wireless network problem-free is to keep update firmware always. using many UBNT device models in the same network than keep updated with the latest firmware release. follow here to UBNT airGrid M series Firmware upgrade without disturbing networks.
UBNT airGrid M series Firmware upgrade without internet
UBNT one of the popular and biggest choices of internet service providers for wireless solutions. We always try to keep update the new configuration manual for UBNT different products in blogs. Configuration required to use any product but firmware updating also important to keep device problems free. UBNT is the best product for wireless solutions and every small and large size ISP uses it because of its use of friends' web interface and easy configuration.
UBNT also provides best network tools for UBNT users without any cost to manage and maintain larger networks. The firmware upgrade also a major task to keep the device updated with new features and avoid any network glitch due to any bugs. In this post, you will get UBNT airGrid M2 HP and M5 HP device firmware upgrade offline. It is a completely user guide to upgrade UBNT airgrid m series device firmware update in simple steps. You can update all UBNT device models firmware by following this UBNT airGrid M series Firmware upgrade steps.
UBNT AirGird Physical connection for Firmware Upgrade
To firmware update, airgrid required a physical connection to PC/Laptop LAN port.
Connect your airgrid device directly to the Laptop LAN port to avoid any network issue during the firmware up-gradation process.
Connect PoE Adapter  PoE port to AirGrid and LAN port to PC/Laptop.
Power on the PoE adapter.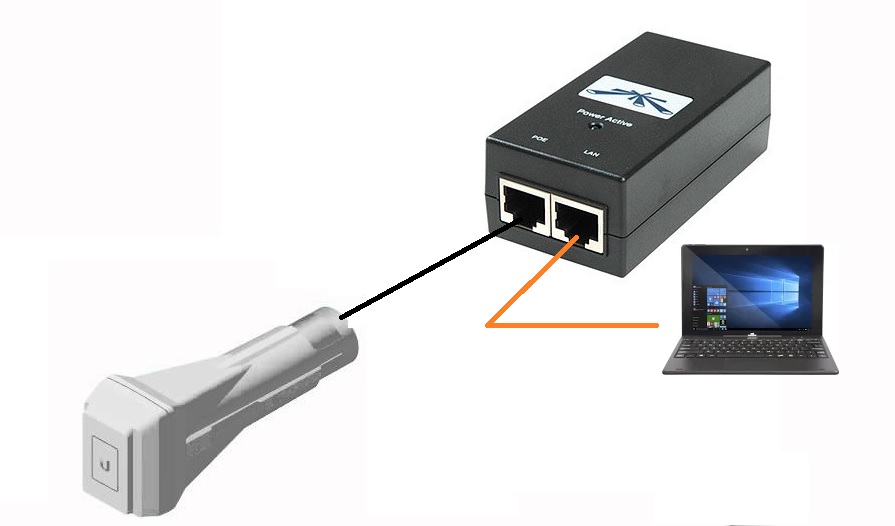 Note: if you have changed your UBNT device default IP Address then use the same series one IP Address to PC laptop and use the UBNT device changed IP address to Access your UBNT web interface.
If you are using the default IP Address of UBNT http://192.168.1.20 then use the 192.168.1.10 in your PC /Laptop LAN port to access your device.
Open UBNT Airgrid Device to the web browser.

UBNT AirGrid M2 HP Current Firmware Version check
To update new firmware in your Ubiquiti device check the installed firmware in the device to make sure it is required the update.
Login your device and go to the System tab from the top menu.
Firmware Update:
Firmware Version: XM.v5.6.15-sign 31612 170908.1458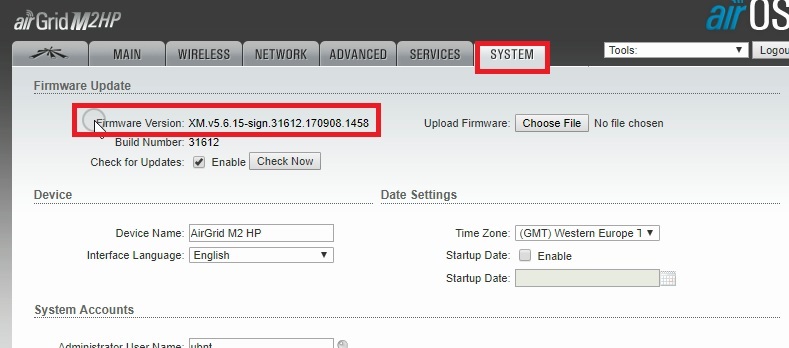 Check the Latest Firmware Update in UBNT device online
Now you have to check the latest firmware version available or not in UBNT downloads. You can check directly from your ubnt airgrid device if PC connected to the internet or manually by visiting the UBNT website.
To check the Update available, follow the steps.
Check for Update – enable ( check the box)
Press Check Now button
If your UBNT device connected to the internet you will get the latest firmware version notification here.
Or download the manually latest firmware from UBNT Download page as shown below image notification.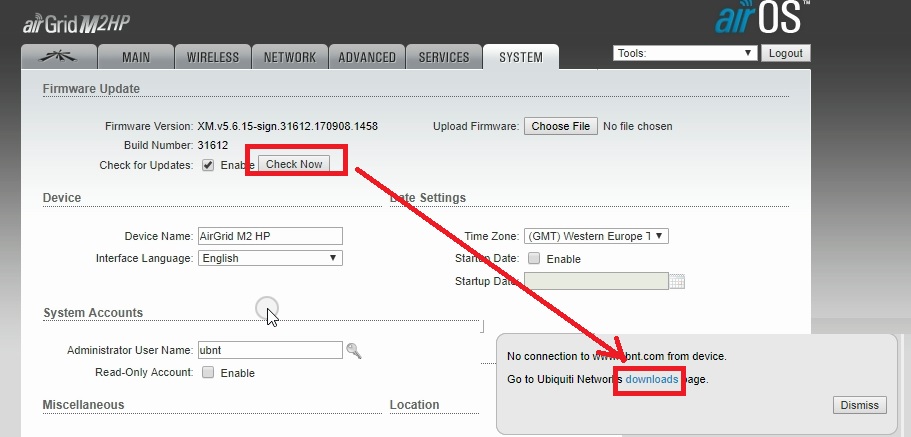 UBNT airGrid M Download Latest firmware manually
To download latest firmware upgrade version from ubnt visit the UBNT official website.
Click here to Download UBNT Latest Firmware Now
Note: To download the correct firmware you should know the model number of your UBNT device. Upgrading wrong firmware can brick your UBNT device permanently.
If you are not sure about your UBNT device model number avoid updating the wrong firmware or do it at your own risk.
Find your Model Number in UBNT product list
In the left side, menu finds the model number series choose product subseries, and choose the model number of the device as shown below image.
AirMAX M series (Main Model Series) –  airGrid M  ( product Subseries)– AirGrid M2 (Product Model Number).
Firmware- see the latest firmware version and click to download.

Firmware Downloaded version -M.v6.1.8.32774.180921.1533.bin.
Copy the firmware and paste in Desktop to make it easy for finding firmware in the drive.
 Update UBNT latest firmware manually
Once firmware downloaded to your drive now update the firmware by following the below steps.
Go to the SYSTEM tab again.
Choose file: click this button to select firmware saved in the drive.
You have to select the firmware you have download from UBNT website.
Select the firmware and press the open button.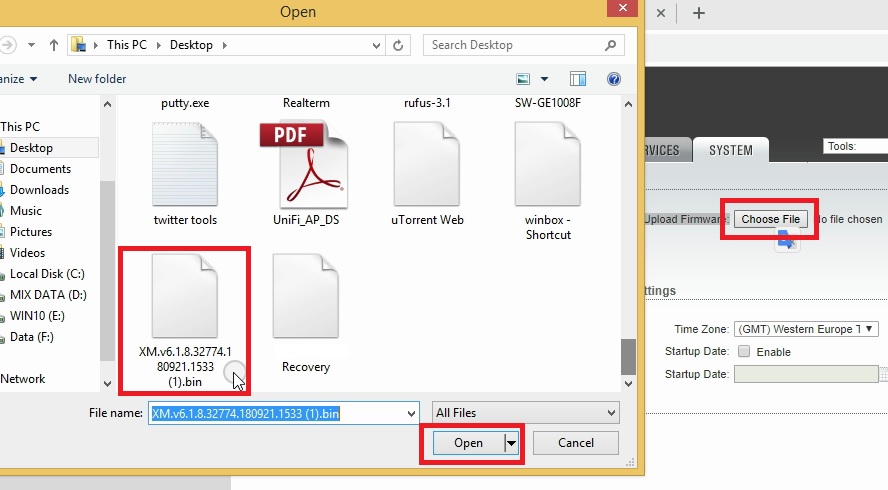 Press the upload button.

You will get the final update notification.
Press the Update button to confirm firmware up-gradation.

Do not Power-off UBNT device until firmware upgrade not finished.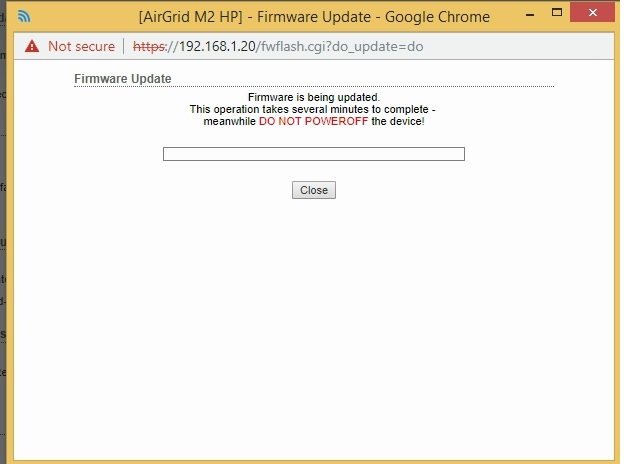 Wait until this process finishes and your airgrid IP ping again.
Check Updated firmware version in UBNT device now
After firmware up-gradation finish re-open the device and check the firmware version changed or not.
Go to SYSTEM and see the Firmware version updated
Firmware Version: XM.v6.1.8

If firmware updated successfully firmware version will be changed and you will get new feature and bugs free device.
Keep check firmware's new release to enjoy the latest firmware and bug-free networks. Hope this post, UBNT airGrid M series Firmware upgrade will help you to solve bugs facing in your UBNT device and make smooth networks.
Related Post