How to Migrate your Website HTTP to HTTPS | Complete Guide
I have recently migrated my website HTTP to SSL website so I feel I should share this interesting https migrating guide with you. Migrating your non-secured website from HTTP to  HTTPS SSL secured protocol having many SEO benefits. You can move your WordPress website HTTP to HTTPS within 10 minutes without stress about anything. In this post, I have shared my personal experience moving from unsecured HTTP to secured SSL certificate just in a few steps without losing SEO and traffic and its working perfectly for me. This post includes a complete guide How to Migrate your Website HTTP to HTTPS with an SEO checklist for a WordPress site in the Godaddy domain.
After migrating my website with HTTPS protocol it slightly increases organic search more than HTTP protocol. So if you want to increase your organic search and traffic for your blog then I recommend trying moving your blog to SSL security protocol and saying it an HTTPS SEO (search engine optimize) would not be wrong.
Steps to Converting Your blog to WordPress HTTPS
I have split this Https migration guide with steps to make it more easy and understandable. See the HTTPS migration table of content and follow the steps to make your website security with WordPress redirect HTTP to HTTPS with simple steps.
1: Buy SSL Certificate (HTTPS)
2: installation of SSL Certificate on Godaddy domain.
3: Blog URL update on WordPress Setting
4: Important step after Moving HTTP to https to keep traffic flow
1: Buy SSL (HTTPS) Certificate
There are many hosting companies that provide SSL HTTPS and other web security certificate with a different price range. You can also buy a trusted CA (Certificate Authority) signed SSL Certificate from SSL reseller, that validates and secure your website for up to 2 years. To get the cheapest SSL Certificate visit https://www.cheapsslshop.com, and save huge bucks in SSL Certificate. In this post, I have used Godaddy's HTTPS certificate and installation with a domain hosted with Godaddy itself only.
1:-  Login to Godaddy website and find the SSL certificate on the Web security tab.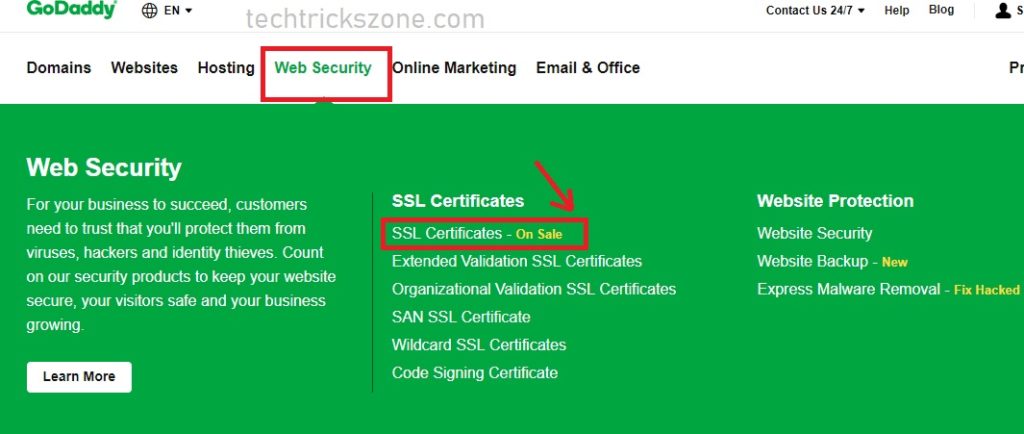 Choose the SSL Certificate Plan from the different plan and feature option yearly multiple domain SSL certificates based.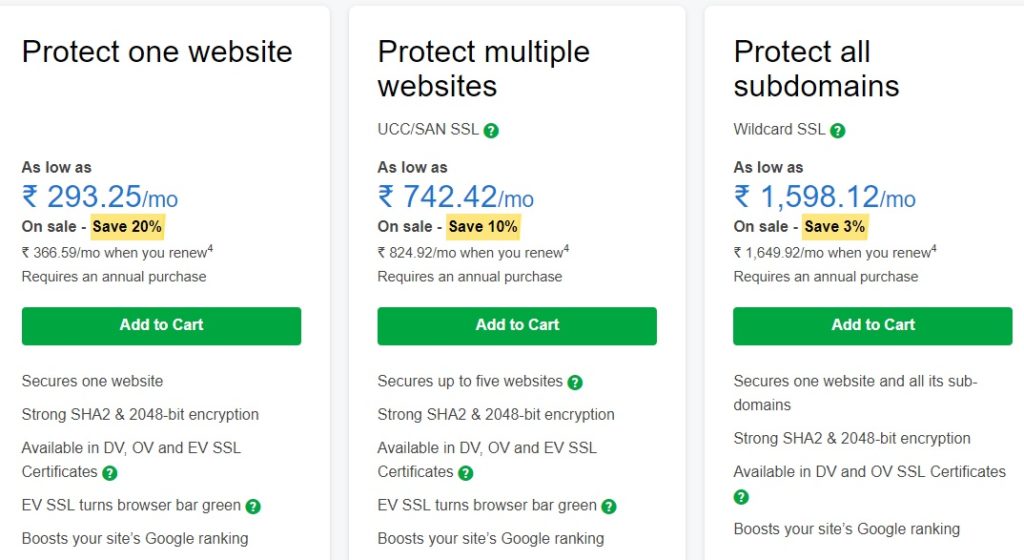 Press Add Card button to select your plan to buy.
 Buy Now to get 50% off | Get Coupon Code
Apply promo code to get a discount on the price.
Have a promo code – click and pest promo code to get an instant discount.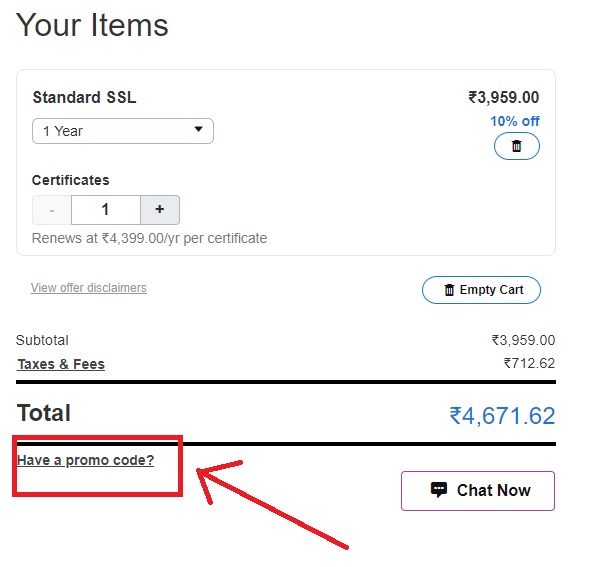 In the next step make the payment and you will get order placed summary and receipt copy. Now step to the installation of HTTPS certificate.
2: SSL (HTTPS) Certificate Installation for WordPress Site
After purchasing HTTPS certificate now installation required to integrate https protocol to a domain running on http.
Login your Godaddy account to setup and install of SSL certificate.
After Login Go to the My Product section
Inside product you will get your domain details, hosting panel, and other products you are using with your blog.
Find the SSL Certificates from the list and press the Setup button for the installation process of HTTPS protocol.

1: Choose the Domain name (Website URL) you want to migrate from http to HTTPS.
2: Check the box for " I agree to the terms and conditions."
3: press the requested certificate button from the bottom.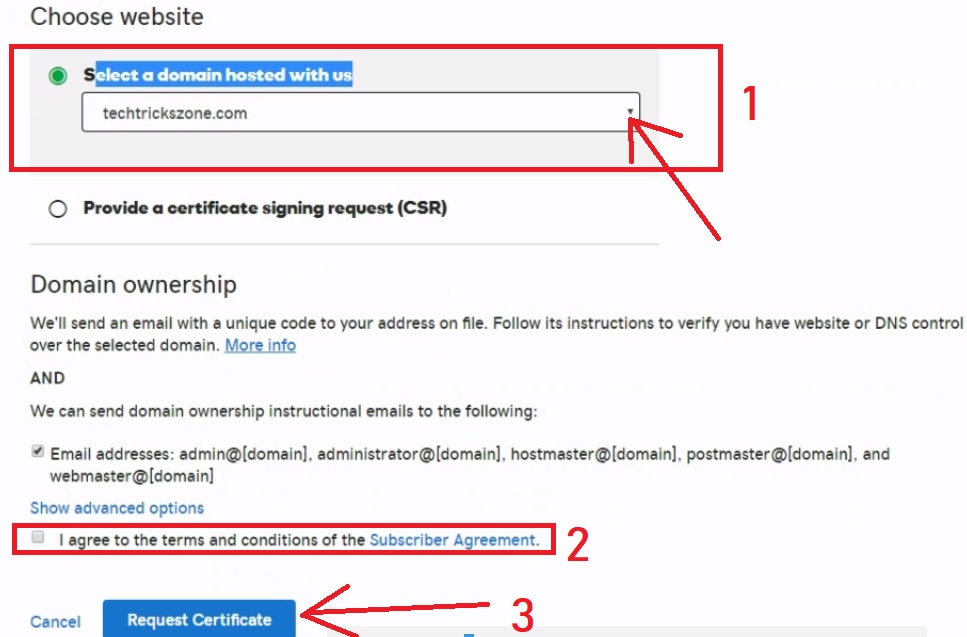 Https Certificate verification process
After setup, your SSL certificate will pending until it's verified by the hosting provider. If you are using the same hosting service provider for domain and SSL certificate then your Https installation will quickly finish.  Here I am using go-daddy hosting as well as SSL certificate so my https installation verification completed within 15 minutes and I got the serial number and other details.
1: Domain Ownership – If you are using Godaddy hosting then you don't require to do anything for verification.
2: Upload Documentation:  if you required SSL certificate from another hosting provider you required to upload and manual verify that you are the owner of the domain you want to migrate with HTTPS.
3: certificate Details Status: pending Verification (this will take 10-15 minute if same hosting provider)
4: Validity Period: Pending (until not verified)
5:  Serial Number: Pending (the Serial number will add after verified)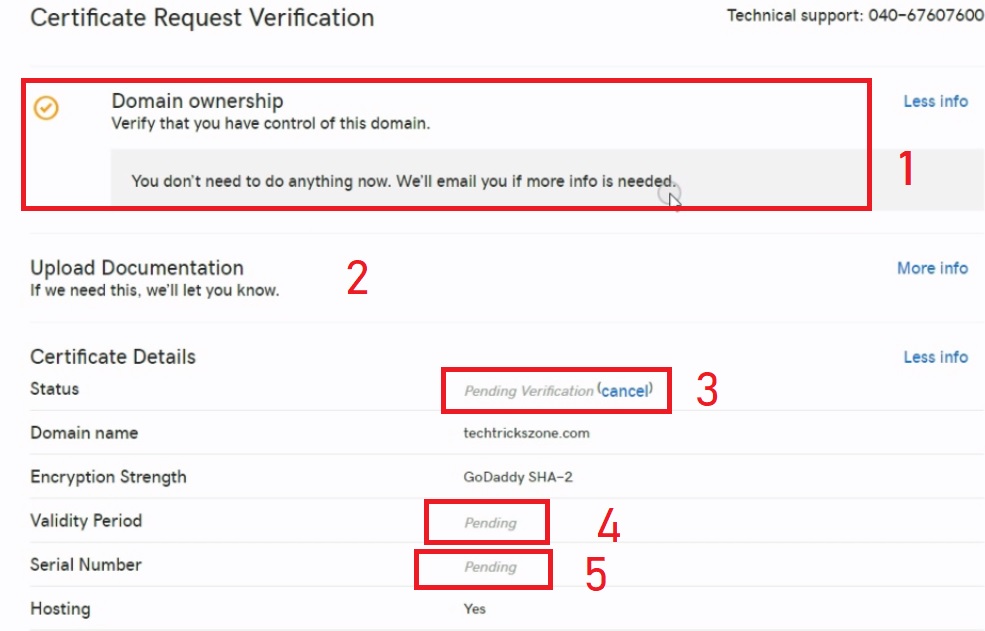 After Verification of Domain Ownership SSL certification details.
Once your verification complete you will get the details as given certificate Details.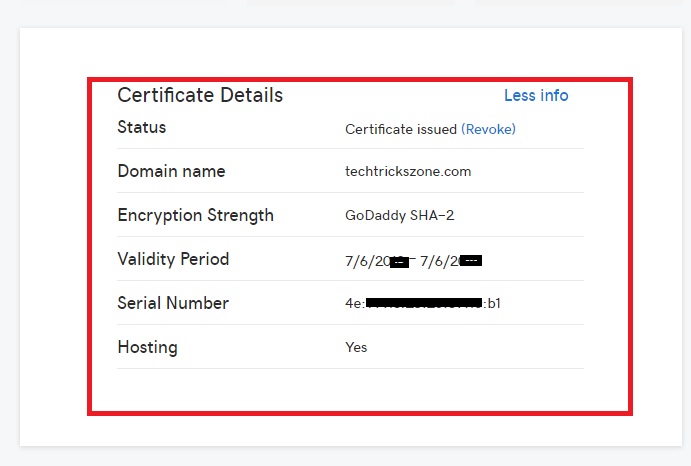 Once you got the Serial number and Certificate details it means now you can migrate your domain to a secured SSL certificate HTTPS protocol. After getting the certificate you have to do some steps to redirect your non-secure website to secure SSL  (secure socket layer)t.
3: Blog URL update from HTTP to HTTPs on WordPress Setting
Once you get the certificate details from your hosting provider after successful integration with your Domain.
Now Login the WordPress Control panel and change the URL from
http://yourdomain,com to https:/yourdomani[dot]com.
Go to Settings and General option from the submenu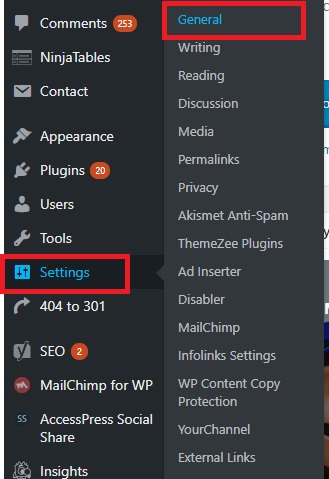 Change the WordPress Address (URL) – change HTTP to HTTPS.
Site Address (URL)- change the HTTP to HTTPS in URL to redirect from unsecured HTTP to secure HTTPS protocol.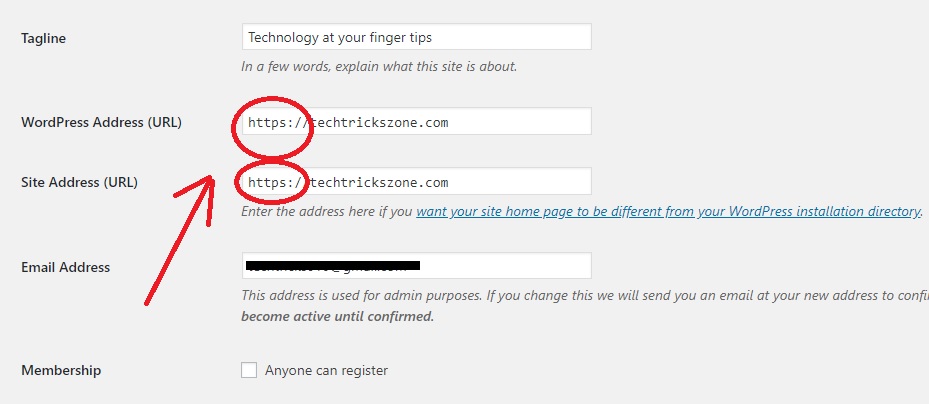 4: SEO Checklist after Moving HTTPS to keep traffic flow
After update URL in WordPress, there are some more steps to require after migrating HTTPS in your blog to take benefit of SEO and increase the traffic. What change required after moving HTTP to HTTPS see the point of what you need to do.
Add a new property in Google Webmaster

Update URL with https in Bing webmaster and other search engine toolbox like Baidu and other.

Change the URL from HTTP to HTTPS in your Google analytics

Use the force HTTPS plugin in WordPress to quickly redirect website and all post redirection with SSL site redirect domain to a.

After moving unsecured to a secured SSL site you may get a slight traffic reduction issue but one your new HTTPS URL will crawl in all search engines you will increase traffic.
Related Post