HUAWEI HS8145V 1POTS Dual Band WI-FI GPON ONT Setup and Configuration
Are you moving your Wireless and Cat6 Wired Network to Fiber Network?  As the internet reached every small and metro city and town than the demand for speed increase rapidly. To providing more than 100 Mbps internet plan difficult in wireless so fiber network with OLT and GPON solution quickly capture the market. I already posted about GPON ONT, OLT technology. In this post, I will give an easy and brief user guide for Huawei hs8145v 1pots dual-band wi-fi gpon ont setup and configuration with pictures.
Huawei ONT and OLT solution is the most trusted product in fiber network solution so you must know the Hauwei new ONT with 11ac wifi ONT device. In this post, I have created manually for Huawei ONU/ ONT 2.4Ghz and 5.8 GHz wifi configuration. How to enable Content filtering and URL block in Huawei ONT. You can learn how to change IP address and DHCP server configuration for Huawei 1Port GPON ONT with dual-band Wireless. IF you are already using Huawei GPON or EPON OLT (Optical Line Terminal) then the configuration of Huawei HS814V Dual-band WiFi with 1 USP and 1 Rj11 Port not difficult for you. Just follow the steps to setup and configuration your Huawei EchoLife Fiber and 4LAn port ONT device.
Huawei HS8145V Giga WiFi ONT Connection and Login
Huawei 1Port fiber and 4Port Lan with 1 USB port and 2 dBi Omni direction antenna with Dual-band 2.4Ghz + 5.8 GHz.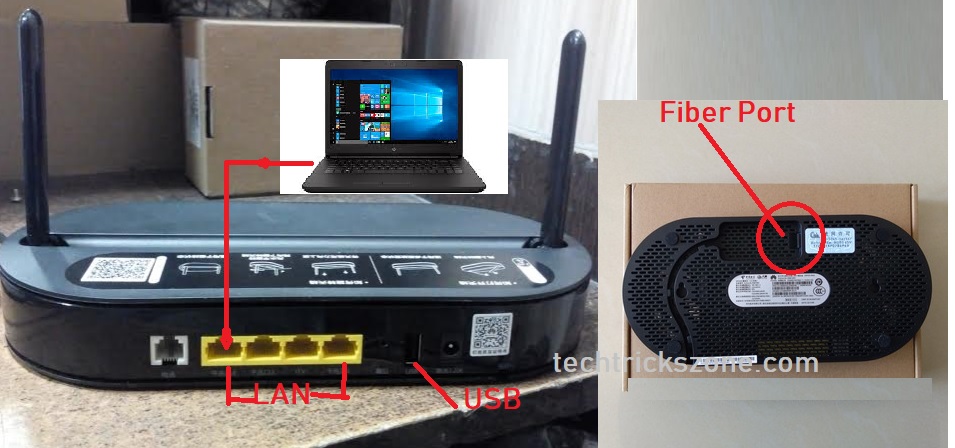 Connect Yellow Lan port to Cat6 patch cord to Laptop LAN port.
Turn ONT to the downside and connect the fiber patch cord coming from the OLT device. Refer above the image.
Power on the Huawei onu with 12v 1.5 A power adapter comes with the device.
See the bottom side sticker to get  Huawei ONT Default Username password and Default IP Address.
You can also get the Default Wi-Fi password of Huawei Optical Network terminal  ONT device.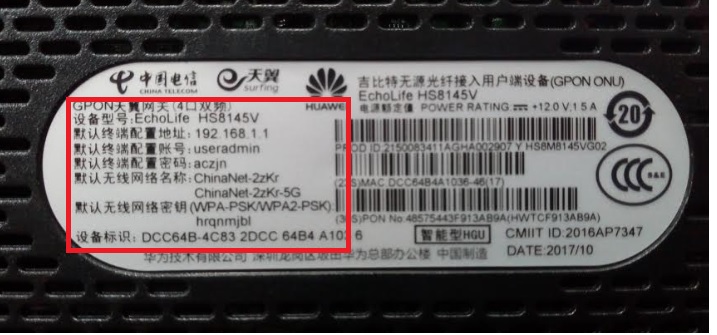 Use 192.168.l.100.1 to login Huawei ONT device first time.
Configure the 192.168.100.l0 or use DHCP in Laptop/PC Lan
See how to configure Laptop/PC LAN IP here.
Login Huawei GPON  GIGA WIFI ONT Device
Type http//192.168.1oo.1 in the browser and hit the enter key.
User Default username: useradmin
Password: aczjn (see the bottom sticker of your Huawei ONT)
Press the Login button Now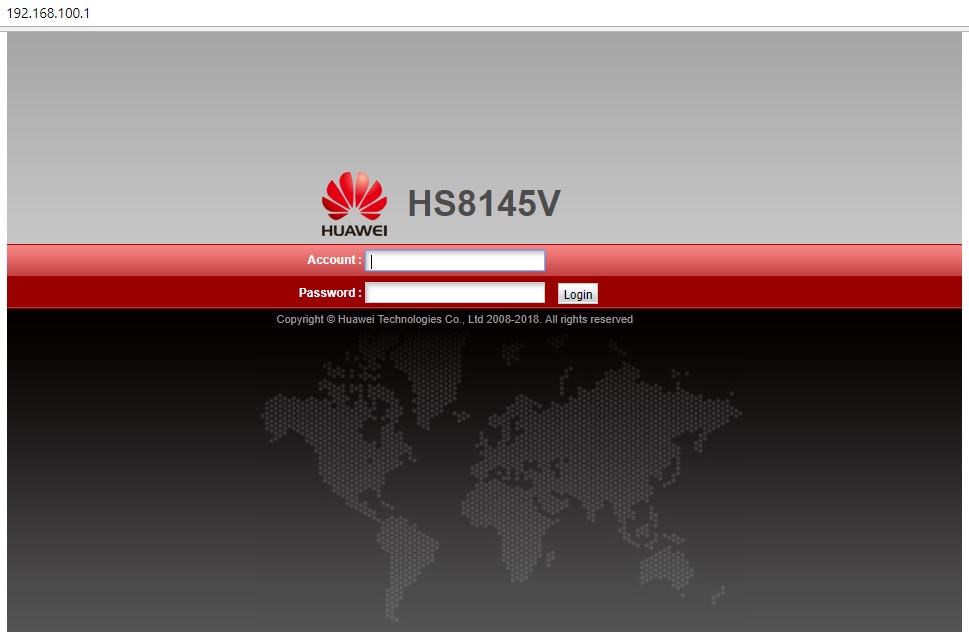 During the first time log in you will get password change options for security purposes.
OLD Password – type default password you used for login
New Password- type new password (use alphanumeric with special characters.
Confirm Password- type new password again.
Press the Apply button to save the password.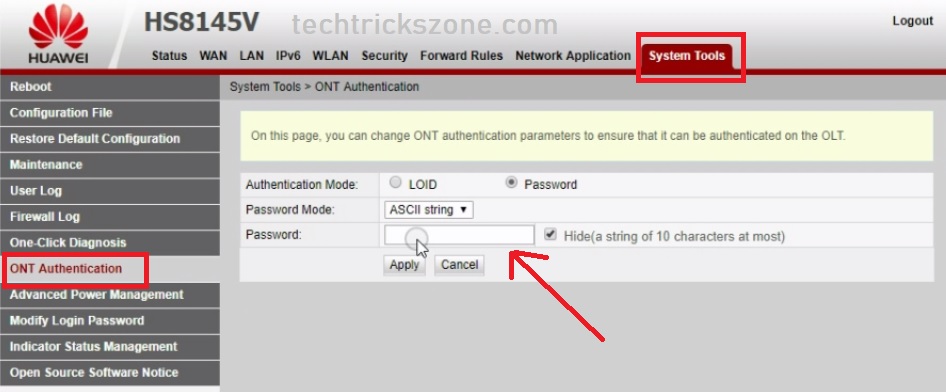 After the password update, you will land on the status page where you can find OLT Model number, device type, and hardware, software version. See the CPU and memory status also on this page.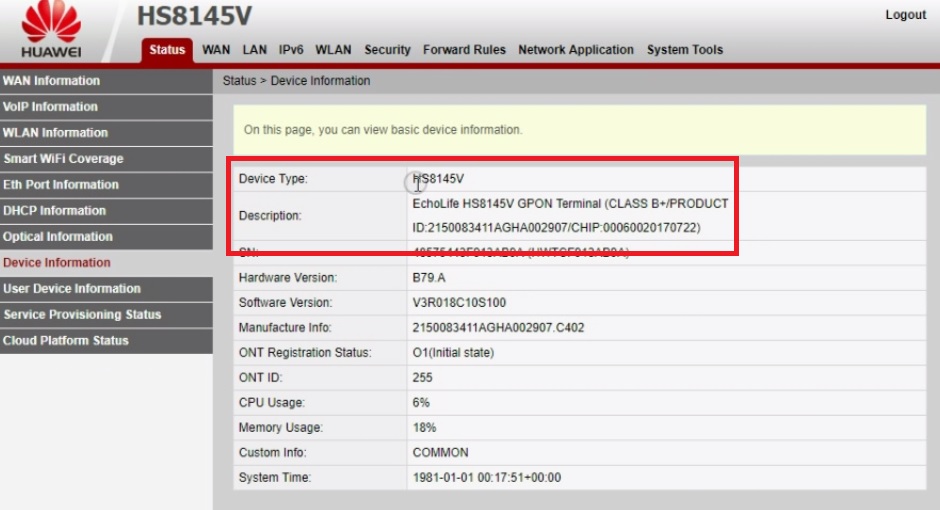 Huawei HS8145V ONT LOID/ password configuration
To set Authentication Mode on Huawei ONT
Go to System Tools – ONT Authentication
Authentication Mode – LOID    and Password
Select the Authentication mode and set the password to authenticate on the OLT device.
Click Apply button to save settings.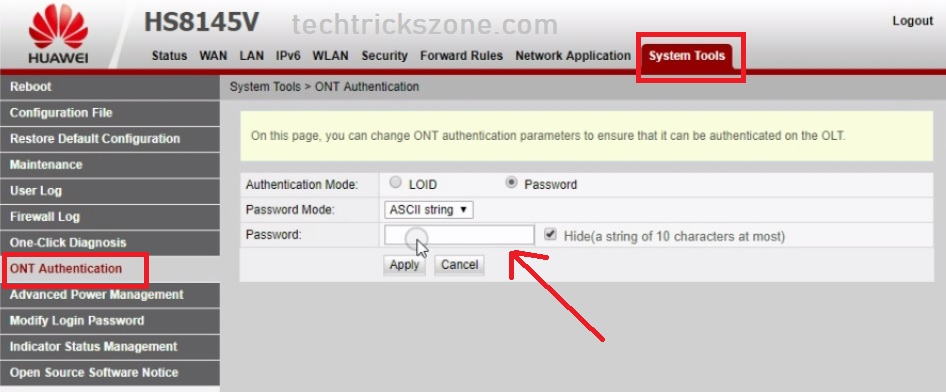 Huawei HS814V 1Pots WiFi Configuration
HS8145V ONT is a dual-band WiFi router so first will configure 2.4Ghz and then 5.8 GHz wireless configuration.
EchoLife GPON 11ac 2.4GHz Configuration
Go to WLAN – 2.4G Basic Network Settings.
1: SSID Configuration details
SSID Name – type 2.4Ghz WiFi name in this box
2: Authentication Mode: select WPA/WPA2
Encryption mode – choose TKIP & AES
WPA Preshared Key– type password in this box.
Press the Apply button on the bottom to save settings.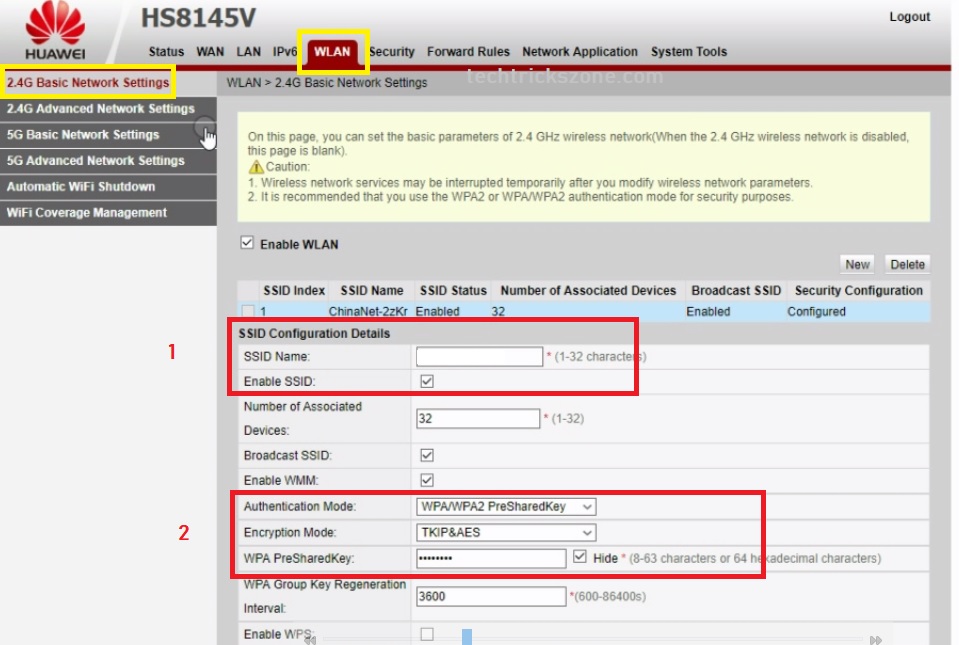 Huawei ONU Advanced Wireless Settings.
Go to WLAN- 2G Advanced Network Settings
To change Channel and Country setting go to Advance wireless settings in your ONT device.
Tx Power: choose the according to the area size
Country: choose your country
Channel: Automatic (keep it automatic if using a single device)
Channel Width: If your internet plan more than100Mbps use 20/40 else use 20MHz only.
Keep another parameter as it is and press the apply button to save settings.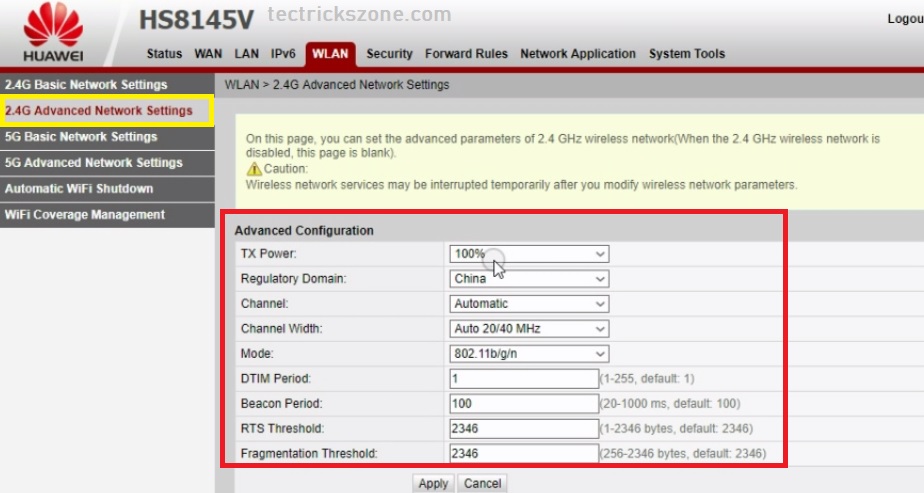 Huawei Optical network terminal (WIFI ONT) 5.8GHz wireless configuration
Now configure the 5.8 GHz dual-band wireless network name and password to work with dual band wifi network.
Go to WLAN- 5G Basic Network Settings
1: SSID name: Use Wireless Name for 5 GHz
2:  Authentication Mode: select WPA/WPA2
Encryption mode – choose TKIP & AES
WPA Preshared Key- type password in this box.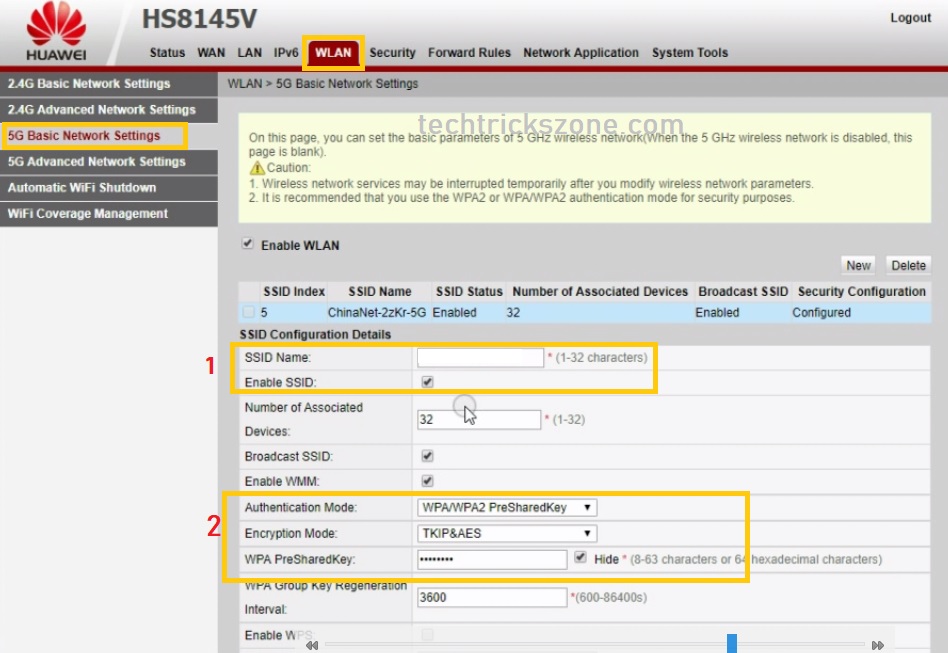 Huawei HS8145 ONT LAN and DHCP Configuration
Inside LAN configuration you get the option to change the default IP address and enable disable DHCP server as required in your network.
To change Huawei HS8145V WIFI ONT default IP address
Go to LAN – LAN Host Configuration
Primary IP Address:  change the IP Address I this box and re-login with new IP ONT with new IP Address.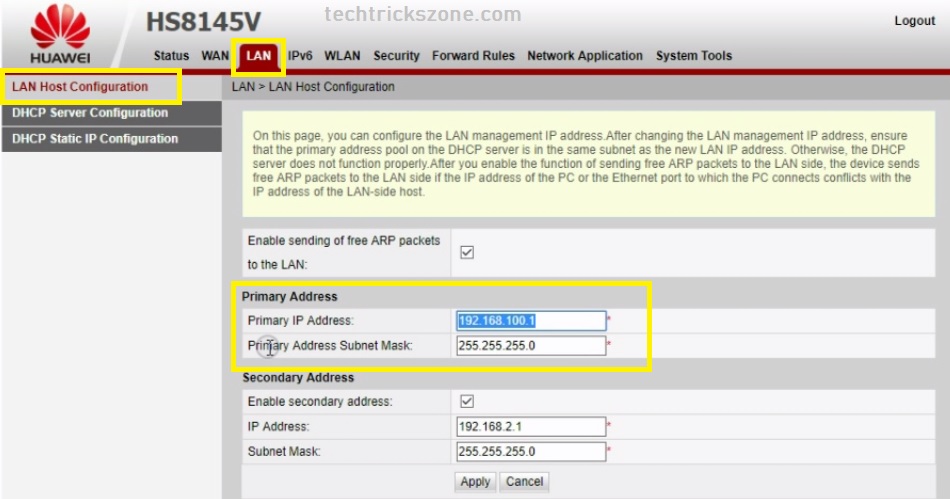 If you want to enable Secondary IP address in HS814 ONT jus enable and set the IP address on.
Huawei Dual BanL Giga WiFi ONT Device DHCP Configuration
To enable DHCP server
Go to LAN- DHCP Server configuration
Enable the Primary DHCP server  – checkbox
Set the Start IP and End IP address
Lease Time- Set lease time.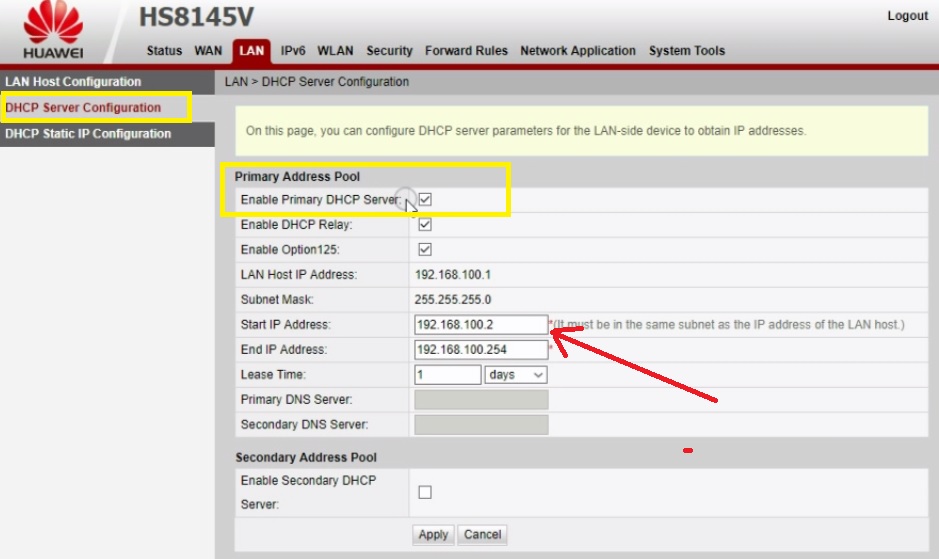 How to Block URL (Website) in Huawei HS8145V WiFi ONT
You can block URL and website in any GPON ont if it is running in WAN mode. To block website
Go to the Security tab and then click the URL filter configuration on the left side.
Filter Mode – Choose the blacklist for URL block and White list for Unblocking Website.
Click the New button and type the Website such as Facebook, YouTube to block in the network.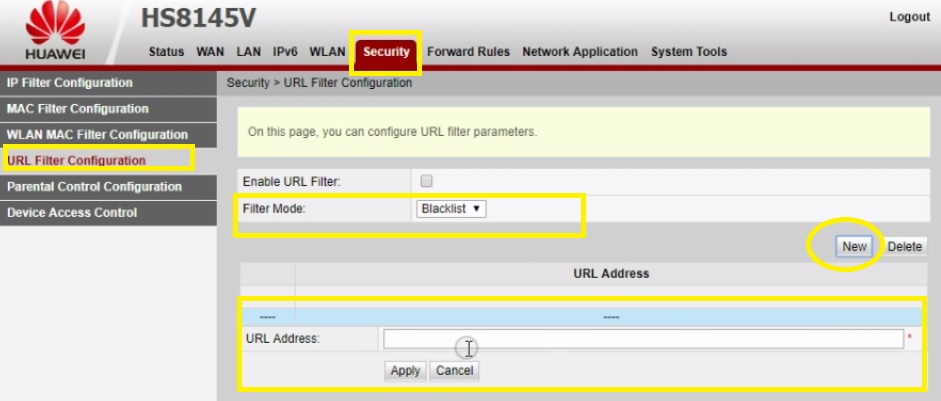 You can use this tutorial to the configuration of   Huawei ont hg8240, Huawei ont hg8245 ONT device.
Tip- after finishing your all the configuration use the Huawei ONT save the configuration to Huawei OLT configuration backup for next time faster configuration. After taking configuration backup you can just upload and configure your Huawei ONT and OLT device within 2 minutes. hope  Huawei hs8145v 1pots dual-band wi-fi gpon ont setup and configuration post will helpful for you to start your fiber network.
Related Post 
Get Huawei HS8145V Datasheet
Huawei HS8145v 1pots dual-band wi-fi Gpon ONT setup and configuration