Bintaotne 1Port GEPON ONT Setup and Configuration Manual
ONT also call ONU. ONT full form is Optical network Termination and ONU full form is the Optical Network Unit. Both are the same used for end-user fiber network termination with gpon solution. This post belongs to all brand ONT and ONT devices because all devices are the same chipset as ZTE and Huawei chipset. You can also call it gpon Huawei ONT and ONU setup and configuration. fiber network increasing very rapidly today and with the fiber network, we can be delivered internet speed more than Gbps. So we required Fiber OLT, ONT, ONU, Fiber Patchcord, and Fiber splitter. The process of Binatone 1port GEPON ONU  configuration step to step. Binatone BTE801 ONT based on ZTE Chipset so you can get the user guide for all ZTE based ONT and ONU Device.
Binatone 1port GEPON ONT Default Settings
Binatone BTE801  ONT Default IP Address is: 192.168.1.1
Default username / password : admin/admin
---
 1Port GEPON ONT  (ZTE)Connection and Login
Connect ONT with Power Adaptor Comes with Device. And connect LAN port to PC/Laptop. Follow the picture given below to connect the ONT /ONU connection.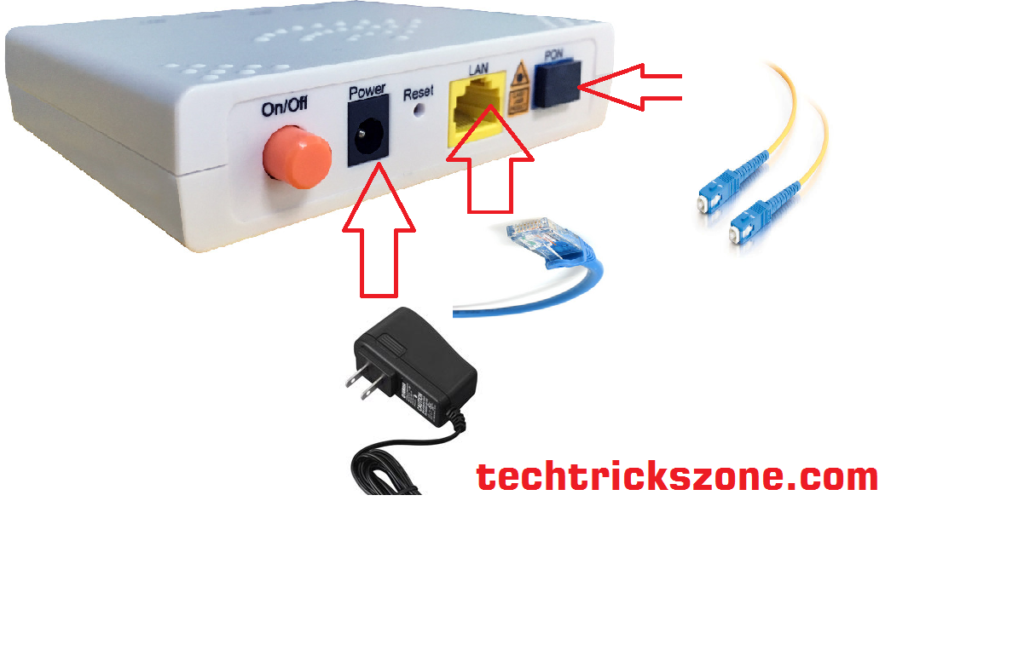 See Also – How to configure Syrotech GEPON OLT and EMS Software installation
Use PC/Laptop Lan IP Address 192.168.1.x series
EXP: you can use 192.168.1.2 to 254
See How to Configure Laptop IP Address
Login ONT
Open Browser and Use 192.168.1.1 IP address to open the ONT web interface.
Use admin/admin to login device.

ZTE Chipset 1 Port GEPON ONT LAN configuration
After Login ONT device will by default go in the status page. For LAN configuration click on Network tab. follow given the picture.
LAN IP ADDRESS: Change IP in this box
ENABLE DHCP Server: Check the box for enabling DHCP server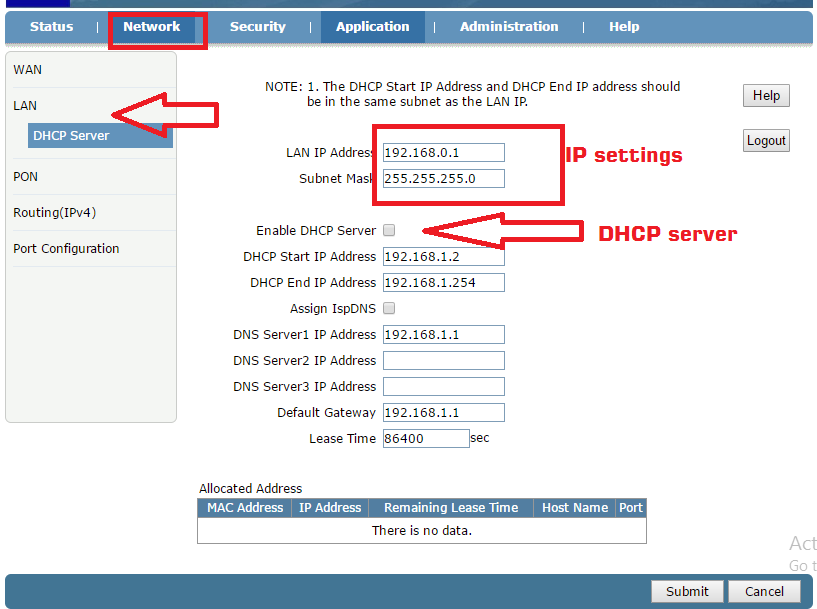 Click Submit to Save change all settings
 
1PORT GEPON ONT WAN Configurations:
For WAN configuration go to NETWORK–> WAN
Connection name: use any name for new WAN connection
Enable VLAN: if your OLT configured with VLANs then enable VLAN option and put VLAN id for network
Router: Choose Rout for router mode
Link Type: user PPP, PPPoE, Static or DHCP for your Link type as per your network configuration.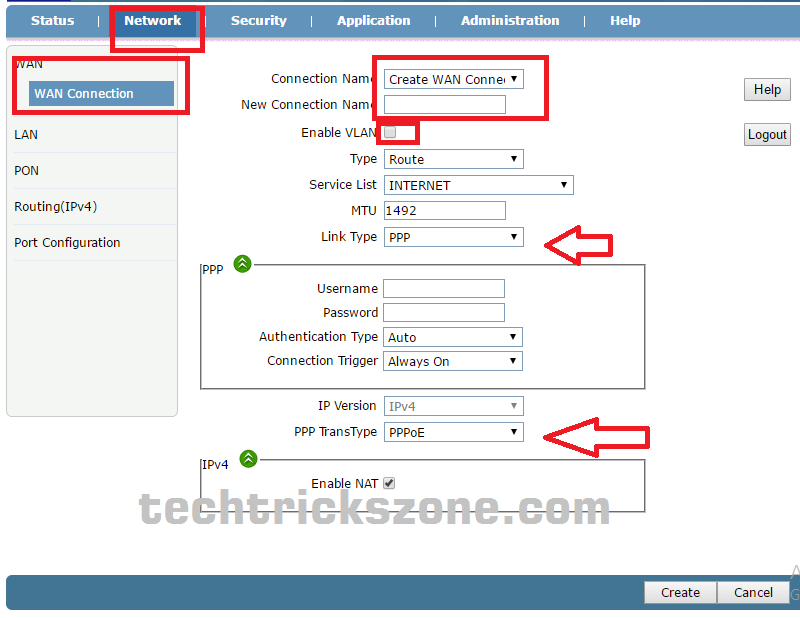 Binatone 1Port GEPON ONT  VLAN configuration
Instead of configuring VLAN in ONT device setup VLAN with olt configuration so ONT device can auto-configured remotely without visiting client site.
VLAN Mode setting available in  
Network–>Port Configuration –> VLAN
Here you can set VLAN mode type. EXP: if you are using tag than the select tag, if using trunk than you can choose trunk etc.. choose according to your network configuration.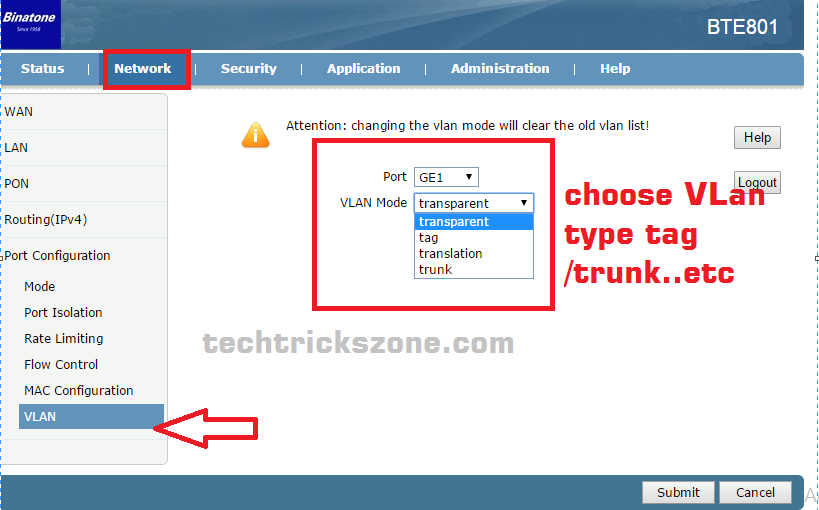 How to Configure Port Negotiations setting in GEPON ONT and ONU
Port config for port negotiation speed.
Go to Network –>Port Configuration–>Mode
Choose Auto for auto settings
select manually speed for manual port config selection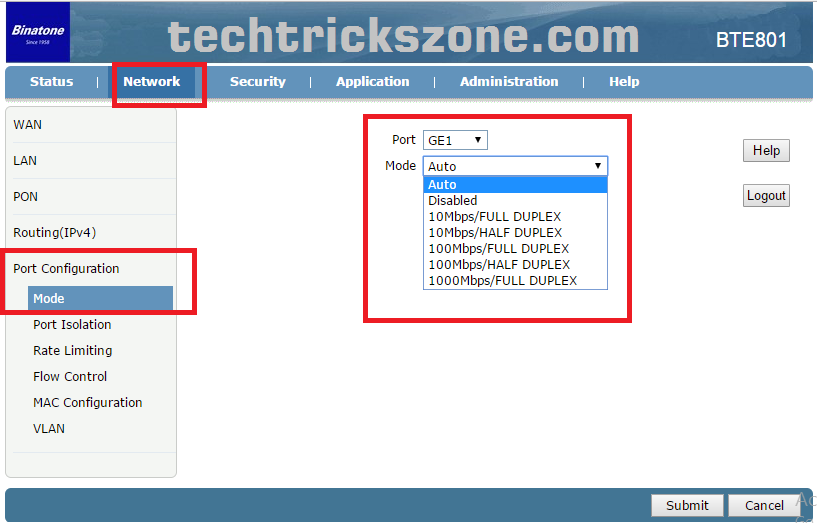 Binatone 1Port GEPON ONT  PON configuration:
Network–> PON
Use LOID  name and Password.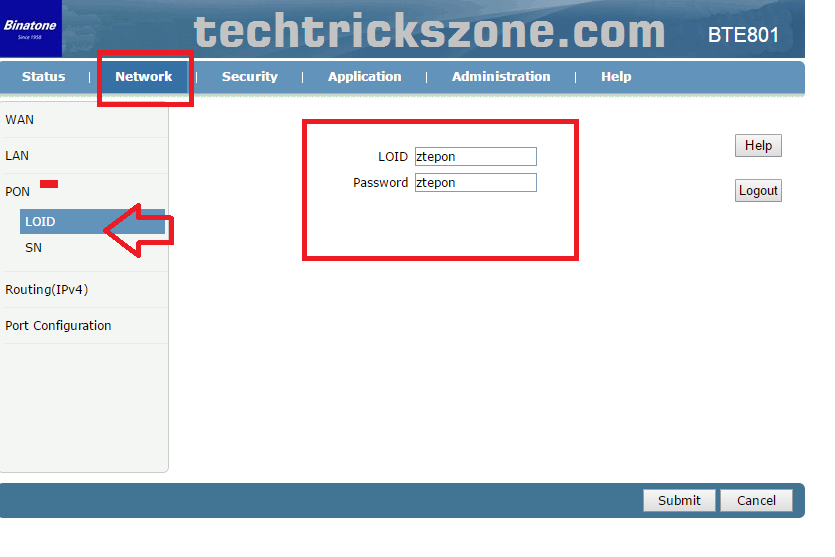 How to set Rate Limit in 1Port GEPON ONT/ONU
Go to Network–>Port Config–> Rate Limitation
Choose your Port from Port option and put rate limit for both options.
Ingress rate limitation and DS rate limitation. By default its come with a maximum rate limit of 1024000 for both options.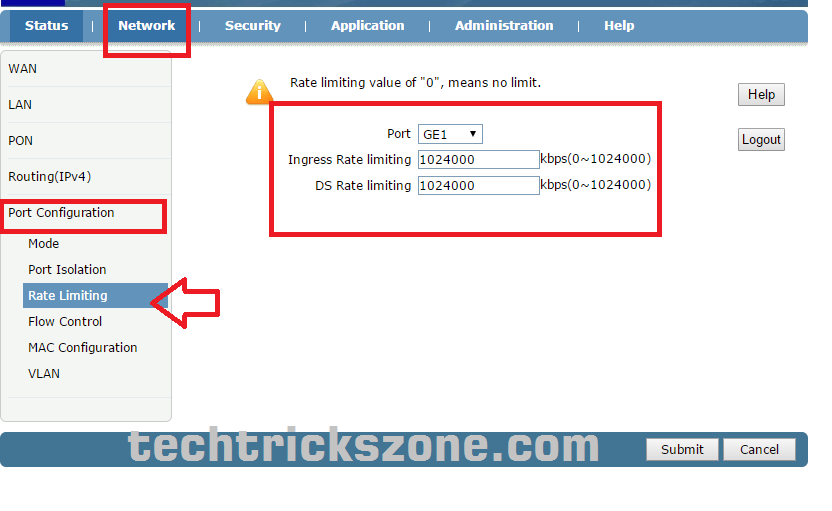 How to Enable Loop detection in Binatone 1Port GEPON ONT
Loop Detection setting will help you to avoid loop issue in the network. If loop detection is enabled then the port will auto-disable if get any looping issue in the network and after some time its again recheck for network loop issue.
Go to Administration –> Loopback Detection –->Enable Configuration
Enable the option from LAN1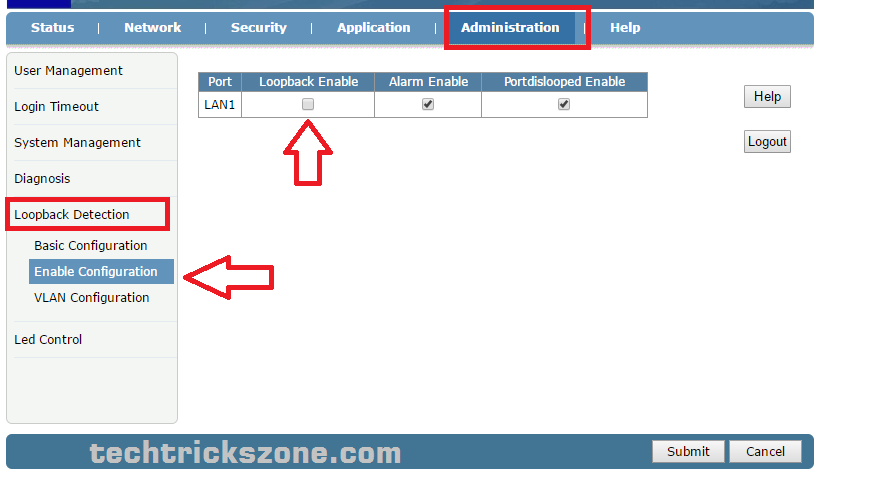 How to Factory Default Binatone BTE801 1Port GEPON ONT
Go to Administration –>System Management
Reboot: you can software reboot ONT from this button
Restore Default: Restore Default will erase all settings and the device will in factory mode.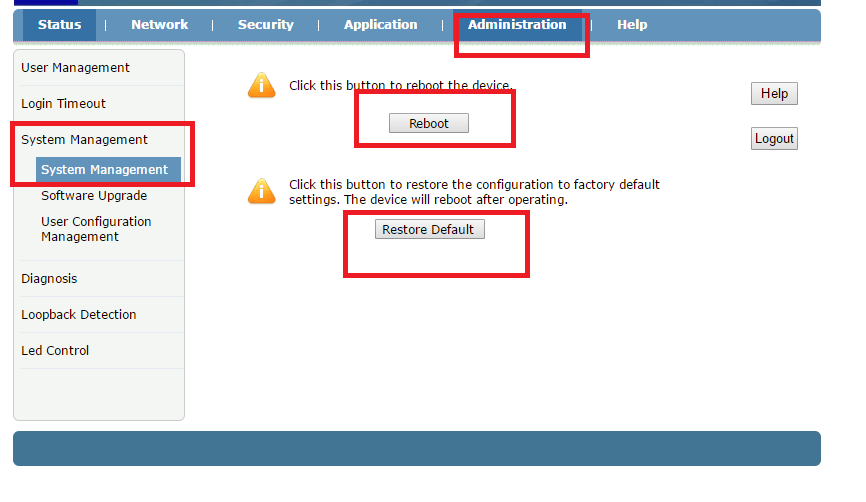 ZTE 1Port GEPON ONT Firmware Up-gradation.
Go to Administrator –>System Management –>Software Upgrade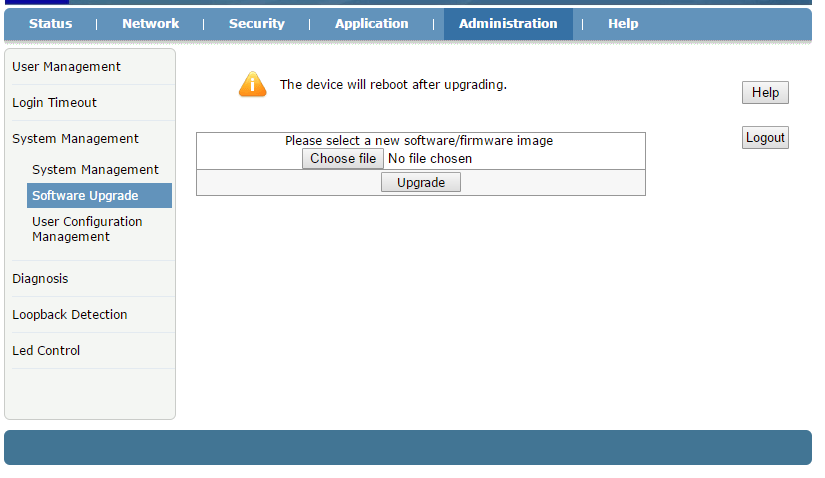 To setup ONT configuration remotely from OLT device you need to go through your brands olt configuration guide to create a profile in OLT


Related post
Binatone BTE801 1Port GEPON ONT Configuration Video