Installing CCTV cameras with fiber cable is a great way to go beyond of Cat6 cable limitation. you can easily access more than 40Km distance CCTV installation with integrating fiber network and NVR system. to understand how it possible read the full post to know How to Install CCTV with Fiber Network and increase the distance of monitoring site.
How to Install CCTV with Fiber Network
CCTV full form is closed circuit Television. Today CCTV is required in every sector and home for making our loved one secure. With help of CCTV cameras, we can capture and monitor every movement of our offices, factory, home, street, and all over the city. But there is a challenge when we plan to deploy CCTV surveillance to protect our city from suspect's non-social activities. For home and office, we can pull the coaxial cable to install CCTV for indoor purposes or short distance installation. this post will help you if you looking for a guide on how to install a CCTV camera for your office and home.
Although we can install the outdoor long-distance cameras with the wireless network also but in wireless, there is a limitation to carrying camera load if the distance is more than 20KMs. We suggest if the distance is less than 10 Km and there is no issue about the feasibility and camera quantity not too many then wireless can be cost-effective for your installation.
Well as the post title is " How to Install CCTV with Fiber Network" so we will tell step to step CCTV integration with Fiber Network with Required device and products to complete CCTV integration with Fiber without any issue.
If you are new in the IT sector then before starting your project you must know about CCTV camera type to ensure you are purchasing the right product for your project installation.
 Types of CCTV Camera's
Dome CCTV camera Design looks like a dome, Dome Camera is specially designed for indoor purposes. According to the design, its best place is under the ceiling, we can move the camera as per view angle and cover after proper angling. Dome camera was also available in support of NVR (Network Video Recorder) with LAN port and DVR support with BNC port with Analogue connectivity.

As the name sound bullet CCTV camera it means it's made by hard material for outdoor installation purposes. Bullet CCTV camera comes with HD resolution, Megapixels, and IR feature(infrared).IR feature makes night vision visibility when the light goes off. Bullet camera can monitor fix area. There is no feature of pan tilt and zoom in bullet-type camera. So before choosing any camera make sure your area is fixed or you want to cover the 360-degree area.

PTZ full form is PAN, TILT, and ZOOM, PAN means 360 Degree Cover, Tilt Means Vertically Cover, and Zoom means close to object and close out to object. PTZ camera uses when we want to cover 360 areas with distance. We can define preset settings in the PTZ camera and its work according to our preset command. If you plan to cover a campus then you need a PTZ camera. But If you want to cover the fixed area then you can choose the fixed camera or static camera also called a bullet camera.PTZ camera comes with BNC connector and IP camera with LAN port. Its Supports DVR and NVR both types of CCTV recorders. The best things are PTZ camera can monitor up to 1-2 KM distance from a single camera.

Wireless Camera is nothing but it's a CCTV camera with integrated 2.4 GHz wireless features. For using the wireless camera you required a Wireless Access Point to connect the Wireless Camera with it. It's basically used for indoor purposes where we have a short distance to connect the camera with our Wireless Router.

Outdoor CCTV Camera Integration with Fiber Network.
In a fiber network, you can install your CCTV camera all over the city. You just need to lay your fiber network where ever you want to connect. You can make get maximum data load over the fiber network. Fiber networks bit costly than wireless and copper networks. But you can use a fiber network more distance than a wireless and copper network.
The requirement of CCTV integration with fiber Network.
Fiber Cable

Media Converter or Fiber Network Switch

OFC Splitter

Outdoor CCTV camera

Cat 6 Network Cable
Installation of PTZ Camera:
YOU have to choose the best location for PTZ camera from where PTZ can easily cover the whole area you want to monitor. You required a basic site survey before the installation of the camera. Proper mounting can reduce your camera quantity.
You need to install your camera and connect with the cat6 cable to your nearest network switch with fiber support. If you are using a single camera installation then you can use a Fiber media converter to directly convert your Camera LAN to the fiber network.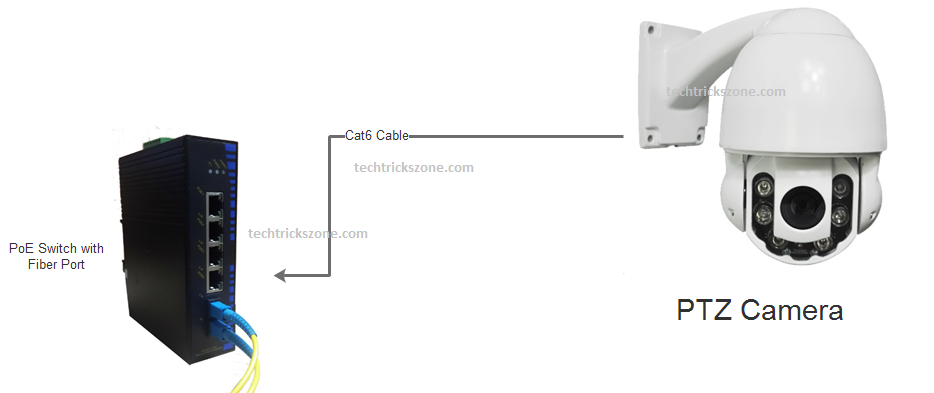 CCTV Camera to NVR Connection with Fiber Cable.
After All Camera installation if you want to monitor the camera to the remote location then you are required to connect the camera network to NVR with the fiber cable network. Connect Network switch Fiber port to fiber cable using fiber Module as per supported your fiber switch. Pull the fiber cable to the remote location and use one more fiber switch or if you are using a fiber media converter then use a fiber media converter. Now connect your Ethernet port to NVR.
If you are using more than one different site for CCTV installation then you required a fiber splitter to connect the different site with a single fiber cable.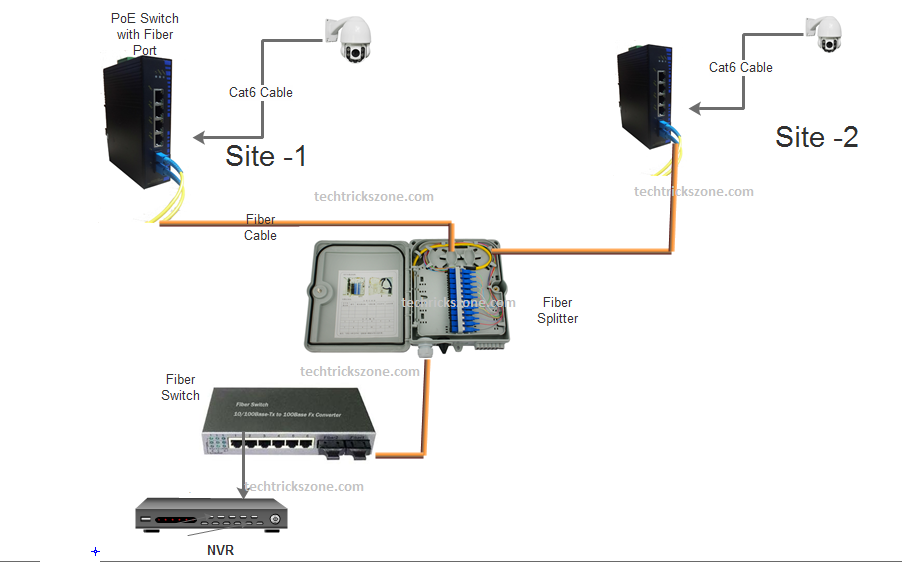 Conclusion
The simple way to extend your CCTV camera distance by using the latest technology called fiber. You can easily monitor your CCTV from a long distance with the fiber network. Hope above tutorial will help you to know setup your security camera and understand How to Install CCTV with Fiber Network to extend the monitoring range of CCTV cameras and DVR installation site.
Related Post: