How to Login Technicolor DSL Modem Router?
Technicolor DSL router manufactured by Comcast and work as Xfinity router to provide last-mile connectivity for multimedia solutions. Technicolor td5130 DSL modem router work as a residential gateway installed and client home to provide internet connectivity over the telephone line. TD5130 supports ADSL and ADSL2+ Modem router for internet gateway and inbuilt wireless. It is a DSL modem that comes with multi Ethernet port and 1 RJ11 port DSL internet line.
This router best for a small size home as well as an office to work for 5-10 Wi-Fi users and work as a wireless gateway. Technicolor DSL router fully supported security features such as firewall, parental control, Port forwarding, and Mac access list.
However, to setup Technicolor router for the internet and update default settings required login to the web interface from the computer.
Step to Access Technicolor Router settings
Accessing the WiFi router login page needs the basic network configuration to make computers in the same series. Now follow steps to Set up and manage your Comcast Business Wireless Gateway.
Make Compute/Laptop LAN IPv4 settings to DHCP mode (obtain IP address automatic) or you can use static IP option with 192.168.l.0 network. EXP  use 192.168.1.10.
Connect the router to the computer using RJ45 cable from LAN ports.
Access Technicolor DSL modem settings
You need default login settings and IP address to open the routers web interface.
Default Technicolor login IP address 192.168.1.1 for DSL modem and 192.168.0.1 for Technicolor TC8717T WiFi router.
Open a Web browser and type http://192.168.1.1 to the URL bar and press enter key.
If everything working then you will get a login page in a few seconds asking for a modem login username and password.
Enter your username and password to access your Technicolor gateway.
Default Username: admin
Default Password: admin

Press the OK button and login to the DSL modem Router.
How to change the SSID name and password?
Every security expert always suggests keeping change wi-fi password from time to time. To change Technicolor ssid name and password you need to access wireless settings.
Change your DSL modem WiFi name and password.
Go to Network- Interfaces
Wireless Access Point
1: Network name (SSID) : ONO9291E (default Technicolor wifi name) Change SSID to update wifi name.
Channel: Auto
2: Security: Setup Technicolor router Wireless password.
Use WPA-PSK Encryption
WPA Encryption Key: Technicolor Wifi password (set password for a wireless network)
Tips to Setup wifi key
Always use a complex and key combination wifi password.
Avoid using your personal information such as date of birth, phone number.
Use special character key combination for creating a hard password.
Always change the Wi-fi password after a few months.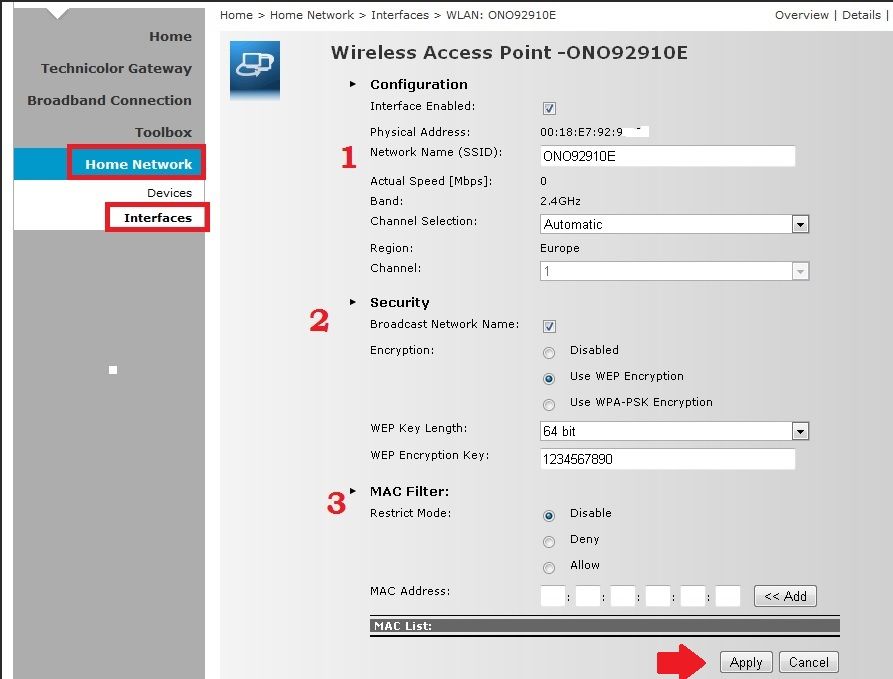 3: Enable Mac Access list in Technicolor DSL modem
Mac access-list extra security layer to the wireless network which restricted users to connect wi-fi network those are not in the allow list.
Create a Mac address list to block a user in Technicolor Modem and router which not belongs to your networks.
Mac Filter: Enable
Deny:  use Deny option if you want to block specific WiFi users to Technicolor DSL modem to restrict wifi network.
Allow: Use allow mac list option if you want to allow only specific users to connect your Wi-Fi internet.
After all configuration do not forget to press the Apply button to save settings.
Change Technicolor Router Login Password
Login password admin is common for most of brands router that can easily try to log in. Must change the login username and password to secure your Technicolor internet gateway accessing from an unknown person.
Go to the Toolbox option from the left side menu.
User management – Change my password
Change the router password.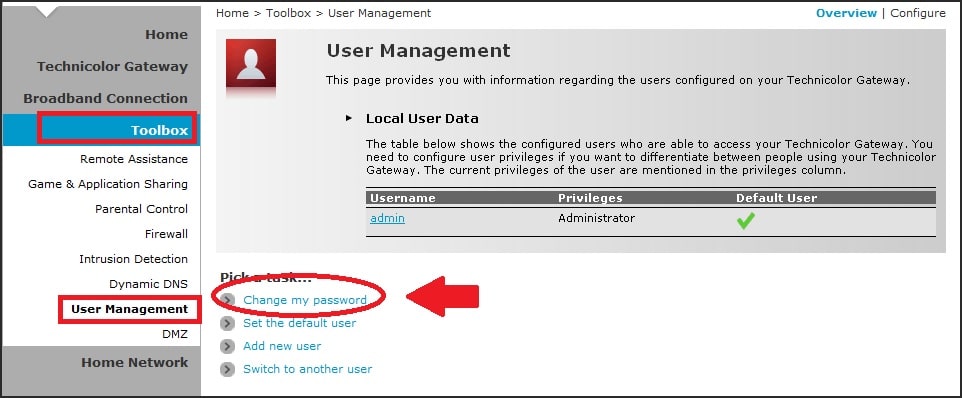 Add new user: you can create new users for Technicolor login with the different users for monitoring purposes with limited privilege.
You may trouble login into the Technicolor router due to some network misconfiguration and getting the site can't be reached an error. Read the below tips to fix the problem login page Technicolor router.
Technicolor Router Default IP Address not working!
No matter you are facing a problem login technicolor router login tc8717d or ADSL modem which needs to fix to access the settings page.
If your Technicolor router IP not working you need to follow steps to troubleshoot it.
Make sure your computer LAN network settings is in DHCP mode (obtain the IP address automatically).
Confirm your router configured with the IP address you are accessing.
See the gateway IP in command prompt to confirm the IP address of your router.
Go to the command prompt.
Run ipconfig and press enter key.
See the gateway IP address and try gateway IP to the browser.
If you forget Technicolor router login password then you can reset the router using the button.
How to reset Technicolor DSL Router modem?
Technicolor router physical reset button is available over router beside Ethernet ports.
Find the reset button
Use the needle to press the reset button.
Press and hold the reset button for 10 seconds and release it after.
Wait until router rebooting.
Your Technicolor DSL router will factory reset and default settings will restore.
Now follow the above steps to access the router login page.
Note: Making a reset router will erase all configuration and will not work with the internet until router re-configured with DSL settings.
Only use hard reset in case you have all the configuration settings to reconfigure the router.
Download Technicolor User manual in PDF
Related Post