TP Link Archer C5400 Tri-Band Router Configuration and setup with your home broadband internet connection. To enjoy seamless wifi connectivity and gaming experience TP-Link AC5400 is the best option.
TP-Link Archer C5400 Wireless Tri-band Mu-Mimo Gigabit Router Configuration
TP Link archer c5400 is a tri-band gaming router with inbuilt antivirus and print server features. TP-Link AC5400 having less with 8 inbuilt high-performance wireless antenna to make it a new age powerful wireless router. If you are a game lover and gaming is your hobby then, just Archer c5400 can be your best gaming router for 3D HD graphics experience. This router is a fully secured and advanced feature for different types of requirements such as gaming, live streaming, surfing, and much more. While using TP-Link AC5400 5334 Mbps wireless speed with gigabit interface to make your whole home WiFi-enabled and enjoy Netflix in any location.
TP-Link Archer C5400 Tri-Band high-end enterprise wireless router for high-speed internet and storage sharing. IT is not only a Wireless router but also a print server, network storage, and Antivirus for your mobile, PC, laptops. AC5400 is the complete solution with a supported cloud and VPN server to keep connected you other remote location always. In this post, I am going to give you a simple configuration manual for TP-Lin AC5400 Tri-band Wi-Fi router with enabling parental control and Antivirus protection.
TP-Link Archer C5400X Gaming Router Physical connection
To configuration of c5400x physical connection required to access from Pc or laptop. Apart from it, you can also use TP-Link Bluetooth apps to setup TPlink archer c5400x from Android and iPhone.
C5400x router having 1 WAN port and 4 LAN port for PC/Desktop wired connection.
Connect the internet cable coming from the modem to WAN port. Take another cable and connect any LAN port to PC/Desktop LAN port for configuration. Power on the router with DC socket and power adapter comes with the router box and press power button as mention in the picture.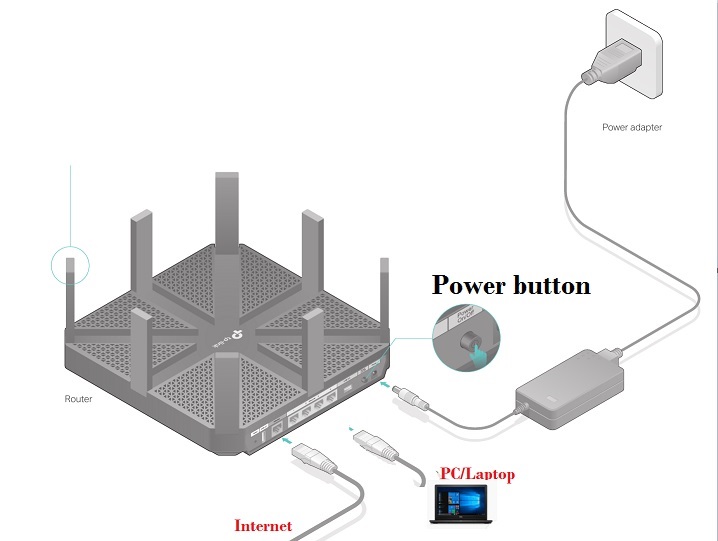 Configure Your PC/Laptop LAN IP Address
Turn your PC or Laptop LAN into DHCP or use the static IP address of default series of TP-Link default IP http://192.168.0.1  EXP use the 192.168.0.10 in PC.
---
---
TP-Link Archer C5400 Tri-Band Router Configuration Login First Time
Once you have connected your C5400 router to pc now login the Wireless router first time to the configuration.
Open internet browser and type "http://tplinkwifi.net"  hit the enter button.
The First time there is no password set on ac5400 so need to create login password on the first login.
 Password– type the login password for your TP-Link router
Confirm password– type password again to confirm
Press "Let's Get Started"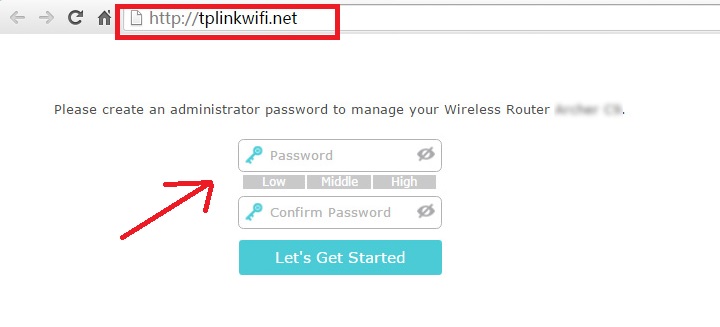 You will land on the status page where you can check Network Map and connected clients status with wireless status.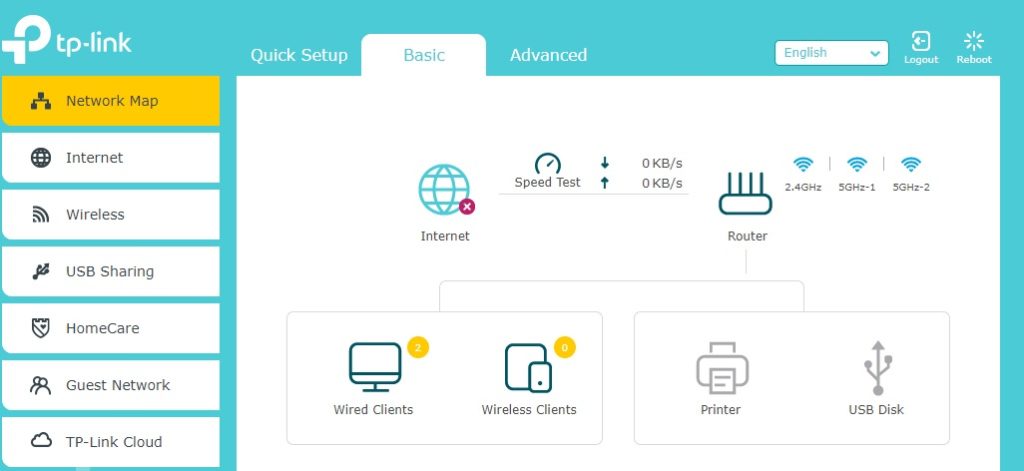 TP-Link Archer AC5400 Tri-Band Wi-Fi Router WAN Configuration
The first step of configuration any router is the WAN configuration according to ISP settings.
Go to Basic – Internet
 Internet Connection Type-   PPPoE, Static, DHCP..
Choose the internet type of your ISP. If your internet runs on the PPPoE username password, choose the PPPoE. If your internet work on Static IP then uses the Static IP.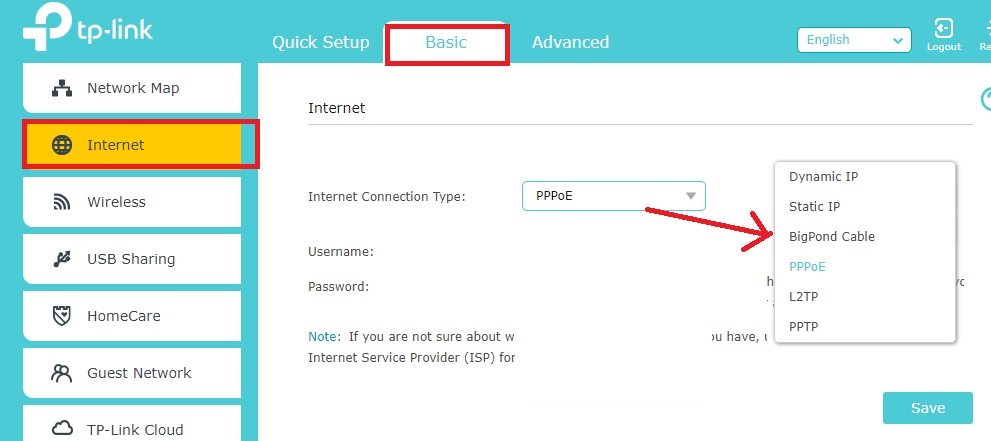 After fill, all settings press the save button to apply settings.
TP Link Archer C5400 Tri-Band Router Configuration for Wireless SSID & Password
Wireless configuration is the most important part of configuration wifi router because it makes you protect and lack of the wrong configuration can hack your network.
To configuration Wireless SSID and WiFi password follow the steps.
Go to Basic – Wireless
1: Wireless 2.4GHz Configuration
 2.4GHz Wireless – Enable Wireless Radio (Keep this check to Enable Wi-Fi)
Network Name (SSID) – Type WiFi name for 2.4GHZ in this box
Password– Type password 2.4GHz SSID here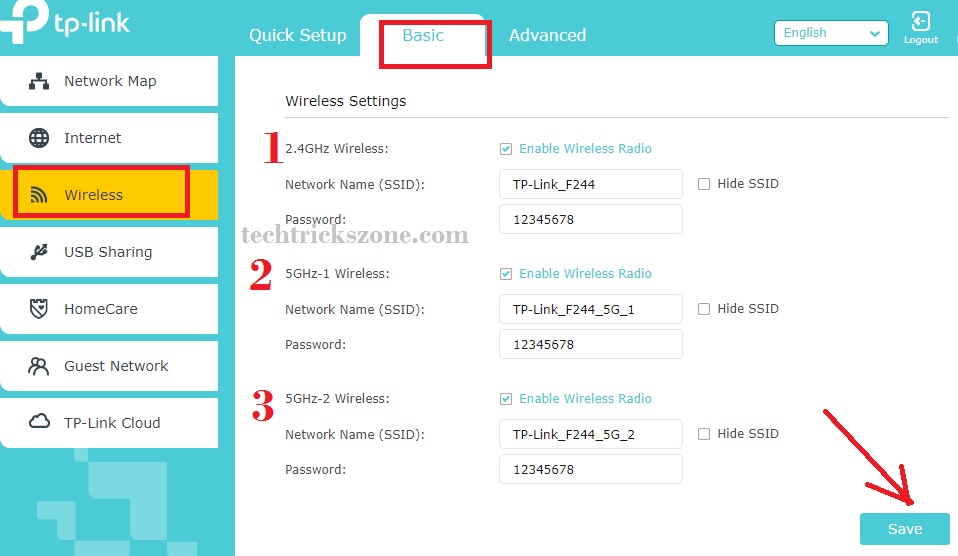 2: Wireless 5.8GHz-1 Configuration
 5GHz-1 Wireless – Enable Wireless Radio (keep box check to enable 5.8GHz-1)
Network Name (SSID) – Type WiFi name for 5 GHz in this box
Password– Type password for 5GHz-1 SSID here
3: Wireless 5.8GHz-2 Configuration
 5GHz-2 Wireless – Enable Wireless Radio (keep box check to enable 5.8GHz-2)
Network Name (SSID) – Type WiFi name for 5 GHz-2 in this box
Password– Type password for 5GHz-2 SSID here.
After all settings press save button apply changes.
How to Enable Captive Portal in TP-Link Archer C5400
TPLink C5400 device supports guest wifi access with captive portal login authentication to provide a secured way to access network.
Go to Advanced—Guest Network.
1: Allow Guest to Access Each Other
Enable this option if you want to give access guest to each other device.
2: Allow Guest to Access My Local Network
Enable this option if you want to make your network local network accessible from the guest device.
3: Save button to apply settings
4: Guest Wireless Configuration.
Create a WiFi name for Guest network with this option. You can enable only single Wireless network for Guest from below bands.
2.4GHz Wireless – Enable Guest network (enable this Network for guest access)
Network SSID- Create Network SSID for guest network access
Do the same setting for 5.8GHz 1 and 2 network SSID if you wish to enable all network for guest access.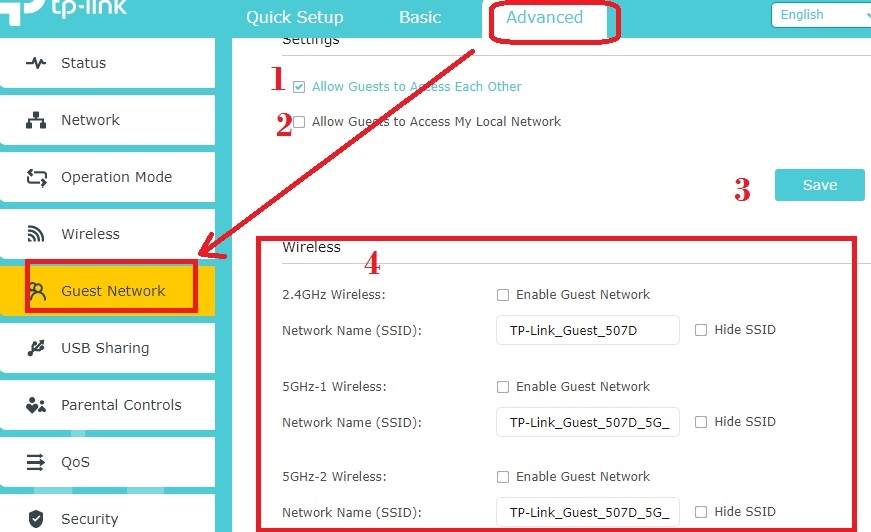 How to Enable Captive Portal Authentication on TP-Link AC5400 WIFi router.
TP-Link C5400 tri-band router support captive portal as well as the direct authentication method for secure guest access. To enable captive portal authentication you can promote your business or product with guest network. See below to create your own captive portal authentication login page for the TP-Link Wi-Fi router.
Go to the security option in the guest network and choose the security method you want to create for guest Wi-Fi network.
1: Portal
Using this option you can create the internet plan based on hour 1 hour, 2 hour etc. You can customize and add your own company logo, homepage, and any product image to promote with the guest network.
Authentication Type: Simple Password or No authentication for unsecured Guest access.
2: Password
Set password for captive portal login for guest access.
3: Authentication Timeout
Set the time for guest network access as per the guest requirement.
1hour, 2Hour, 3Hour or more from the list.
Once time exceeds the internet will stop for a guest network.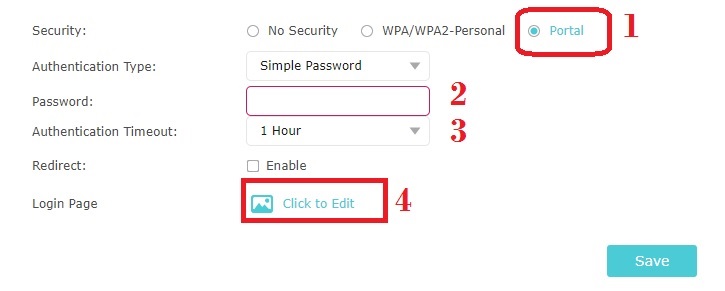 4: Add your Company Logo to Captive Portal With Title
 Click Edit button and add your company logo and product image to promote and advertisement purpose with guest wifi access.
Press Click to Edit
 1: Portal title – add your company name or any message you want to display in login page for guest Wi-Fi.
Tem of use: you can your term and condition in this box.
2: Logo Image: add your company logo using upload your brand logo in this option.
 3: Background Image: You and product or any other image for background display in the captive portal authentication page.
4: Save to confirm settings.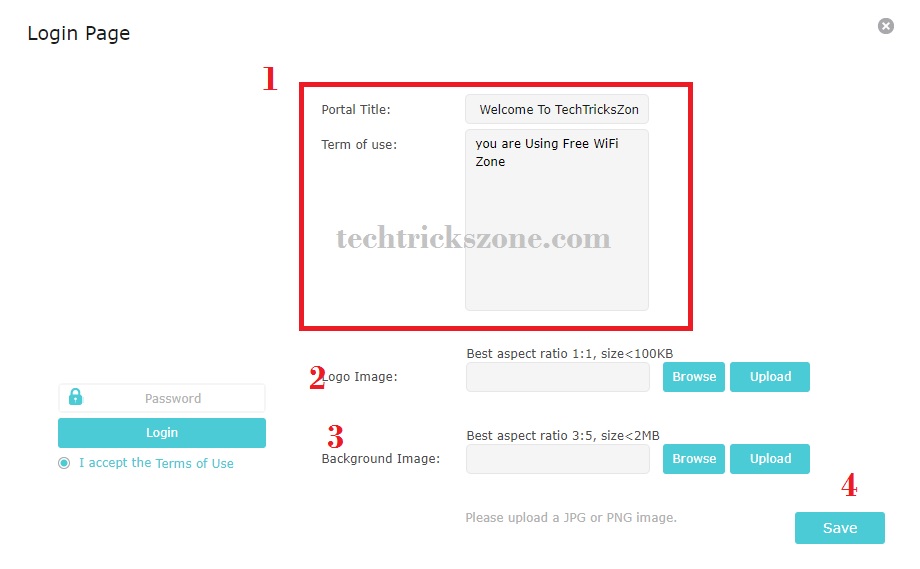 If you want to enable Wifi password without captive portal than follow steps below.
Security: WPA/WPA2-Personal (choose this option)
Version: WPA2-PSK (recommended)
Encryption: AES

Press the Save button to apply settings.
Conclusion
 TP Link Archer C5400 Wireless best for commercial as well as home wifi purpose. It is best and high-speed router for gaming and enjoying live streaming with excellent Wi-Fi coverage. The best thing is its complete solution for Wifi, network storage, antivirus for network protection and cloud access. You can enjoy seamless wifi experience without sitting in a single place to bond with wired connection due to speed issue. enjoy the simple user manual for TP Link Archer C5400 Tri-Band Router Configuration and setup with your existing internet connection.
Related Post