How to Accept and Reject All Facebook Friends at Once-Tricks
Facebook is one of the biggest stop and platforms for social networking and marketing activity for the promotion of any type of business work. Everyone uses Facebook for promoting their work and product to grow it and bring more customers. You succeed to get your friend list more than 2000 friends but you tired when you go more than 10 friends request and ignore it because you do not want to accept one by one all friends. Accepting friends request a tired full job when we get lots of friends to request together or we login after a long time. But after reading this post you will forgot to regular option by one by one approval friend request because here you will get tricks to accept and  reject all friends a single click once
Do not waste your time to find any feature in your Facebook account settings where you will get the option to accept and reject Facebook friends to request once. There is a browser extension that makes it possible to accept any number of friends requests with a single click. You have to read full post to understand how to accept and reject friend requests at once. Its not rocket science but need a bit time to understand it.
Here we bring you most useful and time-saving tricks after research if you are an addicted to Facebook or any social network user than you must like our post so don't forget to share it subscribe it and get the latest Facebook tricks on your mail every day.
"How to Accept and Reject Facebook Friends Request Automatically"
If you are using Windows then you must require Google chrome to use these tricks for Facebook. This extension only works in google chromes which is available in the Chrome store free of cost.
If you want to install Google Chrome Click here to download it now
Version 63.0.3239.84 (Official Build) (64-bit)
Click here and save the file then run it and install chrome to add extensions.
Follow the given steps and you can Accept Reject  Facebook Friends Request once.
Follow Step Given Below.
 Open Google Chrome
 Go to Chrome Store Click to Chrome Store
4. Search "Facebook Friends Requests Accept/Reject" and Click add to chrome.
---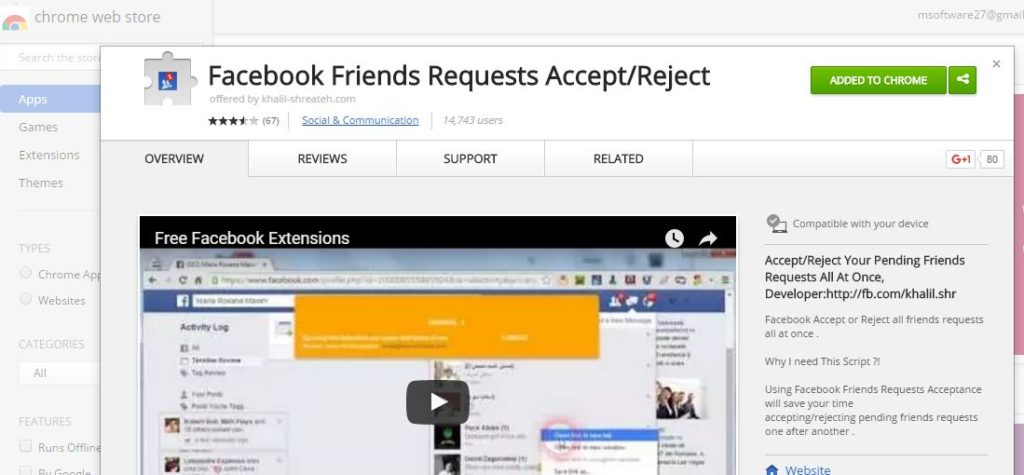 After Click Add to chrome you will get a notification for allowing installation for the Google Chrome extension. Click ok to add it Google chrome and confirm for browser restart process to integration of extension. If your installation is done successfully than you will get an icon on the right side of Google chrome see the given point for the same.
After Click added to chrome you will get an icon on the right side of the browser URL bar

Now log in your Facebook account and option all Facebook request notifications.
Now click the extension icon and your friends request start accepting one by one. Finish time depends on pending friend request numbers. If its not more than 10 it will take 20-30 seconds but if more than that then you have to wait until you get a popup notification for all friend's requests accepted successfully.
Facebook Friends Request Accept and Reject Extension Not working in Chrome
After installation, if your extension not working then makes sure you have to restart the browser after installation and it should enable. See how to enable Facebook to accept and reject extensions in chrome given below.
 
Click 3 vertical dot for Chrome setting menu
Click More tools option in settings menu
Click Extensions option from settings sub-menu list.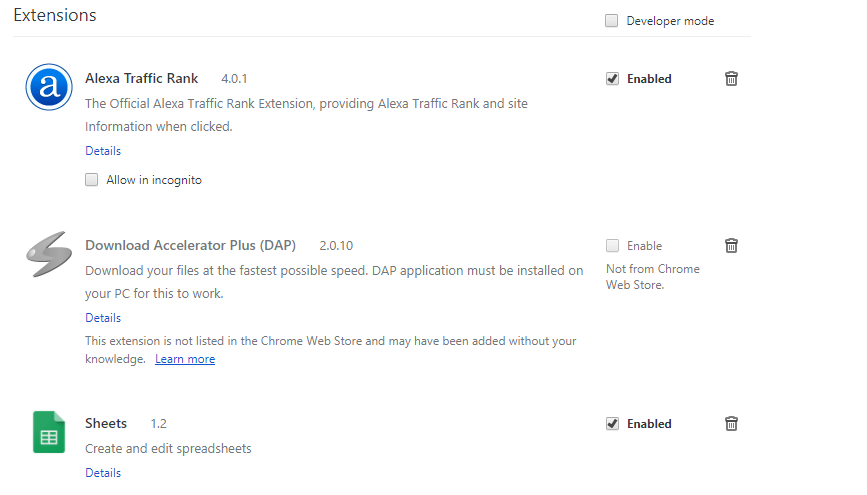 Now see the Extension list find your Facebook Accept and Reject Extension and click Enable button
And restart Google chrome again and now check extension should work for your Facebook pending friends request accept and reject.
Related post