ALways depend on YouTube videos sharing just ready an option to keep entertained when youtube not alive. see here 10 Best YouTube Alternative Sites for Free Videos Sharings. Using multiple options always keep on you if you are video lovers.
10 Best YouTube Alternative Sites for Free Videos Sharings
YouTube one of the busiest video platform ever from morning to night. If YouTube is your best video sharing and watching platform than did you ever think if YouTube not then what you will do. Not to worry now because here I am giving you Popular Video Sharing site like YouTube for watching and sharing mast videos. You may not know that there are many best alternatives to YouTube video sharing site available and where you can enjoy the worldwide videos of course free.
Having multiple options is good you get the different choice to switch between. So when you have multiple Best Free YouTube Alternative Sites than I am sure you will always get the something in new video site. YouTube is the biggest online streaming site where every day millions of video uploaded from all over worlds. So you may always think what you will do if YouTube will not available with free video sharing and watching. Although you get the many features with YouTube channel such as offline streaming, live streaming, sharing option with different social networks. But you can also enjoy some greater video sharing platform also in free live streaming.
Best YouTube Alternative to watch Free Videos Online
1-Dailymotion
2-Metacafe
3-Vimeo
4-Facebook Video
5- Twitch
6-Dtube
7-MySpace
8-9GAG Videos
9- SONY CRACKLE
10- PeerTube
---
Read More:
1-Dailymotion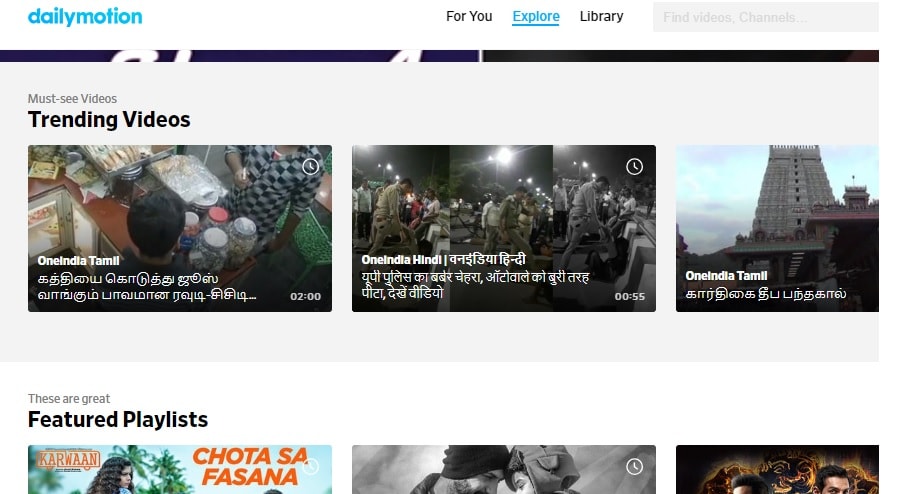 After YouTube, Dailymotion is the last stop of online videos lovers. So I have to give it the first number of best Free YouTube Alternative Sites to enjoy online video movies, songs, and other videos. Dailymotion gives another best platform YouTube alternatives for video creators who want to share their knowledge with worlds. While thinking about online streaming YouTube comes to mind but if no YouTube then it will only Dailymotion the best replacement of YouTube online videos.
Pros:
Revenue sharing option Ad-based like YouTube
Resolution: Up to 4K Ultra HD (3840 x 2160)
Formats: We support all common video formats
Support Platforms: Web, Android, iOS, Windows
Cons:
File size: 2 GB maximum per file
Duration: 60 minute maximum per video
2-Metacafe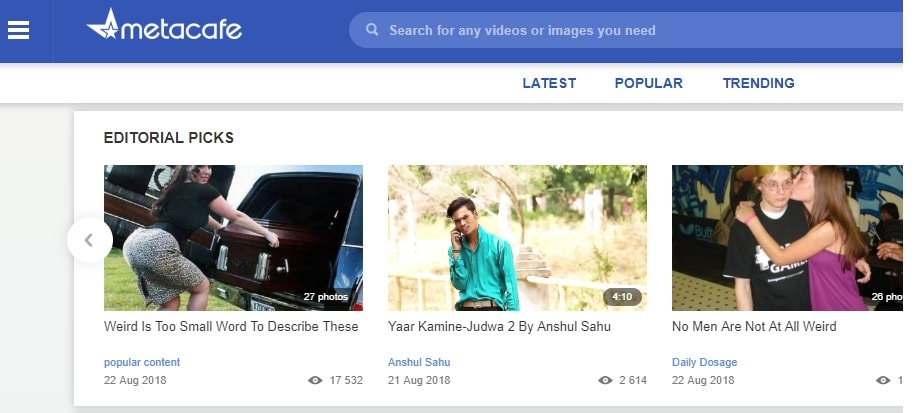 Metacafe yet another Best Video Streaming Sites As YouTube Alternatives with interactive interface. This online streaming video site having the different category with Latest, Popular, and trending tabs. Metacafe can be next great video sharing and watching site as YouTube alternatives. A decent categorized interface makes easy to find amazing video content and experience of watching interesting videos.
Pros:
Support Platforms: Web, Android,
Interesting web interface
Family filter option to avoid weird videos on home PC.
Cons:
No direct option for video monetization like YouTube
Too many ads
 How to Connect Any Wi-Fi without Password from Mobile?
3-Vimeo
Video next option to YouTube videos streaming, but its limited feature to creators. It's also the most popular video platform for videos lovers like YouTube channels. It is a video platform for business-related promotion with different paid planes. With the basic free plan, you can start to test it with limited features. As the limitation of the quality content video, you can get it selected quality videos here as its only pro version available for extra features so not anyone can upload anything like YouTube's. The best YouTube alternative for school, business, and other promotion video contents. If you are a blogger or video tutorials than the video would not use for you as no direct monetization option available to monetize videos to earn money like YouTube video channel.
Pros:
Available Customizable video player
Monetization with Donation available
Platforms: Web, Android, iOS, Mac OS, Windows, Xbox One, PS4, Chromecast, Fire TV
Cons:
Not complete free for the creator
An extra feature only on the Paid subscription
No Revenue option to show ads
 The 10 best free logo design online without registration [No installation] 
4- Facebook Videos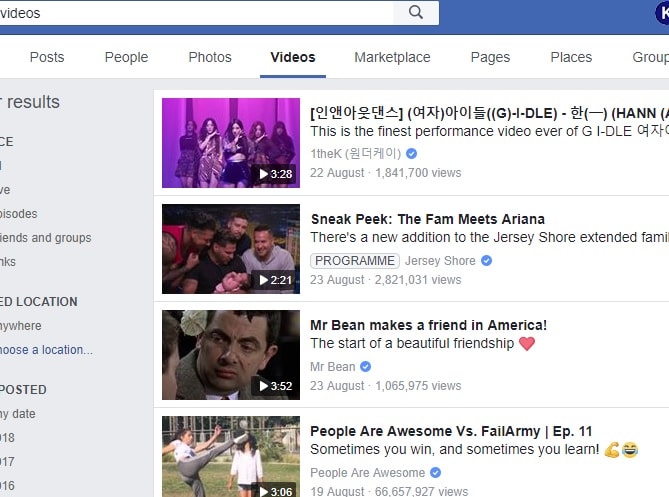 Facebook one of the best and busiest social platform worldwide. Millions of videos uploaded every day from various social user personal promotion and other tutorials. So Facebook can be a next stop and Best YouTube Alternative for online video lovers. Best thing is today Facebook is the leader of company, personal and branding promotion activity platforms. So if you are a promotional creator or love to share your knowledge with other using video tutorials than Facebook is the best alternatives for YouTube for Video sharing.
Pros:
Free to upload and Share videos
Privacy control who can see your videos
Live video option
Cons:
No revenue ads option
No offline watch
5- Twitch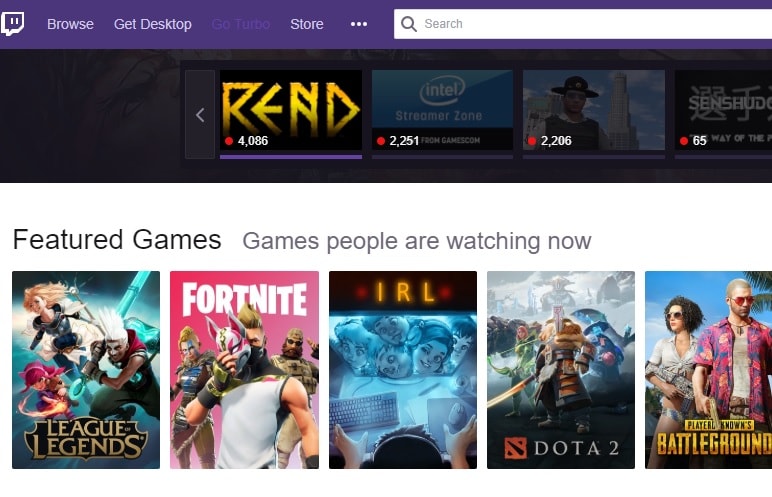 Next best option of alternatives to YouTube for video hosting to watch free online streaming with UHD quality video experience. Are you game lover than Twitch is the best place for you, get thousands of live game playing and enjoy the different HD games live to stream. Here you can mostly gate gaming videos so limited niche video content you watch on Twitch.
Pros:
Best Game Video for game lover
Cons:
Limited video niche category
6-Dtube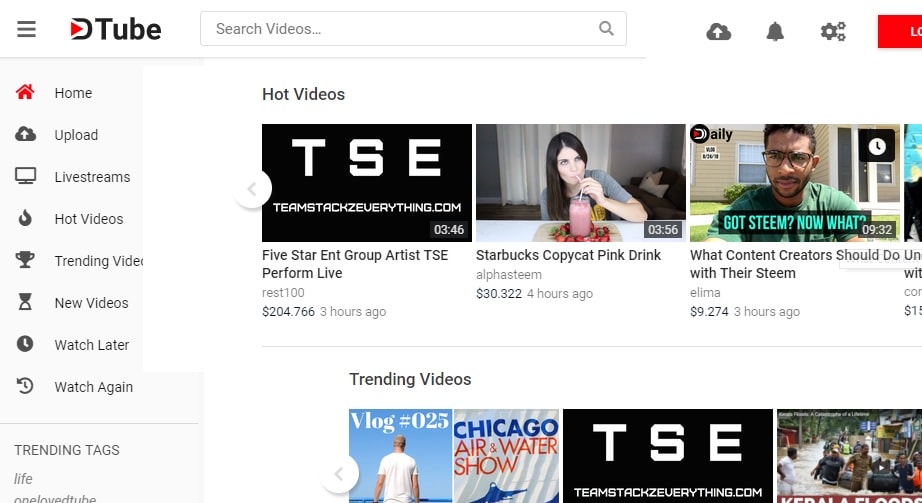 Dtube yet another good option of Best Video Streaming Sites As YouTube Alternatives. Its interface looks like YouTube and features almost same like, trending videos, watch later, hot videos..etc. It also provides the live streaming option like YouTube so you may never miss YouTube video while using Dtube like another alternative. Dtube is the best YouTube alternative blockchain based technology and its interesting video-streaming website for online video lovers.
Pros:
Earning option with cryptocurrency
Not too many viewers and similar interface like YouTube
Ad-free website so no interruption while watching video
Cons:
No monetization option to easily untestable for creators.
7: MySpace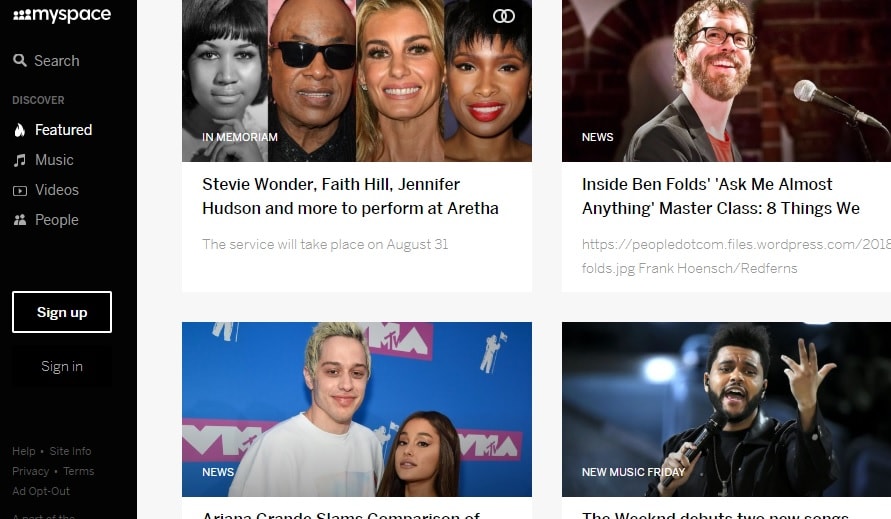 Not Popular as much as YouTube but it can be an option to entertain you when YouTube does not work for you. Although Myspace is the social network but also provide you with music, videos, and other feature to keep users always entertain. You can still get online open source video sharing platform even YouTube don't allow you free service if in future.
Pros:
Song: 1GB
Maximum storage 2GB
Supported file types WAV, MP3, AIF, FLAC, AAC
SD: 640×480
HD: 1920×1080, 1280×720
Cons:
Video format only .mp4 (h.264),.mov
10mb Max file size
8-9GAG Videos
9Gag is a hong-kong based video sharing website. An interesting platform for getting GIF videos and other interesting videos with direct sharing option in Facebook and Pinterest. On youTube you get only videos section but 9GAG you get, GIG, Videos, and many other interesting categories to keep you on while watching videos. So 9 Gag can be next replacement for best alternative of YouTube videos.
Pros:
You can off and ON ads settings
Cons:
No monetization
9- SONY CRACKLE
Sony crackle another best option for video entertain. It is a US-based subsidiary of Sony Pictures Entertainment. In some region, it is the good option of YouTube but lack of availability in every region is the negative point of it. Sony crackle best video content but unfortunate not for all country currently.
Pors: 
Quailty entertain videos
Cons
Limited region availability
10- PeerTube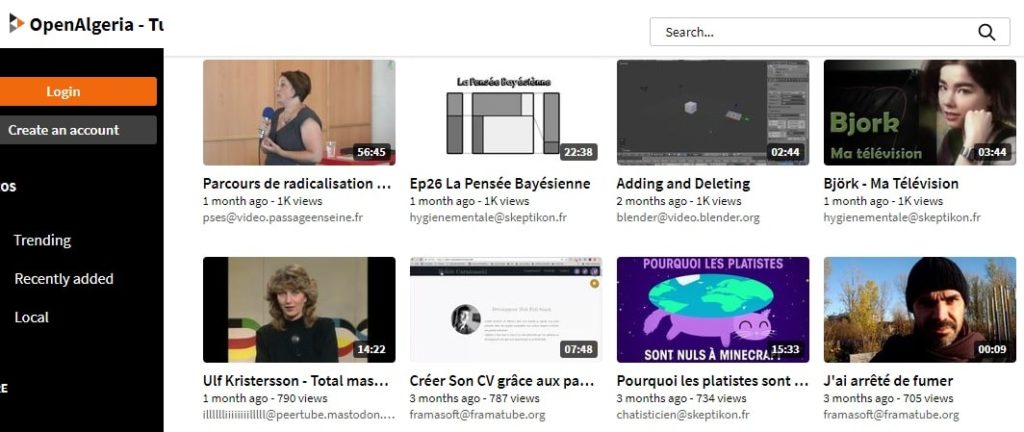 PeerTube a based video hosting platform for online sharing and watching free. It is an open source free, decentralized, the federated video platform that uses peer-to-peer technology and load doesn't not relay on the single server. Peer Tube is free under GNU licenses so you can complete source code to allows you to create a video hosting website. A best YouTube alternative for free videos hosting platform and online streaming just create your own YouTube hosting at home.
Pros:
GNU, Free open source
Source code available to create own video hosting website
Cons:
Available in limited region videos.
Visit:  PeerTube videos Now
Conclusion
Don't depend on a single video monetization platform as usual people relay completely on YouTube. Just always use an optional YouTube alternative to still earn money and keep move on video entertain when YouTube can't give you. Those are the some interesting and best YouTube alternatives to watching videos online and sharing your skills and creativity to worldwide.
Related Post