Best Bandwidth and User management Gateway for Internet Service Provider (ISP)
Today the internet growing very fast all over the world, so to make it faster many people involved with it. Internet providing us to manage and find everything with fingertips on the way. if you are looking to start work as an internet service provider in your area and want to earn money from internet connection to your location. Managing user and internet subscribers, you need the best ISP  internet bandwidth and subscriber management software to manage internet speed and plan to the subscriber. I have to try to shortlist the best and user-friendly Bandwidth and subscriber Management Software for Internet service providers and hotel paid and free hotspot service.
If you are looking for the best bandwidth and user management software so you are on the right place, here I am providing you with the best solution which manages bandwidth and internet user with internet usage details. I am sure it will help you to choose the best one as per your business requirement. Using the best subscriber management software let you provide a billing system as per the user's internet speed plan and data consumption plan. For hotel and ISP Requirement solution should  AAA, Radius based  Bandwidth and Management Software with user management with cloud management feature.
Top and Best Internet Bandwidth and subscriber Management Software for ISP
24Online (Comprehensive Solution for Small & Medium ISPs)
24Online is the best billing and bandwidth management software for small and medium-sized ISPs. Its provide you Access Management, bandwidth management, billing management, package management, subscriber management, coupon management and many more feature you will get with 24online management software. The best thing about 24online is easily integrated with third-party software such as IDS billing software to auto-generate bandwidth billing. For ISP 24online provide online payment gateway to make internet plan payment received to the bank account to make it easy for internet subscriber. You can customize the user captive portal as per your company name and logo design to make it more attractive and marketing benefit. 24online provides you a complete solution with stand-alone hardware as per subscriber license capacity. No hardware required to use 24online bandwidth management and billing gateway software.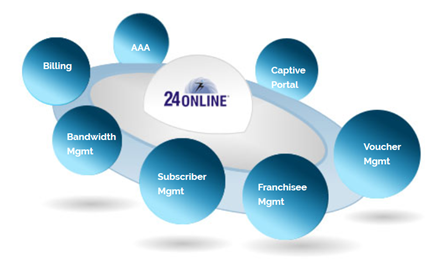 2: Smart Guard (XSinfosol): Software-based Bandwidth  Management
If you are internet business is in the initial stage and you looking for low-cost billing and bandwidth management software then SmartGuard will be the best option. Because with the smart guard you can start your business with small subscriber licenses for without a financial load on your business. Smartguard provides you with bandwidth management, prepaid card module, Subscriber Internet Management. Smart Guard Does not provide any stand-alone hardware for bandwidth management software. You required a server machine to install a smart guard server. You can use the hardware configuration as per your subscriber load to make low-cost bandwidth management and subscriber management solutions.

Visit  to download Bandwidth and subscriber Management Software: Click Here
3: Inventum (Billing and Bandwidth Management Gateway ):
After 24online and Smart Guard  Inventum is one the best solution for the Internet Service provider to manage bandwidth as well as a subscriber with customized captive portal. Inventum comes with complete stand-alone hardware with different user capacity. its support AAA server Bandwidth prepaid and postpaid subscriber plan. Auto-renew and force close plan after Expire plan last date.

Visit Inventum Official Website to more information: Click Here
---
4: Log2space – Internet Subscriber Management Software:
Log2space used by Internet Service Providers for provisioning and management of their subscribers. It is used for complete management and control of all the attributes of different kinds of subscribers/customers. Log2space comes with three different product categories. Log2space Edge' Standalone Server, Log2space Central' Server and Log2space Edge' Router Server. You can read more about full feature and specification about all product category at official L2S website spacecom dot co dot in. for easy and stable work performance we have shortlisted log2space for best Bandwidth and Subscriber Management

Apart from this list if you provide free WiFi to your coffee shop, the hotel then you can also try Mikrotik Router to create free WiFi hotspot login page. The bandwidth management software also comes with stand-alone hardware which will install on ISP server room and all the internet plans can create from a single server.  Billing and bandwidth management software come with the inbuilt user and prepaid post plan customization feature. The customization of the captive portal can be the best promotion martial for your hotel, coffee shop, and office. These all solution design for isp billing and bandwidth management software and hardware as well.
If you know any other best Internet Billing Software & Bandwidth Management for ISP (internet service providers) and hospitality solution with prepaid and postpaid plan feature. comments the name of the best hotspot user and bandwidth management software, so we can include it in the list. try the above isp solution with radius server integration with bandwidth management to make a more secured hotspot zone.

Related Post