Black Color not printing on Canon Pixma G1000 ink tank printer. (Solved)
Are you using Canon G1000 or Canon G2000 ink tank printer in your home and office? I want to share my personal experience when first time I refill ink in my Canon G1000 printer then only color ink worked. I tried only black and white printing but Black Color not printing on the Canon Pixma G1000 printer.  If you are using Canon G1000, canon Pixma G2000 or canon Pixma 2002 multi-function ink tank print. To solve color print on canon Pixma g1000 printer I have created this post to share my personal experience and solution with all. In this post, you will see how to solve black ink not printing on Canon G1000 and How to solve Color ink not printing on Canon G2000 print.
Don't panic when your printer does not print black ink or only printing black ink print with your ink tank printer. In an ink tank printer ink is stored in an outside container and ink flow with ink pipe to cartridge head through the nozzle. So after using 3-4 months, you may face color print problems in your ink tank printer, but there is nothing wrong with your printer. After following this post just solve your canon Pixma color printing issue within 10 minutes without visiting the physical printer to service center.
Steps to Solve Color Print Issue on Canon Pixma G Series Printer.
You can solve the color issue in all the Canon Pixma G series printers within a few minutes. I have created this post when my Canon G1000 printer only printed out color ink skip the black color printing. So I have just used the inbuilt maintenance steps given on canon software and my canon g1000 black ink printing issue was solved.
Step 1: – Go to the control panel and open the Device and printers.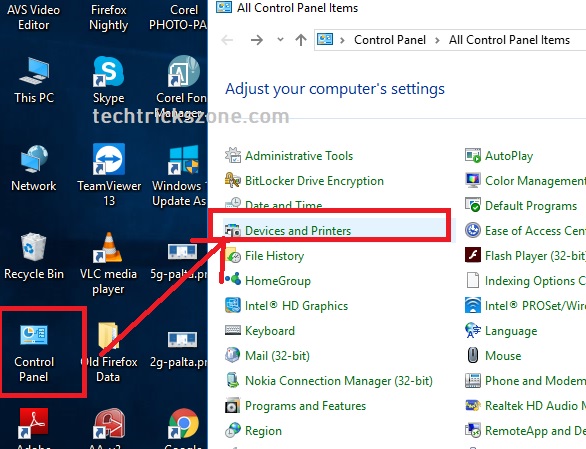 Step 2: Right-click on Canon G1000 or Your canon printer model number installed from the list.
After right click Printer properties.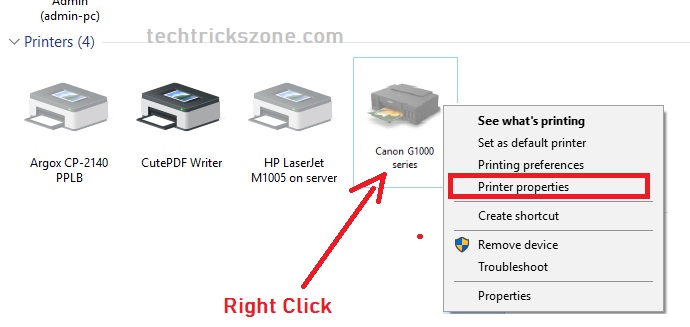 Step 3: now find the Maintenance tab from Canon G1000 series Printing Preferences. Follow the image below.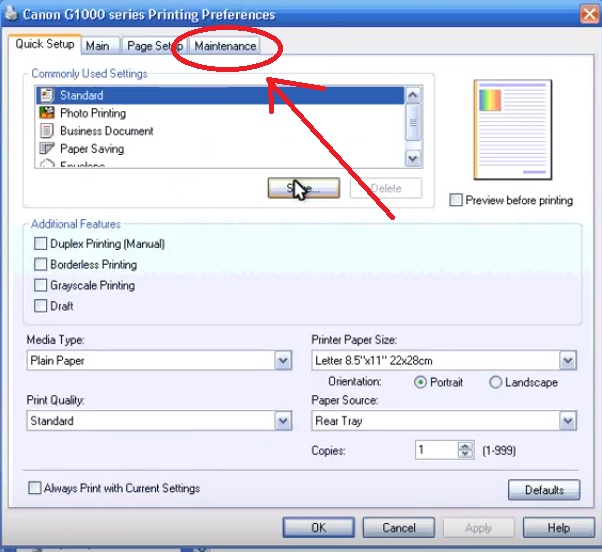 Step 4: In these steps we will perform cleaning, deep cleaning, nozzle check work.
To solve the color print issue in the canon printer we will do the cleaning steps as shown 1 to 5 number in below image.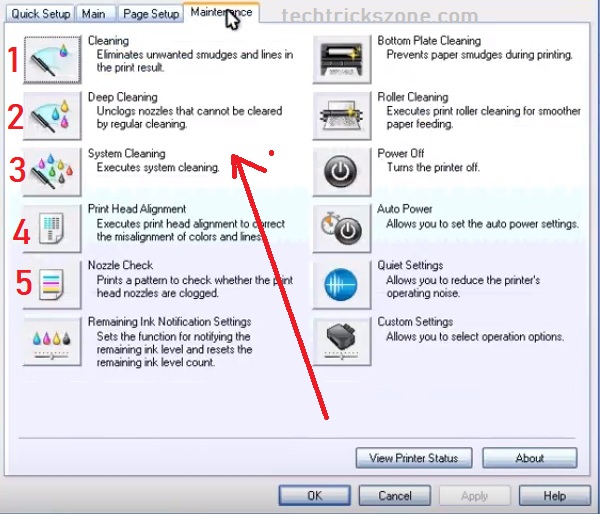 Now follow the all cleaning issue with step to step to solve printing issue in canon printer as given below.
Canon Pixma G1000 head and Nozzle Cleaning Process.
After go to maintenance you will get all the options related to printer head cleaning, nozzle check, system cleaning, roller cleaning,  bottom plate cleaning, and print head alignment.
If your printer only prints color ink and skip black color print or only prints black ink now do the below steps one by one and test printing again.
1: Cleaning the Print Heads
See the first button in the maintenance menu "cleaning".

Press this button and follow the pop-up notification you get. And wait until the cleaning process finishes.
2: Canon Pixma G series Deep Cleaning
After cleaning the head now start the Deep cleaning head and wait to finish the process.

3:  Canon Pixma Printer System Cleaning
Now 3rd step is the cleaning system to solve the color printing issue.
To start System cleaning press the system cleaning button as shown below.

After pressing the system, cleaning button select the
Ink group – All Colors BK, C, M, Y
Press the execute button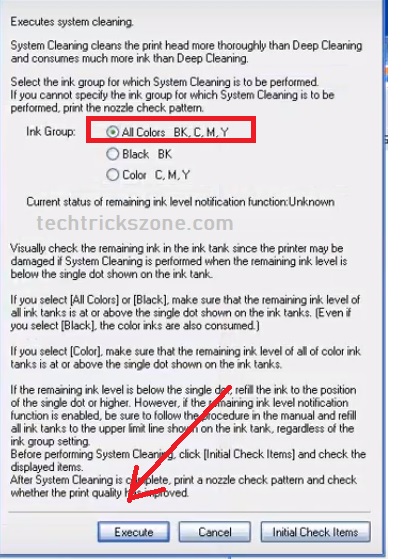 Please don't start any other process during system cleaning or don't use printer for printing until system cleaning process not finished.
To close this pop-up window press the OK button and wait to finish the process.

4: Canon G1000 Aligning the Print Head Position
Aligning print head after using 3-4 months continues printing required to maintenance purpose of proper working.
Press the "print head alignment" button

5: Canon Pixma G series printing a Nozzle Check Pattern
In ink tank, printer nozzle is the important task to flow the ink to the print head so to solve the color issue in printer nozzle checking must require.
Press the Nozzle check button to start the process.

After finish, all the head aligning and cleaning functions now try the print. Your all color problem should solve and miss color on printing print proper. Hope now solve the issue of the canon printer not printing color correctly in your g series printer. This post support all the Canon G series printer which accruing issue with Black Color not printing on Canon Pixma G1000 or print fade color.
Related Post –
Buy canon Pixma G3000 Ink Tank Multi function printer only  Rs. 10000/-  Get Deal Now