How to Factory Reset TP-Link Omada EAP225 Outdoor AP
EAP225-Outdoor AC1200 Wireless MU-MIMO Gigabit Indoor/Outdoor Access Point with dual external Omni antenna. It gives you 1200 Mbps seamless wireless connectivity and Omada mesh technology-enabled wireless connectivity for an extended range. If you using the TP-link Omada controller it's a bit simple to set up TP-link EAP225 Mu-Mimu outdoor access point that is automatically managed by the controller itself.
TP-link EAP225 supports Captive portal provides a convenient method for guest authentication as well as Facebook Wi-Fi and SMS authentication help to boost your business. Omada EAP225 AP supports PoE power so easy to install outdoor using a single cat6 cable without laying separate power sockets. Apart from login and setup Omada EAP outdoor access point if you can't login EAP225 settings from the browser you must need to hard reset.
There are two ways to reset the TPLink EAP225 Outdoor Access point if you are using it without a controller and not managing from a centralized Omada controller. First, is the factory reset Access point from the web interface if AP misbehaving or unstable due to any problems but if you are locked out and can't login web interface then the only way is a hard reset.
TP-Link EAP225 Indoor/Outdoor Backup and Reset
While making the device factory reset, all configurations will be deleted and the router restore into default mode so you have to back up the configuration file before resetting it. You can download the configuration backup file only if you can log in to AP settings if you forget login password or can't log in then only the hard reset method will work.
Follow steps to backup the configuration file first before making a device reset.
All Brand Router Default IP Address username and password list
Connect PC/Laptop using Wired LAN cable from PoE adapter or PoE switch as you using to connect EAP225.
Open a web browser and access TP-link EAP225 outdoor AP default IP http://192.168.0.254 to the URL bar and wait to load the login page.
Use the username and password you have configured during the first time setup or try the default username admin or password admin. But EAP225 does not have any default login username password so use the same you have configured.
Go to System – Backup & Restore tab from the top menu.
1: Backup– this option will let you download the EAP225 configuration file backup.
Press the Backup button to download the configuration to your drive. Move it to a safe drive so you can restore it after making a device reset.
2: Restore- Restore option will help you to restore configuration after factory reset the device, so you do not require manual configuration to set up AP with old settings.
Steps to restore setting
Click the browse button and select the configuration file you have saved in the drive.
Press the Restore button to apply backup.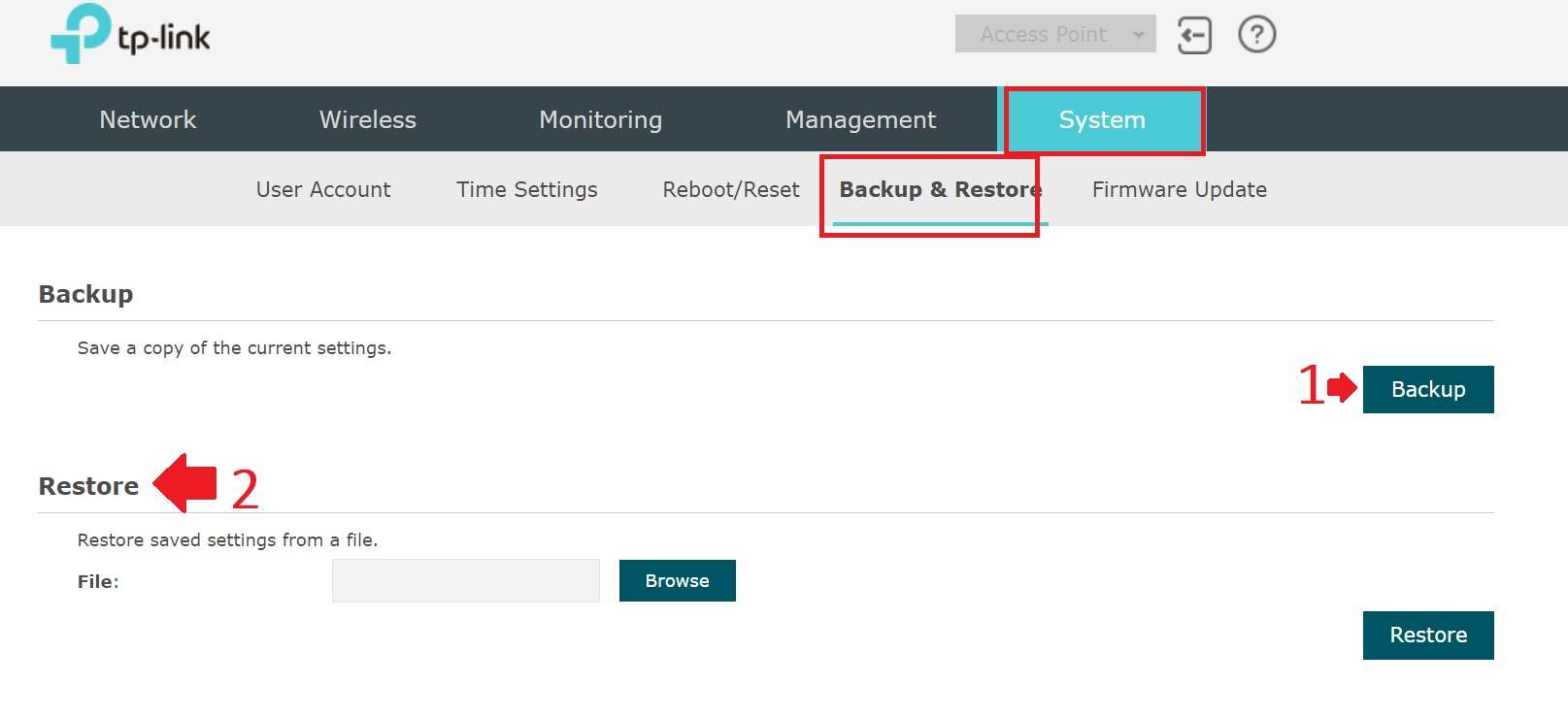 After downloading configuration backup you factory reset your device from the web interface.
Factory default TP-link EAP225 from the Web interface
Making a factory reset Omada EAP22 AP will remove all settings and the device will restore to default mode.
If you facing any issue with AP with connectivity or other problem just follow the steps to reset from the web interface.
Login to Omada Outdoor dual-band access point from the web browser.
Go to the system-Reboot/Reset option from the top menu.
Reset to factory reset = Reset
Press the reset button and press the OK button for the next confirmation pop-up to restore settings to default mode.
"Are you sure you want to reset the configuration?"
Press the OK button to accept factory reset eap 225 to default mode.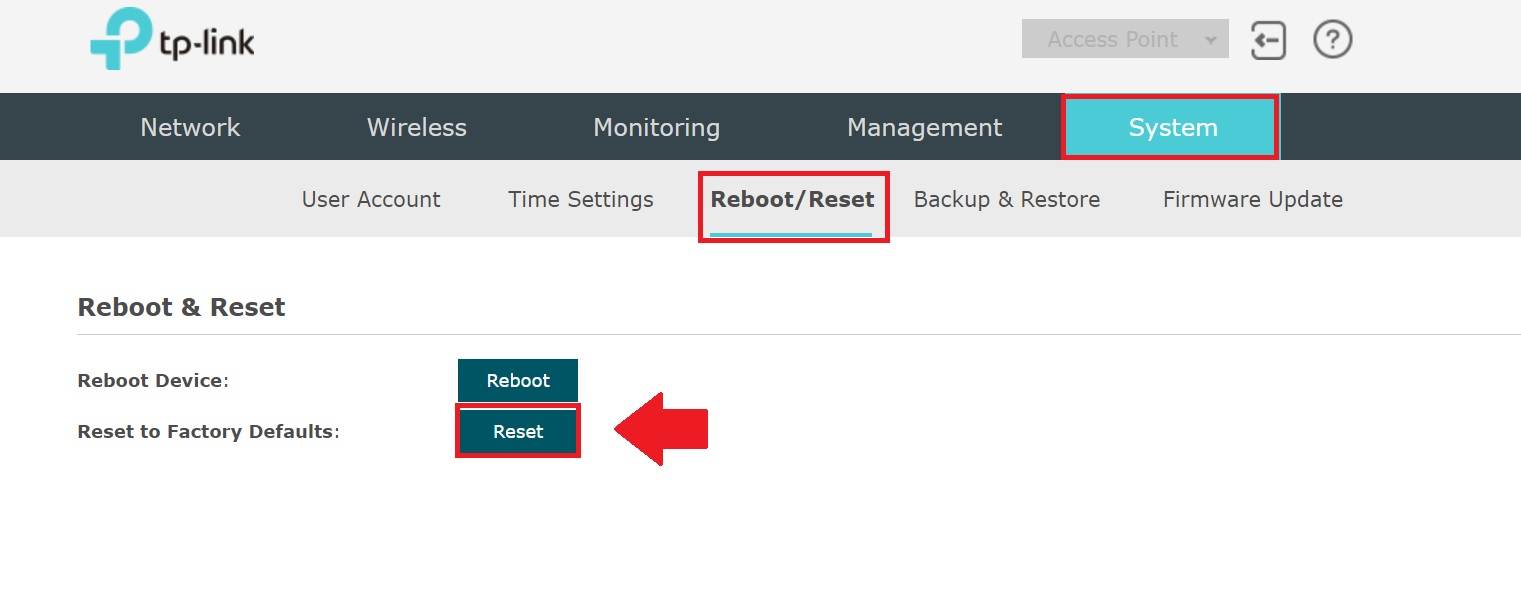 TPLink EAP225 Will reset to default mode and restore factory reset. You can access tp link eap225 outdoor using the default IP address 192.168.O.254 IP address and set up it again from starting.
IF you forget the login password and are unable to access the router web interface because of invalid login username and password then follow a hard reset using the reset button.
How to factory reset TPlink EAP225 using the Reset button
Making a reset using a reset switch is the faster way to restore settings to default mode. You can use the reset button to default settings if you forget your login password and fail to authenticate.
Follow the steps to reset button to restore settings.
Power on EAP225 using PoE adapter.
Locate a small reset button near the ethernet port.
Press and hold the reset button for 5-10 seconds and release the button when the LED starts flashing.
EAP 225 outdoor unit will automatically reboot and take a few minutes to restore settings into default mode.
After factory reset the device you can access using default login settings printed to the AP sticker as well as the unit box.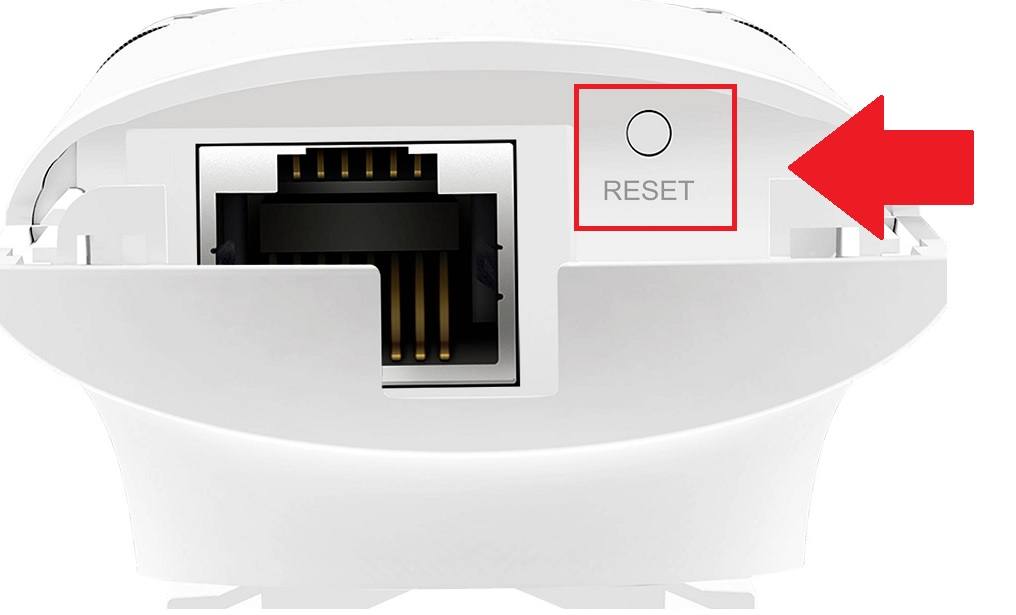 If you have downloaded the configuration file before just log in to the device and go to System- backup & restore option to restore configurations.
This is a simple and quick way to factory default TP-Link EAP225 Gigabit outdoor Ac1200 access point if you forget your wifi password or login password.
Related Post