DIGISOL DG-HR1400 Broadband Wireless Router Configuration
As I already posted most of the popular brand router configurations such as TP-Link Dlink, Netgear, and many more.in this tutorial serial, I am going to guide you how to configure Digisol DG-HR1400 router configuration for various ISP (internet service providers). DigiSol one another best brand in the SOHO networking product range reachable by everyone. If you are the regular reader of my blogs then you must know before configuration manuals I always cover about product specification and feature so it also helps you to choose from multiple brands.
DigiSol DG-HR1400 is a 150 Mbps wireless router for home and limited user networks. The configuration of the Digisol router very simple and setup wizard makes it easier for non-technical persons. Go through the below point to know about Digisol DG-1400 wireless router hardware and software specifications.
DIGISOL DG-HR1400 Broadband Wireless Router Specification.
Every router divides into two parts. One is software and the second is hardware. The combination of hardware and software specification make router best wireless routers.
DIGISOL DG-HR1400 Hardware Details –
First, see the hardware specs of Digisol router. As the DG-HR1400 is a 150 Mbps WiFi router its means its support only single stream and having 1 Omnidirectional antenna to spread Wi-Fi signal. Digisol router having 4Lan +wan port to connect the wired computer as well as wireless networks, besides router 1 DC socket to power on the router with power on/off switch and 1 WPS button. 1 reset button to hard reset in case forgot IP Address and login details of DG-HR1400 routers.
DIGISOL DG-HR1400 Software Details –
If we look into the software side than Digisol DG-HR1400 is a good GUI interface to configure it form Laptop and mobile. DG-HR1400 broadband router support DHCP, Static and PPPoE Wan network type which is supported by all major internet provider such as Airtel, BSNL, Jio, ACT, Spectranet, Tikona, Hathway and excitel networks. Router support 1 main and 3 Guest SSID with all latest security modes. You can use basic firewall features such as URL filtering, Mac ACL and parental control on Digisol DG-HR1400 wireless routers.
To know full details download Digisol DG-HR1400 Braodband Wireless Router Datasheet here.
With this tutorials, you also get help for "How to Configure Digisol DG-HR3400 Router steps to steps. The difference is only speed DG-HR3400 support 2 Omni antenna with 300Mbps speed. As the router GUI interface same so configuration manual will support both models.
Digisol DG-HR1400 and DGHR3400 Wireless Router Configuration
Finally, after the brief description of the router, we can move on to the next steps how to configure Digisol DG-HR3400 wireless router with the easiest way.to start configuration you must know the Default IP Address and username password for Digisol DG-HR1400 routers.
Digisol DG-HR1400 Default Settings.
To know default settings of your Digisol router you can check bottom side sticker. Well you can also get all routers default settings here
Digisol DG-HR1400/ DG-HR3400 Default IP Address is 192.168.2.1
Default username / password – admin/1234
 Read More:
Login Digisol DG-HR1400 Broadband router
To login Digisol router in the browser, you must configure your laptop or PC LAN into DHCP mode.
See here how to configure LAN in Pc/Laptop
Now type 192.168.2.1 and hit enter.
User login details as given above or if you already changed use same for login.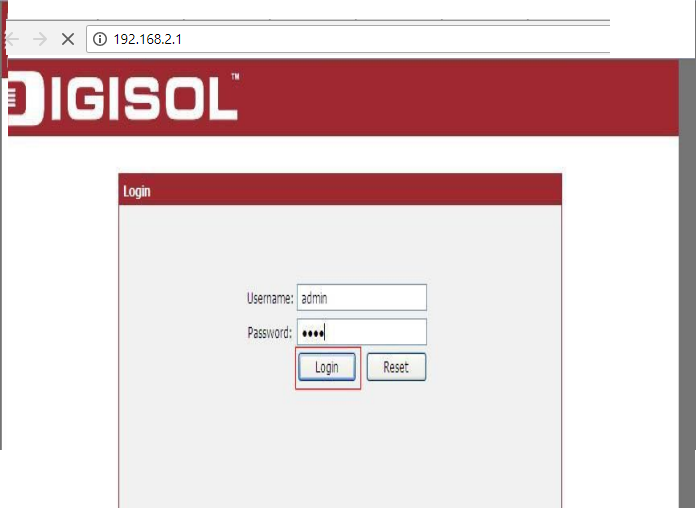 Digisol DG-HR1400 and DG-HR3400 Router Mode change
Digisol route support multi-model like, AP, AP+WDS, Router mode, Client Router so the first steps are we must know which mode we want to use. Router or bridge mode. Here we will configure the router for the internet in the Static and PPPoE mode so we will choose router mode.
To change mode Go to Setup—Mode settings
Choose Router Mode (Its default mode selected)
Apply changes wait for reboot device.

DigiSol DG-HR1400 WiFi router WAN configurations
After mode configuration next steps is configuration of WAN port. In wan port plug cable coming from your Internet service provider first.
Go to Setup- Internet setup
Wan Access Type– Choose Static IP/PPPoE or DHCP as supported your internet providers. Most of the ISP support PPPoE so contact your ISP for user username and passwords.

DigiSol DG-HR1400 WiFi router LAN and DHCP configurations
If you are using the signal router than no need to change LAN IP but its recommend to make your router secure from unauthorized access.
Change LAN IP go to Setup—LAN Network
1-: LAN interface Setup-  IP Address – change your router LAN IP in this box
Subnet mask– use the same series subnet mask.
2:- DHCP Server Settings-
DHCP server settings should enable so our mobile and Laptop can get IP address automatically. You can define a certain number IP address in the IP Pool series.
IP Pool Range – start IP – end IP
Max lease time- you can increase lease time.
Apply settings to change take effects.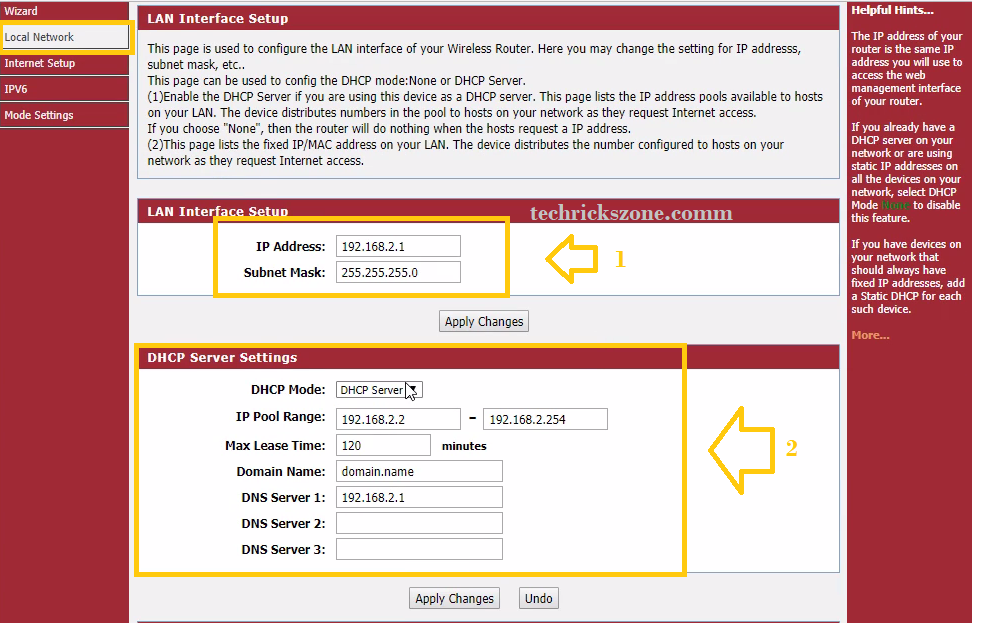 DigiSol DG-HR1400 broadband Router Wi-Fi configurations
Inside wireless configuration, you get the option to change your Wi-Fi name and set a secure password to keep protect your Wi-Fi network from others.
Go to Wireless – Wireless Basics
1:– Wireless Mode – AP
2:- Name (SSID)– DIGISOL ( change your Wi-Fi name in this box)
Channel – use 1,6,11 anyone
Band Width – keep 20/40
4 Security Options- Select Security Type- WPA2-PSK
Set your Wireless Password-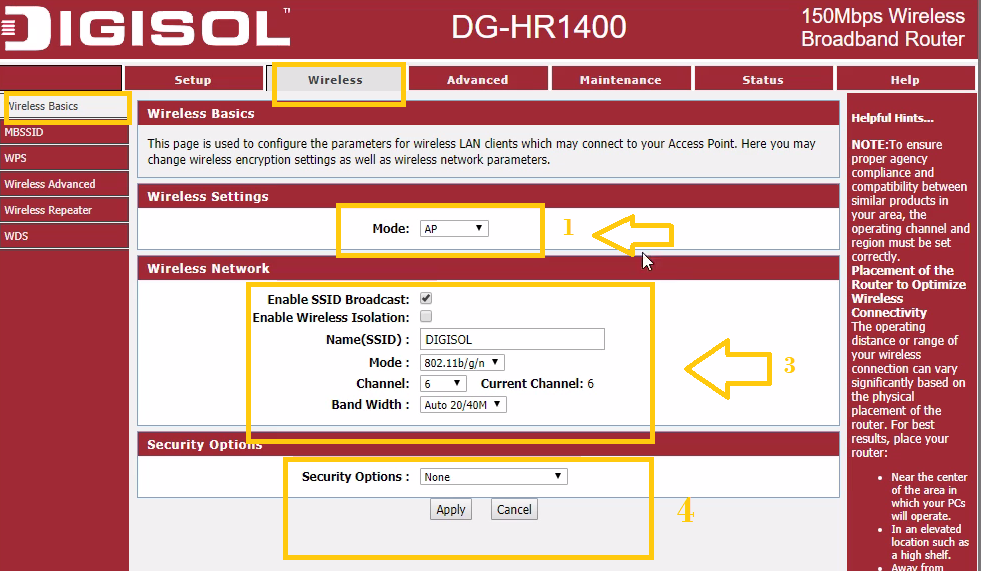 How to Enable Guest Network in Digisol DG-HR1400 and DG-HR3400
This is an important setting if you are using Digisol router in an office or your restaurant. Guest SSID will help you to keep safe your main wireless name. If any guest comes some time and you have to connect his/her mobile in your Wi-Fi then you can create the guest network for this. See how you can configure guest SSID in wireless routers.
To enable Guest SSID to go to Wireless- MBSSID
Here you will get 4 extra SSID which can use for guest.
1 – Select SSID number
2—Guest Wireless Network name – use Guest Wi-Fi name here
3—Security Options _ use Guest WiFi password in this option
 
How to enable WAN Remote Login Access on Digisol DG-HR1400/DG-HR3400
Remote WAN access most important settings for service providers. These settings allow you to access your router from WAN port, so if you are a service provider so you access and check client end router remotely if any issue reported.
To enable Remote Settings Got Advances tab
ACL settings –
WAN settings- Select WAN port
Service Allowed. Here you can choose service type you want to use from WAN port also.
Web- After login these settings you able to open Digisol router from WAN port.
Telnet – enable telnet will enable telnet service so you can access router in telnet.
Ping- if you only want to monitor your client router then simply enable ping so you can monitor router connectivity.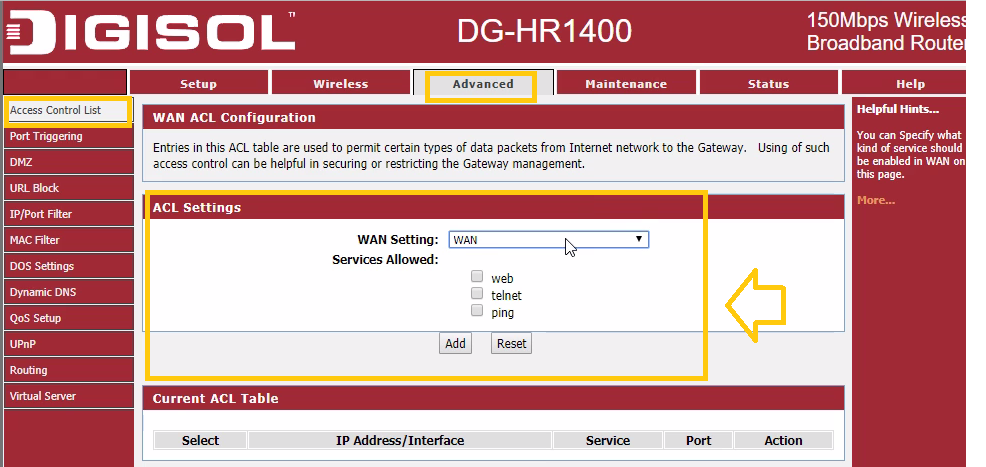 This is the basic configuration of Digisol DG-HR1400 and DG-HR3400 wireless broadband routers. To get more tutorials to subscribe and get new post notifications on your mailbox.
Related Post