There is some basic tricky method that can increase your 4G router signal up to 100% in every area. For Airtel users see ways to increase Airtel 4G Hotspot Router Signal with simple methods.
How to increase Airtel 4G Hotspot Router Signal Up to 100% in the Entire home?
The title belongs to Airtel 4G hotspot router but actually, it's for every 4G router and normal Wi-Fi router to repeat Wi-Fi signal on the dark area. If you are using JioFi portable 4G router and any other Wi-Fi router with 4G sim supported than you can use this post to know how to boost 4G router signal up to 100% in your home.
In an earlier post, I describe how to boost your mobile 4g signal in your home.  In this post, we are not talking about boost mobile signal, this post for increase 4G router Wi-Fi signal in every corner of the home. Airtel and JioFi 4G router has a portable Hotspot router which comes with the 1-2dBi antenna which is sufficient for 1 room only. But when you move one room to another room than your Wi-Fi signal lost or week where you didn't get proper 4G speed. To increase the area of Wi-Fi signal for Airtel 4G hotspot and JioFi 4G hotspot router this post will assist you to step to steps.
How to Boost Airtel 4G Hotspot Wi-Fi Signal on Every Area
It's true with the only 4G router you cannot boost the signal until unless you increase the antenna gain and other factors that support Wi-Fi signal transmitting power.
But then there are many ways and tricks to increase 4G hotspot Wi-Fi signal at your home. The first thing you should know what you should have to extend your 4G hotspot router signal up to every area.
Wi-Fi router.
To increase Airtel 4G hotspot signal required on Wi-Fi router which can be 150 Mbps or 300 Mbps doesn't matter. You can use your old working wifi router to increase the signal in your home.
If you forgot your old router Default settings than get help from the below post to recover your old router access.
See how to reset your Wi-Fi router
After Reset sees default username and password for your router.
Once you have a ready Wi-Fi router with you now you can start configuration for how to increase Airtel 4G hotspot signal with Repeater.
Before start repeater configuration makes sure you have a ready Airtel 4G hotspot router Wi-Fi password with you. If you forgot it you can reconfigure it
Wi-Fi Router Configuration for boost Airtel 4G Router Signal
Here I would like to disclose with any Wi-Fi router which supports universal repeater mode we can boost the existing Wi-Fi router or 4G router signal. you are thinking it's not big deal that we can increase signal with repeater but the important thing is portable 4G hotspot router doesn't have any physical LAN port to direct connect the Wi-Fi access point to increase signal. So here we can repeater Wi-Fi signal of any 4G hotspot router up to 100% with the simple configuration.
Here I am using Binatone BMF3G2160 3G Mi-Fi Router to increase the Airtel hotspot Wi-Fi signal.  As the Binatone BMF3G2160 support only 3g so it is not useful for 4the G sim but we can use it as a repeater mode to utilizes the device.
My Airtel 4G Hotspot router Wi-Fi username and password like this.
To know your Hotspot Wi-Fi name and password, please
See here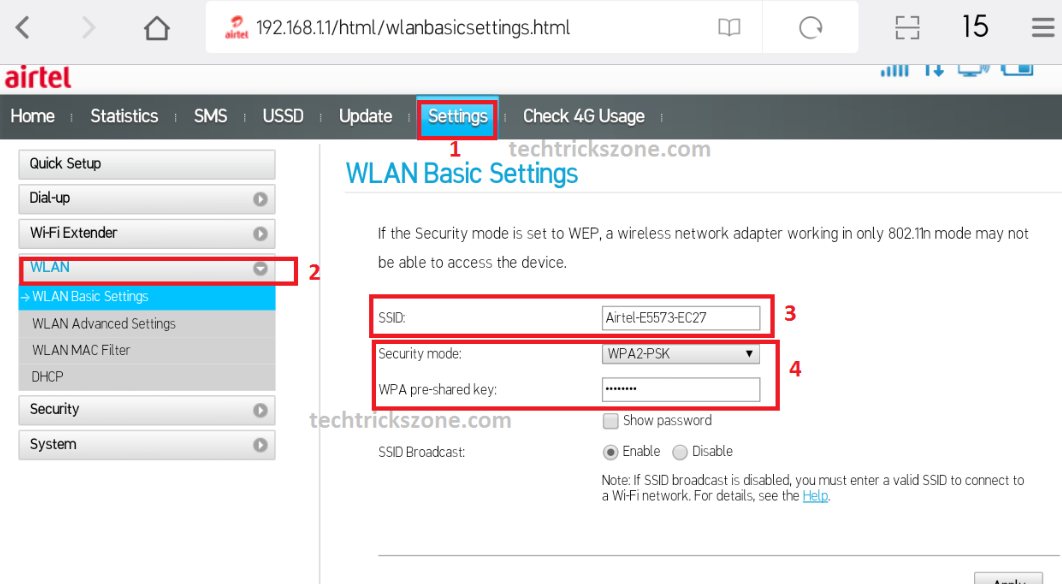 I have my Airtel Wi-Fi name and password now so I will start repeater configuration to boost my 4G hotspot signal range.
---
Binatone BMF3G2160 3G Mi-Fi Router Repeater Mode Configuration
Here in this step, I will show how you can configure your router as repeater mode to increase your Airtel 4G hotspot and JioFi 4G Wi-Fi signal within a few minutes.
Binatone BMF3G2160 Default IP is 192.168.l00.1
Username and password – admin/admin
Please your Wi-Fi router Default login details here.
Now access your Wi-Fi router login page and configure for repeater mode.
Login to Binatone BMF3G2160 MiFi Router
Type MiFi router default IP- http://192.168.l00.1 in the browser and hit enter.

Aftr login click settings button to enter in Mi-Fi router settings.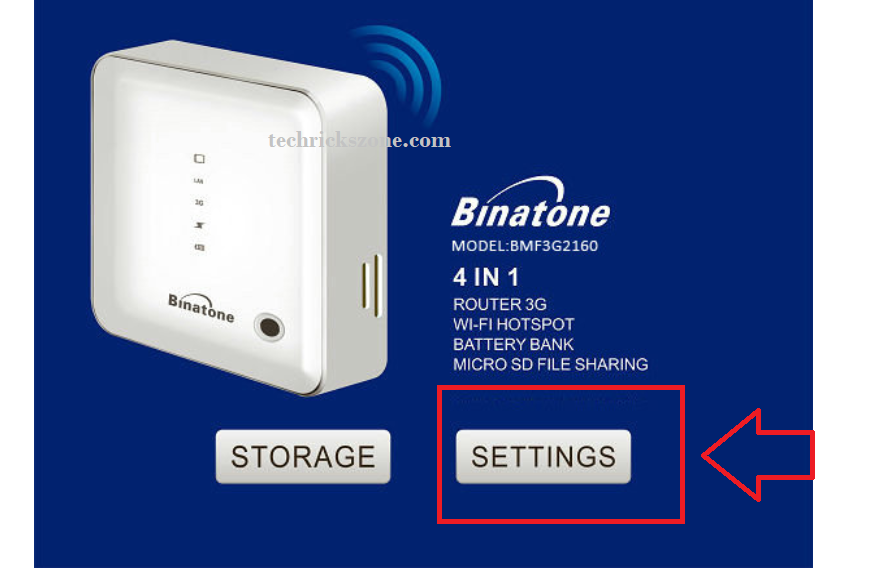 Binatone MiFi BMF3G2160 router Operation mode change
To change mode
Click Advanced
Route
Mode-Choose AP Client Mode for Repeater mode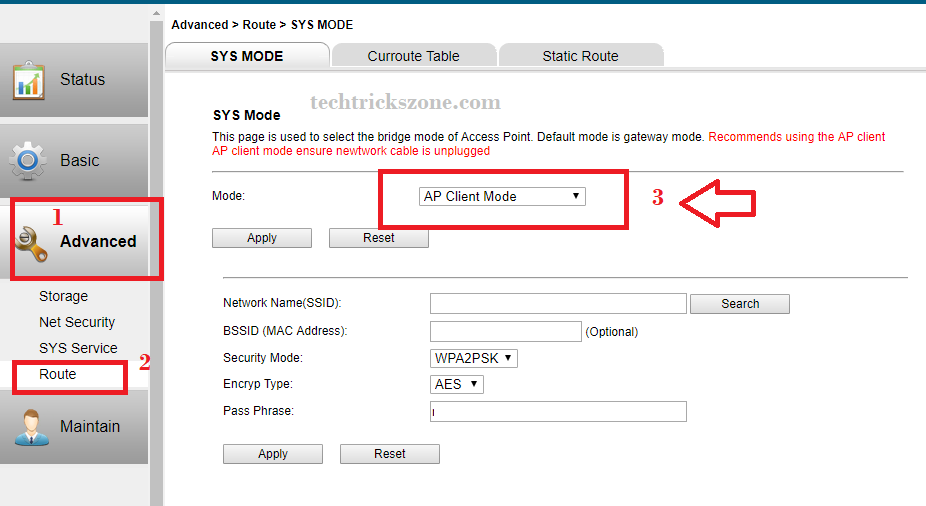 Click Apply Settings to save changes.
Binatone BMF3G2160 Connect to Airtel 4G Hotspot
To connect the Airtel 4G hotspot router click the search button to scan Wi-Fi and then select your hotspot Wi-Fi name.
Click the Search button to Scan Wireless Name
After click the search in new windows, you will get all available Wi-Fi names with your Airtel Wi-Fi name.
Choose your Wi-Fi name and click the select button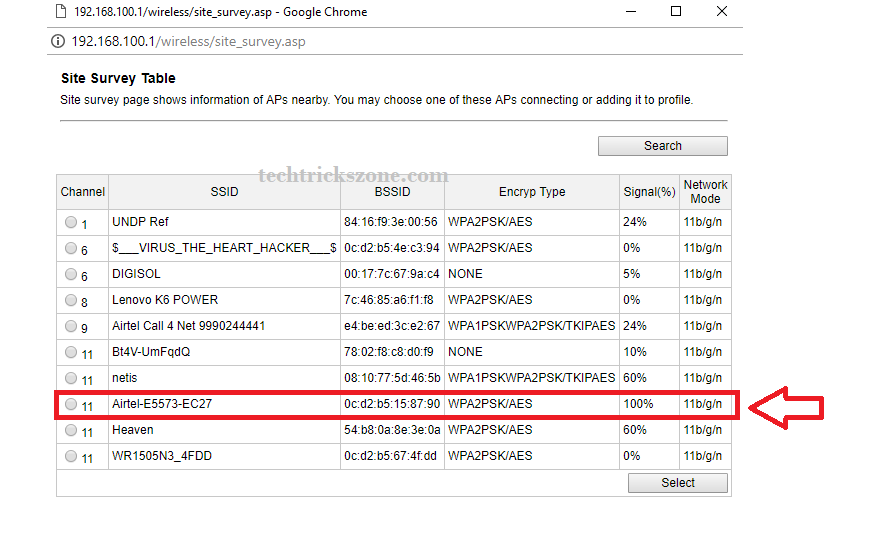 In next windows, you will ask for your Airtel hotspot WiFi password.
Your hotspot name selected as per your scan
Put your hotspot password to join.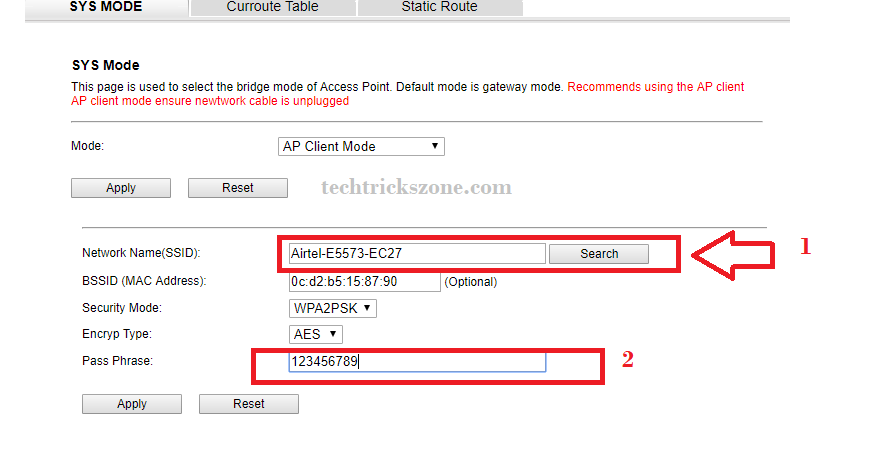 Click apply button to save settings.
After this steps, you have to configure Repeater SSID and password first.
Binatone Mi-Fi router Wireless configuration
This Wi-Fi name will use connect from another area where you are not getting Airtel 4G hotspot strong signal. You can also keep this Wi-Fi name the same as your Airtel Wi-Fi name.
Basic
Wireless
Network Name – Type your Repeater Wi-Fi name here
Security settings- set your Repeater password here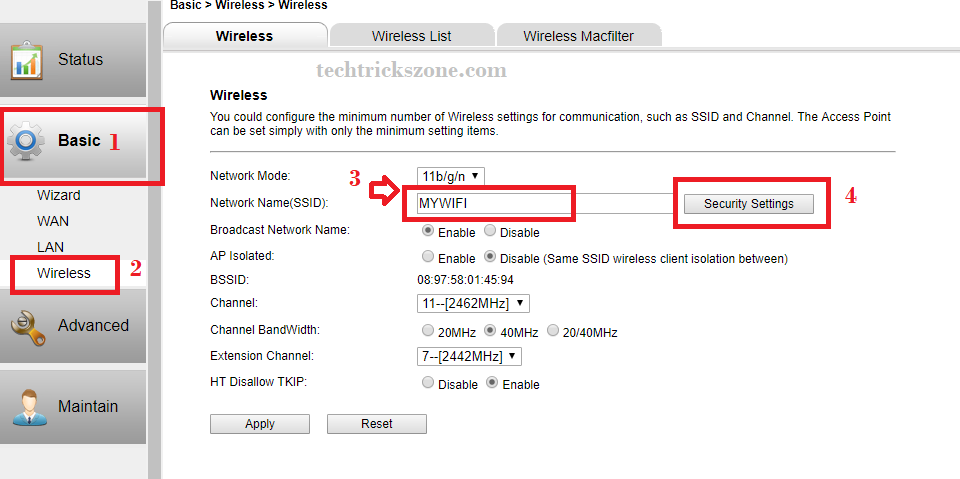 Click Apply save settings and now go to your mobile and Laptop and connect to new Wi-Fi name and enjoy your Airtel 4G hotspot internet connection each and every corner. You can also increase Airtel 4G Hotspot Router Signal if your office in basements and any congested area where you cant get a proper signal of 4G.
Related Post: