How to Factory reset and Lock your Lost Android phone?
Smartphone a small box with full worlds. IT is the most addictive and important device for everyone today. It's very difficult to pass a day without a smartphone because the smartphone gives you virtual world tour every minute. Think about what you feel if you have lost your Android phone. Feel everything store in the phone  like your photos, document, email id logins, social network account and many more just gone an unknown person hands. In this situation, you only think about a miracle and you could get back your lost android phone. But actually, Google makes it possible to track your lost phone location. Not only tracking phone you can factory reset, Lock your phone from your computers with internet. you have read the full article to know the track and erase the lost phone.
Yes, it is true to know how to reset and lock your lost android phone from the internet to protect your data from the wrong hands. If you try to search much time how to lock your lost phone remotely from the internet and maybe you want to a way to reset your lost phone from the internet then now your searching will end with this post.
Before sharing about trace and lock lost phone process I would like to give a complete feature of Google Apps name "Find My device".
This app can use for those who forget their android phone in-home and struggle to get your phone located inside the home. With this application, you can ring your phone from the internet without calling the number from another mobile. Find my device apps gives you a real-time location of your mobile phone. You can Lock your phone remotely and erase all data from the internet.
How to use Find My Apps to Erase Data from the internet?
TO erase and lock your data from the internet you have to install the android apps "Find My Device" These apps allow you're to locate your mobile phone location and you can ring phone, Lock, and factory reset in case you have lost your phone.
Download Find My Device App Now
 After Download installs apps in your Android phone and login with your Gmail accounts.
Note – find my Device apps must be installed on your Android phone for future tracking and remote lock and factory reset when it's lost.
Login Find my device Apps from your Android  phone
User the Email address you are login for Gmail.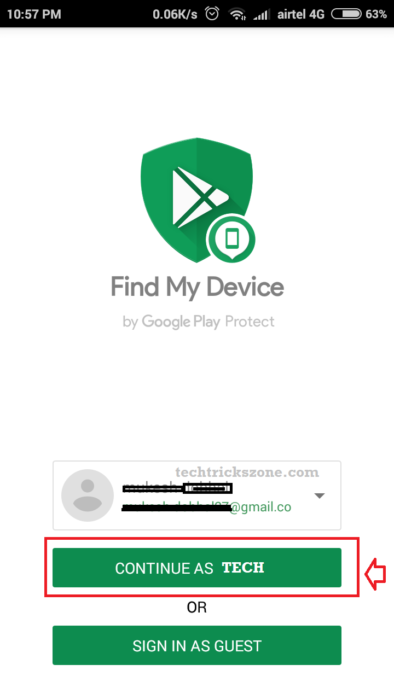 You can also use any other Email id by click on "SIGN IN AS GUEST"
Type password for your Gmail account to authorize Find my device access your details.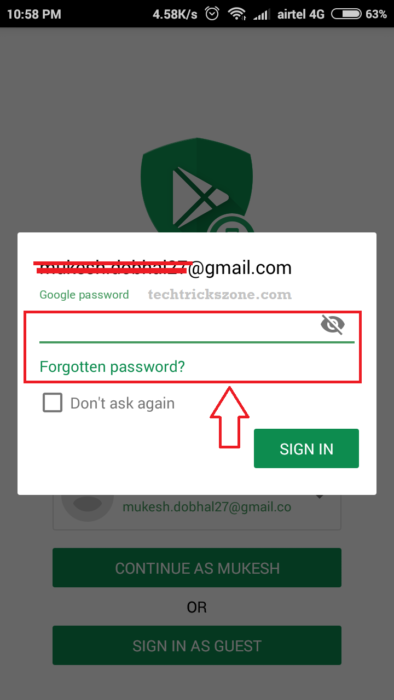 After Login Apps will show your current location  in map and also in details text.
Model Number of Your Android Phone with Location.

Battery status in percentage.

Wi-Fi Name in the case connected to any Wi-Fi internet.

Play Sound- this option you can ring your phone

Enable lock & Erase- This option will help you to lock and erase your phone in case its lost

Enable Lock & Erase option will allow you remotely lock and factory reset your lost Android phone to keep your data safe from wrong hands.
Erase Option is Enabled Now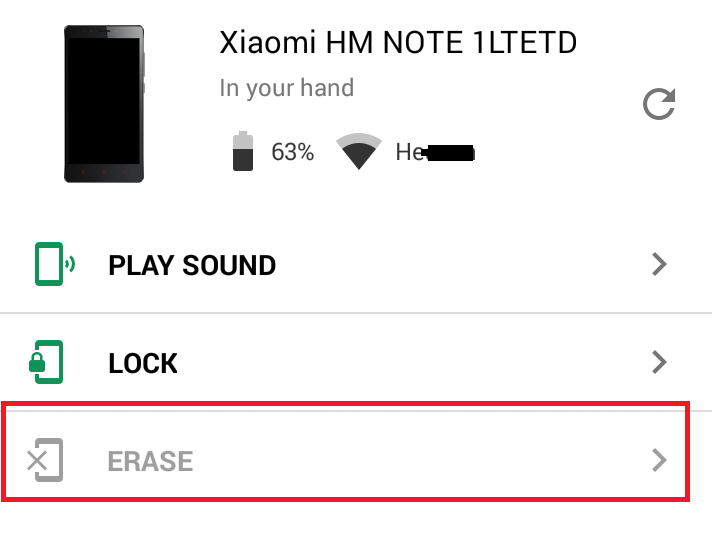 Play Sound- if you forgot your phone in any room and you don't know where is it just use the Play sound option from your laptop your phone start ringing.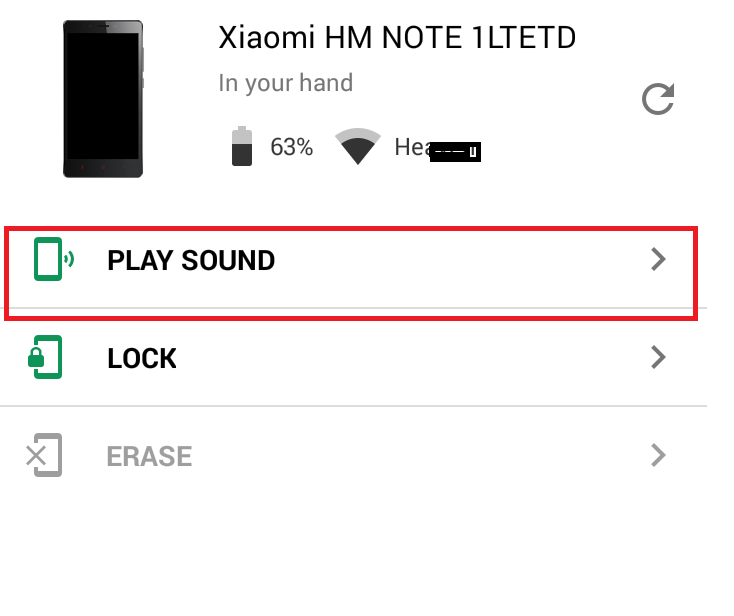 The phone will ring up to 35 seconds if you did not stop ringing your phone before 35 seconds. To stop ringing press stop button as shown below image.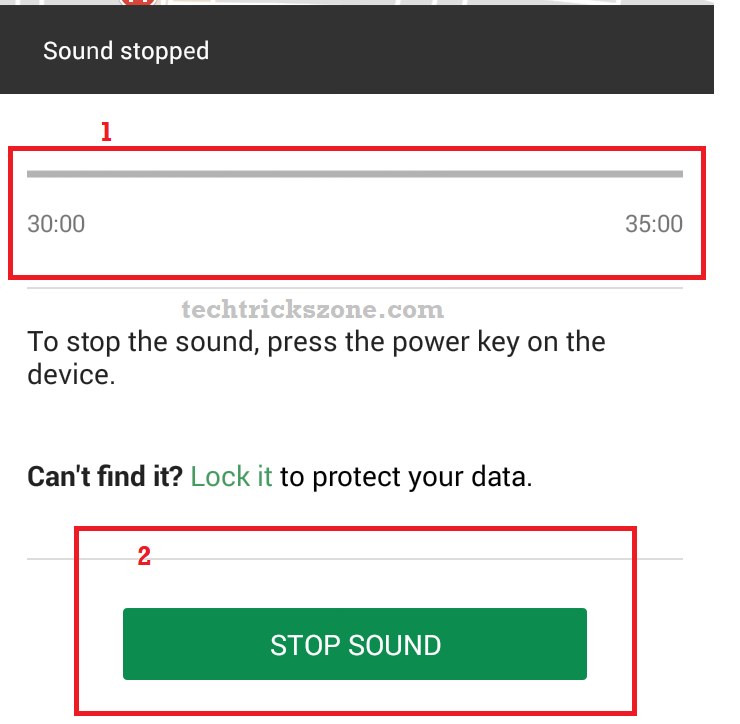 Now Assume your Phone lost and you worry about your stored data and picture and video in your phone. See below step to know " how to lock and Factory Default your lost android phone from Laptop and Desktop".
To Erase and Lock your phone login to the Gmail Find My device control panel.
You need to log in Find my device account from a desktop or laptop.
Directly go to the below link to log in to your account.
Click to login Find my Device
 Use the same Gmail account you have used for login into your lost Android phone Find my device Apps.
After login, you will get a Map location of your lost phone.
Here you will get an option to lock and Erase your Lost phone to keep your data safe from suspicious activity.
Details of your smartphone model and Wi-Fi with battery status
Location Of your Lost phone
Play Sound- Press this option if you want to ring your phone.
Lock – This option will Lock your phone Remotely.
Erase– Press this option to completely erase your lost phone remotely.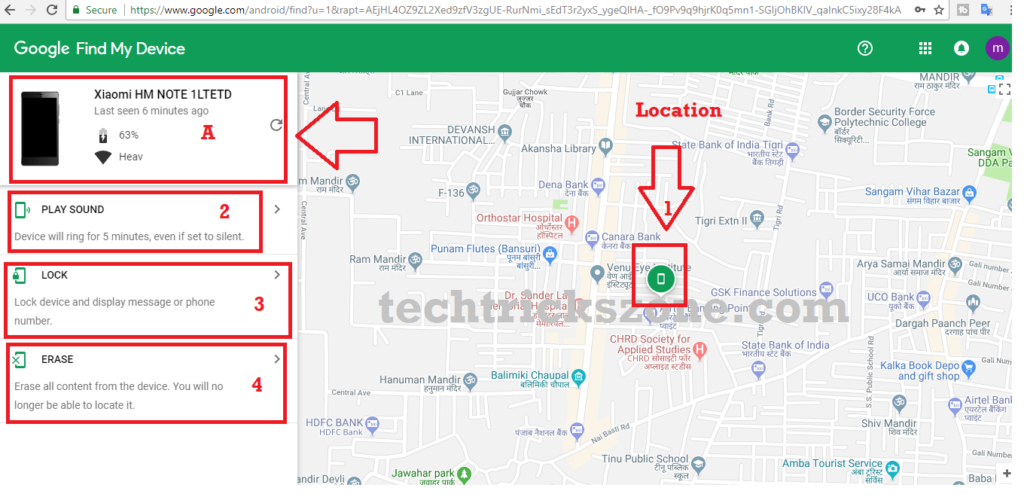 Disclaimer – As "Find my device" apps work on the internet and it also gets the status of location and other information from the internet. So to lock and erase your phone remotely your lost android phone must have an active internet connection to work these all commands remotely.
Related Post