Do you look to the solution for remote site CCTV monitoring over the internet but no internet at locations? You can easily connect your NVR and DVR using any mobile 4G hotspot internet with few steps. see connect 4G hotspot internet to DVR and NVR for the live view from the internet.
How to connect 4G hotspot Internet to DVR and NVR
DVR (Digital Video recorder) and NVR (Network Video Recorder) used for security surveillance purposes. Today monitoring from worldwide use because of cloud technology. To access NVR or DVR from any other location internet connection is required. You may face the problem of internet connection in a remote location where 4G hotspot internetwork but cannot connect 4G hotspot internet to DVR and NVR because there is no Ethernet port to connect. Don't worry you are in the right place where you will get an idea to connect your DVR with your Jiofi 4G, Airtel 4G hotspot router and monitor your camera from any location you want. also, know long-distance CCTV installation with the wireless point to point connectivity.
There are many ways to connect Configure DVR using a mobile hotspot or any other wireless 4G hotspot such as Reliance, Airtel, AT &T, Huawei, etc. I always try to get a cost-effective solution to connect NVR to the portable 4G hotspot for remote views. To access your security system camera from the internet your DVR/NVR must be configured with the internet. Here I have used some tricks to connect NVR and DVR to your mobile 4G hotspot and make it accessible from anywhere in the world. You may be having a 4G hotspot router that doesn't have any Ethernet port to connect the wire to DVR. This post will give you the best and cheap solution to connect DVR and NVR using your 4G hotspot router.
Way to Connect 4G Hotspot Internet to DVR and NVR
To connect CCTV to an Android or iPhone hotspot required a WiFi router that can be configured as Repeater or Client mode. You can also use your old Wireless router laying with you to utilize to connect your DVR/NVR to mobile 4G router internet.
If you do not have any wifi router you can buy any wireless router such as TP-Link, D-Link, Netgear or any others but make sure it should work in client or repeater mode. Ready below the device with you to connect your DVR using mobile internet.
Mobile hotspot with working internet
Wifi router
Cat6 Patchcord ( comes with new wifi router)
DVR/NVR ( you want to connect to the internet)
How to setup 4G Hotspot Router to connect DVR or NVR
There is two part of connecting 4G router internet to your DVR to access remotely.
Mobile 4G hotspot Router to WiFi Router connectivity.
Wi-Fi Router to NVR or DVR connectivity.
How to Connect Mobile 4G Hotspot Router to WiFi Router
Ready your Mobile hotspot WiFi password to join from Wifi router in repeater mode and follow the steps below.
1: 4G hotspot Router
Power on your mobile 4G router and ready WiFi password and wifi name to connect from the Repeater device.
2: WiFi Router in Repeater Mode-
Power on the Wifi router login with a Laptop or Desktop. Change the mode to
Repeater or client mode and join your 4G hotspot router WiFi name.
See How to connect 4G hotspot to WiFi router in repeater mode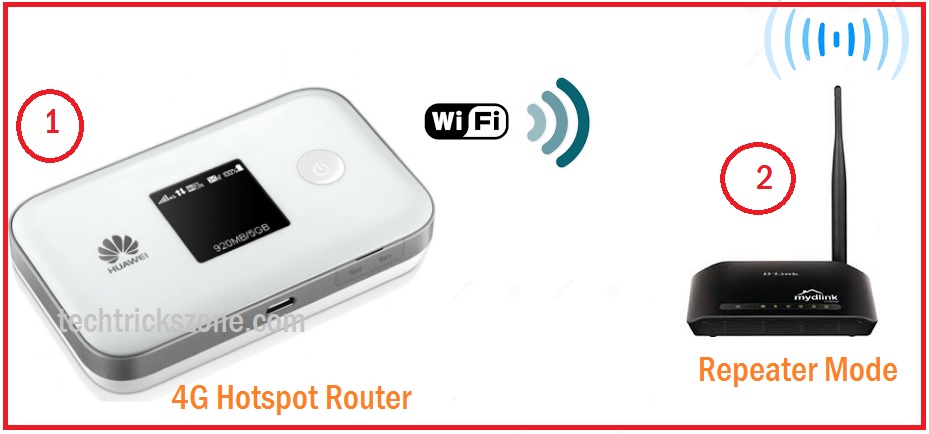 Once your WiFi router is connected to the 4G hotspot router now connect the LAN Cable to the WiFi router LAN port and connect the PC Laptop and check the internet should work.
---
---
Connect DVR or NVR to WiFi Repeater Device using LAN Cable
Once your WiFi repeater device is successfully connected to your 4G hotspot router now place the WiFi device near your DVR or NVR and follow the steps as shown below image.
Connect the Cat6 cable to the Repeater LAN port and connect another end to DVR or NVR LAN port.
Configure the DVR / NVR Network settings in DHCP mode.
To configure DVR network settings refer to your DVR/NVR brand manuals.
Download Get Hikvision DVR/NVR user Manual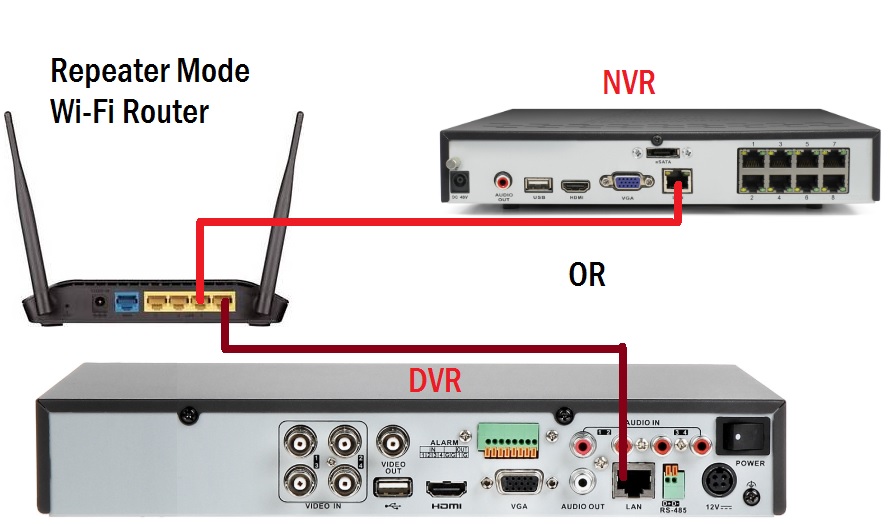 In this scenario, your NVR/ DVR will get the internet through a WiFi router from Mobile Hotspot. You can access your DVR/NVR from apps of DVR brands.
Network Diagram to Connect DVR or NVR to Mobile 4G Hotspot Router
This method is quite cost-effective and best for remote locations where we only get internet through the 4G mobile signal. I have considered it to be a solution reachable by anyone and implemented by laymen also. This is the best way to set up a mobile IP camera connected over 4G/LTE mobile internet.
The setup diagram is a bit simple to understand and easy to implement in a remote area with 4G hotspot dongle.
Airtel 4G hotspot Router used for the internet.
WiFi router- WiFi router connected to Airtel 4G router and converting WiFi into Wired as well as wireless internet. This router will get internet from a 4G hotspot router.
Connect NVR/DVR or any device required a wired internet connection only. EXP- you can also use this solution to extend the length of the wired internet and avoid laying cable to connect NVR/DVR biometric door lock and any device which supports TCP/IP protocol.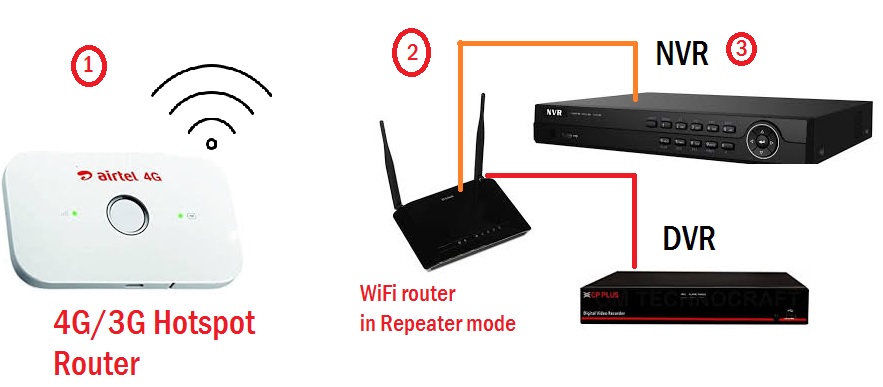 Conclusion:
A simple and cheap solution to use your mobile internet to access your DVR or NVR from a remote location. This also the best way to convert your wireless internet into wired to connect DVR/NVR or any device which does not support wireless. You can use any mobile company 4G hotspot such as Airtel, JioFi, Idea, Reliance, Vodafone or any other which supports 4G hotspot feature to connect Video Surveillance with the LAN-Cell 3G/4G Router. It is a faster way to connect 4G hotspot internet to DVR and NVR without using the broadband connection.
---
Read More