keep monitor your facebook login log so you can ensure your account login from your device only. simple steps to Check Facebook Login location from the web and mobile apps.
How to Check Facebook Login location and Time
As we always keep posted the latest Facebook tricks and feature updates to provide the latest content to our visitor. To move forward one step ahead in this post we are going to describe some security features and alertness options. More than 10 million Facebook active every time so its increase to chance UN-authorize FB login buy attackers. In this post, we will teach how you can check and track your Facebook login details and location to ensure your account not accessing buy UN-authorize person. how to check facebook login location with time with current active status. looking to transfer Facebook page ownership or want to add a user who will manage your official facebook page.
To giving a platform to share your thoughts and feelings with each other Facebook also work to keeping your thought safe and secured also. Every day there are lots of security features added and up-gradation, work is done but lack of information user not aware of that. Lacking security features in any social platform can be the reason of accessing the account by UN-authorize access of the account. To be updated not do any costly job just keep updated and bookmark and subscribe to our blog in your phone and PC browser so you can get the latest post always. Well now move on to the tutorial for how to track login history and location details to prevent your Facebook account from attackers.
Login Facebook to track login history
To tracking your login history and location details your Facebook account should be login to get access setting control panel. login your profile to know your facebook where you're logged in.
Click here to directly Login your Facebook Now
Facebook Settings | see Login History Details
After login your Facebook profile you have to go to Facebook settings from the left side down arrow beside the question mark icon from the top menu. Follow the picture given below.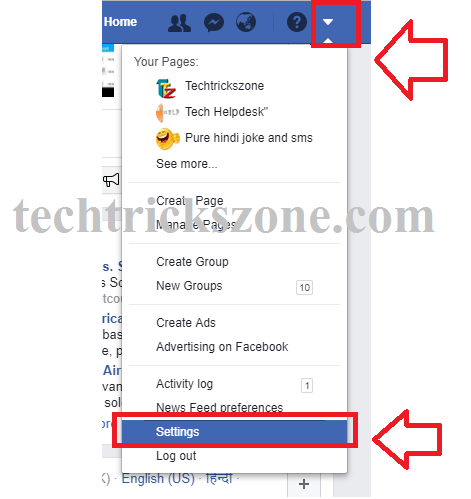 After enter facebook setting you will get all option list for Facebook settings and configuration. In this list, you have to choose the "Security and login" option second option from setting menu as shown below picture.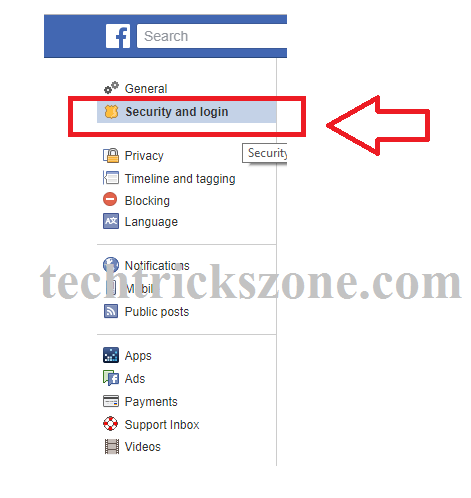 Inside security and login option you will get many settings related security of your Facebook account.
Security and log in:
inside this option, you can track and see your current active facebook login session and all login location, device type and date with time.
1:  Where you're logged in: – This option you can get the information your current active login facebook location, the operating system you are using and country details from you are logins.
2:  To get the complete login history of your Facebook account click sees more button to explorer full list.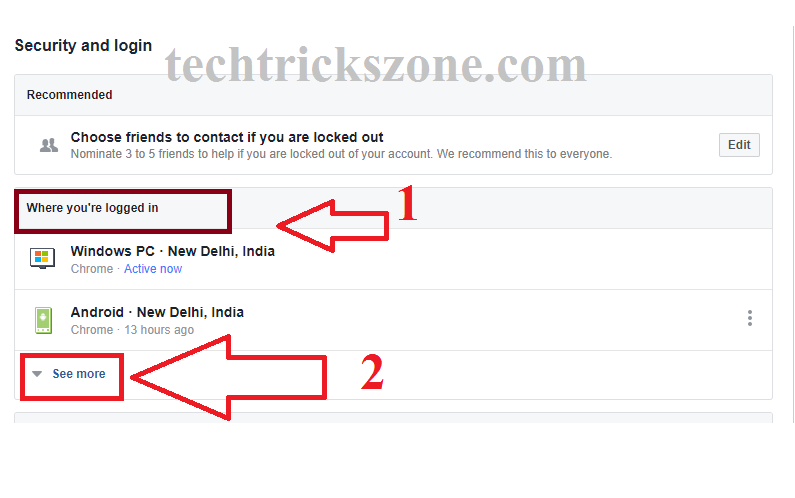 1:  this option showing current Facebook login details and Active now status. You can see the Operating system of Windows PC and country with sub-location also.
2:  This option indicating to recognize and log out your Facebook account if you find any suspicious location in login activity and location details.
Not You: if you didn't use your Facebook from showing location and operating system type then you can block this location but clicking Not Your option.
Logout:  you can Log out UN-recognize location if you think that is access un-authorize of your Facebook account.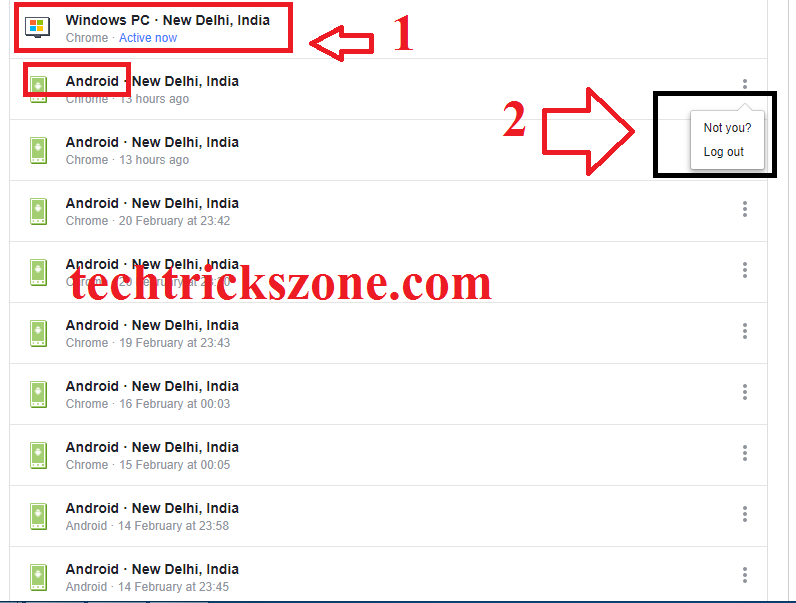 Facebook Login History Details:
Facebook login history details contain country location with sub-location and operating system type such as android, windows and Mac OS to get easily recognize it is you are or not. With doing some small steps you can always keep protect and save your online accounts such as Facebook, Twitter, and many other social network sites and other online platforms.
Facebook Setting up extra security: 
When we are talking about facebook security so we like to explore one more security feature to add extra security in your Facebook profile. This option will tell you how to enable you to  Get alerts about unrecognized logins from facebook account. After enabling this option you can SMS, Messenger message as well as email whenever your Facebook account will access unrecognized logins.
To Enable alert for unrecognized login to mobile, email and Facebook messenger go to inside
Security and login option and find the Setting up extra security option from the list.
Security and login –Setting up extra Security—
1: get alerts about unrecognized logins – click this option to explore all option related notification settings.
2: Notification:  choose Get notification  to enable notification
  Messenger:  Choose to Get a notification for this option if you want to get the notification in your messenger whenever any un-recognized logins attempts.
Email Address:  Enable login alert to "your email"  choose this option if you want to get the notification about un-recognized login access.
3: Add another email address or mobile number –
you can also add any other email address and mobile number to get the alert notification for facebook login access from un-recognized location and devices.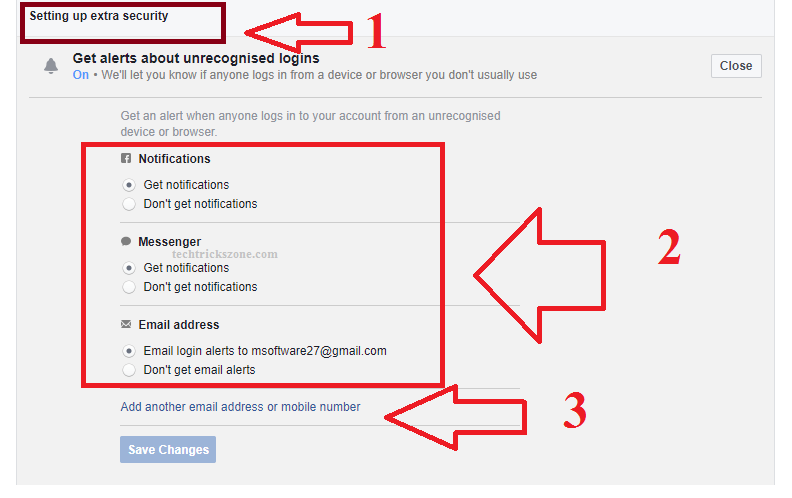 After Finish all settings click Save changes button to apply settings as per your choice.
There are lots of security features available on Facebook to keep protect from unauthorized access. We always try to post quality and useful posts for our visitors. If you wish to suggest any post and feature create new tutorials in our site you can email or comments. We will happy to hear from you. Please subscribe to keep updated for new posts and tutorials.
Related Post :