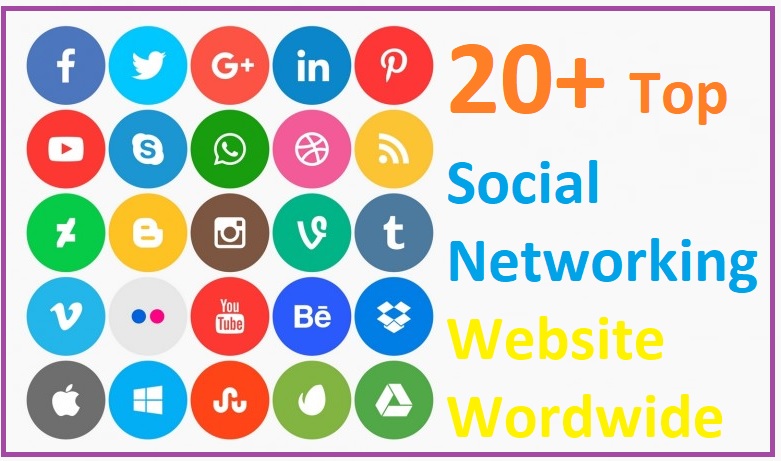 (Last Updated On: May 30, 2018)
20+ Best Social Network Site for Text, Image and Video Chat.
Virtual network make every one addicted with using whole day engagement with smart phone and internet. Major role of making virtual abdication is social network sites. Where social network give you option to connect with your loved one in busy life. Social network site also save the time to send any Picture or text quickly to send your message worldwide. You may know only some 5 top social network site like Facebook, Twitter, Instagram, Snapchat, and some more. I will give you 20+ most popular social network site worldwide running. 20 best social networking site to get lead for product promotion and business.
Actually there are more than 50 popular social networking site running worldwide. Social network popularity are depend on supported language and feature to attract users. Some social network site popular but they are popularity in origin country more than other country.
Social networking site popularity calculated with number of active user on the site. Adding new user day by day increase the site popularity and worldwide rank. Enjoy the world's best social network site full list with Alexa rank.
World's 20+ Best Social Networking Site List with Rank.
While I am exploring best social network site list most of the people know 5 to 6 social network site which is top popular. So read full post to get best and popular social networking site with video and instant messaging feature.
Facebook
Twitter
WhatsApp
Google+ Plus
YouTube
LinkedIn
Instagram
Pinterest
Snapchat
Tumblr
VK
Telegram
Tagged
Baado
Flicker
Meetup
Qzone
Wechat
Zorpia
Tinder
You may also Like – High Quality (HD+UHD) Video Calling Messenger for Android, Windows,I Phones and Linux
1:- Facebook 
Out of 20 best social networking site Facebook is a no. 1 social network site todays. Facebook is a first choice of all generation to share their messages and live chat with friends and family. FB also used by every size business to promote their product on Facebook page and grow business leads. Best feature of Facebook is you can share your live videos, Picture, Text message and can control private as per your choice. You can share your live location status while you are traveling to track your location by your family.
2:- Twitter
After Facebook twitter is the next choice of worldwide online users with every age people. Twitter is popular social platform where you can post your videos, picture and text message. Posting any video or text message in twitter called tweets. Twitter also is free social platform and network to connect worldwide people to each other's.
3:- WhatsApp
WhatsApp is peer to peer instant messaging apps work with mobile number. In instant messaging WhatsApp is leader social platform which used by everyone in mobile. Nowadays WhatsApp groups also use in commercial promotion purpose for business. With this IM apps you can share image, text, video and audio & video call to worldwide. WhatsApp is ads free mobile apps available for Android, I Phone and blackberry operating systems.
4:- Google +
Google plus is also best social network site which is also worldwide popular by online addicted. This is also used by personal and commercial use for increase the client with promotion of product. Google + gives you instant messaging with video call and share video, image and wall posts.
5:- YouTube |  Video Upload platform
YouTube is free platform for sharing your video and watch free video worldwide uploaded by many peoples. YouTube one of the best and first choice by bloggers and creative people to upload video and earn money from their video. Billions of video uploaded every day and watching by different people from different locations. YouTube also gives you feature to upload live video with live streaming.
6:- LinkedIn
LinkedIn is a most popular professional social network website. It's used by job seekers and company to find right candidate for work. LinkedIn give platform to share your skills and get chance to increase good job quickly. In linkedin you can directly connect to worlds best company directly and get update on your LinkedIn account regarding and hiring.
See Also – Hide Whatsapp Chat History From Friends with Password Lock (2018)
7:- Instagram
Instagram is popular smart phone social networking apps.you can follow any user in instagram and get their uploaded picture on yuro notification. In Instagram you can upload your every movement picture and shared with your family and friends every second. Instagram available for Android, I Phone and windows web.
8: Pinterest              
Pinterest also a popular social networking site and choice by many people worldwide. Pinterest gives you to Pin your favorite picture from your camera, gallery or any website. All your pined picture saved on your account and you can share with friend and family which you want to choose.
9:- Snapchat
As the name sound sanpchat mean of name is chat in snap. You can directly share your snap in chat and exchange your happy movement with snapchat social network apps.Snapchat share you picture with your family and friends with tagging your location.
How to check who is using your Wi-Fi from Mobile (3 Way)
10:-Tumblr
Tumblr best social networking platform for sharing your pictures, videos, audio and text quotas. Tumblr used by sharing your creative idea and pictures to worlds. Best things in tubmlr is you can share directly any image from website links.Explore your creativity and painting, designs and other skills to the worlds without limit of viewers.
11:- VK (VKontakte)
VK is russion social networking site and available in several language. VK is most popular in Russian users. Here you can add friends, send private messages and share pictures, video to the wall and broadcast to everyone publicly or with only your friends.VK available on web and mobile application both.
12:- Telegram
Telegram is a apps similar to Whatsapp which used for instant messaging, and audio, video call over internet. You can use telegram Apps to contact your friends and family with text and audio video calls with using internet. Telegram also gives you feature to record voice and send to message.
13:- Tagged
Yet another best social network site for who want to talk anonymous people worldwide. Tagged gives you platform to contact people online from various country and be friend with them. You can also play a popular game of buy and sell pet in tagged and earn gold coin. You can use earn gold coin to send your friend virtual gifts from tagged. With tagged you also get inbuilt GIF image with different category to make your chatting interesting with friends.
14:- Badoo
Badoo is a best dating site for connect new people and be know them. With badoo apps you can share interest to many people who are using badoo and match with them. An interesting way to connect with many types people and  be friends with them.
15:- Flickr
Flickr is a image based social networking site similar to Instagram and snapchat. In flickr you can upload your pictures and share with people who are following you. The maximum people following you can get image in same time and comments and appreciates for you.
16:- Meetup
Meetup is another social platform most of use by people who want to share their event and schedule to get more leads. Meetup gives you to create your group and use a category you are interested in and get the related information from various use using meetup. Ask question and get the answer by many expert using meetup according to category.
17: Qzone
Qzone is china based social networking site available on chines language only. Its used by china user for sharing text messages, images, videos and audio with friend and family. Qzone support only china language so its not used by world wide users due to languge restrictions.
18: Wechat | IM & Video Call
Wechat one another most popular social network application of world wide. Wechat origin is china but its available on many language worldwide. In Wechat you can share image, video, audio as well as audio and video call. You can also share a recorded message to you friends if anyone is not online. There are some best option available on Wechat like drift bottle, shake phone to broadcast your message with anonymous friends.
19: Zorpia  | Dating Apps
Zorpia also a dating apps used by worldwide with many single and engaged couples. If you are single than you can try to find your partner on zorpia where you can get worldwide male and female people looking for friends and love online. Play the match and find the your matched among of thousand Zorpia user worldwide.
20 :- Tinder | Dating Social Platform
Tinder best social networking site for chat, image share and videos. In tinder you can use swap and match to contact any user. If both the side user matched than you can start sending private messages. popularity of tinder increase day by day take the place on list of 20 best social networking site.
Related Post
How to Login Multiple Facebook Account in one Messenger?
Top 10 Best Free Folder Lock Software for Windows and Mac PC.