Boost your outdated old Wifi router signal strength up to 100% with using iBall Baton Wireless Router Repeater Mode and get excellent signal coverage in every area. the simple user manual to increase wifi speed with improves the connectivity of WiFi router.
iBall Baton Wireless Router Repeater Mode with Any Access Point
I-Ball WiFi 150 Mbps and 300Mbps broadband home w support multiple ISP (internet service providers). Already posted many tutorials to use home wifi router as repeater mode to extend WiFi signal. Every Wifi router support multi-wireless operation mode as a different requirement. This post will guide you on how to enable repeater mode in I-Ball baton Wi-Fi router to increase the signal coverage in the home and office.
Although there is much Best WiFi range extender available to the extender existing wifi network to boost the signal. But if you have already laying extra WiFi router then you can use also like the range extender by changing the wireless mode within a few minutes.
iBall iB-WRB150N 150M Wireless N Broadband Router Repeater Mode configuration
To configuration of iBall Baton Wireless Router Repeater Mode quite simple can be used as the universal repeater to connect any brand host access point. To configuration of IBall WiFi router in the universal repeater, you need to connect the first physically with LAN cable to your PC/Laptop LAN.
iBall Baton Wireless Router Repeater Mode Connection Diagram.
Follow the below image to the physical connection of your IBall router.
Take a LAN cable and connect into LAN port on your WiFi router and other side connect directly to LAP/PC LAN port. Power on the I-Ball wireless router power adapter comes with the device.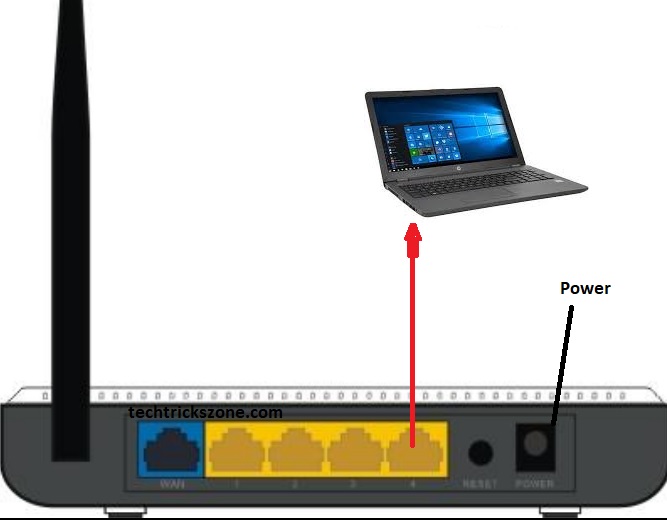 I-Ball N 300 Wireless Router Repeater Mode Login
After connection of WiFi router now access the default IP or changed IP address if you have changed.
By default IBall WiFi router IP – 192.168.1.1
Username / password- admin/admin
First, configure your Laptop/Desktop LAN IP Address with 192.168.1.x series
See here how to configure Desktop/Laptop IP Address
Now open the Web browser and type the http://192.168.1.1 and press the enter button.
User password "admin" to login IBall baton wifi router.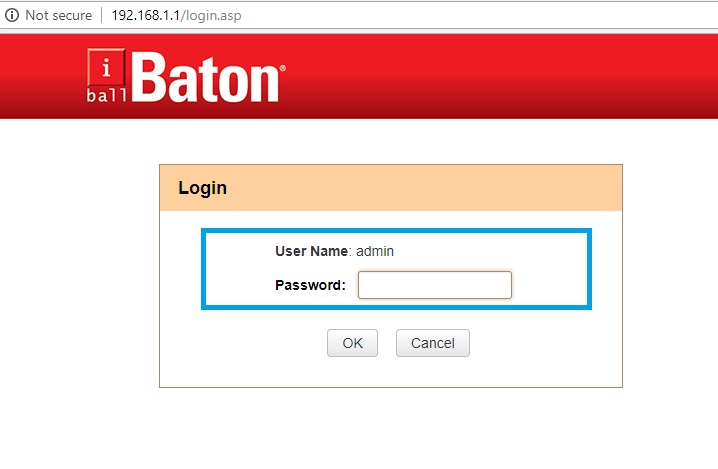 I-Ball N 300 Wireless Router Operation Mode settings
To use the IBall N300 wireless router as the universal repeater to extend wifi signal first need to change operation mode with "Wireless Broadband Router".
Go to Operation mode from the left side menu
Choose the "Wireless Router    – Wireless Broadband Router"
Press the save button to apply settings.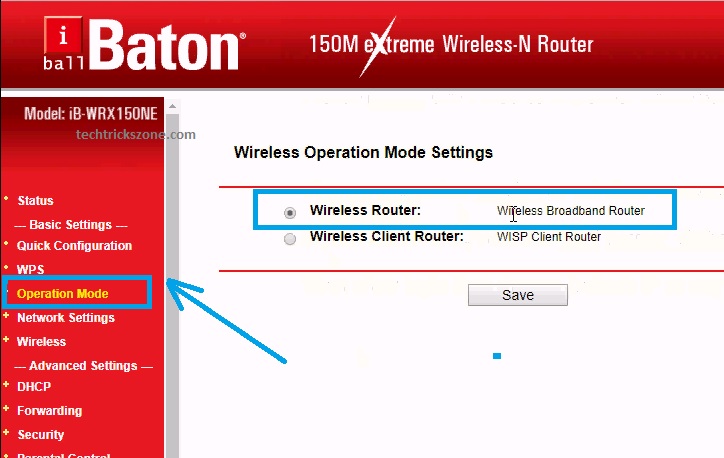 Read More:
I-Ball N300 Wireless Router Enable WDS Mode
To connect Repeater mode from IBall router now enable the WDS mode to join another access point wirelessly.
Go to Wireless – Wireless Settings
Enable WDS – check box to enable it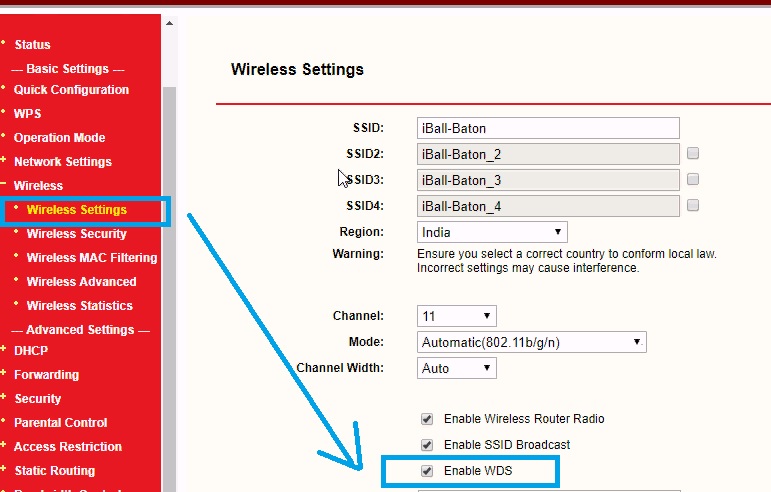 Connect IBall N 300 Wireless router to Access Point in Repeater Mode
Now need to connect wifi router to Main internet wifi access point wirelessly.
Press the Survey button to scan the Existing AP.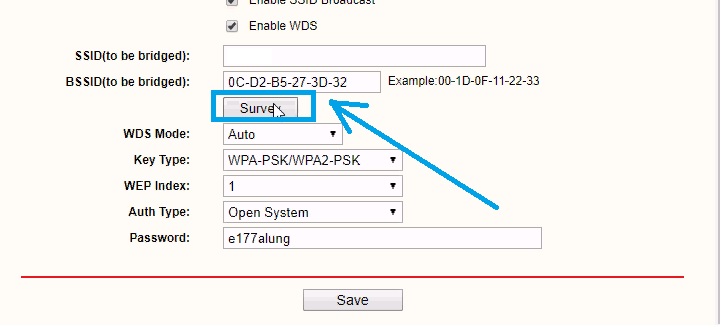 After Survey button you will get the list of all running wireless name in your location.
Choose your AP SSID name and press the Connect button to join the same.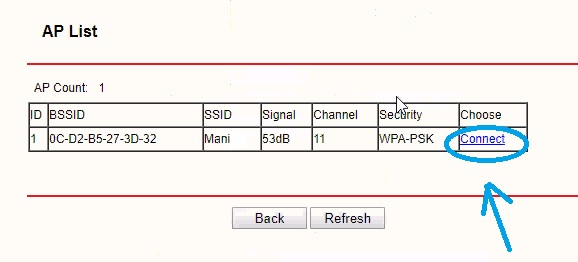 After selecting AP name SSID and BSSID( MAC ID of AP) will auto-filled.
Put the existing Wi-Fi network password to connect it from IBall Wifi router in repeater mode.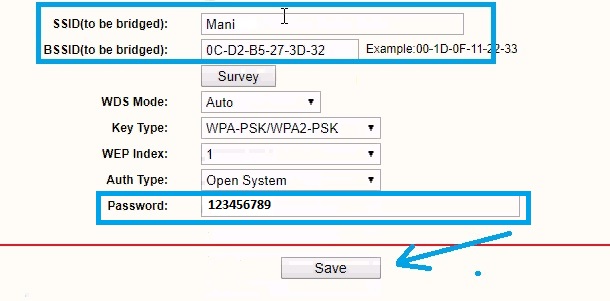 Press the save button to apply settings.
I-Ball N300 Wireless Router Repeater SSID Configuration.
Once your I-Ball wireless router connects to your main internet AP with WDS mode now you have to configure repeater SSID to boost the signal in the dark area of your home and office.
Go to Wireless- Wireless settings
SSID- set the Repeater SSID in this box. ( you can use the same WiFi name as running on the main WiFi router)
If you want to add multiple SSID (multiple Wi-Fi names) in your repeater just enable the SSID2 Default WiFi name: iBall-Baton_2, SSID3.
Note: Don't change the Channel because it will auto choose according to main AP channel.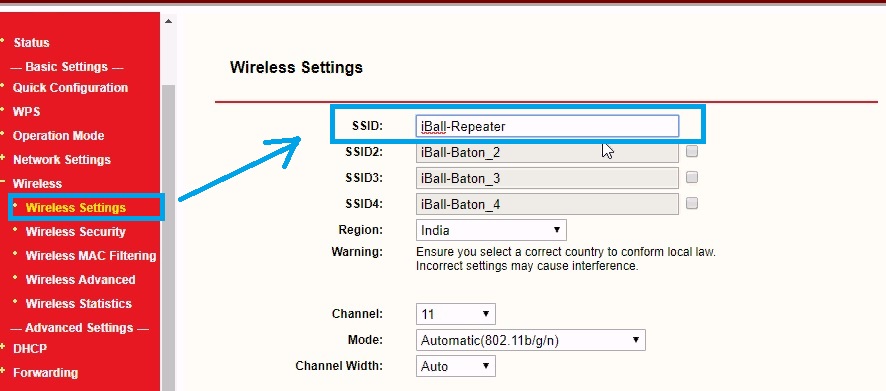 I-Ball Repeater WiFi Password Settings.
To protect the Repeater device set the password first.
Go to Wireless- Wireless Security
Choose Current SSID– choose the Repeater SSID from list one by one if use multiple wifi names.

Choose WPA-PSL/WPS2-PSK to make a stronger wifi password for your I-ball repeater device.
1: PSK password: type wifi password here
(You can enter ASCII characters between 9 and 63 or Hexadecimal characters.)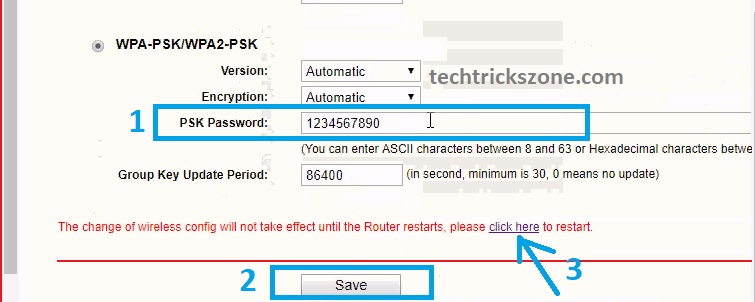 2: Press the Save button
"The change of wireless config will not take effect until the Router restarts please Click here to restart"
3: Press click here and then press the restart button and wait to reboot the I-Ball repeater configuration.
I-Ball wifi router will take to 20-30 seconds to reboot. After finish rebooting check the repeater SSID to connect the internet and extend the Wi-Fi signal 100% in every area where the main router can't reach.

Conclusion
The simplest way to increase Wifi signal without using any Wireless extender is to just use the normal wifi router in Repeater mode. It is also the best way to utilize your old wifi router laying without any use. Just boost wifi signal up to 100% in your home with iBall Baton Wireless Router Repeater Mode configuration without buying costly range extenders.
Related Post
Video: iBall Baton Wireless Router Repeater Mode configuration Simple Steps