Use the guide to Login Spectrum Wave2 WiFi router to configure WiFi network and Login password for secure internet before connecting to the network.
Login Spectrum Wave2 Wireless Router
Sagemcom RAC2V1S 802.11ac Wave 2 Router designed for spectrum networks. It is a dual-band wave2 Wi-Fi router to turn your spectrum wired cable modem internet into Wi-Fi networks. Wave2 Wi-Fi supports dual-band 2.4 GHz Radio Frequency and 5 GHz Radio Frequency. RAC2V1S wave 2 router does not support modem technology so the required modem before connecting to this router with the spectrum, Comcast Xfinity or any other internet service.
Although Spectrum service also supported by many other modems with a wi-fi network that does not require a modem. Spectrum wave 2 wireless router pre-configured with default wi-fi network name as well as default login password that is important to change before using. Setup Sagemcom dual band wifi router using wired or wireless connection with the router to the login settings page.
Steps to login Sagemcom RAC2V1S Wave2 Router
The first step to configure the router is the physical or wireless connection with the router to the login web interface.
Spectrum Wave 2 Router support 4 Gigabit LAN port and 1 WAN port.
Connect Any LAN port to RJ45 cable and plugin to computer/laptop LAN port.
Connect WAN port with internet cable coming from Spectrum cable modem Ethernet port.
Power on Wireless router with DC adapter comes with the device.
Default Settings for Login Spectrum WAVE2 Wireless Router
Default login IP Address: 192.168.1.1
Spectrum default username: admin
Login password for default: admin
IP Address configuration for PC/Laptop
To access charter login  IP address computer or pc need to setup in the same series IP address in static mode or use DHCP options.
Go to Network Option from the control panel
Go to Change adapter settings.
Go to Ethernet properties
TCP/IPv4 properties 
For Static IP Option use 192.168.1.2 or any other IP address from 192.168.1.2- 192.168.1.253.
in one word if we say then Your computer or laptop LAN IP address must be in 192.168.1.0 network to access spectrum default IP address
Or
Select option "Obtain an IP address automatically" if you are not sure about static IP address confirmations.
After initial setup steps now proceed to access web Gui control panel to login router settings.
Login Web interface Wave 2 Wireless Router
Use a web browser and access http://192.168.1.1 IP address to the URL bar and press enter key.
If initial steps and login information belongs to router configuration then after a few second login windows will load and ask for username and password.
Use "admin" for login username and password for first time setup.
A successful login will load the dashboard of spectrum wave 2 Wireless router that you can see all the WiFi settings, Access settings, and other options.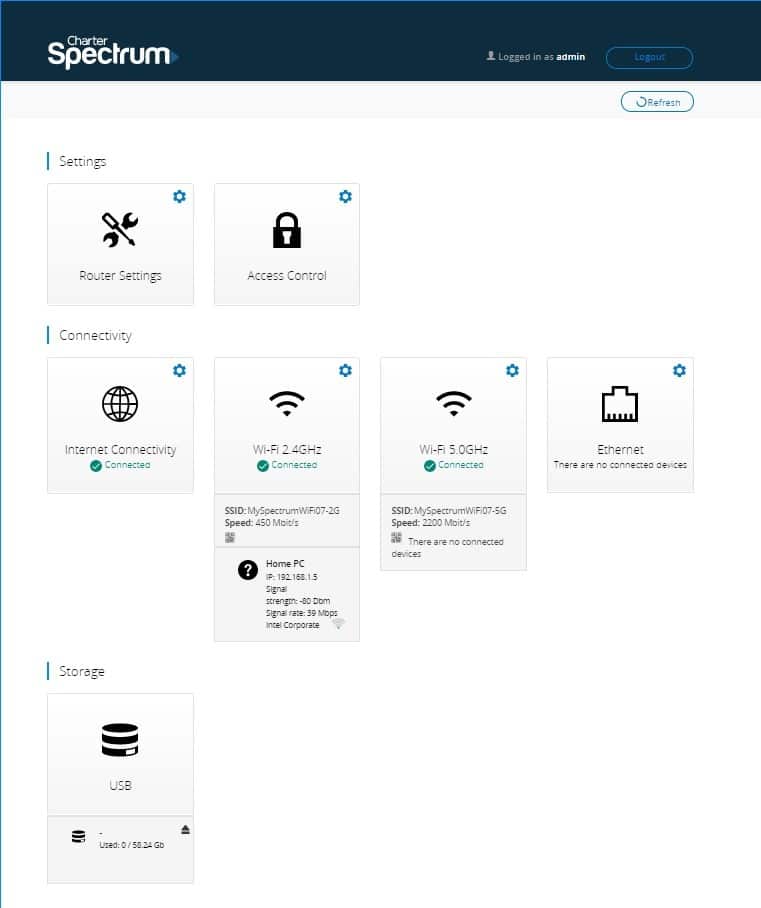 Spectrum WiFi SSID and Password Change
SSID (WiFI name) used to connect the internet from wi-fi devices like mobile, laptops.
Press the 2.4 GHz wifi option from the Dashboard menu first to change the WiFi name for the 2G band.
Setup 2.4GHz and 5.8 GHz WiFi settings one by one.
Go to W-Fi 2.4G WiFi first.
Go to Basic for Wireless SSID name and password settings.
1: Enable 2.4Ghz WirelesS: ON
Wi-Fi Network Name (SSID): Myspectrumwifi07-2G ( change this default Wifi name to a new WiFi name as per your choice).
Channel Selection: Auto (you can use manual Channel 1,6, 11 anyone depends on area interference in your locations. You wifi analyzer to find the best one).
2: Security Settings
WAP2 Personal
WiFi password: Default Spectrum WiFi password (change WiFi password for your spectrum router)
Confirm WiFi password: Type a new password again to confirm.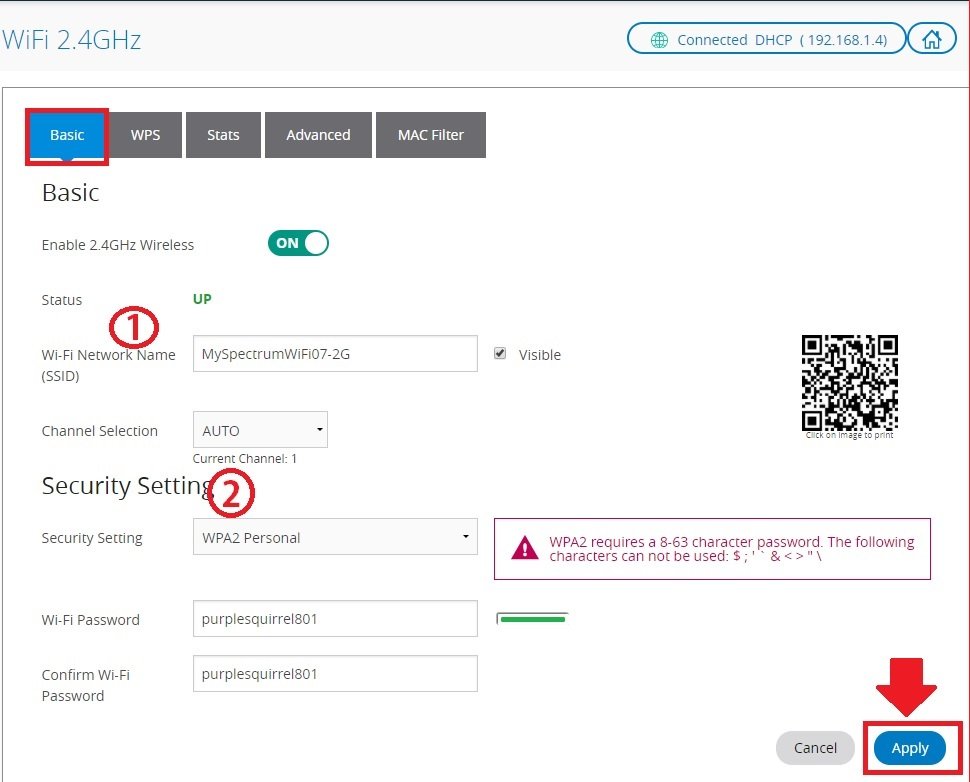 Press the Apply button to save settings.
WiFi 5.8 G WiFi settings:  Repeat the same option again for 5G wireless SSID and password settings.
Tips to Change WiFi Password: Use Alfa numeric and special character key combinations to set a strong wireless password.
Avoid using personal information such as birthdate, address and other information that can easily guess.
During the first time login do not forget to change the login password of the Spectrum Wave 2 WiFi router.
Spectrum Router Login password change
Change default login password for Spectrum Sagemcom wave 2 Wireless router.
Go to the Access Control option from the Dashboard.
Find the User tab from the top menu.
User:
Username: admin (default username)
Old password: admin (use the old password used to log in)
Password: New login password
Confirm password: type new password again to avoid spelling mistakes.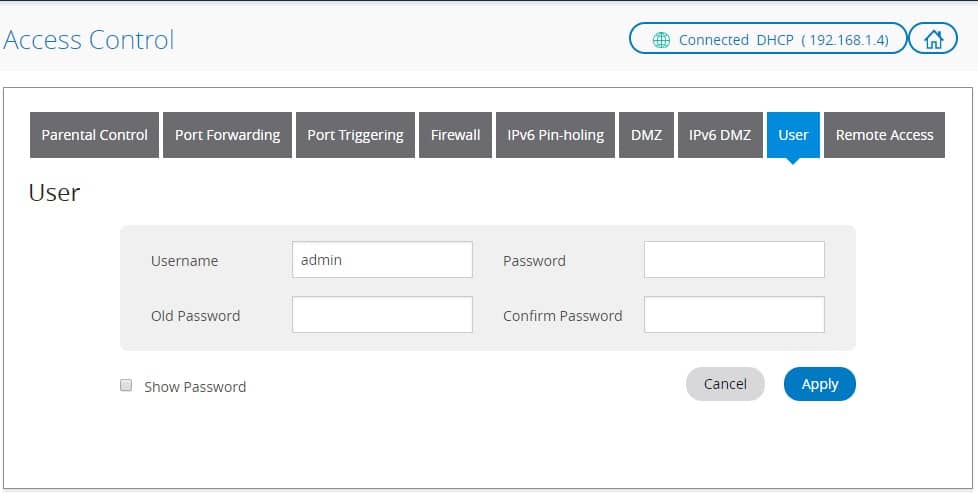 Press the Apply button to save settings.
Re-login spectrum wifi router with the new password again.
Basic troubleshooting for Login problems
While access login page to router lot of error comes due to network configuration and other network glitches.
Spectrum Wave 2 default Login IP address Not working.
Make sure you are login default IP address printed to router sticker and manuals.
Make sure your PC LAN network settings in DHCP mode or in static mode are configured with the same series of Networks.
Confirm you are typing http://192.168.1.1  instead of typing http//:192.168.1.1.1 that is wrong.
If still default IP address not responding or taking too login time to respond you may factory reset the spectrum router using the reset button.
Factory reset Spectrum Sagemcom Wave 2 WiFi router
Use a needle to press the reset button available backside router.
Press and hold the reset button for up to 15 seconds and wait until the router reboots.
After rebooting you can use default credentials to login router settings.
Related Post