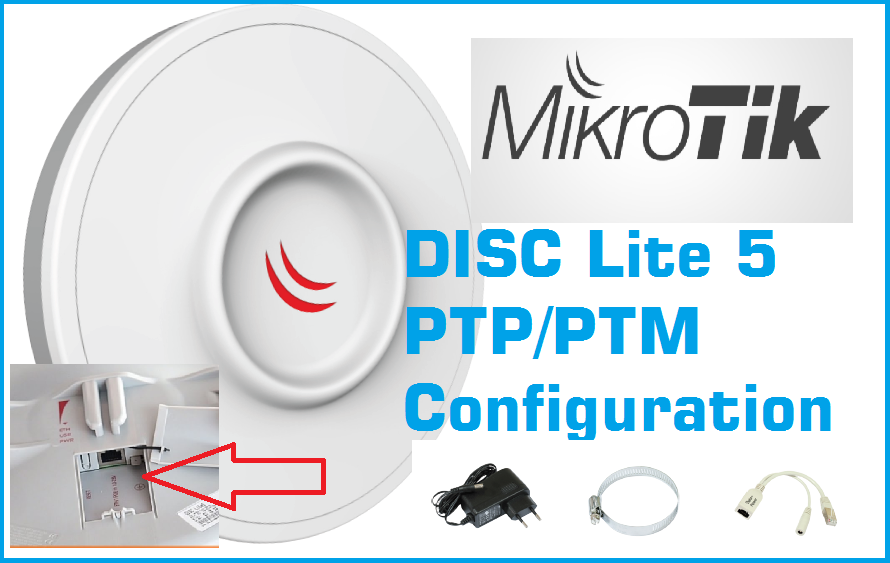 (Last Updated On: July 10, 2018)
Mikrotik DISC Lite5 Point to Point Configuration.
 Mikrotik  DISC Lite 5 is a alternate of Mikrotik SXT lite 5 with low cost point to point and point multi point solution. Disc Lite 5 also best option for CPE device for ISP internet solution distribution for customer premises device. DISC Lite 5 high gain antenna enable device to be use for 4-5 Km Distance internet connection and wireless bridging connectivity. Device CPU chip-set AR9344 based with 600Mhz speed, Flash size 16 MB and memory 64MB Ram make it Faster. Antenna gain 21 dBi make it ready for long distance. Mikrotik DISC Lite5 has 1 10/100Mbps PoE Ethernet Port. enjoy the simple and effective tutorial for Mikrotik Disc Lite5 configuration.
Mikrotik DISC Lite 5 Firmware Licenses Level is 3 so it's doesn't support AP Bridge mode. But bridging mode let you enable it for  Point to Point connectivity and Station mode allow you to connect it with third party OEM Access Point. Although Mikrotik device firmware is same for all hardware so all device configuration  is same. But for DISC Lite 5 configuration your required latest version(Winbox v3.11) of winbox  to configuration it. You can configuration with web configuration page. Download Winbox v3.11 Free Now. read more to understand Mikrotik Disc Lite5 configuration and specifications.
Popular Post : How to block any Website and Apps on basic WiFi Router
Mikrotik DISC Lite 5 Configuration and Setup.
1 .How to Connect Mikrotik DISC Lite5 to PC/Laptop.
Connect DISC Lite 5 Lan port to PoE Out of PoE injector comes with mikrotik device,Lan port will connect to PC/Laptop Lan port.
Mikrotik Default IP Address is 192.168.88.1 and default username is admin without any password. So just put 192.168.88.x series ip address in your Pc/Laptop Lan port to continue device configuration.
See Also – How to Connect Any Wi-Fi without Password from Mobile?
How to Open Mirkotik DISC Lite5 in Winbox.
Before start configuration Mikrotik DISC Lite 5 Make sure you have downloaded Latest version 3.11 winbox. After Download Winbox latest version open winbox and wait for mikrotik device detect on winbox device list.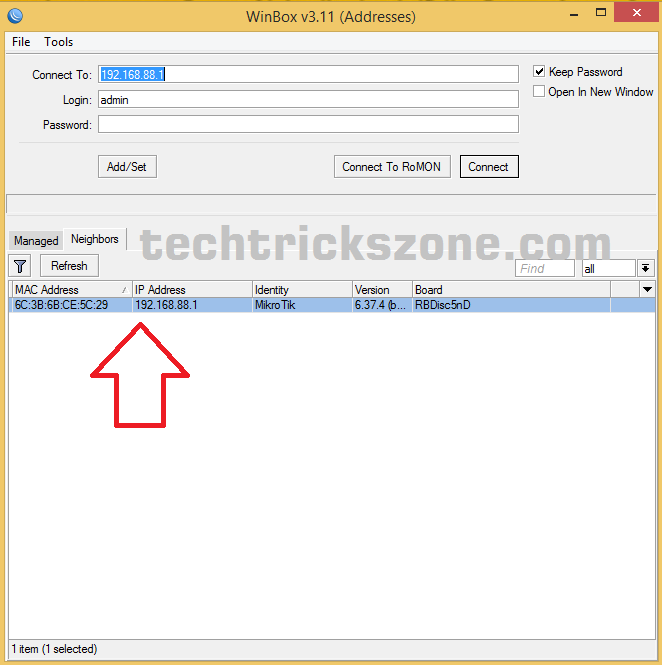 Select the device and click connect button
Device will open in default configuration setting click ok to close.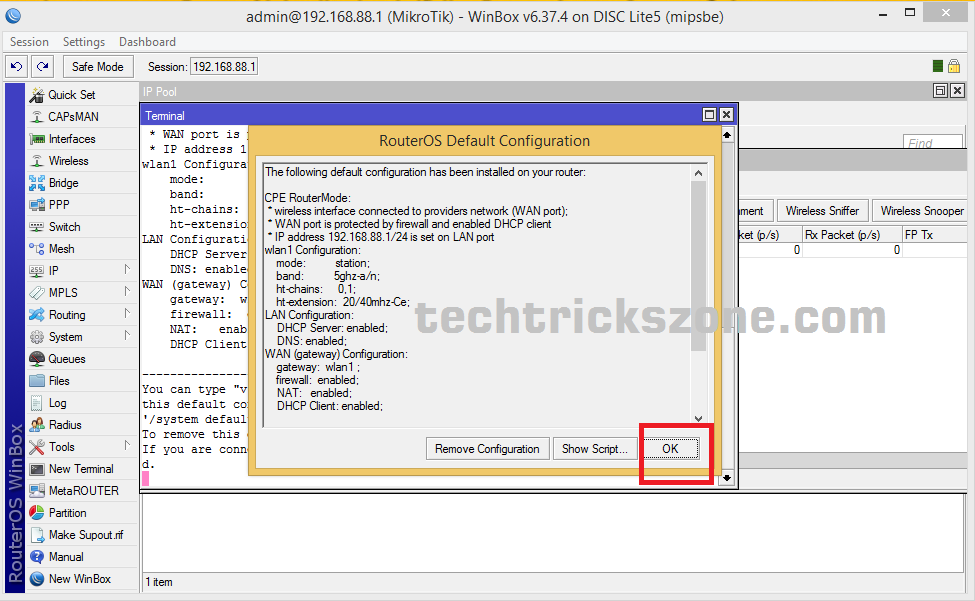 Configuration of Mikrotik DISC Lite5 PTP  in Bridge mode.
Device 1 Configuration
After login DISC Lite 5 in winbox you need to add bridge and port from left side menu option Bridge.
Click on + (plus) button and click Apply ok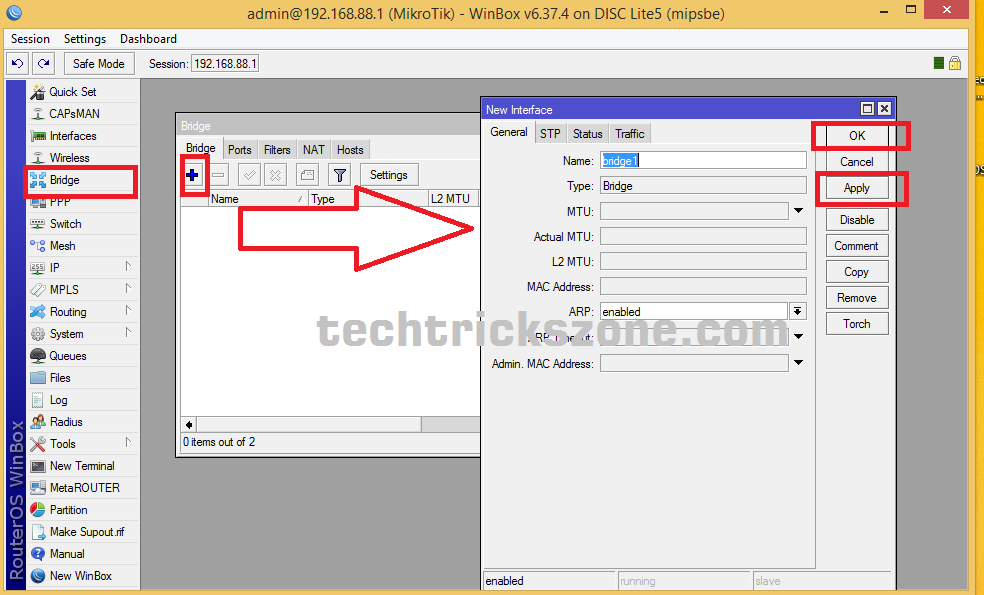 Adding Port in Mikrotik DISC  Lite 5:
You required to add two port in mikrotik device , one port for ether and one port for wlan. Bridge both port .
Adding Ether Port: Mikrotik DISC Lite5
Click port tab from bridge option click +(plus) button to add port.
Choos interface ether1 and bridge Bridge1. Click apply ok to save Ether1 port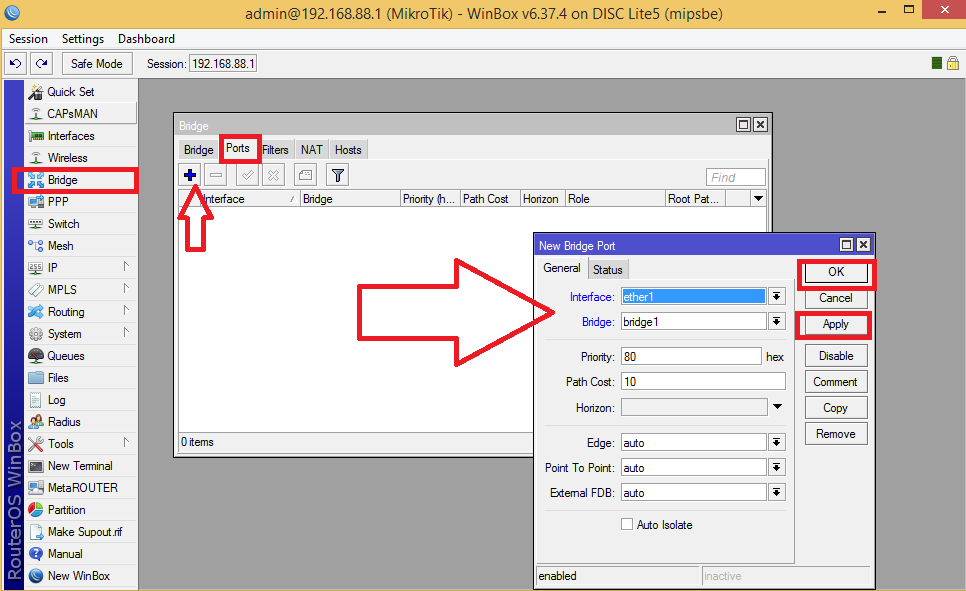 Adding WLan port: Mikoritk SXT Lite5 and Mikrotik Disc Lite5 configuration
Click + (Plus) button again from port . Choose interface WLan1 and Bridge Bridge1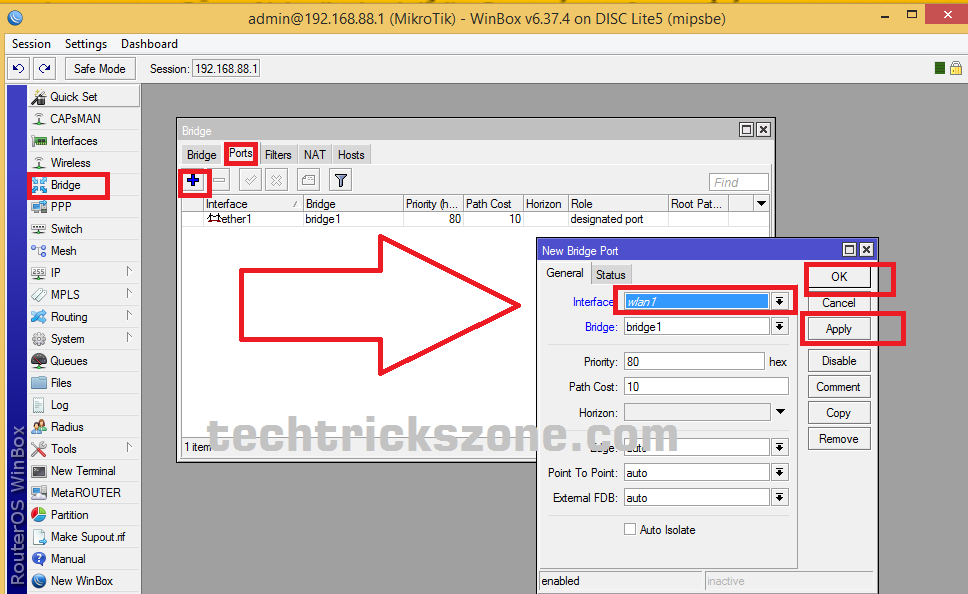 Mikrotik DISC Lite5 Wireless Configuration:
For Wireless configuration click Left side menu Wireless option, you will get wireless interface detail in green colour click on wireless interface to configure wireless.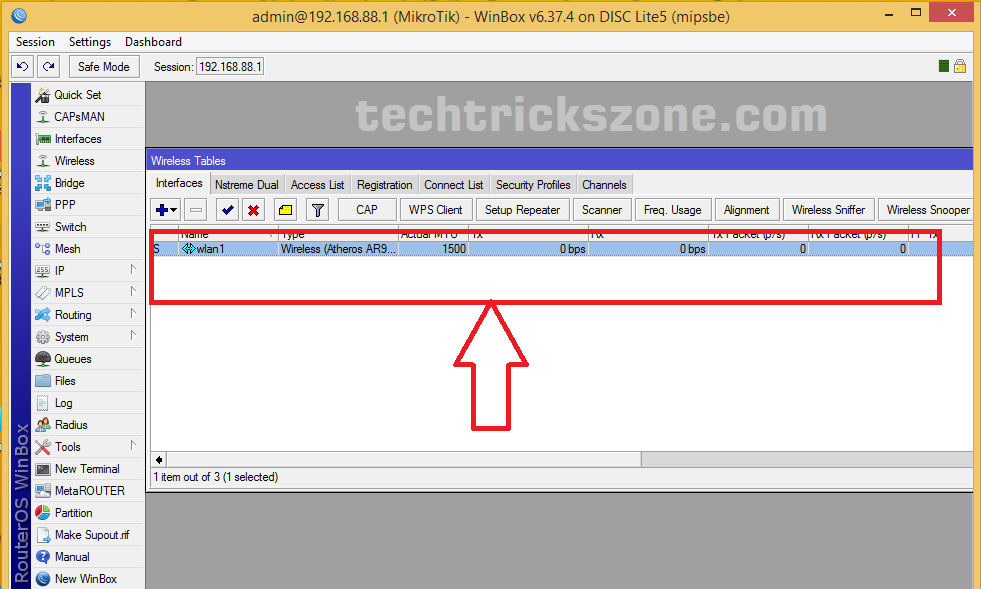 After go to Wireless follow the settings below.
Mode : bridge
Band : make it default
Channel width: choose 20/40 for auto
Frequency : you can choose according to your area interference
SSID:  change to your choice (network name will show you in second device scan to connect)
Click Apply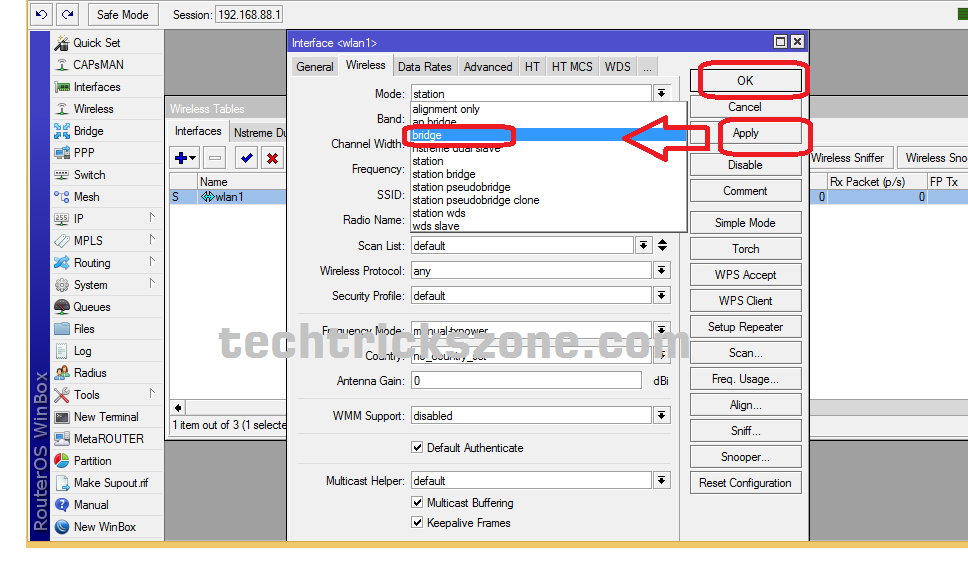 Enable WDS mode in Mikortik DISC Lite5 :
Click on WDS tab from Wireless settings and select WDS mode Dynamic and WDS Default Bridge "Bridge1"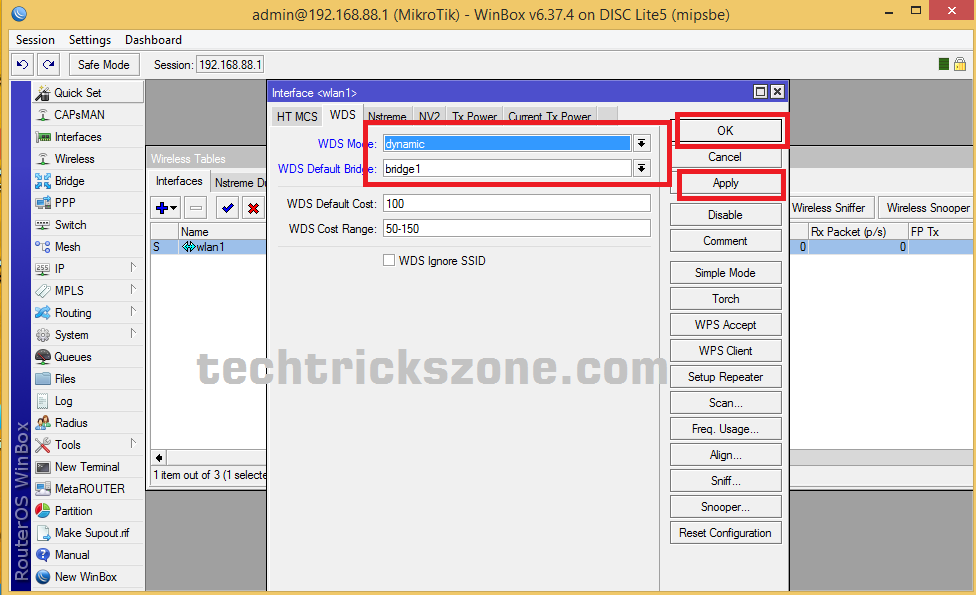 How to Change IP Address in Mikrotik DISC Lite 5 from Winbox and Web.
Click Left Side Menu "IP"  and submenu click on Addresses .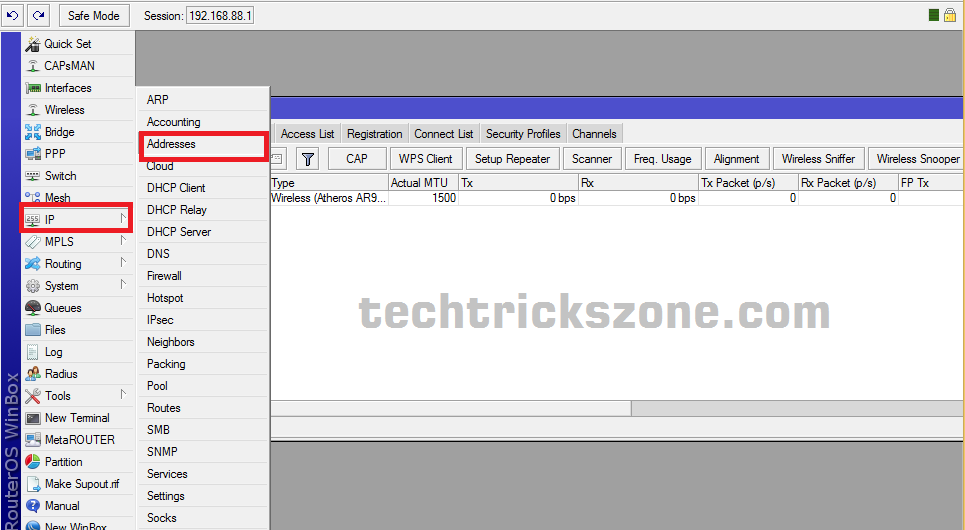 For Adding new IP Address Click on blue +(Plus) button and add ip address
For Changing default IP address double click on IP address you want to change and you will get popup menu about IP Address details change IP and click apply ok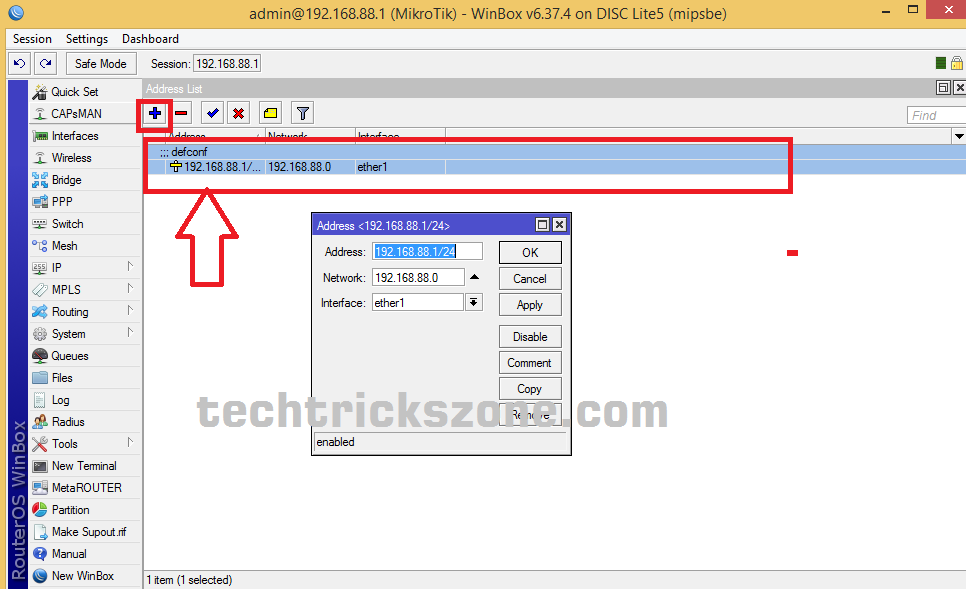 Post Related To :
Mikortik CCR  Series Hotspot Configuration  with Winbox (2018)
 Mikrotik Disc Lite5 configuration Video tutorials