To provide more than 50 Mbps internet plan over wireless network required a high speed 11 ac base station. find the list of Best Wireless Base station AP for Internet Service Providers for more than 200 subscriber load.
The Best Wireless Base station AP for Internet Service Providers
ISP (Internet Service Provider) the most demanding service in every place from city to rural. If you are internet service providers you must face the feasibility issue while distributing internet connection in your area. To providing internet plan most reliable and quick solution is Wireless connectivity. Day by day internet consumption increasing like anything and providing more than 50Mbps plan in wireless challenging when lots of interference disturb connectivity. You can also find the best point to point wireless device for long range in an earlier post.
Initially every ISP start with the 2.4GHz wireless base station to distribute internet connection speed up to 5-10 Mbps only. Nowadays every user required more than a 50Mbps internet plan for home as well as the office. So only way to upgrade the internet plan required to upgrade 2.4 GHz base station to a 5.8 GHz base station.
You may try many base station access point with sector and Omni antenna but always faced speed and user load issue. After reading this post you may get the best wireless access point for the base station to provide more than 50 Mbps internet plan and stable connectivity. In another way, we can also say base station to point to multipoint connectivity. The main access point connected to multiple CPEs at the client end to distribute internet connection and other network services.
List of Best Wireless Access Point for Sector Antenna
1: UBNT Rocket Prism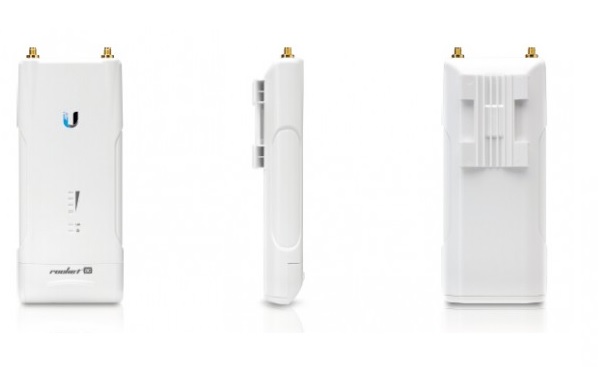 UBNT rocket on the very popular base station AP used by most of ISP's. Rocket prism is the latest 11 ac series upgrade of rocket M5 device. Rocket M5 device is the legacy product with 300 Mbps outdoor SMA antenna connector to be used in sector and Omni antenna. If you are using Rocket M5 series as base station AP then Rocket prism is the upgrade option up to 500+ Mbps wireless speed. UBNT Rocket device one of the best base station option for wireless internet service providers. Rocket series comes with different variants based on speed and band supported. These are the Rocket M series model number comes with 2.4GHz and 5 GHz both bands with the wireless speed limit.
Rocket M5 with 5 GHz and 10/100 interface and up to 150+ wireless speed
R5AC-Lite 5 GHz 10/100/1000 interface and up to 500+ wireless speed
R2AC-Prism 2.4GHz with Giga Ethernet and up to 330+ Mbps speed
RP-5AC-Gen2 5GHz with Giga Ethernet and 500+ Mbps speed.
Rocket series device can be used for high throughput point to point and base station also. The device is fully outdoor and supported with a solid Dish antenna, Sector antenna, and Omnidirectional antenna.
Note: Supported speed of each device data are taken from the official UBNT website so refer to more details before going to buy.
How to Change Comcast Xfinity Router WiFi password
2: MikroTik BaseBox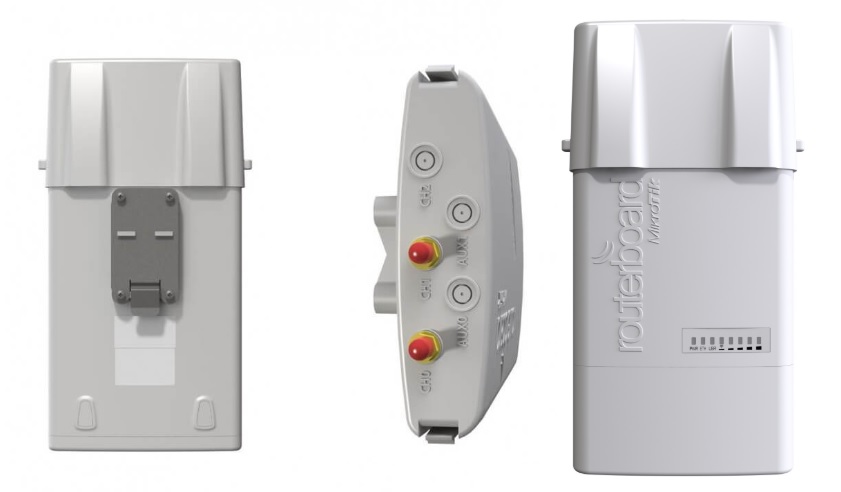 MikroTik yet another cost-effective wireless manufacture trusted by internet service providers. Mikrotik Base box also the best option for the wireless access point to use as a base station with sector and Omni antenna as well. It comes with 5GHz dual chain wireless and 1 Giga Ethernet port. Basebox 5 and Basebox 6 is the latest upgraded model of base box series and best access point for base station and point to point also. You can upgrade your access point with base box if not satisfied with any other access point. Mikrotik device cost-effective and stable firmware with multiple features. Mikrotik basebox 5 can be configured as the Access point, as WISP and as CPE also using Mikrotik Winbox software.
Basebox comes with 2 SMA-RP antenna connector and fully outdoor enclosure to use for an outdoor purpose.
3: Cambium ePMP 2000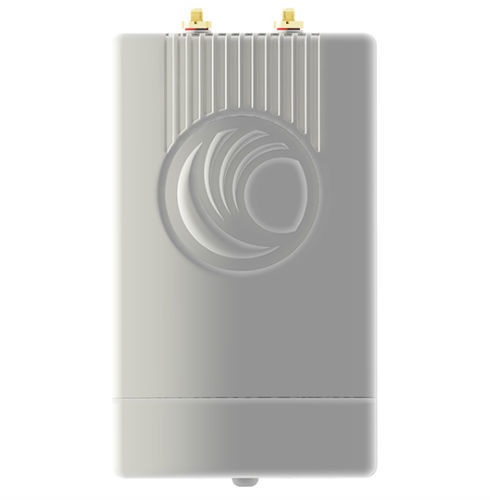 Cambium Network another best enterprise-grade wireless solution for small and big size subscriber load. The Cambium ePMP 2000 also best wireless base station for more than 120 subscriber network load to provide better throughput. ePMP 2000 is a 5GHz wireless base station with 5,10,20,40 channel width to avoid interference and provide stable connectivity even in high interference area.
The device comes with 1 Gigabit Ethernet port to physical connection and 2X2 Mimo wireless connector for external antenna provision. As per the cambium network, it supports up to 120 subscribers. Security part supports 128 bit AES encryption for secure base station and subscriber connectivity.
Checkout ePMP 2000 full specification sheet here
4: LigoWave LigoBASE 5-N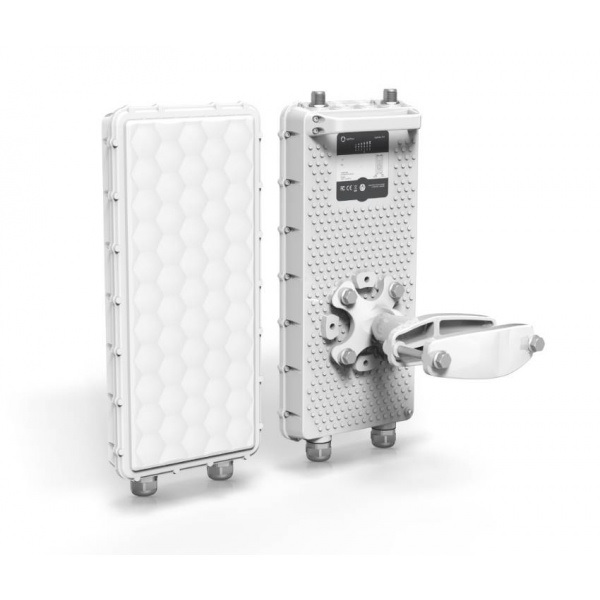 Ligowave another best wireless solution provider for small and industrial-grade integrations. LigoBase 5-N also a good option for the wireless base station to provide internet plan as well as point to multiple connectivities for multiple branch offices.
LigoBase 5-N comes with N-connectors for external antenna provision to distribute internet plan and multipoint connectivity up to the maximum distance. As per Ligowave official datasheet, the maximum capacity is 600Mbps for the base station device. IP 67 standard metal enclosure increases the life of outdoor use.
To get full datasheet and device information visit the LigoWave official website.
5: MikroTik NetMetal 5SHP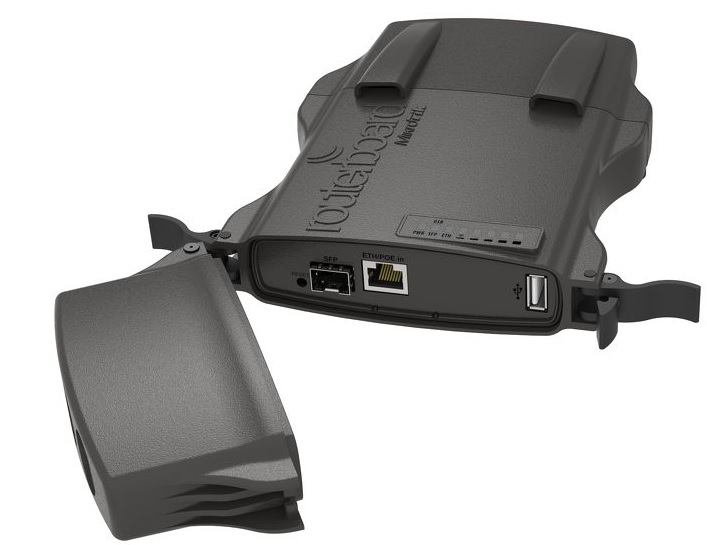 Mikrotik Netmetal also next upgraded base station option for small and industrial type point to point and point to multipoint wireless connectivity. Metal 5SHP having 1 Gigabit Ethernet port and 5GHz mimo wireless to increase the wireless throughput. 1 SFP port available to direct connect fiber cable from device to media convertor OLT. It also supports 1 USB port to connect the USB device directly to your base station. If your network running fiber and wireless both than Net Metal 5SHP will useful for you with both SFP and Ethernet ports. Fully waterproof enclosure and 2 RP-SMA connect for MIMO sector and Omni antenna connections. Mikrotik wireless device cost-effective and lot of mind working behind it to provide reliable and stable wireless connectivity.  The NetMetal 5SHP triple also available with Super High power 3×3 Tripple Chain 802.11ac wireless if required more throughput.
Related Post
Disclaimer: The wireless connectivity based on location frequency interference. The performance of wireless devices can vary one place to another place. the all the information for  "The Best Wireless Base station AP for Internet Service Providers" collected from the internet and official website of respective brands. while selecting any device make sure to visit and confirm the feature and performance from the official website to avoid choosing the wrong product. TechTricksZone doest not liable to select any wrong product by the users so kindly confirm the product specifications and performance.