Binatone WR3010 configuration in Dial-up and Static Internet Mode
Binatone WR3010 N Wireless Router is a home Wi-Fi router to use Static, PPPoE, DHCP, and Normal Access Point mode. It comes with Two 5 dBi Omni Antenna to provide a better Wi-Fi signal. 1 WAN and 4 LAN Port can use for Multiple PCs for wired connection. Binatone WR3010N Wireless router support 12V 1A Dc Power. Wi-Fi speed of 300Mbps gives you strong connectivity wirelessly if you have more than 10 users in your office and home. see step to step user manual for Binatone wr3010 configuration for multiple ISPs.
Binatone WR3010N Wireless Router Connection.
Binatone WR3010N has 1 wan and 4 Lan port. Connect WAN port to cable coming from ISP, LAN port connects to your PC/Laptop. Connect Power Adapter 12V 1A in box to switch on WR3010 Router.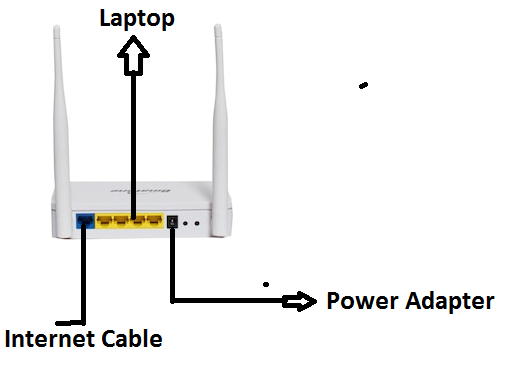 Binatone WR3010N Wireless Router Login.
Binatone wr3010 N 300Mbps wireless router default settings mention in router backside sticker with all default details.
Binatone wr3010 N 300Mbps wireless router default IP Address is 192.168.0.1
Binatone  default username is admin
Binatone  wireless router default password is admin
If you are non-technical please read the given instructions to access Binatone wr3010 n router in your pc/laptop for configuration the first time then you required to make your laptop LAN to DHCP mode.
Unable to Access Binatone router then go to your PC network settings and open adapter settings, right-click on LAN and click on properties. Select TCP/IP4 and click properties click "Obtain an IP Address automatically".
Click on here to step to step IP Address configuration in Window 7, windows 8.1 and Windows 10
Now open Internet Explorer or any internet browser you use type 192.168.0.1 in address bar, hit enter and device will ask for your username and password. Put admin/admin in username and password and click login. Follow the picture given below.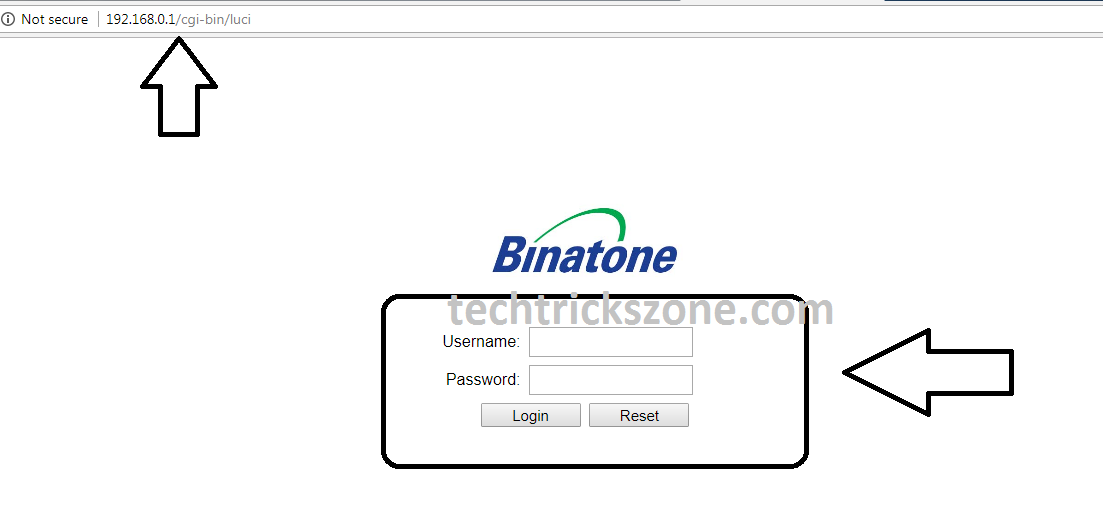 Binatone WR3010N 300Mbps Wireless Router LAN Configuration.
Binatone WR3010N wireless router is a home router and comes with by default IP address 192.168.0.1. You can change this IP Address according to your IP series. Follow the step to step-change IP Address and DHCP configuration in Binatone wr3010.
Go to Networkà LAN Settings.
IP Address: here you can change your router default IP Address
Subnet mask: put the subnet mask of the changed IP Address
DHCP Settings:
Start IP: use the IP Address to provide the same IP from the list.
End IP: Put the Last IP to Provide for the client by the router.
Apply: Click Apply button to take effect all changes.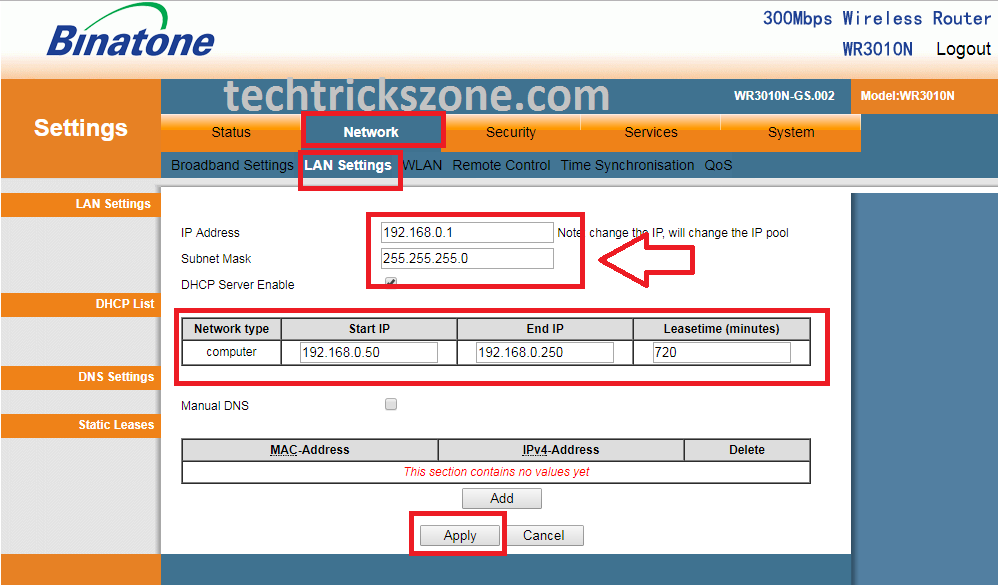 Binatone WR3010 N 300Mbps Wireless Router WAN Configuration
WR3010N is a dual 5 dBi Wireless antenna to increase wireless single. WR3010N wireless router physical having 1 wan and 4 LAN port to connect wired PC as well as Wi-Fi user. If you are using your local ISP internet and he doesn't provide you router to use multiple devices with Wi-Fi then you can configure Binatone WR3010N in router mode. See full post to know how to configure Binatone wr3010 N router in PPPoE and Static mode.
Binatone WR3010 N Wireless Router Configuration in PPPoE mode
If you are Internet Service provide given you PPPoE username and password then you follow these settings with your router.
For PPPoE configuration in Binatone WR3010 N router.
Go to Network -> Broadband Settings.
Enable VLAN :  for home use no need to configure VLAN( if you are using VLAN then Enable and put VLAN ID here.
Service Mode:  Select Route for Router Mode
Enable NAT: Enable Nat should be Click on Box.
Link Type: Select PPPoE
Selecting PPPoE you will get username password option as show given picture.
PPPoE Account: use username given by your ISP
PPPoE Password: use password is given by your ISP
Click Apply after all settings.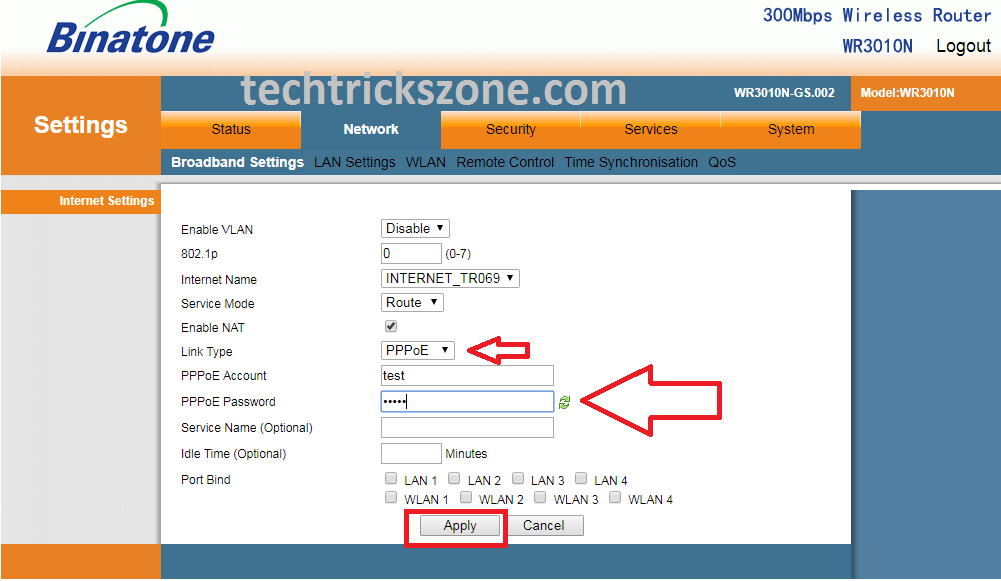 Binatone WR3010 Wireless Router Static Mode configuration.
This mode is for if your internetwork with Static IP Address. You required IP Address details given from your internet service provider. If have all details about IP Address follow given steps to the configuration of your Binatone WR3010 Router in Static Mode.
Go to NetworkàBroadband Settings
Link Type: choose Static IP.
IP Address: user IP Address given by your ISP
Subnet Mask: Use Subnet Mask has given by ISP
GateWay: Type Gateway Details Given by ISP
Primary DNS : DNS Information also will give your ISP
Click Apply Button after all settings.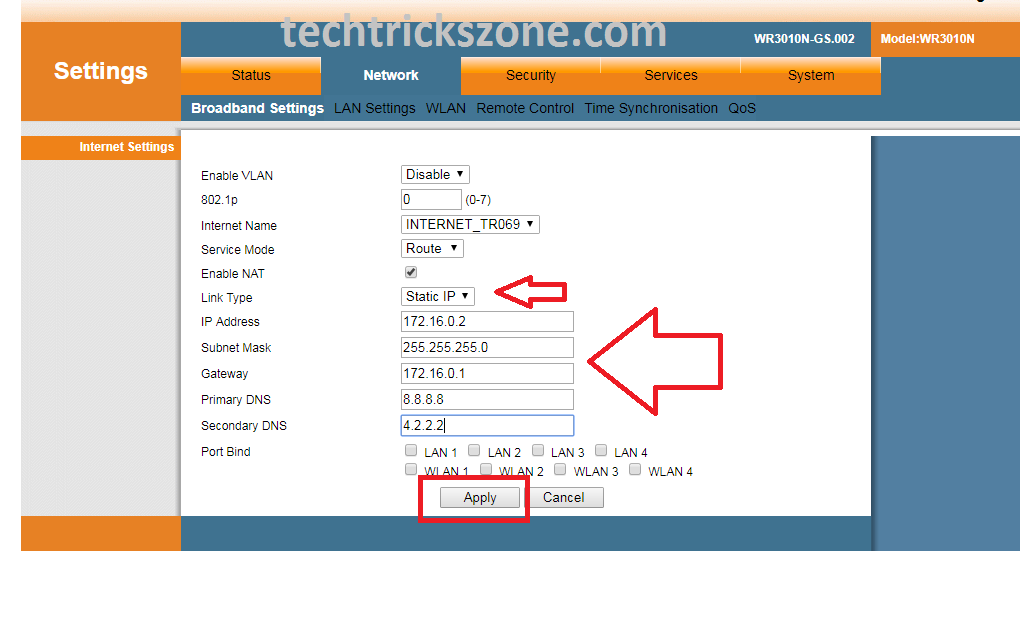 Binatone WR3010 Wireless Router Wi-Fi Configuration
If you have finished Wan configuration then WLAN configuration required to secure your Wi-Fi to avoid authorize access.
Enable Wireless: Box Should be Checkbox.
Channel: if you are using more than one router in your home then Select Channel No. 1,6,11 to avoid channel overlapping.
Channel Bandwidth: if your internet bandwidth speed more than 50Mbps then use 20/40.
Tx Power: if your area is larger then increase Tx power to 50% to 100%.
Country Code: choose your country to get a supported Wireless Channel.
SSID: here use your Wi-Fi network name.
Enable SSID: should be enabled if this option untick then you can't see SSID in your Wi-Fi.
Binatone WR3010 N Wireless Security Settings:
For Wireless Security go to Encryption.
Encrypt Type: choose Security Type (Recommended – WPA2PSK)
WPA Cipher: choose AES
WPA Key: put your Wireless Password in this box.
Click the Apply Button.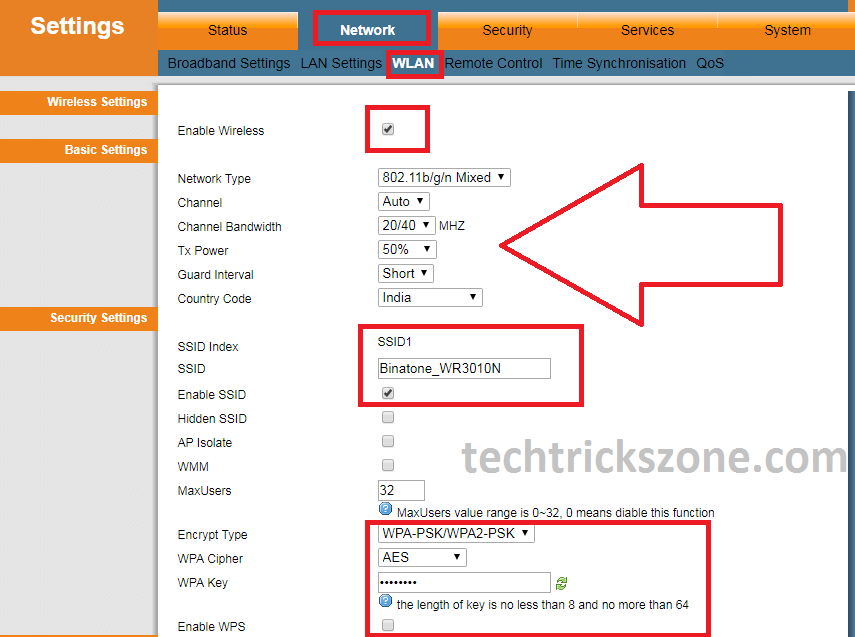 Binatone WR3010 N Wireless Router DMZ configuration
Step to step DMZ configuration for Public Access to Private Network.
Go to Servicesà Advanced NAT
Find DMZ option and tik on the box. You will get the box for IP Address you want to Access Publicly.
Click the Apply Button.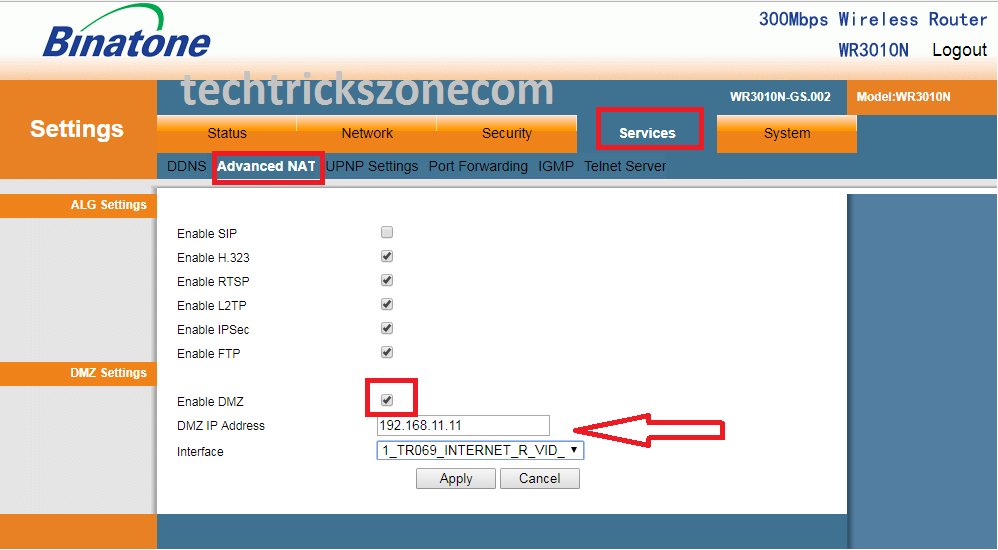 Relates Post 

Download Binatone WR3010N 300Mbps Wireless Router User Manual in PDF