Step by step D-Link DIR600m and D-Link DIR615 Wireless Router Setup and configuration for Home internet.
D-Link DIR615 Wireless Router Setup and Configuration
D-Link DIR615, DIR600, and DIR605L all are the home broadband router. D-Link router can be used in any ISP network to turn your wired network into a Wi-Fi zone which can let you connect your single internet line to your Laptop, PC, SmartPhone, and all smart devices like Wireless Printer, Tablet. D-Link DIR615 Wireless Router Setup and Configuration for new router first time with simple steps. Also, Know D-Link Covr Mesh Network System Configuration and setup.
D-Link Dir615 and D-Link DIR-600m both are 300Mbps wireless speed and   5 dBi Dual Omni Antenna, DIR615 Wi-Fi router comes with 1WAN and 4Lan Port to use your wired network device directly to Lan.
D-Link DIR615 and D-Link DIR600M both are supported by cable broadband ISPs  Hathway, Tikona, Airtel Fibrenet, Nextra, Siti Cable, You Broadband, Spectranet, ACT Fibrenet, etc.
D-Link DIR615 Wireless Router Connection Diagram
Connect your Internet cable to WAN port in DIR615/ DIR600. Connect Lan Cable to Lan port from 4Lan Port and connect to Laptop for D-Link DIR600 first time configuration for your home. Follow the Image Given Below.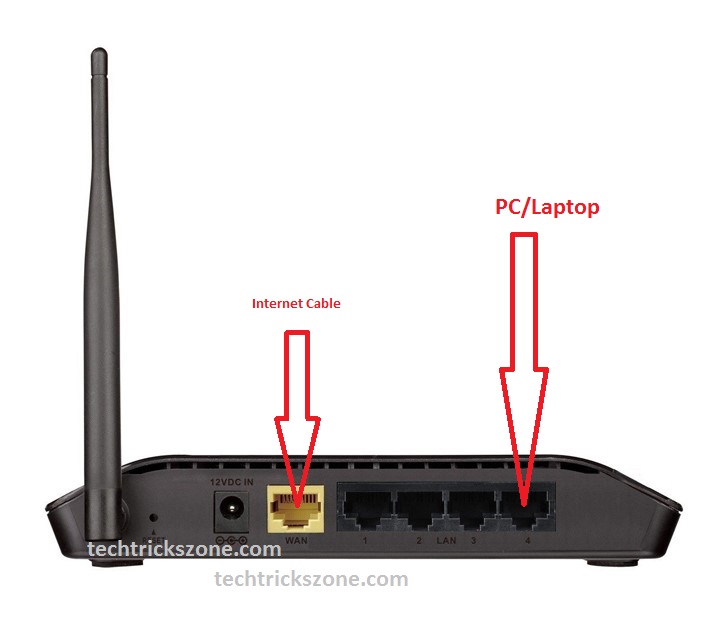 D-Link DIR600 Wireless Router Configuration Step to Step
Before Proceeding to D-Link Wireless Router Configuration make sure you have connection proper as per picture above for internet and Local Laptop connection.
For configuration D-Link wireless router you required default settings such as Default IP Address, Default Username and Password for configuration of D-Link DIR600, DIR615, and DIR605 Wireless Router. You can find the D-Link default settings Details of the Backside of your Wireless router. if you do not know then find the default D-Link Settings Given below.
D-Link DIR615 Wireless Router Default Settings
D-Link Default IP Address – 192.168.0.1
Dlink Default Username – Admin
Dlink Default Password –  "Blank"(No Password).
D-Link DIR600M/615 Wireless Router Login.
Now connect your router to Laptop/PC Lan port and configure your Laptop/PC Lan port in DHCP mode or put D-Link Default series IP address in your Laptop Lan IP.
After doing all steps now open your internet browsers such as Firefox,  Google Chrome and type http//192.168.o.1 in the URL bar and hit Enter.
You will get the Dlink Router Login page and username password option to Login Dlink dir605 router.
Put the default username Admin and Leave password blank hit Enter router will log in.
D-Link DIR 615 Wireless Router Manual Configuration
---
When you will log in your router first time you will directly go to the setup page. In the setup page, you will get the configuration method manual and Wizard. Click on Manuals as show given picture.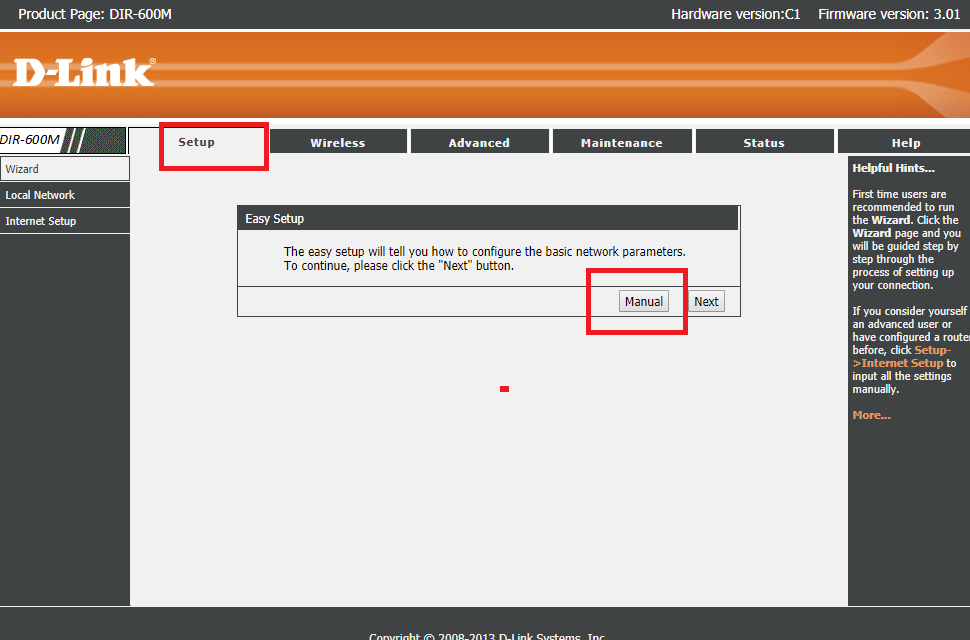 D-Link DIR615 300Mbps Wireless Router WAN configuration
For WAN configuration you should know how your ISP provides internet. This means if you're ISP gives you a Static IP address or username password for PPPoE dial-up connection.
In this Manual, you will get the guide with Static IP configuration if you have a PPPoE username password then just choose PPPoE option instead of Static IP.
WAN Access Type: If you have IP Address details choose Static or If you have Username password then use PPPoE.
IP Address: use IP got from your ISP
Subnet Mask: same got from ISP
Default Gateway: same got from ISP
DNS Server 1: same got from ISP
DNS Server 2: Got from ISP
Click Apply Button at the bottom after doing all settings.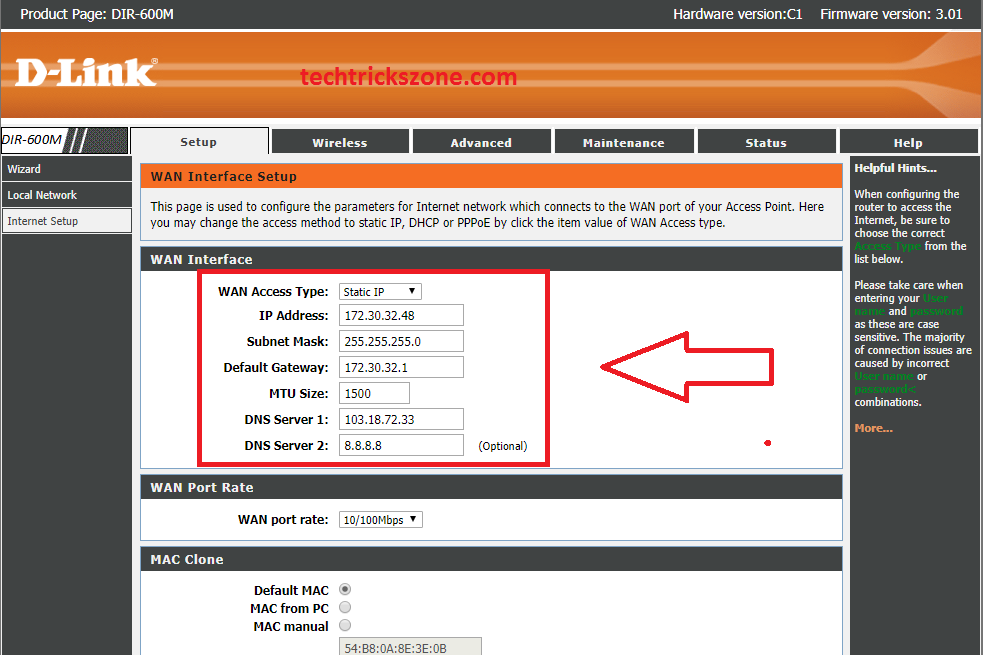 D-Link DIR615 Wireless Configuration
For Wireless Configuration click on With wireless tab and proceed configuration given below.
Enable SSID Broadcast: This setting should enable (Right Click)
          Enable Wireless Isolation: if you use this option
         Mode: use network name here
        Channel: select Chanel 1,6,11 anyone here
       Band Width: choose 20/40
Wireless Security Option: choose security type (Recommended WPA2-PSK)
Pre-Shared Key: Type you wireless password here
Click Apply to save settings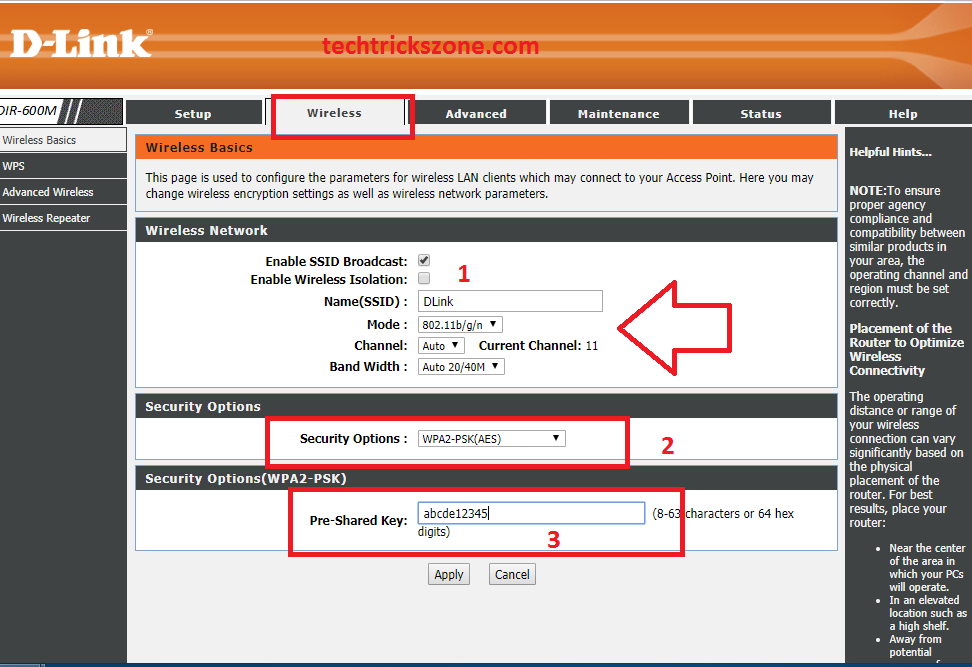 D-Link DIR600M Wireless Router LAN and DHCP Server Configuration.
Go to Local Network Option under Setup tab for Lan and DHCP configuration in D-Link Broadband wireless router.
1 IP Address: if you want to change default Lan IP you can change here
DHCP server Mode: DHCP server
IP range: you can put the Start and End IP address provided by the router to the client
Click Apply changes to save settings.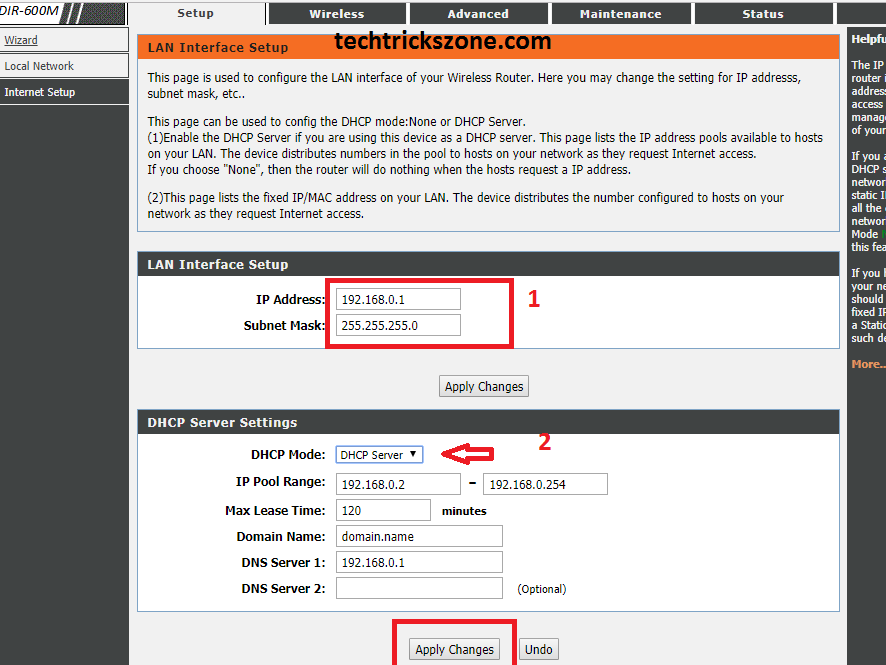 How to Enable D-Link DIR600 and DIR615 Wireless router WAN Access
WAN Access setting lets you give access to open router with WAN port. After enabling this setting you can access your D-Link router throw remotely with WAN port.
WAN settings: choose WAN
Service Allowed:
Web: click the web for the WAN access router webpage.
Ping:  enable this option for ping router.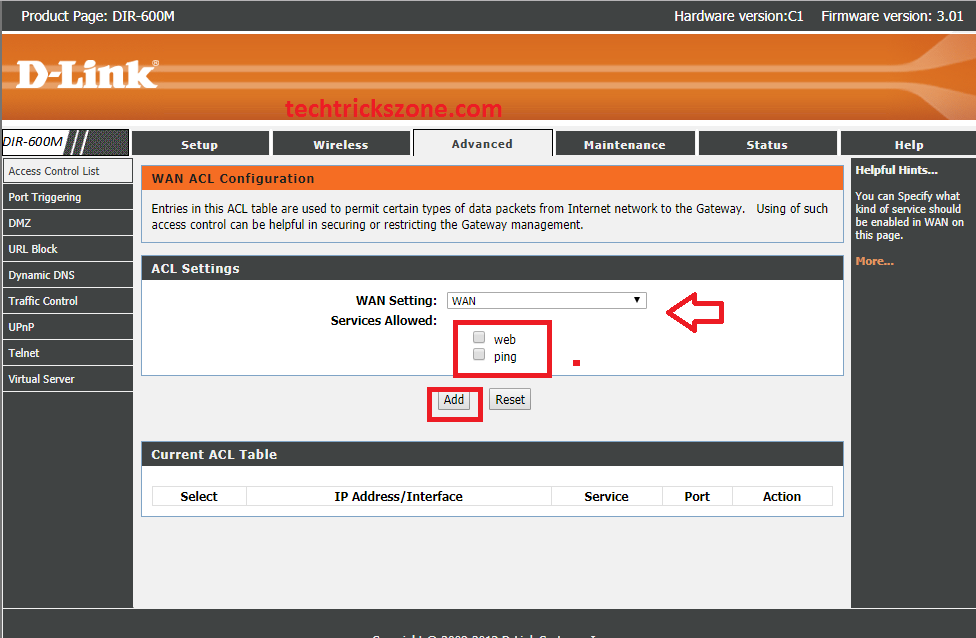 How to enable DMZ settings in D-Link DIR600 Wireless Router
You can access any private IP publicly after enabling DMZ settings in your Wireless router.DMZ settings you can use to access your IP camera, NVR and any particular machine access remotely from WAN.
Go to the Advanced tab and find the left side menu DMZ option.
Enable DMZ: click in the box to enable DMZ
DMZ Host IP Address: type the IP Address you want to Access from the Internet.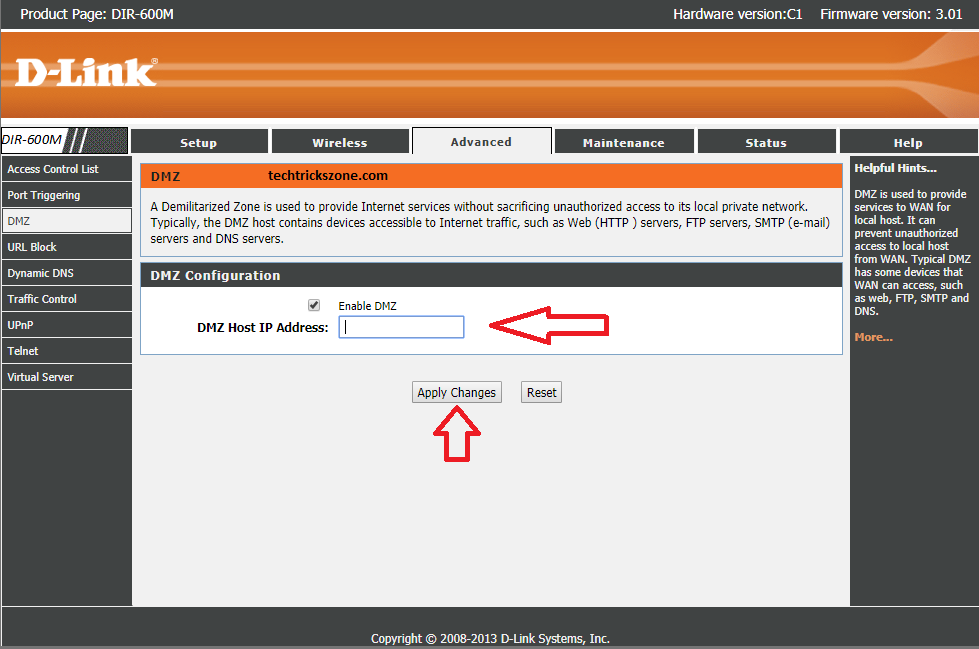 How to Upgrade D-Link DIR600M and DIR615 firmware with WEB
GO to Maintenance tab and click left side menu Firmware Upgrade option.
Click Choose File button and browse for your firmware downloaded from the D-Link website.
Note:  Before Upgrading Firmware makes sure you have right firmware according to your router models. Wrong firmware can damage permanently your router.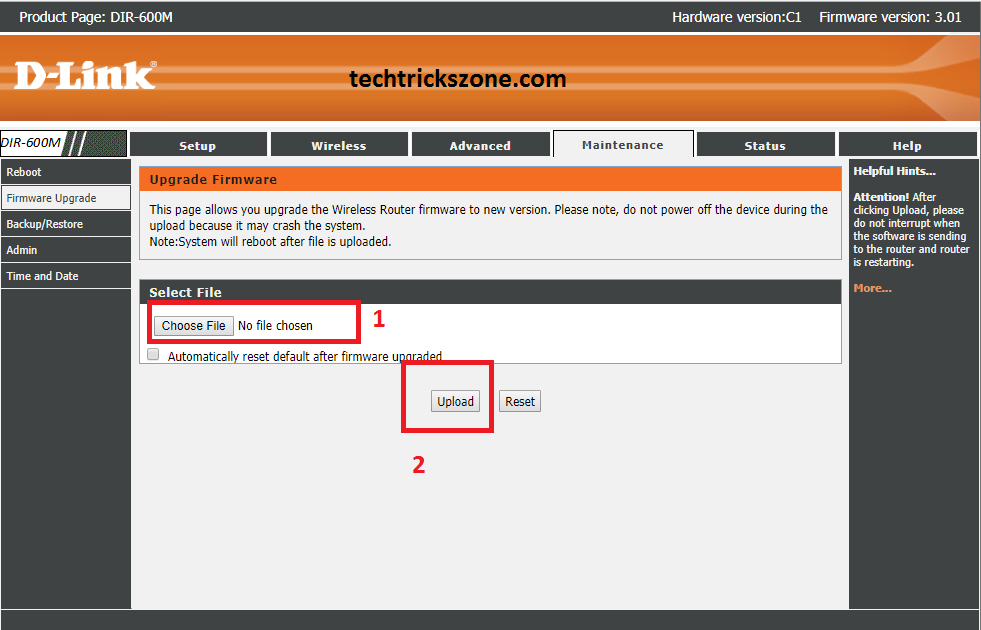 Related Post