How to Turn Off Facebook Video Autoplay
Popular social networking site Facebook has recently launched an autoplay video feature for wall post videos. this feature available on desktop as well as the mobile version also. some people like this feature but some people who like to use data with limit they do not like Facebook this feature. After reading this post you will learn How to Turn Off Facebook Video Autoplay on Android and iPhone
This is feature good for who likes to watch every video on Facebook but the disadvantage of this video is to increase your data package usages by playing every useful or not useful video. Facebook has given setting for ON/Off this feature as per your choice so If you also not like Facebook this feature then you are on the right place where you can get the complete guide for how you can on/off videos autoplay settings with simple step with the picture. Facebook auto video play disable iPhone and Android can increase the battery backup of your phone.
How to Stop Videos From Automatically Playing on Facebook Mobile
If you are a new user on Facebook then I am sure you are not aware of security settings on how to stop autoplay on Facebook. Facebook Security feature is nothing but a way to protect your account from authorizing access. As the popularity of  Facebook growing every day, it's also become a prime platform for promoting business and products directly to the end-user.
Whenever you will browse your Facebook account you will get lots of video posting by your friend and many Videos are tagged by your friends which nothing useful and related to you, but still when you scroll your page video start playing. I would like to tell you it's not compulsory to see every video it's useful or not useful to you. Just control your video playing as per choice with the set which video play and which Video should not play in your wall post.
---
Why Facebook Video Play Settings Required
The motive of publishing this post "Turn Off Facebook Video Autoplay on Android and iPhone" is only just aware of everyone about Facebook controls setting according to our choice. Understand Account settings you can save your time, money and make risk free video surfing for you and your family. It is true if  Facebook launched any feature then there Is also an add control setting for the same feature, the reason behind it only it is not necessary every user will like new features so if feature control will available Facebook users can decide they should use it or not use it.
As a part, if we will see commercial use of videos than Facebook Business also provide option earn money from your Live video by monetizing your live videos with add break. Many Facebook users just post the live video for earning money which is just useless for you but you have to see it if you don't know fb video autoplay disable settings to prevent it from playing every video while scroll the wall.
"Facebook Video On/Off Auto Play"
Disable auto play videos on Facebook desktop quite a simple can be done from the web as well as mobile apps.
How to Turn Off Facebook Video Autoplay on Android and iPhone?
Step 1: Login Facebook And Go to Settings.
If you are using the Mobile phone to  Turn Off  Video Autoplay settings then you will get the options menu on the right side with three Horizontal lines.
You can log in directly with your Facebook account: Login Facebook Now
If your internet connection slow you can also use the Facebook mobile site to log in faster with slow connection speed from here: Facebook Mobile Site Login Here
Click on the Dropdown arrow from the top right side of the menu to open the settings menu and click a setting option from the list. You can also find 5 Numbers from bottom to top.

Facebook Settings
Step 2: Click on the Video option from the menu.
Click Video option from the last one of the left side settings list.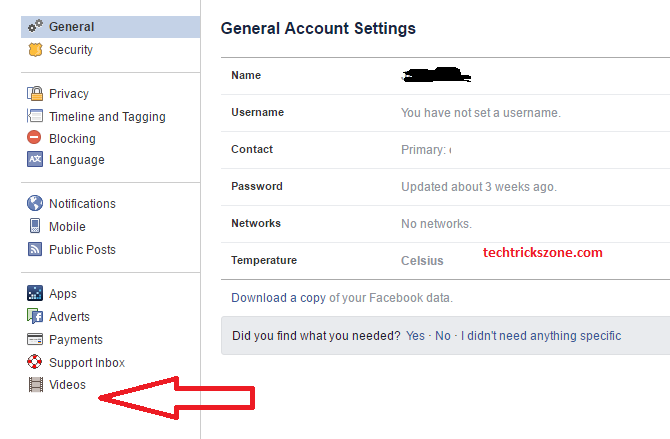 From the Video option, you can also control the setting given below related videos.
Facebook Video Settings:
Video Default Quality: This setting will control Video Quality. If you are using a slower internet connection you can use default or SD only. But if you have HD quality smartphone and high-speed internet connection. You can also enjoy HD quality if there is any HD quality video available.
Auto-Play Videos: This is the setting that we will learn in this post for Facebook Auto-Play Videos Disable and Enable (On/Off).
Always Show Captions: This setting you can on and off caption of videos. Caption means if there is any description of videos that default show at the bottom of videos. This setting will disable caption showing
Caption Display: Facebook caption display settings recently added to video settings. With these settings, you can customize color and background for video caption display show when we play any videos.
This option will be customizing given below.
Background color
Background Opacity
Text Colour
Text Size
Facebook Video Autoplay Enable Now
Step 3: Go to Auto Play button
Go to the "Auto-Play Video" option and click the "ON" button and select the "OFF" option for disabling autoplay settings.
On: On button will enable your video auto-playing. Whenever you will scroll your post and video will come from to post it will start playing auto.
Off: These settings will Disable video autoplay. After these settings only video will play if you will press the play button to any videos you want to see.
Facebook Video Autoplay Enable Now
Step 3: Go to the Auto Play button
Go to the "Auto-Play Video " option and click the "ON" button and select the "OFF" option for disabling autoplay settings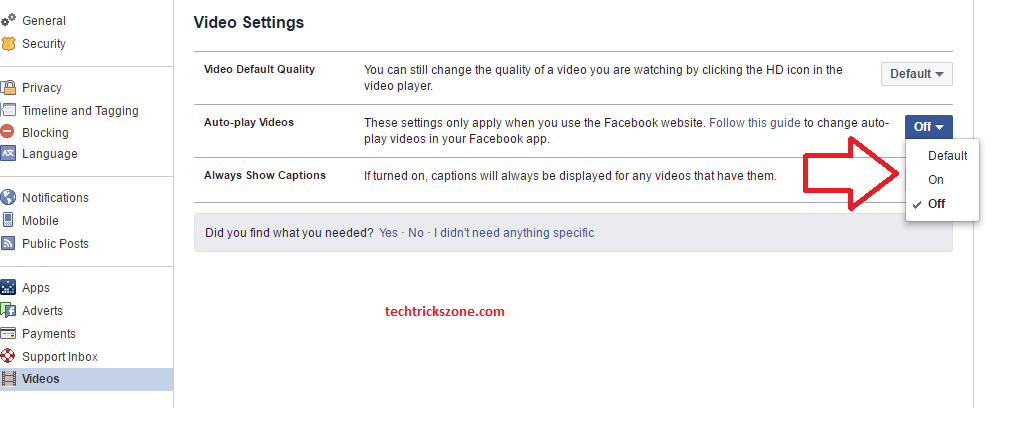 Facebook Autopay setting you can enable and disable anytime if you needed it. For the quick user manual of Facebook, video autoplay enable settings. You can bookmark this blog site in your mobile or PC internet browser.
---
Related Post