Do you really want to take a break from your Facebook account but can not close messenger conversations with friends? After Facebook account deactivation you can secretly use your messenger without sharing an activity with friends. see here way to use FB messenger after Deactivate Facebook Account without losing conversation on Facebook.
How to use FB messenger after Deactivate Facebook Account
Facebook most addictive social site today used by everyone to keep connect with family and friends. You may decide most of the time to deactivate Facebook and take a break from the Social network but you may also use FB chat for the important conversation. To just use your FB chat messenger you have to keep activate Facebook profile as well. I am going to share, the best way to continue using Facebook Messenger even when the account is deactivated. Facebook day by day update the settings accordingly users convenience to keep attract to social networking site. You may not aware about Facebook recently added a setting to still you can chat on Facebook Messenger when the account is deactivated get a temporary break. To keep updated with the latest feature will always bring your social networking site more interesting day by day.
You can easily enable the messenger settings while your profile disabled.  This way also you can use only FB messenger without using a Facebook account.
Previously when you disable your Facebook account, also log out and disable FB messenger but now you can keep using FB messenger after Deactivate Facebook Account profile.
How to Deactivate Facebook account but keep active messenger
To keep messenger active even profile is deactivated is possible with few steps settings. You required your Facebook account login details to enable settings to keep messenger activate after the profile deactivated.
Login Facebook Account now to Deactivate Profile but keep using Messenger
Once you have logged in your Facebook profile you have to do some settings to enable an option to cancel the Facebook account but use FB messenger still.
GO to the down arrow in top menu after login your Facebook account.
Click settings option from the menu as followed below image.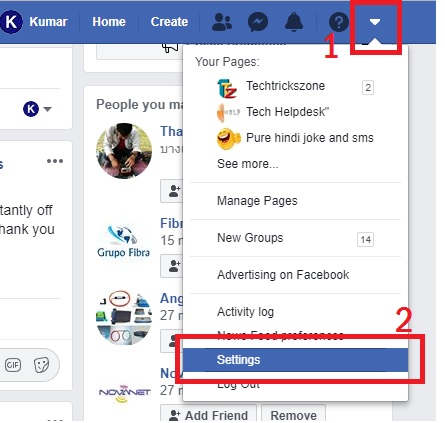 ---
Read More
---
You will enter the settings page, from which you can manage all Profile settings related to privacy and others.
General – General Account Settings
Manage account- Modify your legacy contact settings or deactivate your account. – Click on this option to enter in deactivate settings.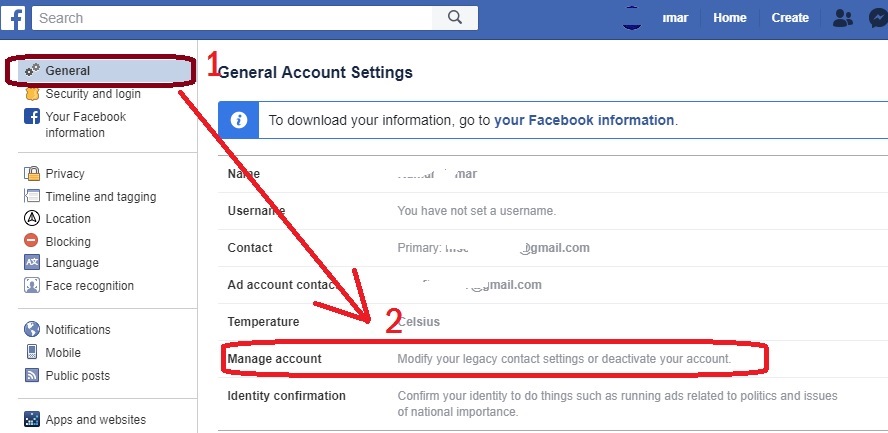 Inside manage the account you will option to deactivate your profile and schedule deletion option.
Deactivate your account– click this option and follow the next steps.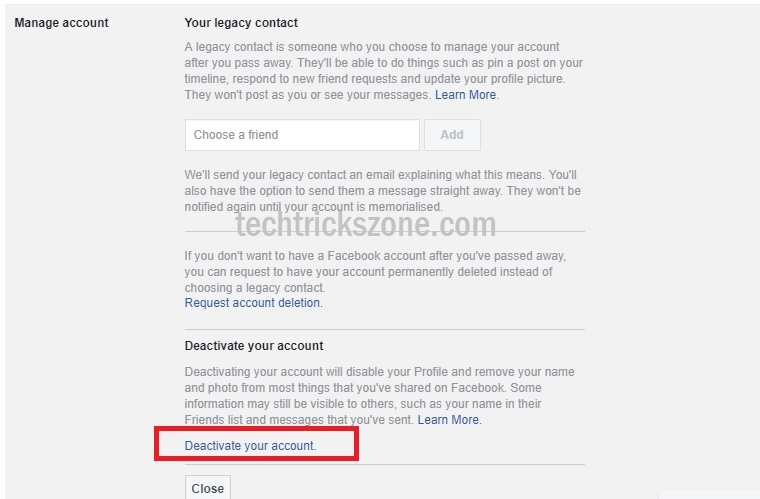 Only Deactivate Facebook Account without Deactivating Messenger
In the next steps, you required to choose the reason for deactivating your FB profile. Choose the one reason from the list or you can also explain in the text box for more information.
Messenger- Keep using Messenger – this the setting which will still active your messenger but the profile will be disabled.
Select the checkbox and press Deactivate button below.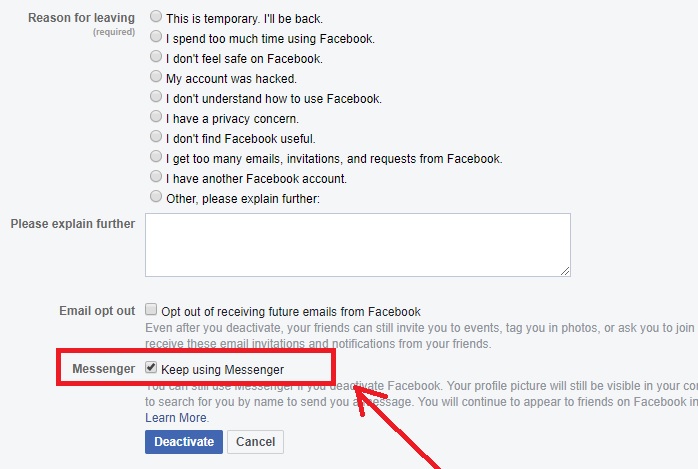 If you have chosen to keep using messenger then your messenger will not log out once you have deactivated your profile.
You have to authenticate your account during deactivation to make sure you are authorized to do it.
Type password and click "Continue" button.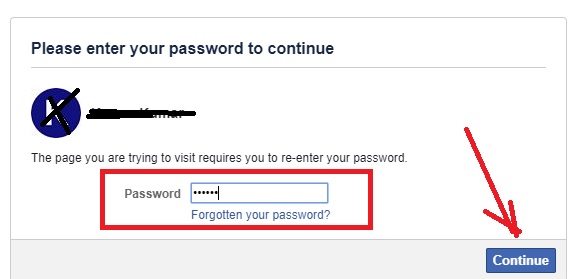 Are you sure want to deactivate your account?
Click Deactivate Now button to disable your FB profile but keep working messenger apps for chatting.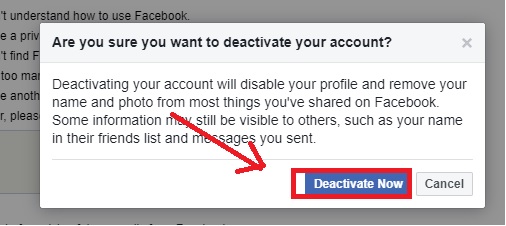 I the final steps You will be redirected to the Facebook login page with the message your account deactivated successfully.
Conclusion
Now no one can find you on Facebook but who friends are connected to messenger can still chat with you as before. This is the secure way to keep contacting the friend through chat but disappear from the profile and social posting activation. In this way, you can only use private conversation but no one can tag or post anything in your wall. IF you do not like Facebook account but want to chat messenger only than you can use FB messenger after Deactivate Facebook Account profile using this method.
Related Post