Boost Wireless signal strength up to 100% using TL-WR743ND Repeater Mode Configuration with any brand wireless router.  The smart way to connect wirelessly to a wireless repeater without laying physical cable from the main router.
TP-Link TL-WR743ND Repeater Mode Configuration with Any brand AP
TP-Link WR743ND is a 150Mbps single 5dBi Omni antenna Wireless router. It is a home Wi-Fi router with 1 WAN and 4 LAN ports for wireless as well as a wired internet connection. WR743ND V 2.0 support multi-mode such client router, WISP, Repeater (Range Extender), Bridge mode. TL-WR743ND is the best way to boost Wireless signal up to 100% using repeater mode setup.
If you are facing a low signal issue in some area of your home and office then using a home Wi-Fi router can be a cost-effective signal booster solution without buying a range extender device. Repeater mode also a smart way to connect your DVR or NVR device using the wired connection without laying cable from an internet router.
You can also utilize your old wireless router not in use for range extender to improve wifi connectivity and signal range in a large house. TP-Link TL-WR743ND is an indoor wireless device with an external Omni antenna. Apart from repeater configuration also read the useful article on How to limit bandwidth in TP-Link wireless router per user.
TP-Link WR743ND Repeater connection Diagram
Power on your TP-Link router with a power adapter that comes with the device.
Connect LAN cable from Yellow LAN port to Laptop/Desktop LAN port.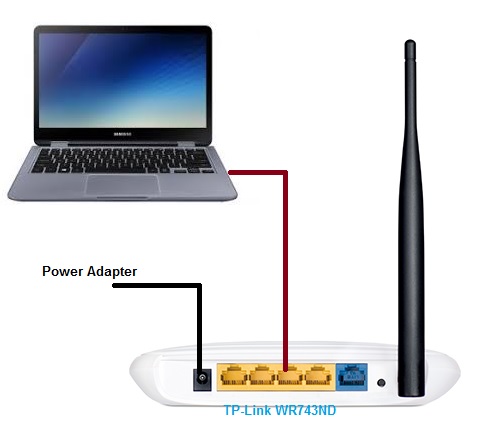 Laptop/Desktop LAN IP settings
TP-Link TL-WR743ND default IP is 192.168.0.1
Username and password- admin/admin
Use 192.168.0.10 or from range (2-254) IP address in PC/Laptop LAN static IP.
Login TP-Link WR743ND 150Mbs WiFi router
To login use TP-Link Wireless router using the default IP address http://192.168.o.1 or any other IP if you changed it already.
Open internet explorer and type the IP address. Press enter key
Use admin for username and admin for the password.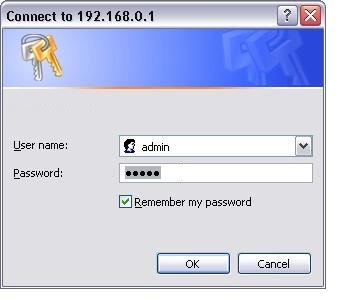 TL-WR743ND Operation Mode change
To use a wireless router as repeater mode need to change the operation mode first.
Go to Operation mode – Repeater (Range Extender)
Press the Save button to apply settings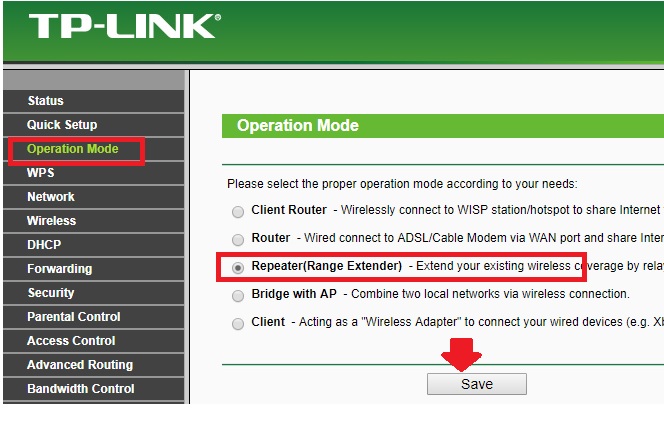 Connect TP-Link WR743ND to Access Point as Repeater
1: Go to Wireless—Wireless Settings
2: Repeater Mode: Choose Universal Repeater If using Non-TP-Link AP in the main internet. Use WDS repeater if main AP also TP-Link.
3: Click the Survey button to scan the main wireless router.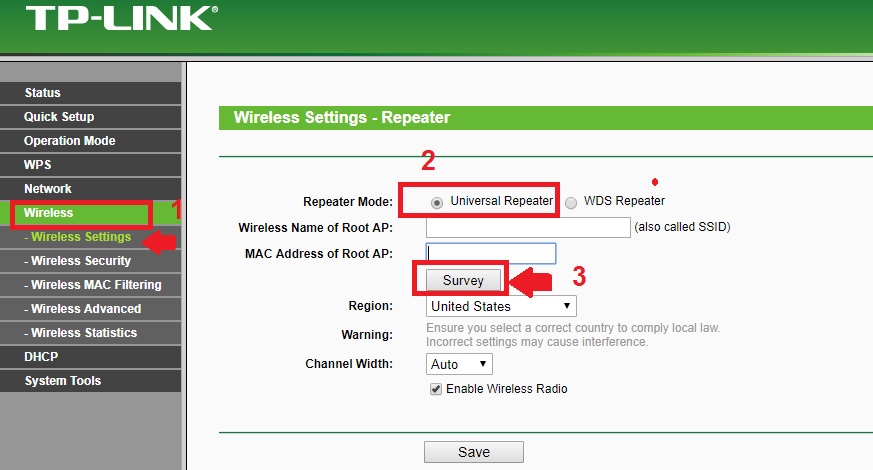 Select the Wi-Fi name from the list.
Click the Connect button to join your AP.

You main WiFi name and Mac address will auto-fill in the option shown in the picture.
Click the Save button to apply settings
You will get a reboot pop-up notification to apply settings.
You can also reboot after fill security settings.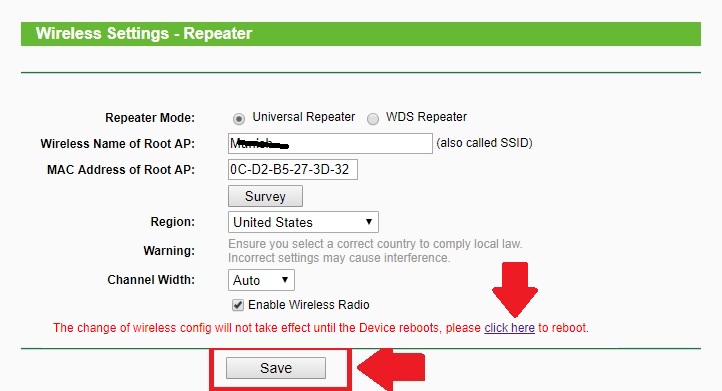 Wireless Security Settings to Join main AP from Repeater
Go to Wireless- Wireless security
Choose the Security type used in the main wireless router.
Type the password in the password option and press the saves button to apply settings.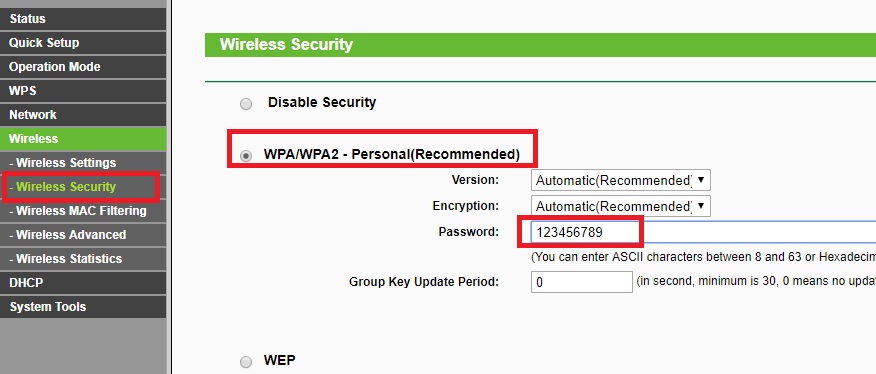 The repeater will reboot and will show connected sent and receive the packet in a status page.
Repeater Connection Status
Go to the status page and see the Traffic Statistics to check repeater connection status with the main access point.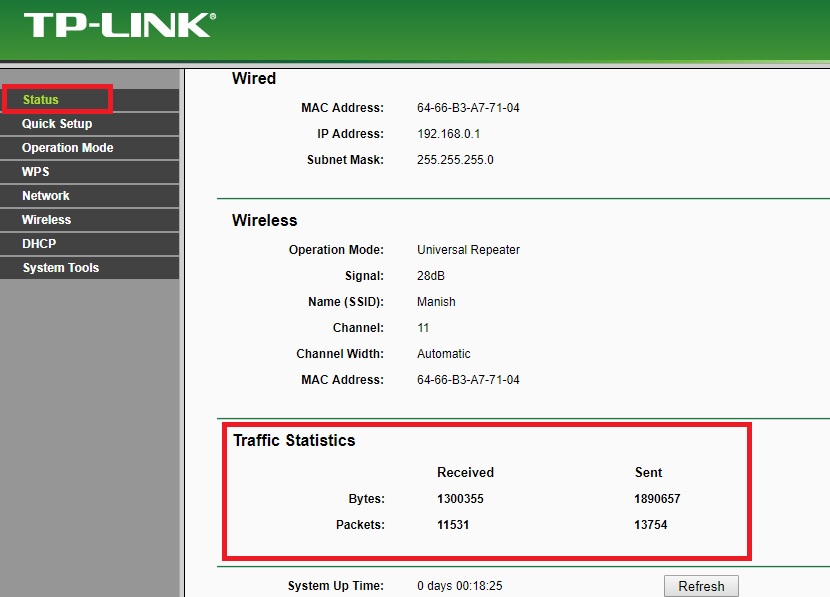 TP-Link WR743ND LAN IP Change
If your main wireless router also uses 192.168.0.1 IP address than it is strictly recommended to change the repeater IP Address before connecting to Main AP. Using the same IP address can be network conflict and repeater connection failed while connecting to the main AP device.
Go to Network –LAN
IP Address: change the IP Address in this box.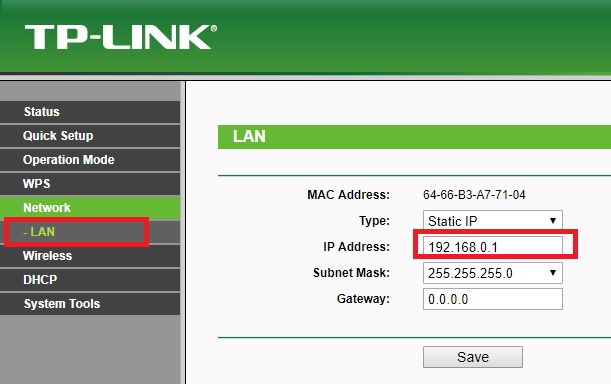 Press the Save button and re-open with new IP Address.
Placement of TP-Link Repeater Mode
To get the proper signal in every place repeater placement should be in the proper place. Using the centralized place from repeater can get at least 45%-50% signal of main host wireless AP and also boost the range to the dark area.
Never use Wireless repeater device and access point in the covered area such as a cupboard, Almira.
enjoy your wifi internet in every place without slow and buffering videos using TL-WR743ND Repeater Mode Configuration to increase signal quality in every corner.
Download full user manual for TP-Link WiFI Router.
Related Post