Login and setup TP-Link WBS510 outdoor 300Mbps base station device for an internet provider to distribute internet plan over Wireless
TP-Link WBS510 Base station Configuration for ISP
TP-link WBS510 is a 5 GHz outdoor wireless base station device for internet distribution through wireless CPE devices. WBS510 support multi wireless mode such as a router, WISP, CPE as well as the access point. The configuration mode depends on the requirement you wish to use the device work for. WBS510 outdoor base station is an external antenna provision for connecting Antenna as per wireless distance of the point to point and point multi-point links.
To login and setup WBS-510 in base station mode need to access settings page in PC or laptop using physical connection with the device. This manual will help you to log in and setup TP-link WBS510 outdoor access point for base station device to distribute internet connection.
TP-Link 300Mbps Outdoor Wireless Base station Connection
Login and access settings connection must be done with the computer using cat6 cable and the PoE adapter comes with box.
WBS510 wireless device support 24V old PoE power from PoE LAN port.
Connect PoE adapter with power cord and plugin in the power socket.
Connect PoE port to the cable coming from WBS510 PoE port
And connect PoE Adapter LAN port to Computer / Laptop LAN port.
How to install CCTV camera in Lift using Wireless Device
TPLink WBS510 Base station Login first time
The default Login IP address and username password required to access settings.
The default Login IP Address is 192.168.0.254 and the username/password is "admin" for both.
 Desktop/Laptop LAN IP Address settings
Computer and laptop LAN network should be in the same network of default tp-link login IP address.
EXP- 192.168.0.254 is tp-link default login IP use 192.168.0.100 in PC/Laptop LAN static using Static IP address mode under TCP/IPv4 configuration.
Login Base station Router First time
Once all initial connection and configuration did now open web browsers such as Mozilla, Chrome, and internet explorer and access default IP address.
Access 192.168.o.254 IP address in the URL bar and press the enter key.
Use "admin" for username password.
Select your country from the list and access the term and condition box.
Press login button.
Change Login password on the first-time login.
Create a new username and password and login WBS510 device to setup as an Access point.
Setup Access Point for Base station
Once you are log in to AP settings now follow steps to set up step by step base station mode and other wireless parameter configuration.
Go to the Quick Setup tab from the top menu and follow steps.
Operation Mode- Access Point
Choose and press Next button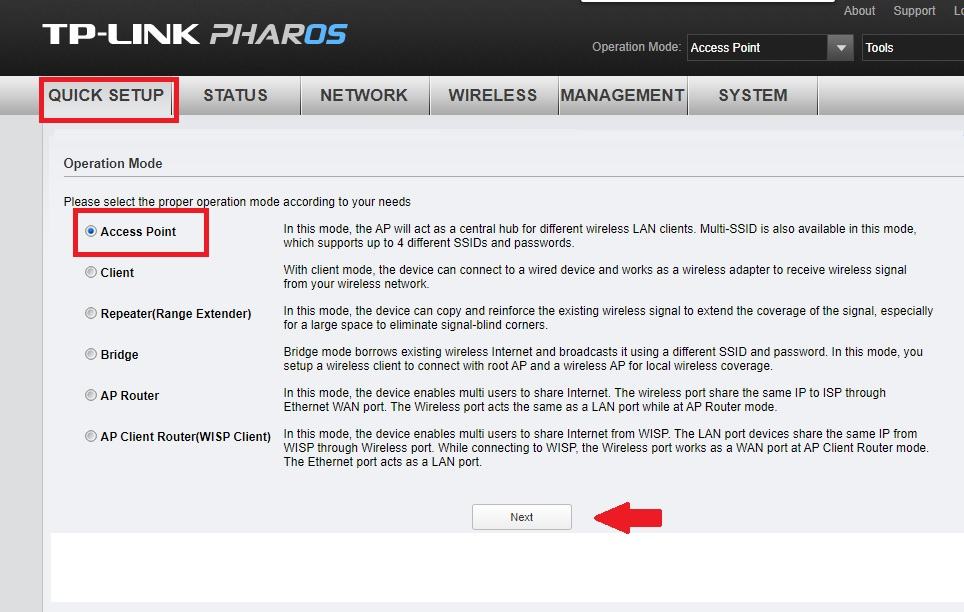 Change TP-Link WBS510 Default IP Address
In the next steps change the LAN IP address from default to any other to secure your base station device. using default Ip address can access by any user connected to your networks.
LAN settings-  IP address: 192.168.0.253  or use different IP Series as per your choice.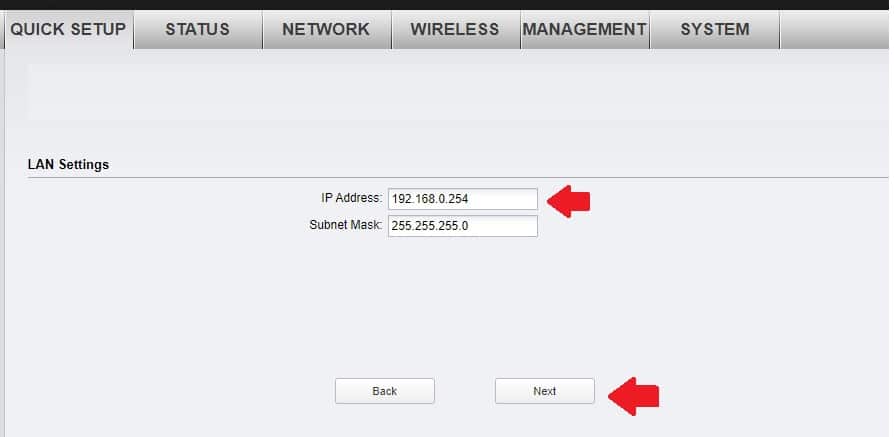 Press Next button for wireless configuration.
Configure Base station Wireless name and Channel settings
Wireless AP settings
SSID- type name for your base station wireless used to connect from CPE device.
Mode- 802.11a/n
Channel Width– use 20 if high interference area where you want to use base station.
Channel/ Frequency: Select the frequency from the list as per your telecom regulatory and working in the area.
Security- select WPA2-PSK  type
PSK-Passphrase: type password for Wireless
Distance Settings: set the distance you want to connect the CPE device with base stations.
Maxtream: enable this only when using TP-link brand CPE only.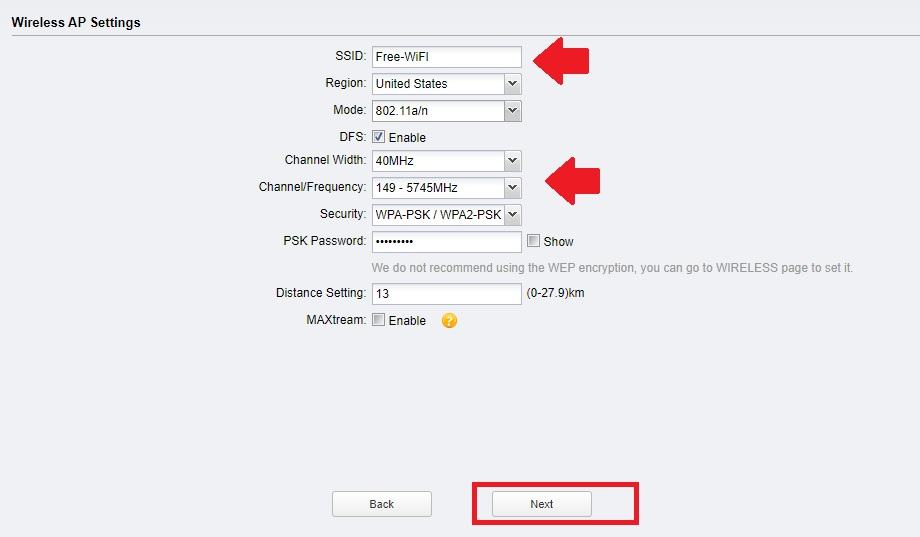 Press the Next button to finish setup Wizard
Confirm all the configuration in the final window before the press finish button.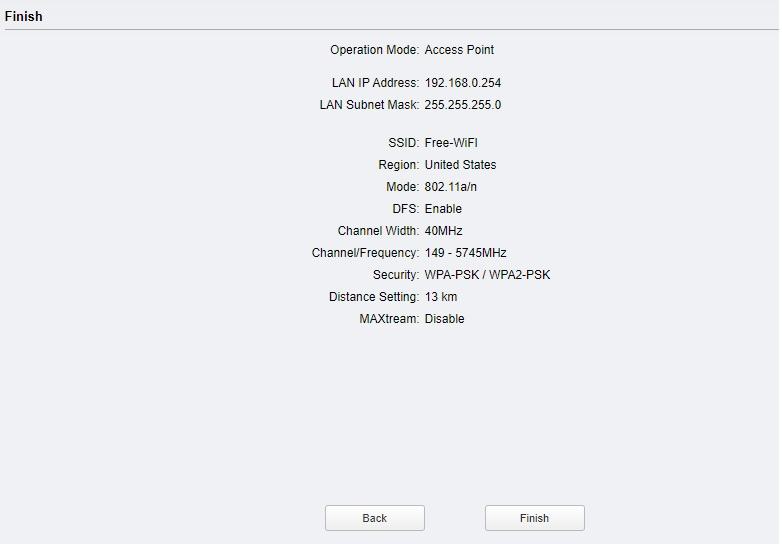 Once all settings look good press the finish button and wait until the device reboots.
After the configuration of base station settings, you can install the device and connect an external antenna to broadcast signal for long-range distance.
This device can connect multiple CPE510 devices to distribute internet connection for the client end.
Download TP-Link WBS510 User guide in Pdf
Related Post