How to Login Ubee dvw3201b Router?
DVW3201B Advanced Wireless Voice Gateway DOCSIS 3.0 Wireless cable modem U10C046. Ubee provides one of the best DOCSIS cable modem router gateways for Comcast Xfinity, Spectrum and other Internet service providers. Inbuilt Ubee having a wireless antenna as well as multiple Ethernet port for wired connections. While. To setup Ubee DVW3201B router needs to be a login web interface to access the settings page. If you are a non-tech person and looking to Ubee router login steps to update the WiFi name and password to keep secure your networks.  follow steps to login Ubee dvw3201b router from the computer to set up it for your home networks.
However, the Ubee login process needs to connect the router physical with a computer and PC. Once you have Ubee modem login successfully then you can change Ubee router login password, Wireless password, and name, enable parental control in Ubee router, block website in Ubee router modem in simple steps.
Connect Ubee DVW320 Router to PC
The Ubee router having 4 Physical Ethernet ports, 1 Cable jack, 2 RJ11 port for the telephone line, and 1 USB port.
Power ON Ubee router and connect LAN cable to any Ethernet port from EETH1, ETH2.
Connect LAN cable another side to Computer.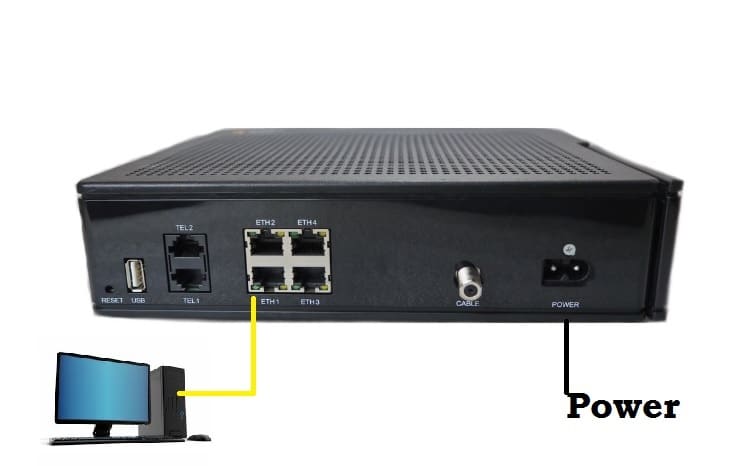 Computer LAN IP Address Setting
Configure default login IP series IP address in desktop LAN to access Ubee login address.
Ubee login IP 192.168.100.1   configure 192.168.100.10 in PC in static IP Address mode or keep obtain IP address automatic.
How to Log into Ubee Router?
After physical connection now steps to access the Ubee login page.
Ubee default password and IP Address need to login router web interface.
Default Ubee ip address http://192.168.100.1
Login details for Standard subscriber Web interface login.
Default username: user
Ubee DVW320 Modem default password: user
Login Username and password for MSO User Web Interface Login (TWC):
Username = last 8 characters of the device MAC address, all UPPER case, no
colons.
Example: If MAC Address = F0:7B:CB:99:21:E4
Username = CB9921E4
Password = c0nf1gur3m3 (all letters must be in lower case)
Ubee Modem Login
Login ubee DOCSIS modem router using web browser use any internet browser such as Mozilla, Internet Explorer, Google chrome.
Type http;//192.168.100.1 in the URL bar and hit enter key.

Use the "user" for Ubee username and password login the first time.
Change Ubee Router WiFi SSID and Password
You can update the Wi-Fi name and password from the web interface once you logged-in to Ubee settings.
To change Wireless settings click on Wireless option from the top menu.
Now go to Primary Network option
Wireless Primary Network:
1: Primary Network- Enable
Network Name (SSID): Ubee-WiFI (change WiFi name in this box as per your choice)
2: WPA/WPA2 Encryption: AES
WPA Pre-Shared: Ubee@1232 (set UBee router WIFi password)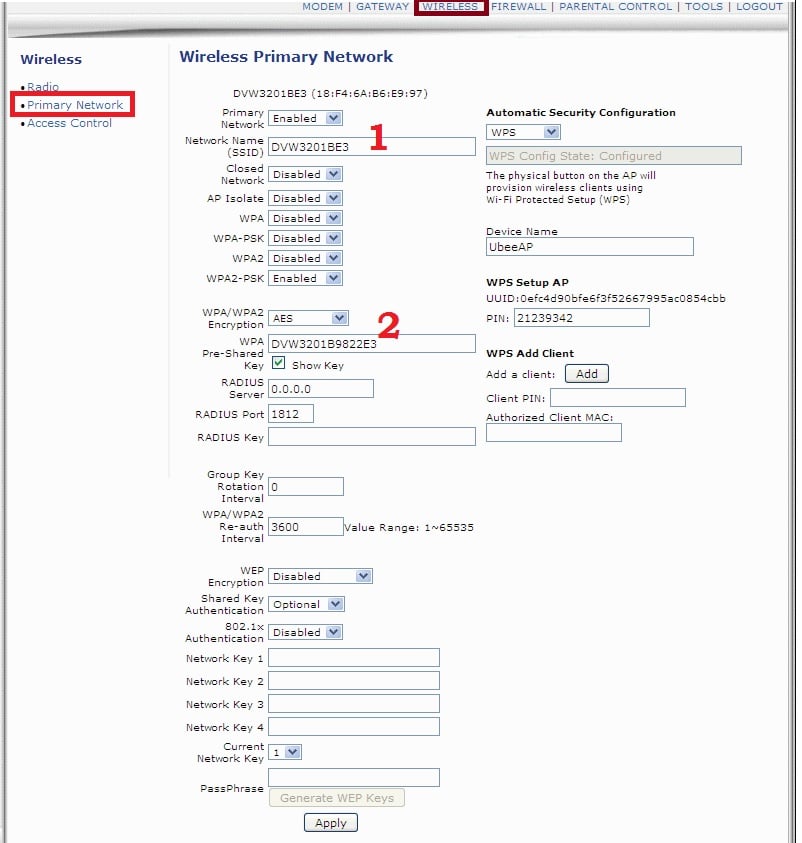 After all, settings press the Apply button to save settings.
Once all settings saved check the WiFi name and password working in mobile and Laptop WiFi connection with Ubee router.
 Change Ubee Docsis Modem router Login Password
Updating a password is a good habit for Wireless or login passwords to keep secure your network from hackers.
You can update the Ubee modem login password under TOOLs option after login web interface.
TOOLS- Password
Username-user
New password: ubeelogin ( change password here)
Confirm Password: Ubeelogin ( type password again to confirm)

Press Appy button to login Ubee router with the new password.
Valuable Tips and Q&A for login UBee Router
Ubee DVW3201B router login password not working
If your Ubee router not working for login with default login password "user"  that means you are typing the wrong password or confirm if the Caps Lock button is off. If still default Ubee login password not work for you just make Ubee router factory reset.
How to Factory reset Ubee router using the Reset button?
Factory reset of Ubee 3201B Modem router bit simple using reset button available in the router. If you forget Ubee router password after the update it then reset default Ubee settings will help you to restore settings into default mode.
Find the reset button beside Ethernet ports.
Press the reset button and hold for 15  seconds and release it in 16 seconds.
The router will reboot and restore to factory mode settings.
Now access login with factory default settings again.
This is a simple manual to set up a Ubee modem using default settings the first time. Keep your home and office network always running with Ubee router and keep update login and wireless passwords.
Download Ubee DOCSIS Modem User Manual in PDF
Related Post