Adding an extra WiFi name without adding an extra wifi router possible by creating a virtual SSID in the same Router. Use Multiple SSID in Single Access Point up to 4 different wifi names using a single wifi access point with simple steps. see here to
How to Add Multiple SSID in Single Access Point [Multiple WiFi Name]
Making multiple SSID in a single router also protects your wifi network from sharing the main Wi-Fi password to everyone. You should add a multi-SSID network if you don't want to share your wifi password with anyone. In a larger Wi-Fi network we use multiple access points with the same SSID (Service Set Identifier) so the user can get roaming connectivity. In the latest Wireless router, we get a separate guest network option to set up a guest network for temporary users.
Popular WiFi brands provide multiple SSID options to create a virtual network for network separations. Adding multiple WiFi names in a single router will broadcast multiple WiFi names and can be used to divide the department or as guest networks. Even though the Wi-Fi router is single but virtual Wifi name is multiple and can also be protected from accessing each other data. In this post, you will get the option to enable multiple wifi names in a single access point without sharing data with each other. If you are facing a low wifi signal issue in your home or office then you may also use the repeater mode configuration to increase signals
In legacy, the Wifi router does not support the guest network but you can use VAP (Virtual Access Point) to create a guest wifi network. Although the latest WiFi router has a guest network option, if you are using an old wifi router that does not support visitor SSID then use the Multiple SSID options. Most of the router support 1 main and 3 Virtual SSID options where you can use up to 4 WiFi network names from a single WiFi Router. Follow the steps to enable multiple SSIDs with a single access point in TP-Link, D-Link, Tenda, Netgear, iBall, and other popular brands.
Add Multi SSID in TP-Link WiFi Router
TP-Link BGN series WiFi router supports multiple SSID options to create separate Wi-Fi names for guests or for different departments. Although,  the latest TP-Link router has the option to add a guest network with many control options like the time limit, and the speed limit for managing guest wifi networks.
To add dual or more WIFI names in TP-Link WiFi AP login to your router and follow the steps.
If you are new to WiFi router configuration see here to know how to log in to your WiFi router web interface.
Go to Wireless – Wireless Settings.
SSID1: Main WiFi Name (SSID 1 will be the primary SSID)
To configure multiple SSIDs use the SSID2, SSID3, and SSID4.
You can add up to 4 different Wi-Fi names in a single WiFi router to share the network with different departments such as Accounts, sales, Management, Support.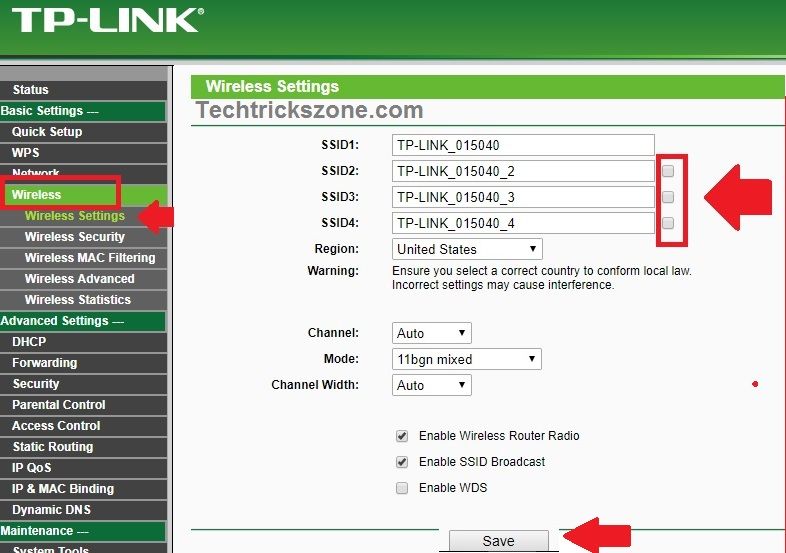 After adding an extra WiFi Name (SSID) click the Save button to apply settings.
Multiple WiFi Name in Single OpenWrt Router
While using multiple routers the same SSID needs to be required to enable a seamless network with fast roaming connectivity. But when using a single router and wanting to run multiple Wi-Fi names then need to create a virtual network. In virtual networks, Access points with different virtual SSID can be used to create multiple wireless names to divide for guests and any other networks.
Set Up Multiple SSIDs step by step to run multiple networks with one router.
Go to Network –WiFi

Click the Add button to add two or more SSID WiFi networks to add for guest wifi access.
1:  ESSID- Create the SSID name for the Guest or any other you wish.
2: Wireless Security- set the password for the new WIFI name (SSID).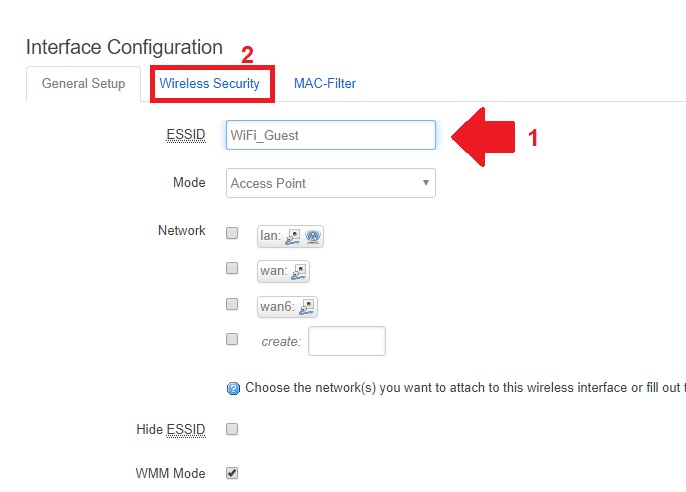 Click the Save & Apply button.
OpenWrt most widely used firmware in wifi routers so you can also follow these steps to create multi SSID in DLink, create multiple SSID in Mikrotik, and create multiple said in cisco ap, and any other brands which support virtual AP.
How to Create Multiple SSID in DD-WRT
DDWRT is another best open-source firmware for WiFi routers. You create virtual AP in DD-Wrt routers in simple steps.
Login to your DDWRT WiFi router.
Go to the Wireless tab- Basic Settings
Click Add button under the Virtual interfaces option.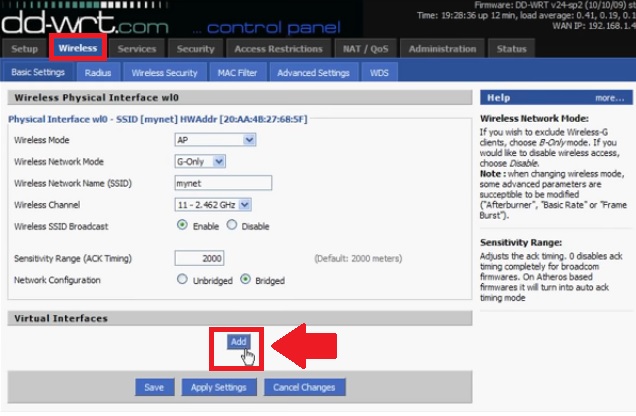 Virtual Interfaces wl0.1 SSID (dd-wrt-vap]
Wireless Network Name(SSID) – type the second wifi name here
AP Isolation– click enable if you do not want to share the Main WIFI-connected device with virtual WiFi-connected users.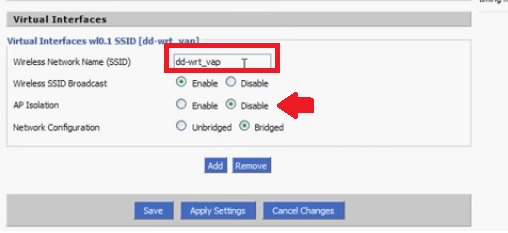 Click Save and Apply Settings.
After rebooting you will see multiple SSID names from the same Access point and a different password.
Adding a virtual WiFi name protects your main WIFi network accessing and sharing with guest users. You can also use two routers with the same SSID to create the same virtual network name using different wifi routers.
Although today most WiFi brands provide Wireless controllers. The wifi controller gives a simple way to create multiple SSIDs using the controller without configuring one by one AP.
Hope this post is helpful for you to know how to create Multiple SSID in a Single Access Point without sharing data with each other even while connected to the same Access point.