Run your network problem free using prevent it from loop issue. learn Loop Detection Configuration in Binatone Fiber Gigabit Manage Switch and reduce network downtime.
Loop Detection Configuration in Binatone L2 Managed Switch
Loop detection is an important feature of a managed switch to keep the network running with the problem. Why Loop detection is an important feature in the managed switch. In managed Switch Loop detection settings prevent any looping from the network and block the port immediately. In this post, you will get step by step Loop detection configuration on Binatone GE1008F Fiber Manage Switch. If you are own richer link l2 managed Giga Fiber switch then you can also configure Richer Link Manage switch loop detection.  To setup Loop detection in a managed switch, you required a physical connection to access the web interface.
In every network, if using more than 2-3 unmanaged network switch, then Loop detection should be enabled to monitoring loop issue comes from an unmanaged switch. Also, know about the best firewall solution for office to protect attacks from external networks.
Physical Connection of Binatone GE1008F Managed Switch
To access the settings console using LAN port need a wired connection from Pc/Laptop.
GE1008F switch also can be configured using the console port with commands. In this post, we will use GUI web configuration to understand and make simple steps of loop detection settings.
Binatone/Richer link switch having 8* 10/100/1000 Ethernet port and 2 Fiber Port with console port for configuration.
The connect Switch to Power Adapter comes with the box.
Use Cat6 Cable to connect LAN Port (1-8) to Pc/Laptop LAN Port.
Protect Network and Wireless Devices from Lighting and Thundering
How to Connect Any Wi-Fi without Password from Mobile?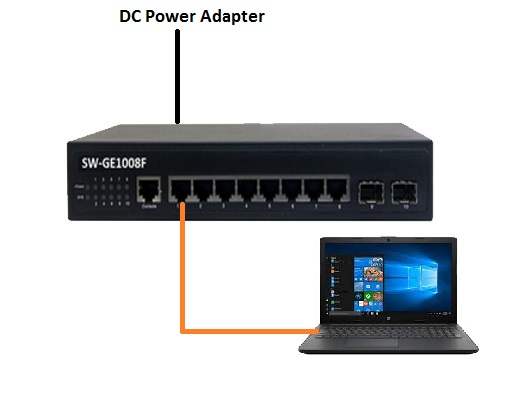 Login Binatone managed Switch First Time
To Login switch required default settings.
Binatone GE1008F Default IP – 192.168.10.1
Username- NA
Password- Blank
Laptop IP Settings- To access manage switch web interface from Laptop or PC required to configure the same series IP address.
Use 192.168.10.2 in PC Laptop to access 192.168.10.1.
Once LAN IP configured now proceed to access the switch settings page.
Open Web Browser and type default IP Address. http://192.168.10.1
Press submit button to the login Switch console.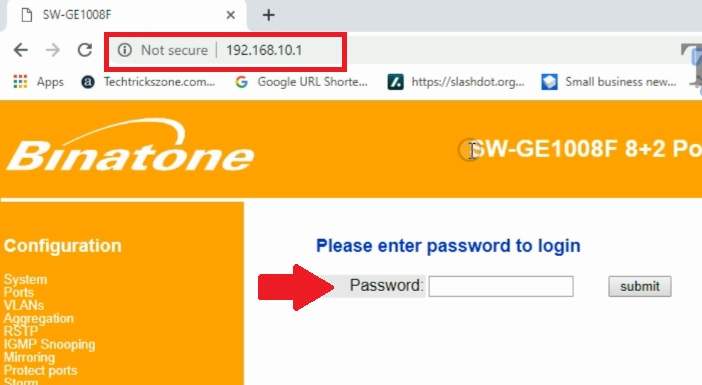 Before starting Loop detection configuration in switch Password and IP address configuration should be done.
As in factory settings, Binatone Fiber switch does not having a login password so to keep protect from unauthorized access password should be configured.
Go to System option.
1: IP address: Change the IP Address in this box if you are using more than 1 Manage switch to avoid IP conflict problem.
Note: Changing the IP Address must be accessed with new IP Address after reboot switch.
2: Name- Give the name of Switch to identify when access from the remote site.
Password- set the login password in this box and save settings.
In the system page, you can also find Model Number – SW-GE1008F_G1.002 and Mac Address details with Hardware Version.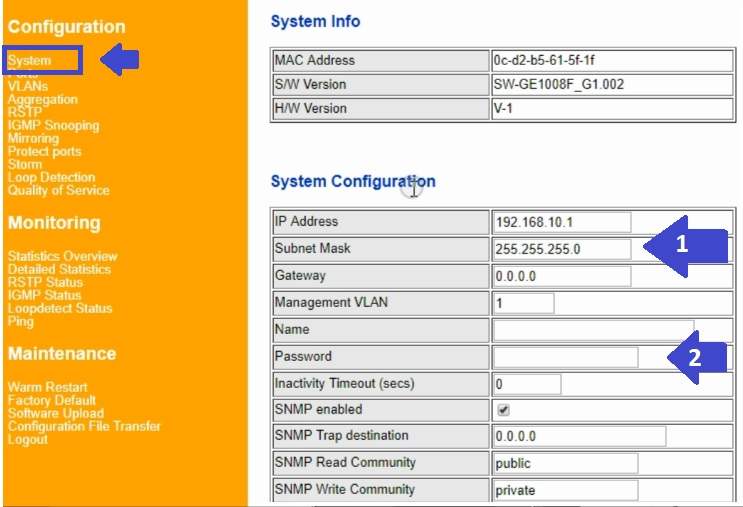 Setup Loop Detection in Manage Fiber Switch
Now the enable loop detection setting to avoid any type of loop in the networks. In case any loop issue will detect that port will be shut until loop issue not fix.
Go to Loop Detection Settings under Configuration.
Loop Detect Configuration: Check the box to enable loop detection and press the Apply button to save settings.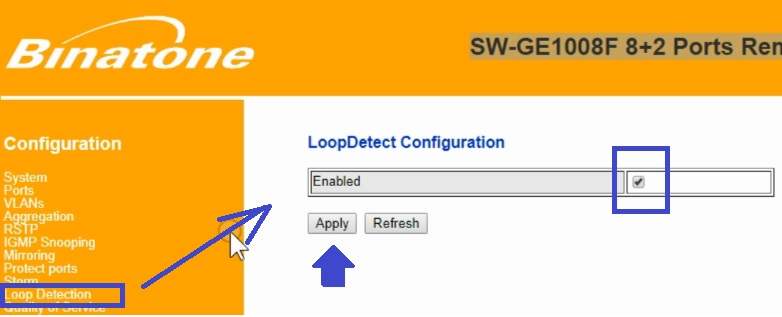 Once Loop detects enable now whenever any loop will detect in the network the switch led light will start blinking to notify the user. The particular port will be bloc until loop issue not resolve in the network to prevent network glitch due to looping.
Check Loop Detection Status
To confirm Loop setting enable in Manage switch follow the steps.
Go to Loop detect status under monitoring.
See all the port showing forwarding mode.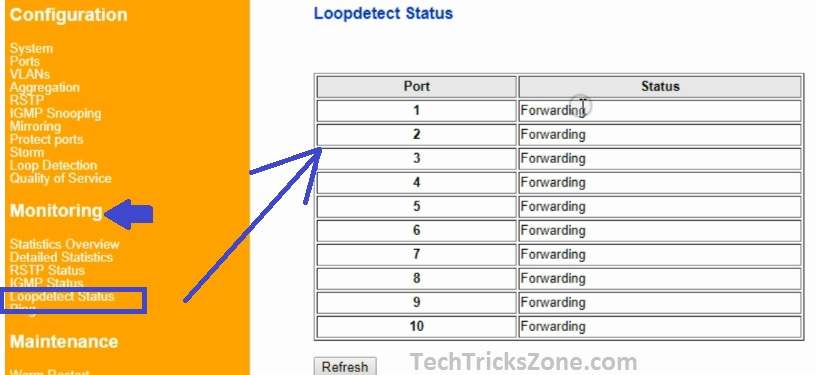 You can confirm enabling port loop detection.
Port Speed Setting in Binatone L2 Manage Fiber Switch
Port speed settings also important to get full speed in Lan as well as Fiber ports.
You can confirm all the port settings n Auto mode to avoid speed issue in fiber connectivity.
Go to Port option under Configuration.
Enable Jumbo Frame- Enabling jumbo frame will allow the switch to transfer single larger size files.
When the Switch port is UP you will get Status Green with connection speed.
The Down or not connected port will show Red color with Down status.
Make sure all the port Mode in Auto Speed to choose auto while connecting any device supported 10/100/1000 Mbps speed.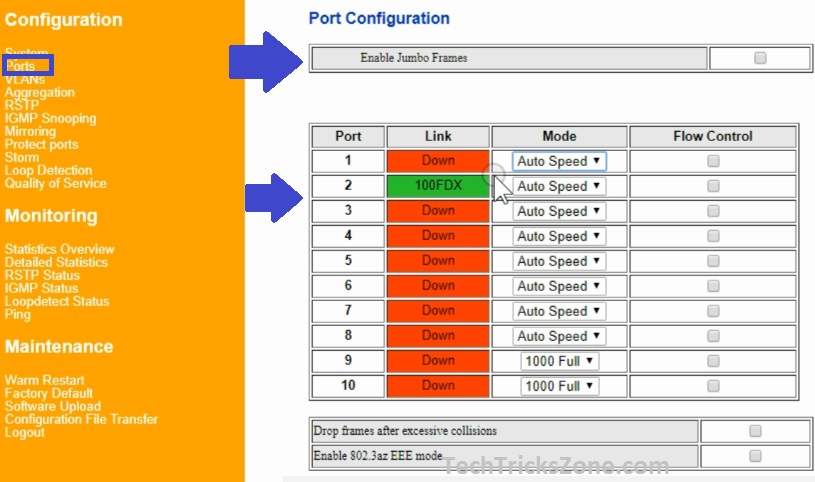 Final Word
This is the simple steps to enable loop detection in manage switch. Loop detection should be always used to prevent any loop related issue. Most of the leading brand provides loop settings in web smart and fully manage switch as well. Before installing in the running network make sure you have enabled the loop detection feature.
 Related Post