Monitoring and managing networks and applications with tools make your network smarter and problem-free. There are many free network performance monitoring tools available based on Windows, Linux, and Mac OS. Network Monitor software and server activity lets your network prevent its start problem. always make your network traffic smoother by using a free network traffic monitor which alerts you in case of any broadcasting and unexpected traffic coming in networks. enjoy the world-class best open source server and network monitoring software windows, Mac OSx, and Linux platforms.
10 Best Network Monitoring Tools & Software
If you are a network specialist or network administration in a small or large industry you must be required network management tools every time. This post going to use for you because here I am giving you the top 10 best network monitoring software for enterprise and small business. Free is always good and it is better when it worthless for us this the place where every network engineer will get free of cost detail about network tools and utility to make network management a game.
The network management system is a smarter way to keep your network, server, application problem-free. You are going to get the best free Discovery tool open source as well as server monitoring tools without using multiple software. Information Technology a huge industry cannot manage without using IT monitoring software in a simple way.
Top 10 Free Real-Time  Network Monitoring  Software 
Enjoy the List of Best free network monitoring tools and Software to run a smooth network and problem-free connectivity. The list of network monitor devices as well as Cloud base network monitoring tools a professional way to analyze Real-Time network monitoring.
1: Hyperic HQ
---
Hyperic HQ 4.0 is the network and system monitoring and management software for resources and devices on a network. The Hyperic application gives you auto-discovery of the network device with monitoring of the performance of your network devices, software, and computers. It gives your alert for down and up the status of any network equipment. You can also get a complete log report about your network resources' working performance and errors.
Hyperic HQ fully supported all platforms such as UNIX, Linux, Windows, Solaris, AIX, HPUX, VMware, and Amazon Web Services. Alongside it's also supported 75 common components like databases, application servers, middleware, web servers, network devices, and more.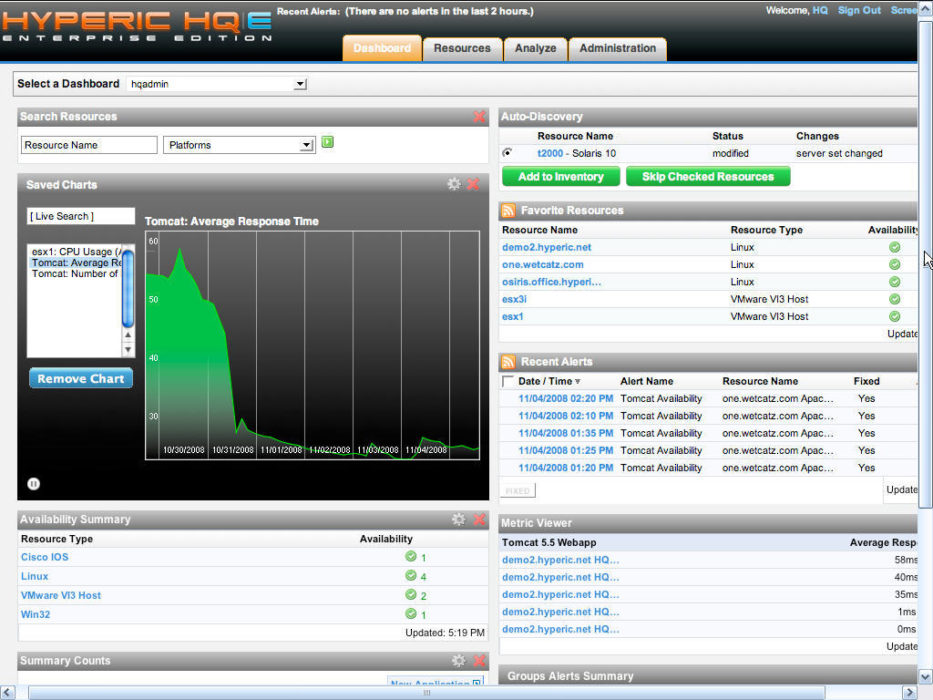 2: Nagios 
---
Nagios is an open-source SNMP monitoring software for Linux platform and analyzer tools for cross platforms. It never let your network down for longs time because Nagios gives you real-time monitoring and notification feature to wake up you whenever something wrong in the network. Network Monitoring service and managing any network resource is very easy with the help of Nagios. This is software that provides you information about server uptime monitor, bandwidth monitoring, and network logs in a centralized point.
As we told your Nagios 100% open source and free network tools to gives you the power to manage your large network servers, Database, Computers, and many more without any costly job work. after adding Nagios as your network monitor tools you will get real-time monitoring as well as you can track total downtime of any network resource monitored and managed by Nagios. See and download an interactive graphical time report for your network performance with Nagios. We recommended Nagios one of the best free network monitoring and management tools for your network.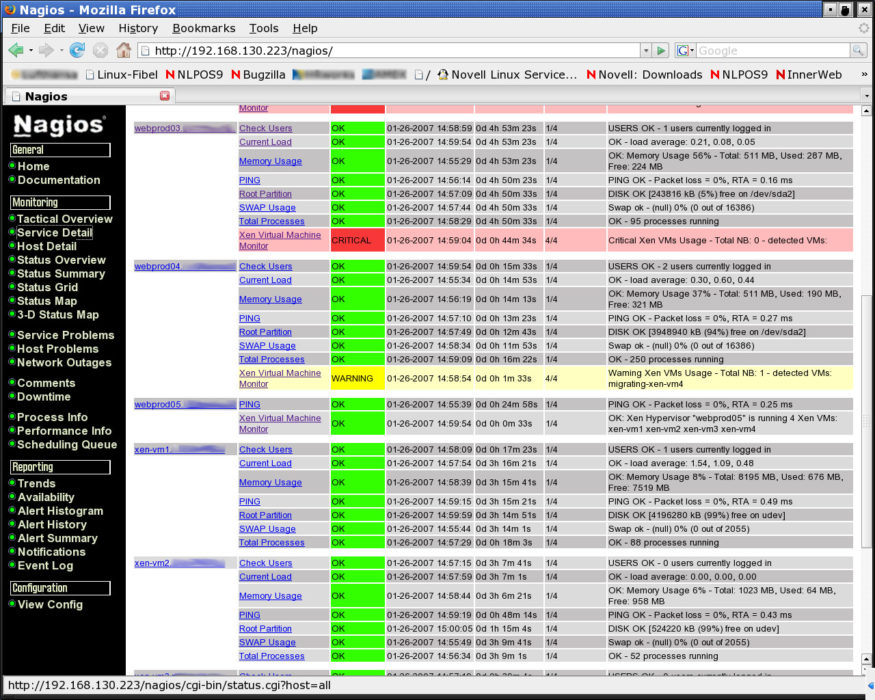 Read More:
3: ZABBIX 1.8
---
Zabbix is an enterprise open source monitoring software for monitoring networks device, software, servers, and other network equipment from a single point. It's one of the best Nagios alternate networks monitoring tools for your small and large networks. It is the most popular open-source network monitor tool trusted by leasing telecom brands.
Its provide you systematic manages web GUI interface to make network management easier. It will take care of your networks, Servers, Application and database resources with a real-time notification whenever any equipment goes down. Zabbix network tool only available for Linux platforms.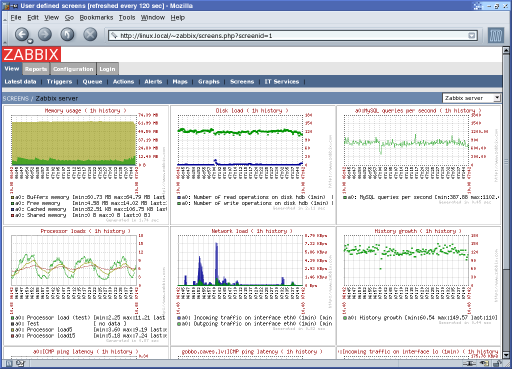 4: SolarWinds – Orion Network Performance Monitor 10.1
SolarWinds one of the most popular and leading Network Monitoring software to manage and perform your network resources. If we look for SolarWinds feature side than you will get a network tool with multi-vendor support, intelligent alert and performance analysis dashboard to understand any network easily. It's fully supported automated monitoring and management of Cisco ASA infrastructure.
You can get a 30day free trial of SolarWinds Network Performance Monitor for your network to ensure capability and specialty about tools.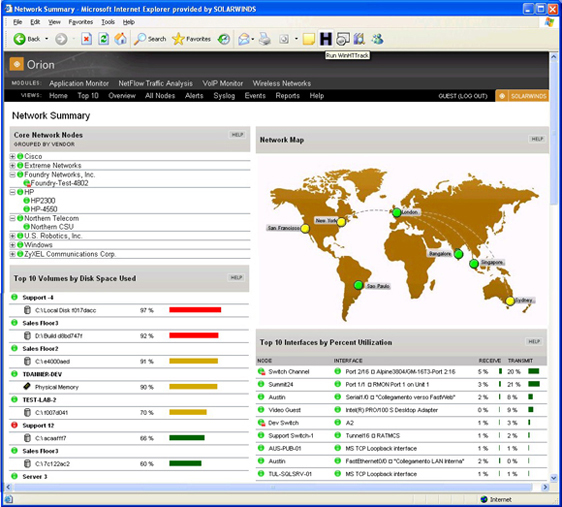 Download SolarWinds Full version Free Now
5: WhatsUp Gold
WhatsUp Gold is an excellent software for server, network, and application monitoring tools. If you are new in network administration and looking for an easily understandable Network Monitoring for your server, switch, Router, and VMs so WhatsUp Gold will be fit your requirement. Its truly easy and understandable graphical interface software for managing your large and small types of network. It is a network admin tool that gives fast and quick notification alerts feature saves time to resolve the issue before the client complains you. With WhatsUp Gold make your Network faster and avoid downtime for any network equipment. Whatsup gold having SNMP-based network discovery tools to fetch network auto.
Its True WhatsaUP Gold best network manager but not free of cost although you can get a 30days free trial version with full feature functions to give confident before investing your money.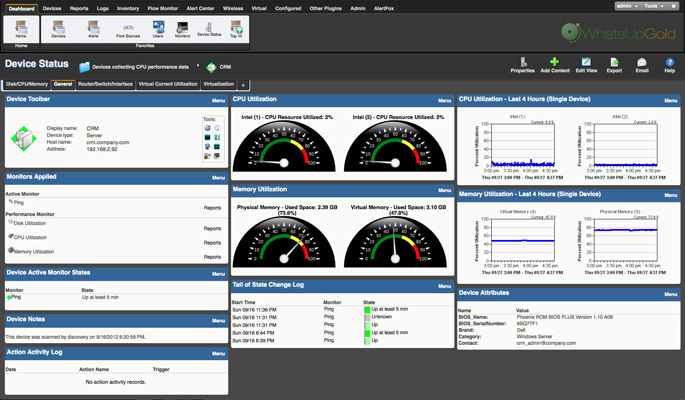 6: ManageEngine OpManager
---
One of the best free Linux network monitoring software for Monitoring any Network devices. The ManageEngine OpManager is the complete pack of network resource and application monitor, bandwidth analysis configuration management, firewall log management, fault management and lots of features windows and Linux. You can use ManageEngine OpManager 30-Day Free Trial from the official site of manage Engine OpManager.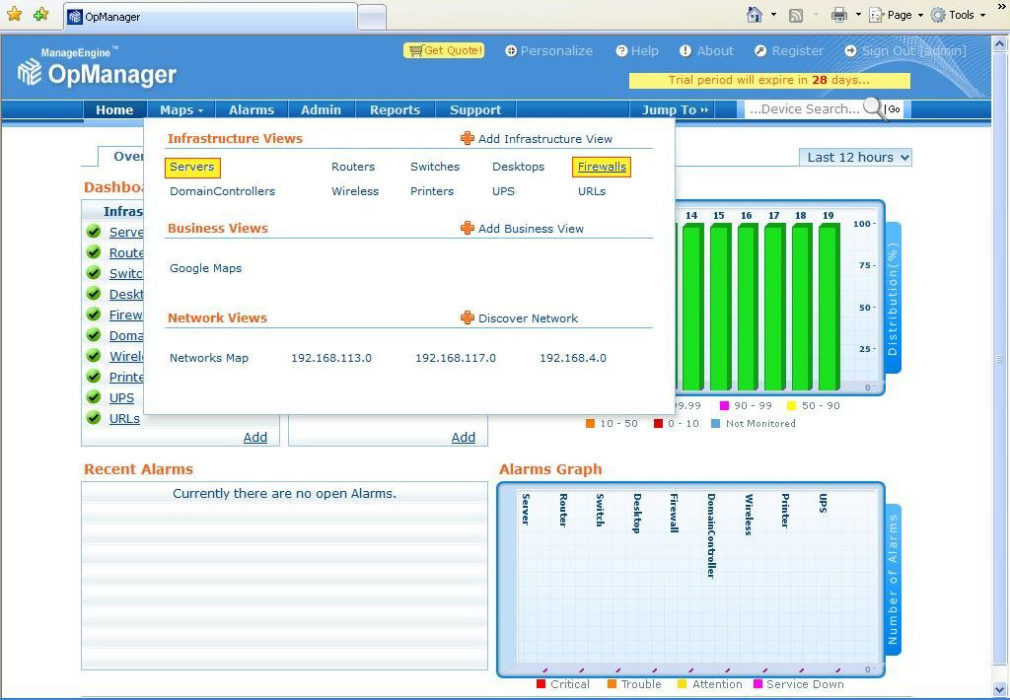 Download ManageEngine OpManager  Free Now
7: Sciencelogic EM – 7
---
Sciencelogic EM – 7 also the best and interesting network monitoring solution for enterprise-level networks. Sciencelogic EM is One Platform to Monitor Everything—Network, Storage, Compute, Applications,  IoT No Matter Where It Exists—On-Premises, Hosted, Cloud. Remove the difficulty of managing complex, distributed IT services through a single, unified monitoring platform.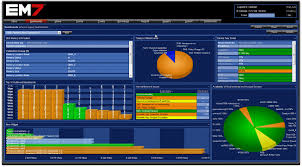 Download Sciencelogic EM – 7  Free Now
8: GFI Network Server Monitor
GFI network server monitor tool will provide a real-time security alert for your network resources like routers, server, application, and virtual server. Get a free trial version from the GFI official website.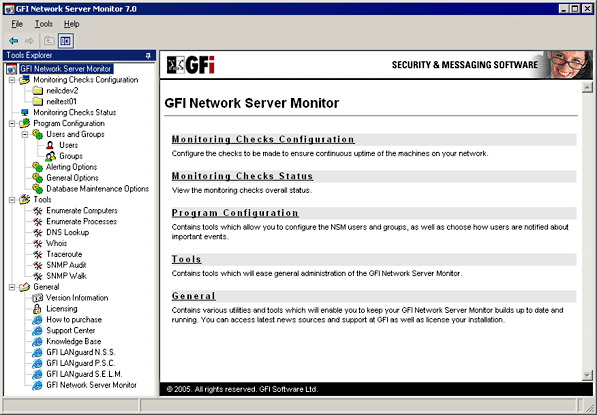 9: OpenNMS
---
OpenNMS is a free and open-source enterprise-grade network monitoring and network management platform. It is developed and supported by a community of users and developers as well as by the  OpenNMS Group, offering commercial services, training, and support. It supports discover layer two networks as well as built-in reporting for your network devices. OpenNMS will provide a secure and managed network diagram with a graphical log report to track your network activity from time to time remotely and locally. Get OpenNMS for Linux and Windows platforms from the official OpenNMS website. You can monitoring any device which supports SNMP feature with the OpenNMS SNMP network monitoring service.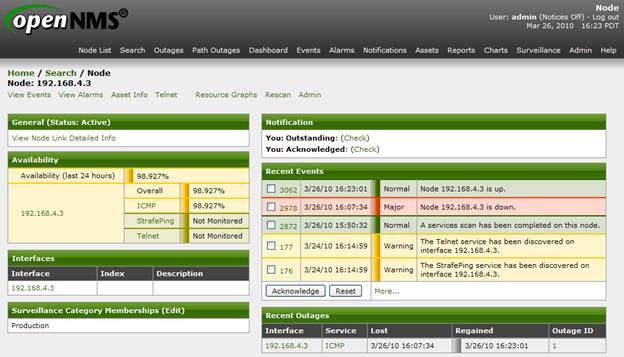 10: Spiceworks | Spiceworks Help Desk 
Spice network is a popular network monitoring tool with lots of smart features to manage your network device, server, and application. Spiceworkprovidese you real-time network resource monitoring and notification alert, while occurring any error in your network. The fast and reliable alert will keep always your network running without any downtime and complaining by your clients. It is the best cloud-based Windows network monitor to gives you the power of remote network monitoring from any locations.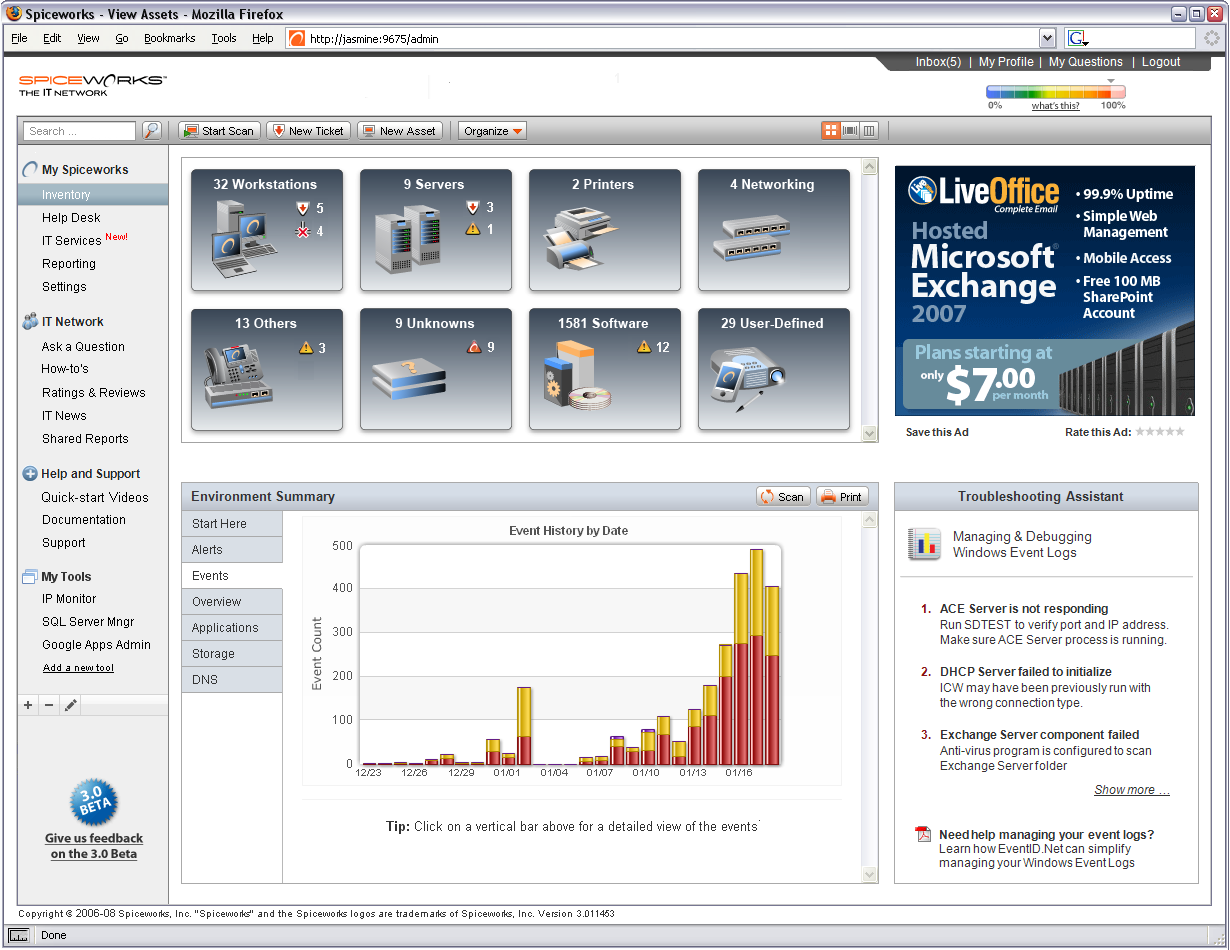 Conclusion:
windows-based network monitoring software demand is high than Linux-based but Linux-based network management tools always safe and secured. Windows-based network management software has to pay the cost but Linux based always free and reliable. just try the list of best system and network performance monitoring tools and choose the best one for you.
Related Post