Using the hotspot login authentication gateway not only protect the un-authorize access of WiFi network but also useful to gather the record of visitor and details pieces of information. Nowadays you can also use the social login for the hotspot login page to promote your business and product to get more likes on Facebook, Twitter, and other social networks. see the best user guide for Mikrotik Hotspot Configuration with Router OS.
Mikrotik Hotspot Configuration and Setup
Mikrotik one of the most popular and cost-effective solutions for wired and wireless networking. The popularity of Mikrotik wireless product is an award-winning router OS behind it. The operating system is the soul of any hardware and its decides how the product will perform. There is some most popular products are Mikrotik Sxt lite, Basebox, CCR (cloud core router). Mikrotik Hotspot solution is one of the best captive portal authentication hotspot portal for all type of industry. In this post, I am going to describe an easy Mikrotik Hotspot Set up and Configuration with Router OS from Winbox in windows PC.
If you are looking hotspot solution for a small Internet service provider, hospitality, café shop, outdoor area, college campus and many other areas then the Mikrotik CCR series is the best.  Mikrotik hotspot configuration is easily supported with GUI and command line both. The open forum gives 24/7 technical support to make Mikrotik more demanding. Enjoy the best hotspot router configuration for hotels in any area.
Mikrotik Hotspot Setup Using Winbox 
Doing any configuration with steps will make easy to troubleshoot any issue that comes in the configuration? I always try to give you a configuration manual which is managed and under stable by everyone.
 Microtik CCR Configuration Manual Content
Login Mikrotik Router with Winbox

WAN configuration with internet IP

LAN configuration for Local network

DHCP server configuration

Hotspot Setup and configuration

Enabling Multi-session user in Mikrotik hotspot user profile
1:- Mikoritk CCR Login with Winbox
If you are reading this post the first time and know about Mikrotik the first time then you must think what is Winbox? Winbox is software that gives you access to router OS installed in Mikrotik hardware.
Now connect your Mikrotik CCR Lan Port Laptop/Desktop LAN port and open Winbox.
1 – Click on neighbors and refresh to detect your CCR router and select your Mikrotik on the list.
2- Default Mikrotik no password set ( use if you have set the password)
3- click connect button

You can log in through IP also Mikrotik Default IP is 192.168.88.1
After the connecting the button, you will enter in Mikrotik router board settings.
2:- Mikrotik Hotspot WAN configuration with internet IP
After login first step is the configuration of Mikrotik WAN port for internet connection coming from your service providers. So ready your internet IP and see the WAN configuration with Winbox.
Go to left Side menu IP—Addresses
Click + plus button to add WAN IP ( if already IP added to WAN you can also edit and change it)
Add your internet IP address provided by your ISP
3- Choose the Ethernet 1 for WAN connection.
4 – Click Apply and Ok to save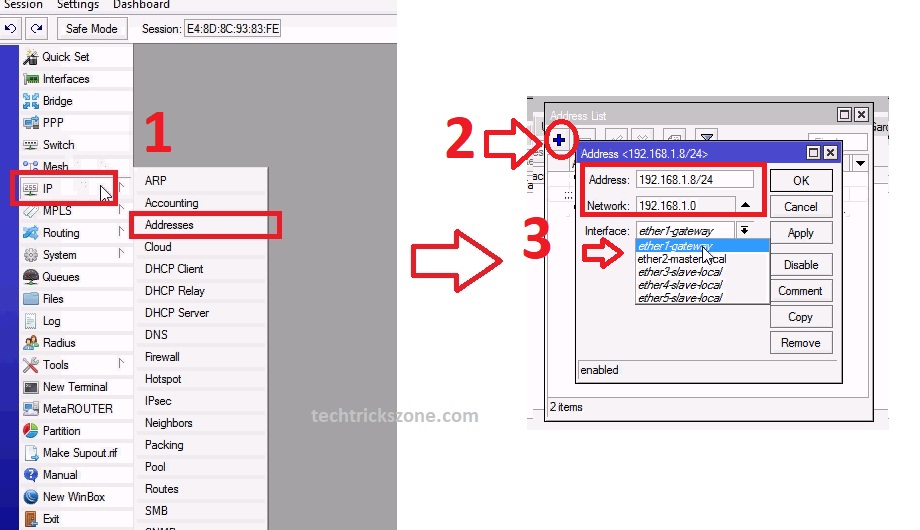 Mikrotik CCR default Gateway configuration with terminal
After WAN configuration Gateway must be added to work internet. In the Mikrotik router, you didn't get the Gateway option with IP address so you have to add in another option.
You can add Gateway from the Options menu as well as the command line.
See the how-to add Gateway IP in Mikrotik with the terminal.
Open New terminal from the menu list.
Ant type the commands.
Mikrotik Gateway Add command =
[admin@Mikrotik]> ip router add gateway=192.168.1.1 (use your internet gateway here)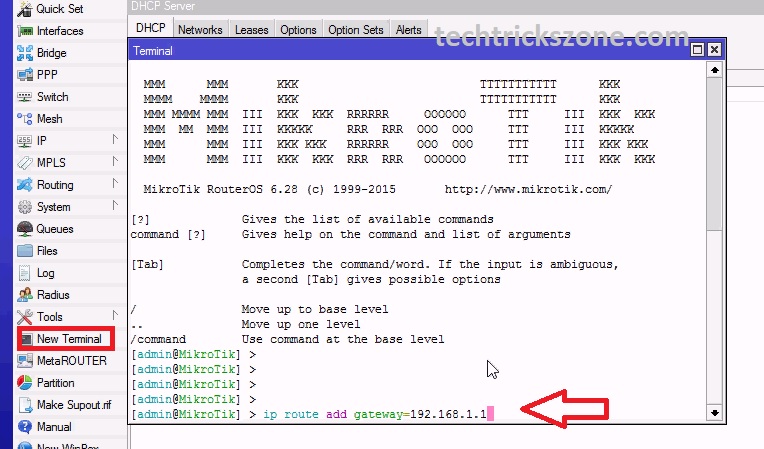 3:- Mikrotik Hotspot LAN configuration for Private IP
Although LAN IP preconfigured with Mikrotik default IP series. But if you wish to change the default series IP to any other than follow the steps to change the Mikrotik router OS LAN configuration.
Go to Same IP- Address
Click on + plus button to add or edit to change edit default IP
Address – use the LAN IP here and click the Apply button
Interface: – choose ether2-master-local (this port will use to distribute the internet locally.
Apply and OK button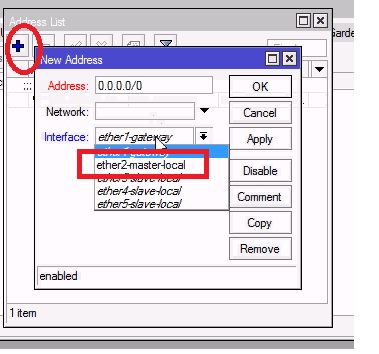 4:- Mikrotik Router board DHCP server configuration
In Mikrotik by the default DHCP server is enabled but you can change and add new IP series of your choice to create DHCP server.
IP –DHCP server
Network- Press + Plus button to add a network which wants to create a DHCP server.
Add the IP address start of DHCP server and choose gateway.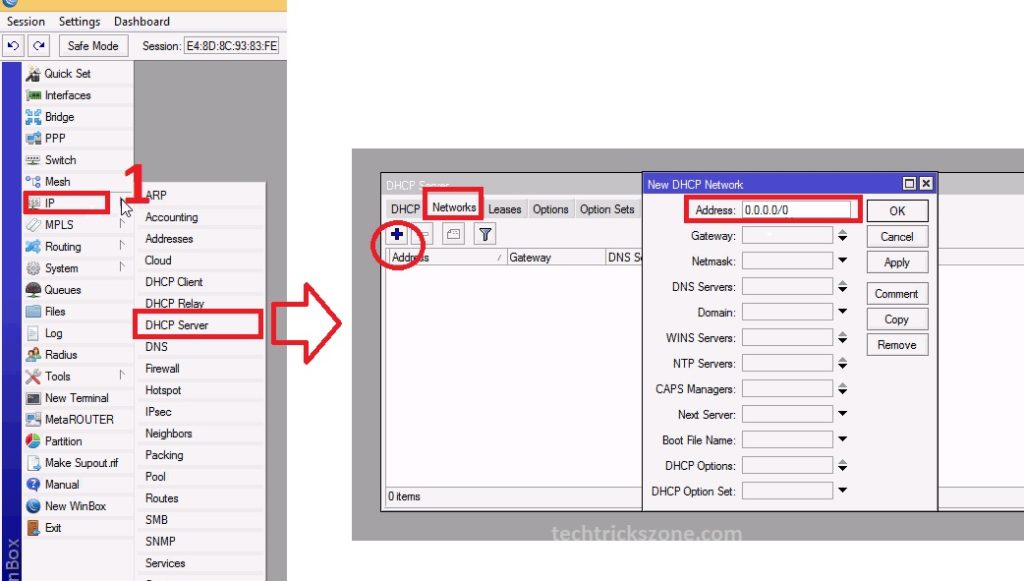 Click Apply ok button to save settings
5:- Mikrotik WiFi Hotspot Setup and configuration
Finally, after all, initial configuration, we are on the steps where we can setup MikroTik hotspot router configuration.
To Mikrotik, hotspot configuration see the steps.
IP
Hotspot
Hotspot Setup
Choose the Ether 2 master ( you can also change the port as per your wish if you want to run hotspot in any other port)

Click the Next button to further configuration
In this step, your local LAN IP will be chosen click the next button.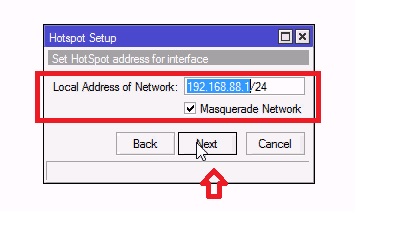 Choose the IP start and End IP pool used by Hotspot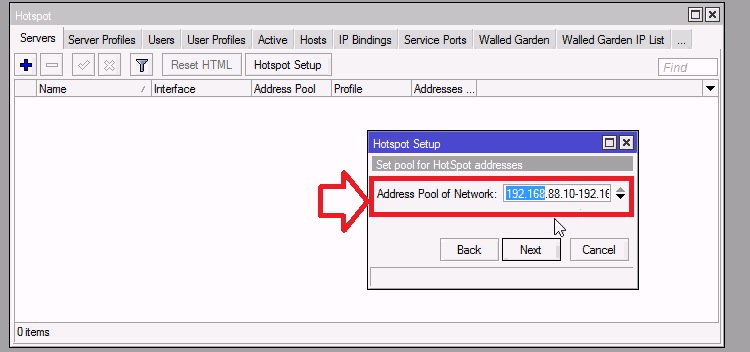 Click Next button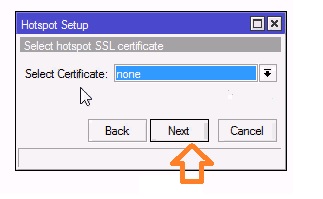 IP Address of SMTP server- is you are using any SMTP server you can configure here else click next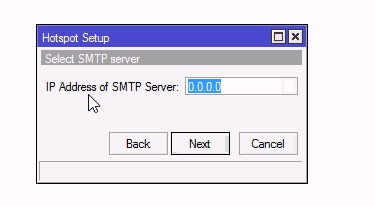 Add DNS server given by your ISP or you can use Global DNS – 8.8.8.8, 4.2.2.2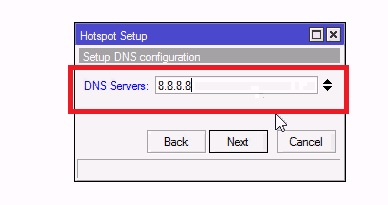 Now Add the user for hotspot login.
Name of local HotSpot user- use username here
Password for the User- type password for the user.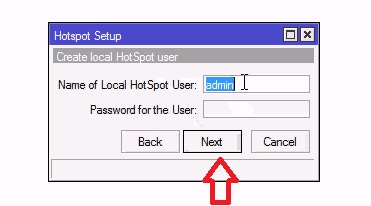 Click next and finish the setup in next steps.
Now if you will try to browse the internet you will get Mikrotik Hotspot page.
Type Google.com or any site, you should get Mikrotik login page as given below for authentication process.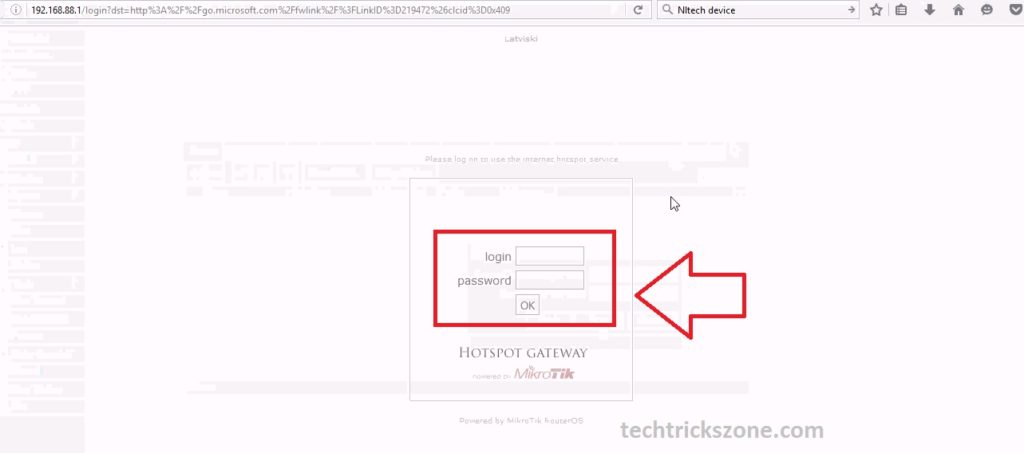 6:- Enabling Multi-session user in Mikrotik hotspot user profile
This is the common issue when you login one use and want to use the same user multi time. You may get an error "no more session allowed"
The solution of this error is enabling multisession in user settings which allow you to login multi PC same time.
See how to enable multisession in Mikrotik hotspot users now.
Go to Hotspot option
Click the user profile.
Give the name of profile Like AC with 3 user session
Shared user – add the number of sessions you want to use with a single hotspot user.
You can create a multi-profile with different session limits.
Click Apply Ok to save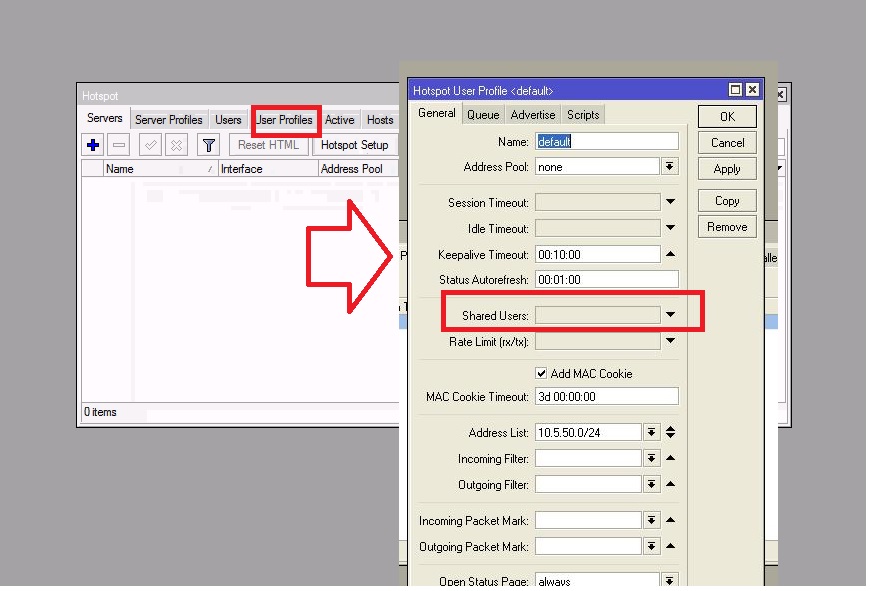 Now Go to Add user
Create the new user and select the profile you have created for multisession
Choose your choice profile and click apply ok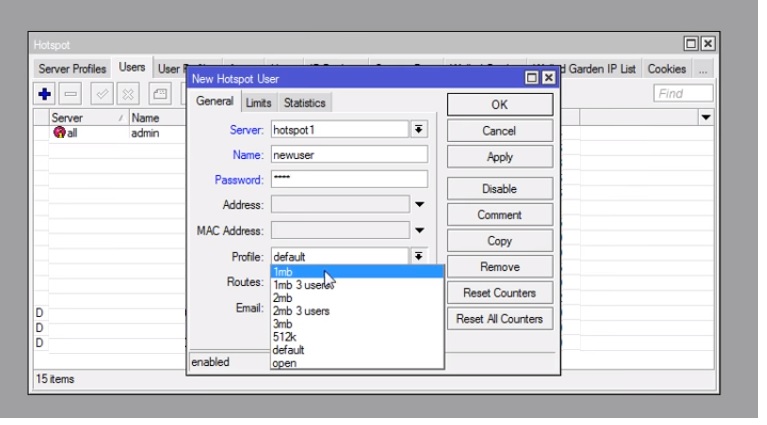 Hope you enjoy the Basic Configuration Manual for Mikrotik CCR hotspot configuration step by step. If you face any problem to create Mikrotik, the hotspot in any router board than comments with an error we will give you solution asap.
Related Post
Mikrotik Hotspot Gateway Configuration with Router OS Tutorials Step to step | Video