Using default configuration or wrong configuration is the reason for low internet as well as wifi speed in the high-speed router. to avoid performance issues in your nighthawk 4G hotspot router see the quick user manual for Nighthawk 4G Hotspot WiFi Router Configuration to make faster internet speed and stable performance.
Nighthawk 4G Hotspot WiFi Router Configuration and Setup
Netgear Nighthawk LTE Mobile Hotspot Router is a SIM-based 4G hotspot router with Dual-band 2.4GHz and 5 GHz wireless. Nighthawk MR1100 is a portable hotspot router with 1 Ethernet and 1 USB port. Nighthawk is the best portable Wi-Fi router for gaming purposes to a faster experience. The best thing having Dual TS-9 external 3G/4G antennas connectors to increase the 4G signal connectivity to get faster 4G/3G internet speed. In this post, you will get Nighthawk 4G Hotspot WiFi Router Configuration and Setup quick user manual for the first time. If you are looking to buy a portable hotspot router for under $200 then Nighthawk can be the best 4G hotspot router option for you. Before going to start I would lie to the brief description about the specification of att nighthawk LTE mobile hotspot router. Facing a weak WiFi signal problem in 4G hotspot router.
Nighthawk LTE 4G Mobile Hotspot Router Specifications
Nighthawk 4G hotspot router is the best for personal use for traveling purposes. There are many additional features that make it worthy of investing money for 4G hotspot router which usually other 4G hotspots router don't. Nighthawk mobile 4G hotspot router divides into two-part. 1- Hardware and 2 Software
Nighthawk Mobile Hotspot Router Hardware Feature.
If we look physical to nighthawk 4G router then we get some awesome options with it.
Nighthawk 4G router having Qualcomm MDM9x50
Nighthawk hotspot router having a front 2.4" LCD panel to get information about settings on the screen.
1 Physical Ethernet port to connect wired Desktop or Laptop for internet connections.
Two USB port USB C-type for Pen drive and PC connection and USB A for charging type to using as NAS servers.
Two TS9 connectors to connect the 4G/3G antenna to improve the signal strength of 4G.
Inbuilt internal 2.4G and 5.8G Wi-Fi antenna.
Support 1 SIM and 1 Micro SD card below the battery.
1 Reset button available for hard reset 4G router.
5040 mAh battery gives all day's mobile connectivity.
Nighthawk Mobile Hotspot Router Software Feature.
 Nighthawk hotspot router fully supports an interesting and important feature software side.
Configuration support Web browser and Mobile apps.
Supports 4G LTE Advanced Category 16 with 4X4 MIMO, 4-band Carrier Aggregation and LAA
Having Dual Band 2.4G and 5.8G WiFi with supporting multiple SSID.
Download speeds up to 1 Gbps and 150 Mbps upload
Support Access Point mode
Parental control setting available for internet controls
Factory reset support on administrator page along with configuration backup and restore
Nighthawk 4G hotspot router firmware upgrade option
---
---
Nighthawk LTE Mobile Hotspot Router Set-up First time
 Nighthawk MR1100 Hotspot router comes with different parts so required to assembled first to use it. I have divided the router into different assembling parts to make it easily understandable.
SIM and MicroSD card installation
Battery installation
1: Nighthawk LTE Mobile Hotspot Router SIM and Memory card installation.
TO insert SIM card and MicroSD card in Nighthawk 4G router open the box and take the router in your hand and follow the steps below. Nighthawk 4G Hotspot WiFi Router Configuration only can be done after assembling and inserting SIM card to make it work.
Step1:  Turn Nighthawk Router Backside and remove the back cover.
 
Step2: Remove the batter if you already insert or the first-time batter comes in different packs.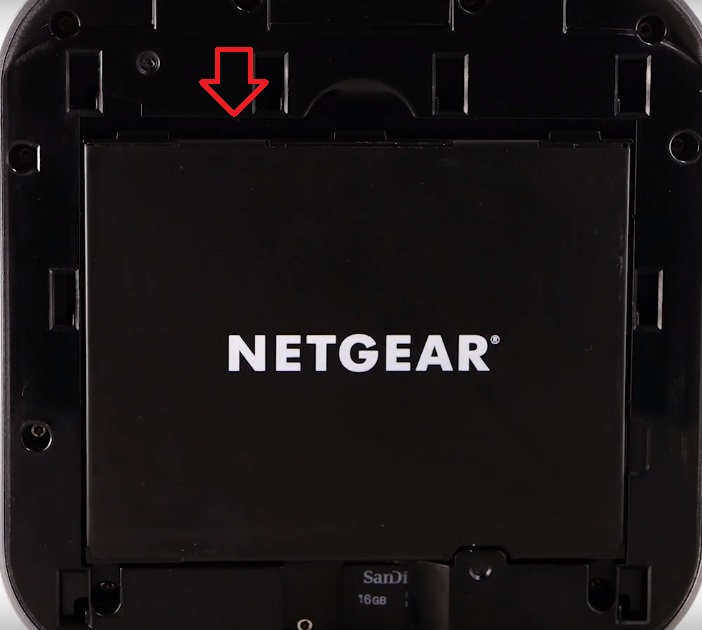 Step3: Insert the SIM  and Memory card as follow below steps
If you on Nighthawk hotspot router without sim you will screen like this in showing below image.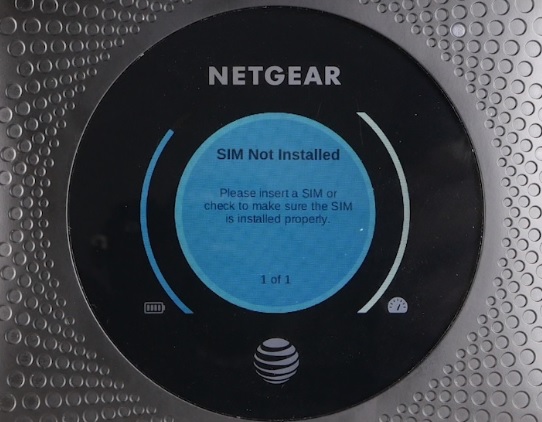 1: use the SIM card in this option
2: Insert MicroSD card in this space using the direction showing on the router.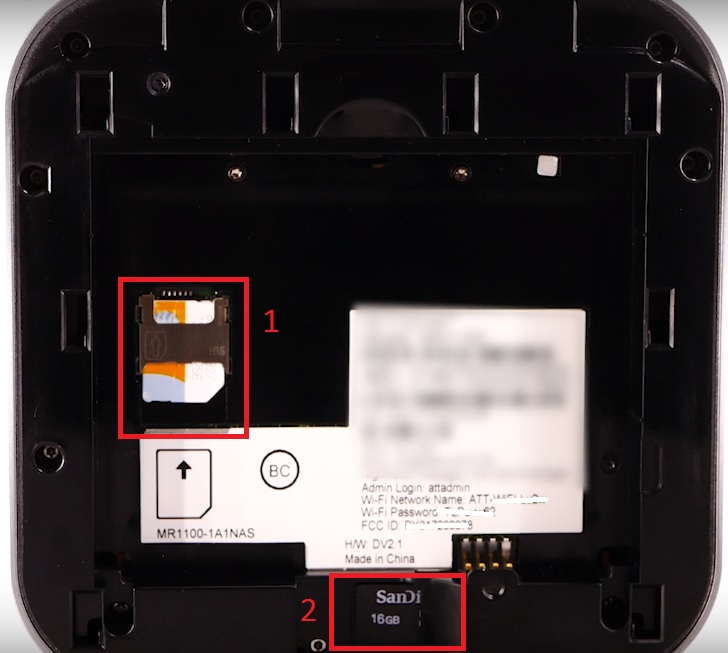 2: Battery installation on Nighthawk 4G hotspot Router
 Once you have to insert SIM card properly now take the battery on hand and put it properly toward the match router battery point with battery connectors. Now your Nighthawk 4G hotspot portable Wi-Fi router ready for configuration. 
---
---
Nighthawk LTE Mobile Hotspot Router Configuration from Mobile
 After complete assembling of Netgear Nighthawk LTE 4G hotspot router now starts configuration using mobile apps.
1: Download Android Apps from Play Store and iOS app from App store free to the configuration of Nighthawk hotspot 4G router.
Download NETGEAR Mobile Nighthawk Android Apps Here
Download Netgear Mobile iOS Apps Here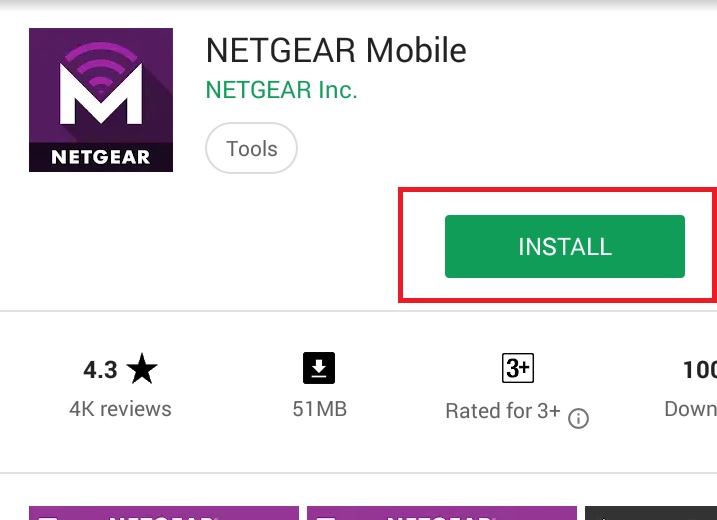 After download installs the apps on your mobile.
Power on Nighthawk LTE 4G Hotspot router
To power on the Netgear M1100, hotspot router see the power button on top. Press the power button to turn on the Nighthawk LTE router.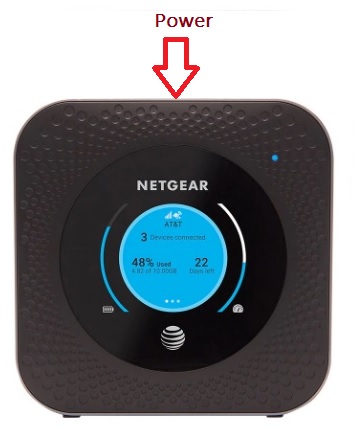 Nighthawk LTE 4G Hotspot router Default Wireless Settings
 To check default Wi-Fi name and password of nighthawk router see the hotspot router screen flashing information as shown below image.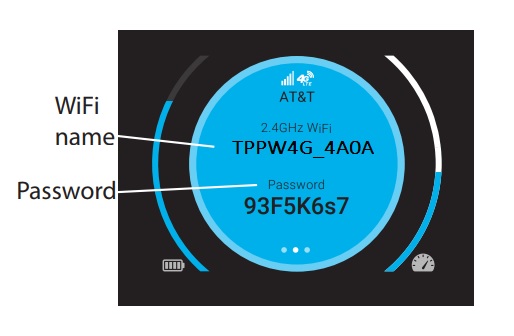 You will get the Default WiFi name and WiFi password in Nighthawk hotspot router from the screen to connect the first time.
Open Netgear Mobile on your smartphone to configure Netgear Nighthawk 4G hotspot router.
Click the Change WiFi Settings option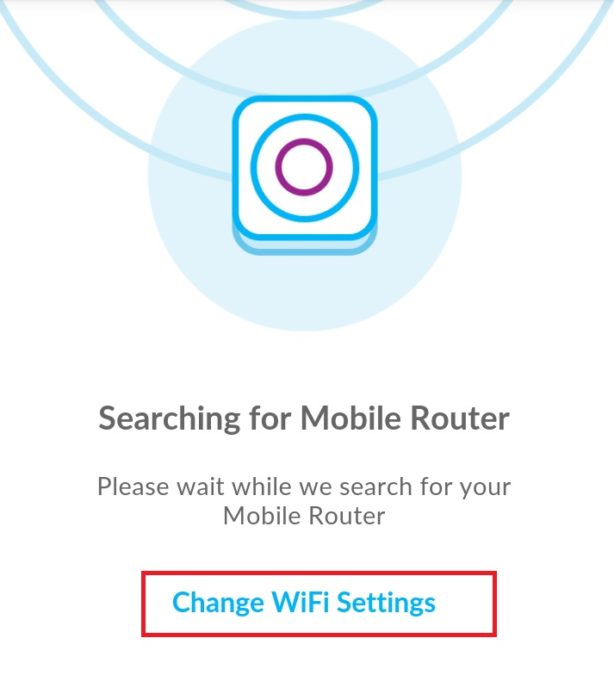 Connect the Default Nighthawk 4G router Wi-Fi name showing in your 4G router Screen "TPPW4G_4A0A" showing in your mobile WiFi.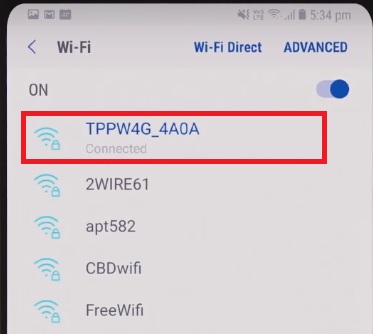 Use the Default WiFi password showing on the Nighthawk screen to connect your LTE 4G hotspot router.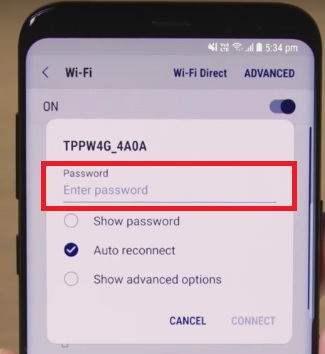 Once your mobile connected to LTE 4G hotspot WiFi you will get the option to change the default login password recommended the first time.
Username – admin (cannot change)
Password– use the new password and confirm the password.
Press the Next button to go next configuration steps.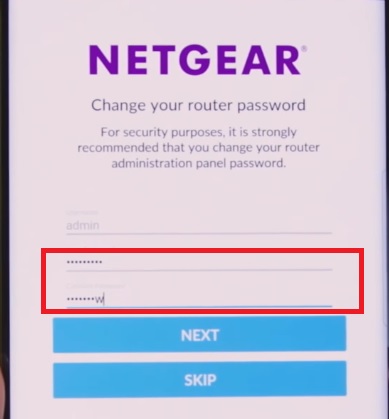 Nighthawk LTE 4G Hotspot router Wireless Configurations
 As Nighthawk hotspot router support dual band wifi so we have to configure 2.4Ghz and 5Ghz wifi name and password one by one.
After click next on the password change option you will get the first 2.4GHz wireless configuration option.
Customize your network name and WiFi password.
 1: Type the new WiFi name for your Nighthawk 4G router
2: Type the password for the 2.4GHz Wi-Fi name.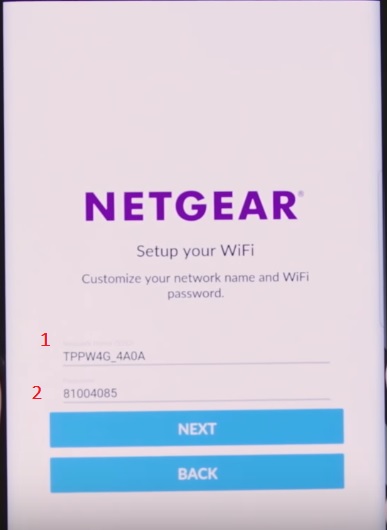 Click the Next button to repeat the Wireless configuration for 5.8GHz WiFi name and password configurations.
Once you have configured the 2.4G and 5G WiFi name and password you have to connect mobile with new wifi name and password.
Nighthawk LTE 4G Hotspot router Factory Reset
 This is the important steps for maintenance purpose or need when you forgot your WiFi name or access details. Nighthawk LTE 4G hotspot router reset to default is easy and can be done with a hard reset as well as a soft reset.
1: Nighthawk 4G router Hard Reset
To making your nighthawk mobile router default settings you need to remove the backside cover first.
Remove back cover
Take the needle and press the reset button in a small hole for 3-4 seconds as sowing in the below image.
After a few seconds your router will sound and reboot with factory default settings.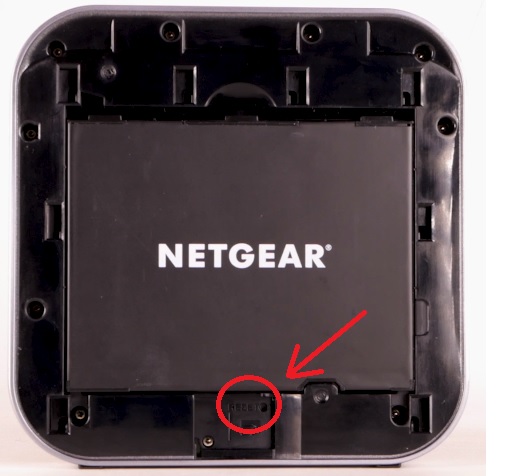 2: Nighthawk 4G router Soft Reset
To make the factory reset using web interface Nighthawk router required to login using the IP address.
1: Connect the Wired or Wireless from PC/Desktop
2: Enter http://attwifimanager or  192.168.1.1.
A login page displays.
3: Enter the administrator login password.
 Select 1–SETTINGS > 2 : Administration > 3:Factory Reset.
4: Click "Reset Default".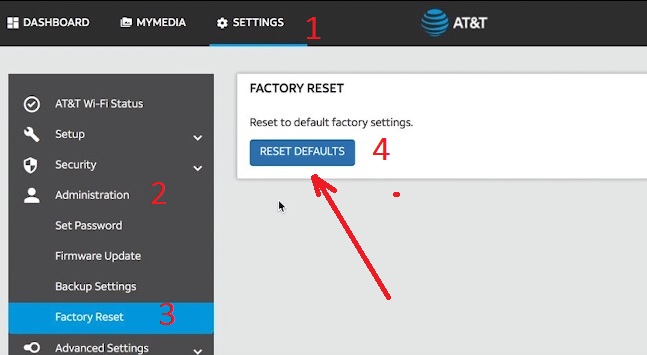 .
When prompted, click the Yes button to confirm.
After rebooting the device will take a few seconds to restore in factory settings. Now access again with factory settings.
Enjoy the 4G internet speed as well as a faster gaming experience with Nighthawk 4G hotspot router on the way. Hope after following this Nighthawk 4G Hotspot WiFi Router Configuration and setup steps you get better performance as well as internet speed.
Related Post: