Improve productivity and output of your employees using some Best Free Employee Monitoring Software Solution and track the internet and offline work activity during working hours.
The 9 Best Free Employee Monitoring Software Solution
The most difficult task is monitoring employee's email and other work activities will increase productivity by utilizing full working time. Technology made it a bit simple to keep tracking employee activity and improve productivity. You can even keep monitor employee behavior using the best employee monitoring solution to control your employee activities over the internet. It is not possible to every time stay in the office and tracks employee activity but still, you can use the smarter way to keep monitoring your employees using some best open source employee computer monitoring software  For Enterprises as well as SME. If you are a blogger you may also improve your traffic to get more visitors to grow your revenue.
It doesn't matter you are an owner of a small or bigger company, to take the full output from an employee, important to keep monitoring working activities. After reading this post you will get the solution to increasing employee productivity rapidly using the monitoring of staff productivity. Also, read free tools to manage your business and increase sales.
This post can make your small company turn into enterprise-level if you succeed to get 100% output from your employee but physically it's hard to track every time. It is only possible to employ internet monitoring software from any location of your employees and improves the output faster. If you are running a software development or website design company then this employee time tracking and monitoring solution will help you.
The best Free Employee Monitoring Software Solution for Business
Employee monitoring and internet activities tracking tools available free as well as paid. At startup, you can use some open source employee monitoring software to track and monitor your employee activities and gain the monthly target increasing every month. enjoy the Best Free Employee Monitoring Software Solution list below to analyze employees' work activity on working hours. Turn your lead into sales using fully optimization tools for business.
1- Kiсkidler
2- HubStaff
3-ActivTrak
4- ScreenshotMonitor
5-Desk Time
6-Veriato 360 Monitoring
7-VeriClock
8-Teramind
9-InterGuard PC Monitoring
---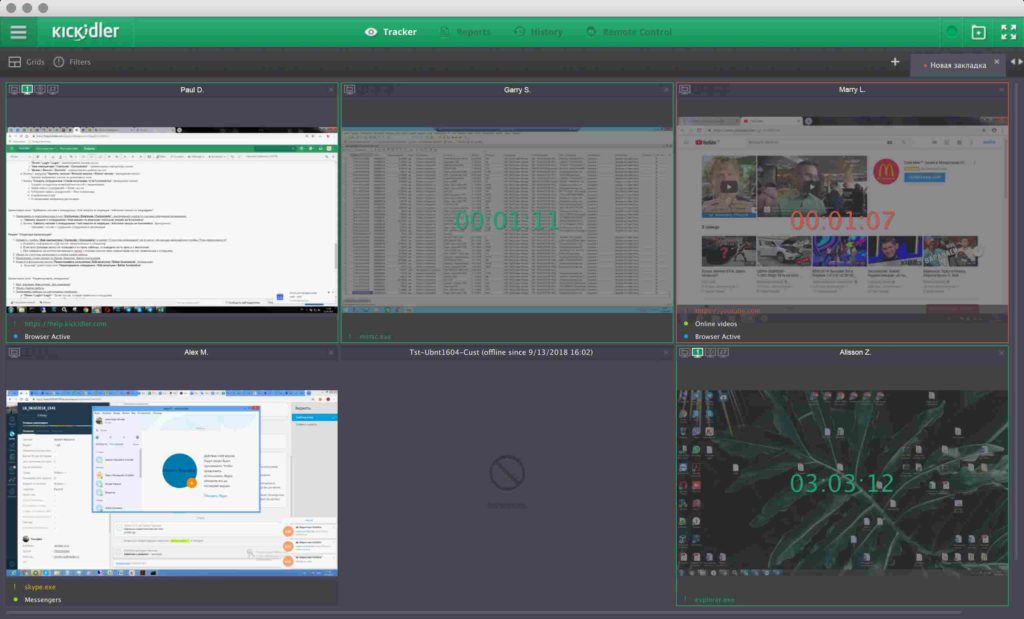 Kiсkidler is the best multipurpose solution for the automation of the function of the control of employees.
The main advantages of the program are online-monitoring of an unlimited number of screens of employees, video recording of all actions of employees on the personal computer with an option to see the history of their interactions with a certain website or application and numerous reports on working hours and analysis of the efficiency of employees.
Besides, Kickidler has the function of controlling illegal acts of employees, keylogger, and remote access of the personal computer.
The freemium version of the program allows us to monitor up to 6 employees indefinitely with limited functionality.
The Kickidler software is being constantly updated, and it is acquiring new features.
Pros:
– Online monitoring of an unlimited number of personal computers
– Video recording and viewing of the history of activity of employees
– Reports on working hours
– Reports on the efficiency of employees
– Control of violations
– Remote management of the personal computer
– Supports Windows, Mac, and Linux
Cons:
– There is no on-cloud version of the software
Register Free Now: kickidler
2: HubStaff Employee monitoring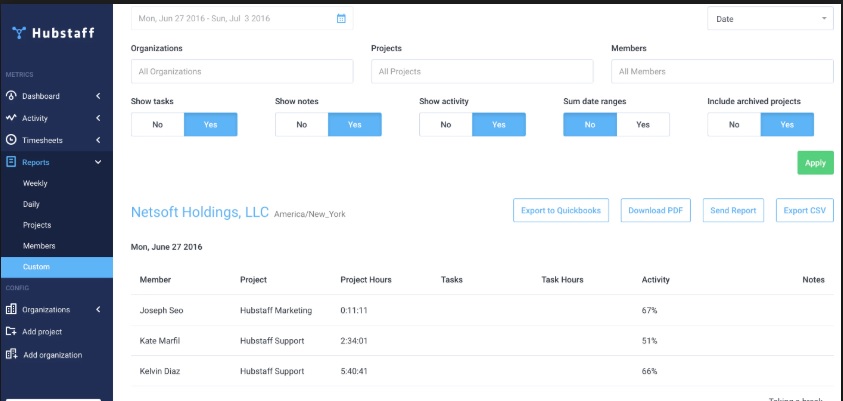 Hubstaff is the best option to track your employee work activities with multiple features such as screenshot, keyboard, and mouse usage with timesheets and reports. The best thing is its Run on Windows, Mac, Linux, and Chromebook as well as Android, iOS Apps for GPS location tracking. The Hubstaff trusted by many well-known brands to track their employee's work and create the report with an auto screenshot feature.
Pros:
Track keyboard, mouse, and work screenshots.
Available free version with limited features.
A per-user license is available for the startup.
Mobile GPS Tracking Apps available for iOS and Androids.
60Days money back grantee.
Support Windows, Mac, Linux, and Chromebook
Cons:
Free version available with limited screenshots.
Download Free Hubstaff now to Try with full Feature Unlocked.
3-ActivTrak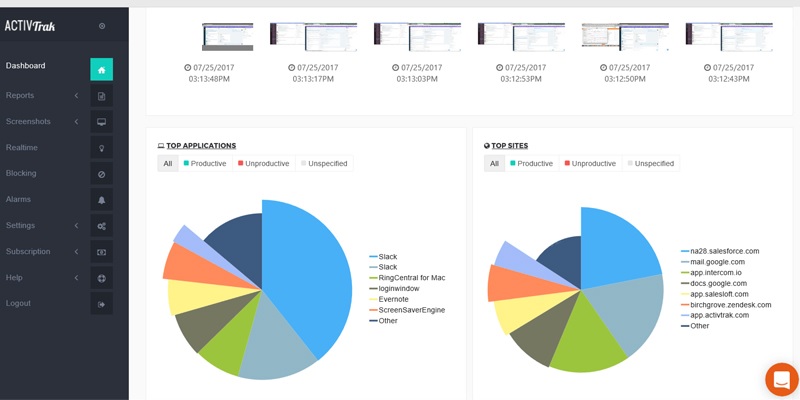 ActivTrak yet another best tracing solution for multipurpose work such as Email and internet, offline keyboard and mouse usage tracking with computer activities. The best and smart way to increase productivity from the employee is proper utilization of working hours in the office using user activity monitoring tools. If your business based on email and internetwork than employee email monitoring software can grow your business faster and legally. Employee tracking software act like a screen mirroring using remote desktop monitoring software and gives you the power to keep monitoring even when you are away. ActivTrak not only monitors your employee work activity but also block the Malicious Website to keep protect your sensitive data.
Pros:
Support Email, Internet, and Computer activity tracking.
Support real-time screenshot and workflow monitoring.
Malicious Website.
Activity-Based Alarms.
iOS and Android Apps available.
Cons:
No Keystroke Recording.
Free trial with limited features.
4: ScreenshotMonitor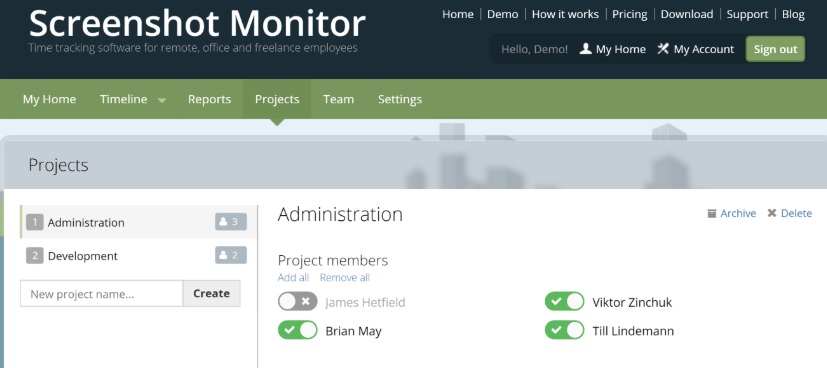 Do you think your employee involve in personal stuff during office working time there for your productivity affected? ScreenshotMonitor one of the best virtual surveillance solutions of office employees internet and computer usage activities during working hours. It is the Best Free Employee Monitoring Software Solution free available for the tracking of office users. Even if you are a freelancer you can also use the ScreenshotMonitor to send a screenshot of your working time for the client to confirm progress on the project going on. These tools can be your employee activity monitoring software to grow business.
 Pros:
Time track and screenshot report.
The desktop application is available.
Get the reports you need, at a glance.
Full details on the timeline.
The  Free version available for the try.
Cons:
Free version available with limitations.
No website block.
---
5: Desk Time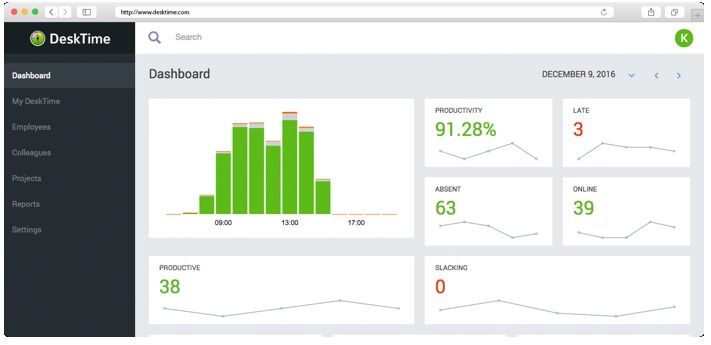 Desk Time is a cloud-based monitoring solution for tracking working hours. It comes with advanced features such as automatic Time tracking, URL & app tracking, Offline time tracking, cost calculation, document title tracking and many more. A great way to manage your virtual team using Desktime tracking software with online as well as offline working activities.
Pros:
Third party integration supports
Cost calculation available
Document title tracking
Mobile App available
Absence calendar and private time option
Cons:
Free version only Time and App track available.
Free version support only 1 User.
Download Free DeskTime Full Version Now for Single User
6: Veriato 360 Monitoring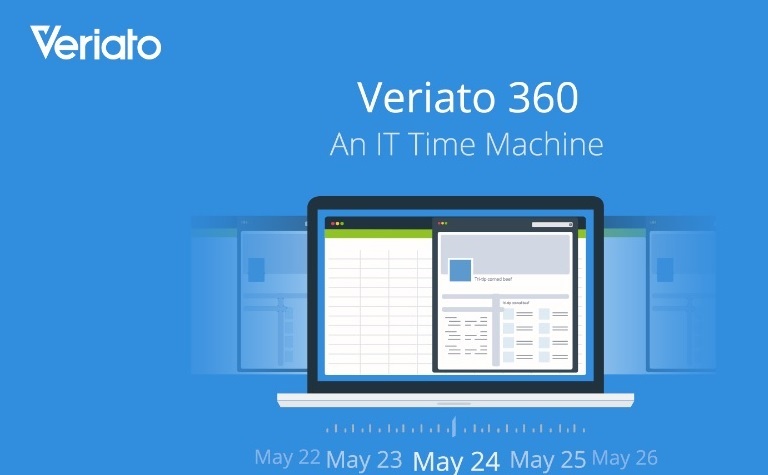 Veriato 360 is another best tool for monitoring employee performance as well as a daily activity during working hours. It is not necessary to stay always in the office to monitor your employees while you are getting's excellent cloud-based employee monitoring tools. Never worry about office working hour utilization while you are away when you are using every employee pc activity monitoring software and keep track of what's going on. Veriato 360 useful for any industry to track any type of offline as well as online activity. With Veriato, you can track and see reports any time about Email and file tracking, Chat and IM activity, screenshot, keyboard keystroke logger, web activity and user status every time.
Pros:
Support all type of activity, Email, File, Keylogger, Web search, user status
Free trial available
Video recording and playback support like DVR
Cons:
Trail version only for 15Days
7: VeriClock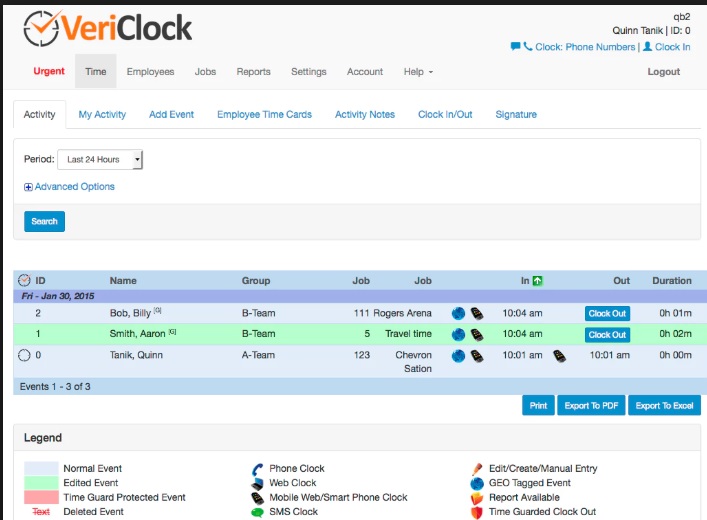 The VeriClock is a cloud-based employee time tracking service for any type of business. If you think your business not growing what it should grow then you should track the employee's activity and see the reports every day they do in working time. With Vericlock time tracing solution you get the notification alert every time your employees involved in work at an office. The best thing is you don't require any new hardware to use the Vericloc tracking system just use with your existing hardware, landline, and Phone.
Pros:
Support iPhone, Android, and Blackberry
30 Day Free Trial, Cancel Anytime
GPS tracking
Quickbooks Integration
Cons:
The free version only for 30 days trial
8: Teramind Tracking solutions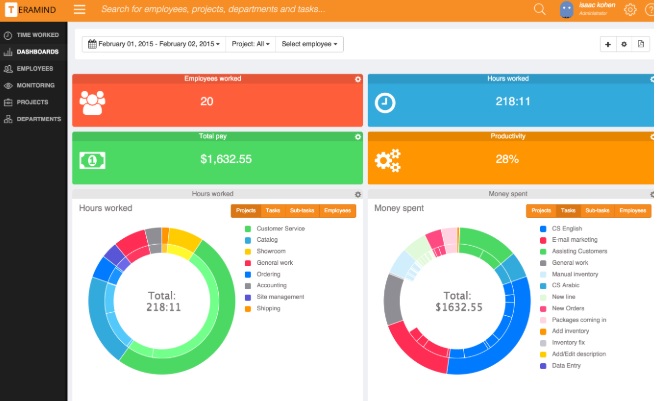 Teramind one of the popular Evaluate Employee Productivity and analysis software for business.  It is an effective way to keep watch your employee's activity and behavior during working hours. Using cloud-based monitoring tools always best because it can be run on Windows, Mac, Linux and any platform without worry about hardware.
Pros:
Data Loss Prevention
Policy and Rules Management
Audit & Forensics
Clipboard (copy and paste)
Cons:
The free version only for the trial period
9: InterGuard PC Monitoring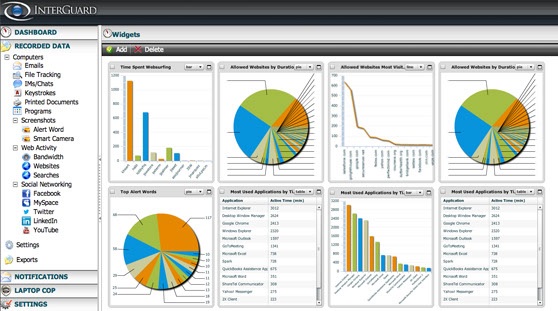 InterGaurd PC monitoring software not only tracks your employee activity but also give you're protected from data theft. Increase the productivity of your employee's day by day using the employee tracking solution. InterGuard is a complete solution for track web activity, search, Keywords, printing record, file sharing, screenshot and much more. It does not only monitor the activity but also blocks the inappropriate website and instant messaging.
Pros:
Support Email, Web, Printing, Search, keywords, and many other features
Support Geolocation
Screenshot
Support Windows, Mac, iOS, Androids
Cons:
Free trial only for limited 7 days
Payment information required to download trial periods
Conclusion
Never worry about office work while you are on holiday and out of the office. Using Employ monitoring solution you can track each and every activity going on your office PC and network. The investing small amount can increase productivity rapidly and grow your business as much as you can do it. If you are on the startup stage of business then try the some best open source Best Free Employee Monitoring Software Solution and quite faster from startup to established stage. 
Related Post